Vlaamse Houtlandcross Eernegem - C2
Eernegem, Belgium, September 23, 2006
2005 Results Results Past winners
Vanthourenhout ready for the serious work
By Brecht Decaluwé in Eernegem
Sven Vanthourenhout:
Photo ©: Brecht Decaluwé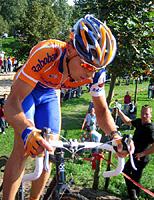 Sven Vanthourenhout grabbed his second victory of the still young 'cross season in Eernegem, Belgium. This puts him into the role of favourite for next weekend's first world cup race in Aigle, Switzerland. Vanthourenhout won the third edition of the Vlaamse Houtlandcross, an event which moved in the calendar from November to September.
The organisers were afraid that they would have fewer spectators. But the beautiful weather turned things around as the organising committee received more spectators than ever before. They saw the local boy storm to victory without a threat from the other riders. "I hope to confirm in Aigle next weekend," said Vanthourenhout. "If I can do well over there, I'll be sure that I'm going alright this year. It's a pleasure to perform well these days but Sven Nys remains the 'patron' of the sport despite his recent problems. If I can finish near him next weekend, I'll be happy."
In an eventful race, the large crowds saw early crashes from Sven Nys and Jonathan Page, who both abandoned the race. Czech Zdenek Stybar and world champion Erwin Vervecken will be confident for next weekend as they both reached the podium in Eernegem. Stybar (2nd) spoke to Cyclingnews after the race, "I'm happy with my result although maybe I made a small mistake at the start. I was too far when Vanthourenhout accelerated."
World champion Erwin Vervecken grabbed another top three finish and was happy with that. "Sven deserved the win today," Vervecken explained. "When I tried to come back to him, he managed to increase his advantage even more; nothing to do about that."
Belgian champion Sven Nys
Photo ©: Brecht Decaluwé

Some riders, like Sven Nys, John Gadret, Petr Dlask and Tom Vannoppen will be more worried about the near future as they couldn't perform to their best. Sven Nys suffered a few mechanical problems and abandoned the race after four laps.
Cyclingnews immediately got a reaction from the Belgian champion: "I was bad right from the start. In the previous lap I had problems with my tyres and now my chain broke... I'd better try to forget about this week as soon as possible," a disappointed Nys said, referring to the problems he encountered earlier this week in Aalter.
During the next lap Jonathan Page (Cervelo) crashed at the same place like Sven Nys. The American also had a chain problem. "I was doing alright, riding in 7th place. I punctured during this lap, that's why I received this bike. The chain wasn't that strong," said a grinning Page, who apparently didn't want to worry too much and calmly walked back to his box.
How it unfolded
And off they go:
Photo ©: Brecht Decaluwé

A large field of 55 elite riders kicked off under hot weather conditions on a technical but fast course. The bunch contained most Belgian top riders except for Bart Wellens, who's still suspended for his "karate-kick" during a cross last year. The best start was for Gerben De Knegt (Rabobank) and Radomir Simunek (Palmans) but during the first two laps the bunch stuck together. It was Sven Vanthourenhout (Rabobank) who started the action with an acceleration at the end of the second lap. The local rider quickly gathered an advantage of 0'30 at the end of the third lap. Vanthourenhout - who will ride for the new Sunweb team in January - distanced the others on the steep sandy hills. He could ride up those 'dunes' while the other riders had to get off their bikes.
While Sven Vanthourenhout maintained his lead, there was much going on at the back. Stybar and Vervecken (Fidea), Albert (Palmans) and De Knegt (Rabobank) were leading the chase. Meanwhile Belgian champion Sven Nys wasn't riding smoothly. At the end of the fourth lap he abandoned the race after a few mechanicals.
Sven Vanthourenhout
Photo ©: Brecht Decaluwé

During the final laps, Sven Vanthourenhout never experienced problems and took his second victory of the new season. Zdenek Stybar rode comfortably to a second place. World champion Erwin Vervecken won the battle for third place from Niels Albert. The latter dropped further away as De Knegt managed to overtake him for fourth place. Behind those riders there were good performances from young Belgian Klaas Vantornout (6th) and Czech Radomir Simunek (7th). At the other hand we noticed that Tom Vannoppen (almost lapped), John Gadret (17th) and Petr Dlask (27th) still have lots of work to do if they want to perform well this season.
Photography
For a thumbnail gallery of these images, click here
Images by Brecht Decaluwé/Cyclingnews.com
Results
Elite Men
 
1 Sven Vanthourenhout (Bel) Rabobank
2 Zdenek Stybar (Cze) Fidea Cycling Team                  0.32
3 Erwin Vervecken (Bel) Fidea Cycling Team                1.01
4 Gerben De Knegt (Ned) Rabobank                          1.04
5 Niels Albert (Bel) Palmans-Sapim-Collstrop              1.17
6 Klaas Vantornout (Bel) Morgan Blue                      1.26
7 Radomir Simunek (Cze)                                   1.34
8 Kamil Ausbuher (Cze) Cyklo Team Budvar Tábor                
9 Bart Aernouts (Bel) Rabobank                            1.38
10 Dieter Vanthourenhout (Bel)                            1.42
11 Simon Zahner (Swi)                                     2.05
12 Kevin Pauwels (Bel) Fidea Cycling Team                 2.26
13 Davy Commeyne (Bel) Palmans-Sapim-Collstrop            2.47
14 Maxime Lefebvre (Fra)                                  3.09
15 David Willemsens (Bel) Palmans-Sapim Collstrop        
16 Geert Wellens (Bel) Fidea Cycling Team                     
17 John Gadret (Fra) Ag2r-Prevoyance                          
18 Peter Van Santvliet (Bel) Fidea Cycling Team               
19 Ronald Mutsaars (Ned)                                      
20 Marius Gil (Pol) Strzelce Krajenskie                       
21 Nico Clarysse (Bel) Saey Deschacht                         
22 Kristof Roodhooft (Bel)                                    
23 Rob Peeters (Bel)                                          
24 Yves Corminboeuf (Swi)                                     
25 Stijn Penne (Bel)                                          
26 Bart Dirkx (Ned) AA drink-Bejan                            
27 Petr Dlask (Cze) AVB Asbestverwijdering                    
28 Steve Gruwier (Bel)                                        
29 Kenneth Van Compernolle (Bel) Sunweb-Projobcyclingteam     
30 David Derepas (Fra)                                        
31 Maxim Debusschere (Bel)                                    
32 Rafael Visinelli (Ita) V.C. Bologna                        
33 Steven Decaluwe (Bel)                                      
34 Gianni Denolf (Bel)                                        
35 Valentijn Ponseele (Bel)                                   
36 Wim Maes (Bel)                                             
37 Harm Vandekerckhove (Bel)                                  
38 Gert De Vos (Bel)                                          
39 Robby De Baene (Bel)                                       
40 Johan Myngheer (Bel)                                       
41 Kevin De Jaeger (Bel)                                      
42 Tim Milis (Bel)                                            
 
Juniors
 
1 Vincent Baestaens (Bel)                                     
2 Kevin Eeckhout (Bel)                                        
3 Dimitri Stevens (Bel)                                       
4 Stef Boden (Bel)                                            
5 Sven Verboven (Bel)                                         
6 Kaell Pizzy (Bel)                                           
7 Krisfof Scheirs (Bel)                                       
8 Michiel Dieleman (Bel)                                      
9 Nick De Proost (Bel)                                        
10 Vincent Renaux (Fra)                                       
11 Frederick Catrysse (Bel)                                   
12 Kevin Van Synghel (Bel)                                    
13 Kim Goethals (Bel)                                         
14 Dany Lacroix (Bel)                                         
15 Jarno Van De Casteele (Bel)                                
16 Bert Cattrysse (Bel)                                       
17 Jochen Despeghel (Bel)                                     
18 Rudy Kowalski (Fra)                                        
19 Joyce Vanderbeken (Bel)                                    
20 Michael Derille (Bel)                                      
21 Jordan Barquet (Bel)                                       
22 Lorenzo Messine (Bel)                                      
23 Vincent Van Hooste (Bel)                                   
24 Bram Borgoo (Bel)                                          
 
Novices
 
1 Cédric Callebaut (Bel)                                      
2 Guillaume Van Keirsbulck (Bel)                              
3 Matthias Bossuyt (Bel)                                      
4 Vinnie Braet (Bel)                                          
5 Ritchie Denolf (Bel)                                        
6 Gert-Jan Opsomer (Bel)                                      
7 Thomas Van Overbeke (Bel)                                   
8 Renzo Van Ree (Ned)                                         
9 Simon Declercq (Bel)                                        
10 Kevin Reynders (Bel)                                       
11 Robin Laureyns (Bel)                                       
12 Anthony Taveirne (Bel)                                     
13 Robin Poelvoorde (Bel)                                     
14 Rinze De Proost (Bel)                                      
15 Tom Devriendt (Bel)                                        
16 Bart De Bondt (Bel)                                        
17 Bram Dhiedt (Bel)                                          
18 Wim Allary (Bel)                                           
19 Elias Hoop (Bel)                                           
20 Kevin Callebaut (Bel)                                      
21 Valentijn Van De Velde (Bel)                               
22 Gianni Vermeersch (Bel)                                    
23 Matthias Vermeire (Bel)                                    
24 Martijn Masselis (Bel)                                     
25 Laudelino Lammens (Bel)                                    
26 Dylan Desruelles (Bel)                                     
27 Jonas Plasschaert (Bel)                                    
28 Jens Tylleman (Bel)                                        
29 Rutger La Haye (Bel)                                       
30 Niek Lepoudre (Bel)                                        
31 Tim Deceuninck (Bel)                                       
32 Tom Geeraerts (Bel)                                        
33 Kim Van Renterghem (Bel)                                   
 
Masters A
 
1 Andy Van Der Plaetse (Bel)                                  
2 Timmy Maes (Bel)                                            
3 Lino Colombo (Bel)                                          
4 Axel Naessens (Bel)                                         
5 Thomas Ingels (Bel)                                         
6 Nico Bogaert (Bel)                                          
7 Kristof Braeckevelt (Bel)                                   
8 Bart Dedulle (Bel)                                          
9 Charles Vanboquestaels (Bel)                                
10 Nico Van Assche (Bel)                                      
11 Ivan Smet (Bel)                                            
12 Kris Maes (Bel)                                            
13 Bjorn Van Daele (Bel)                                      
14 Kurt Cnudde (Bel)                                          
15 Kris De Nijs (Bel)                                         
16 Wim Degrijse (Bel)                                         
17 Luc Van Clapdorp (Bel)                                     
18 Bart Dewaele (Bel)                                         
19 Steven Alliet (Bel)                                        
20 Jurgen Van Lommel (Bel)                                    
21 Yves Casier (Bel)                                          
22 Jurgen Van Wambeke (Bel)                                   
23 Kristoff Degucht (Bel)                                     
24 Sven Verschueren (Bel)                                     
25 Kris Roegiers (Bel)                                        
26 Marnik Renier (Bel)                                        
27 Michael Naessens (Bel)                                     
28 Gianni Ponseele (Bel)                                      
29 Dennis Laurez (Bel)                                        
30 Gregory Cool (Bel)                                         
31 Bart Demets (Bel)                                          
32 Geert Cailliau (Bel)                                       
33 Robin Verschraeghen (Bel)                                  
34 Thierry Laurez (Bel)                                       
35 Alain Claes (Bel)                                          
36 Carlo Allaert (Bel)                                        
 
Masters B
 
1 Mario Lammens (Bel)                                         
2 Walter Marynissen (Bel)                                     
3 Danny Verhestraeten (Bel)                                   
4 Eric Gys (Bel)                                              
5 Dominic Rose (Bel)                                          
6 Dirk Dekeerle (Bel)                                         
7 Johnny Van Den Eede (Bel)                                   
8 Ghislain Vanbruaene (Bel)                                   
9 Rudi Wille (Bel)                                            
10 Ronny Lapeire (Bel)                                        
11 Benny Rogiers (Bel)                                        
12 Lucien Van Wambeke (Bel)                                   
13 Luc Joos (Bel)                                             
14 Dirk Goegebeur (Bel)                                       
15 Danny Brandt (Bel)                                         
16 Ronny Goethals (Bel)                                       
 
Masters C
 
1 Alex Weytens (Bel)                                          
2 Ronald De Scheemaeker (Bel)                                 
3 Robert De Vos (Bel)                                         
4 José De Clercq (Bel)                                        
5 Eddy Wandels (Bel)                                          
6 Michel Vanhonsebrouck (Bel)                                 
7 Marc De Vos (Bel)                                           
8 Adrien De Cnuydt (Bel)                                      
9 Rik Ponseele (Bel)                                          
10 Philippe Deheegher (Bel)                                   
11 Wilfried Buysse (Bel)                                      
12 Laurent De Vos (Bel)                                       

Courtesy of cyclo-cross.info

Past winners
2005 Erwin Vervecken (Bel) Fidea Cycling Team
2004 Sven Vanthourenhout (Bel) Quickstep - Davitamon
2003 Ben Berden (Bel) John Saey-Deschacht 
2002 Sven Vanthourenhout (Bel) Domo-Farm Frites
 
Past winners by Mario Stiehl, www.world-of-cycling.com