Superprestige #1 - Ruddervoorde - C1
Ruddervoorde, Belgium, October 14, 2007
2006 Results Results Superprestige standings Past winners
Nys extends reign in Superprestige while Vervecken struggles
By Brecht Decaluwé in Ruddervoorde
Sven Nys (Rabobank) is hot on form as usual in October
Photo ©: Isosport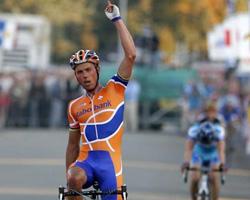 So long as there is no championship event to race, then one man rules the cyclo-cross world and that is Sven Nys (Rabobank Continental Team). The Belgian cannibal underlined that status in sunny Ruddervoorde by claiming the first Superprestige event of the season, his tenth consecutive win in the series, after he won all eight events last year. Before the season began Nys' competition hoped that the work that he had done in order to secure a place on the Belgian mountain bike team for the Olympics would wear him out for the winter cyclo-cross season, but it seems that, so far at least, it hasn't slowed him down at all.
Nys was in control right from the start on the fast but slippery course. Possibly due to the late start, 5pm, a request from TV broadcasters but it seemed that the competition was already sleeping. Riders the calibre of Wellens, Albert and Vervecken were caught napping at the back of the field which allowed Nys to profit from their tardiness. "Some top riders missed their start so I had to profit from that situation. From then on I rode defensively and hoped the Fidea guys in front would take the initiative," Nys explained.
Klaas Vantornout launched the first offensive of the day, while Zdenek Stybar choose to wait for the rest to come back though. "I don't get that," Nys commented trying to convince the two Fidea riders to co-operate in the future. "Dare to do something; it's not that they are not good enough riders." Eventually the opposition made their way to the fore as young Niels Albert (Palmans) and Belgian champion Bart Wellens (Fidea) overcame their awful start. "I'm telling this for five years now: this start line is too long, my best ever position at the first corner was probably 15th," Wellens complained. "Its part of the race, but it also cost me the race. I was 40 riders down on the best in the world after only one lap. I had to walk over every obstacle; I couldn't pass wherever I wanted," Wellens explained. "I saw that Albert was panicking and I told him to stay cool and move to the front step by step."
Wellens' tactic worked, although it took seven laps for the duo to bridge up to the three leaders Nys, Vantornout and Stybar. Nys however didn't grant the duo a rest, immediately launching an attack. "I assumed they wanted to take a breather so I delivered them a sting and took a breather while they were working to get back," a tactical Nys explained. The result of all this was that five leaders started the last lap together, with Richard Groenendaal (AA Sports Drinks)and the returning Sven Vanthourenhout (Sunweb) not far behind. Nys and Stybar clearly had the best form; Nys was the freshest of the two while Stybar would be the fastest man if it came to a sprint. Nys seemed to be well aware of this as well, "I noticed Klaas was having a hard time and Wellens had to drop a gap earlier so I knew Stybar was the most dangerous man."
Bart Wellens (Fidea)
Photo ©: AFP

Eventually the sand would decide for them, both Stybar and Nys were fighting for pole position as they came into the sand, with Nys coming out the victor. "That's experience," Nys explained, "you have to be the first to hit that sand stroke, ride it to perfection and then the victory is within sight." Knowing this is one thing, but delivering is another; Cyclingnews asked Nys' young Czech rival why he wasn't in front of the Belgian going into the sand. "I did all I could to be ahead of him but it just was impossible to stay ahead of him; possibly I made a mistake by attacking at the wrong moment," Stybar said looking back on that decisive moment. "In a sprint I could have stood a chance, but on the other hand I didn't have much left in my tank and honestly, before the race I would've signed for this result." His more experienced team-mate Wellens, wasn't on Nys' wheel going into the last lap, something that he later blamed on his team-mates. "My team-mates were already fighting for that wheel so I thought they would be good enough to follow him, that wasn't the case as Vantornout eventually lost his wheel," Wellens said looking back in anger. With Wellens and Albert struggling in the sand and Stybar a few metres behind, Nys didn't hang around to see how it would turn out, speeding away to claim his fourth victory of the season and his 39th victory in a Superprestige race. "I'm not going to focus on winning all the Superprestige races again because people will break me down if I finish second one day," Nys warned. Behind him Stybar was very happy with his second place in his first season as a professional rider. Wellens held off Albert for the remaining podium spot while Vantornout claimed fifth place. A strong second half secured Richard Groenendaal sixth place ahead of Sven Vanthourenhout making his comeback after surgery this summer. His namesake Dieter Vanthourenhout (Easypay), Gerben De Knegt and Petr Dlask rounded off the top-10.
Erwin Vervecken (Fidea) is not currently enjoying the same form that took him to his third world title in January this year. Yesterday in Mouscron he was unable to maintain the same pace as the leaders, eventually finishing a disappointing 10th. Today the Belgian crashed several times, three of which were on the same ramp. The tall 35 year-old eventually finished in 23rd. The US-contingent didn't fair as badly as Vervecken, but neither were extremely happy with there performances today, with Jonathan Page (Sunweb) out sprinted US-champion Ryan Trebon (Kona) for 19th spot. Yesterday in Mouscron, Trebon finished a promising seventh after being active all race, yet today he was unable to back that up on a course that was less suited to his ability. "This course is quite technical and I don't like it too much," Trebon told Cyclingnews before the race. Jonathan Page bounced back from a terrible performance in Erpe-Mere (DNF) to a respectable performance in Mouscron (9th) but was also unable to back that up with another strong performance today. "I had a really bad start, I had nowhere to go," Page looked back. "I was never comfortable throughout the race. With a better start it's easier because you have room to play with your energy. I blew on every section where I needed power, and I had a flat tyre in the last lap," Page explained. "The build-up continues with some basic technical training work and speed training on the road."
How it unfolded
The best start on the long start straight went to Klaas Vantornout who immediately gained a 12" lead over Tom Vannoppen (Sunweb) and the rest of the field. Sven Nys along with Zdenek Stybar attacked the field and by the end of the first lap they had made contact with Vantornout. Rob Peeters (Landbouwkrediet) and Vannoppen were still 12" down followed by Davy Commeyne (Palmans), Radomir Simunek (Palmans) and Petr Dlask. Big guns Niels Albert, Bart Wellens and world champion Erwin Vervecken all had a very bad start struggling in 30th at the end of the first lap.
Despite the lack of co-operation between the three leaders their lead over the pack grew to 24" by the third lap. Jan Verstraeten (Sunweb) was leading the pack while Albert and Wellens were slowly moving to the front of this bunch.
During the fourth lap the pack split leaving an eight man group consisting of Albert, Dlask, Wellens, Verstraeten, Gerben De Knegt, Rob Peeters, Jan Soetens and Dieter Vanthourenhout chasing at 26" with a 10" gap back to the next group which contained 12-men group including Page, Trebon, Groenendaal and Vervecken.
Ryan Trebon leads world champion
Photo ©: cyclingnews

Niels Albert tried to bridge up to the leaders in the fifth lap and was joined by Belgian champion Wellens. They managed to peg back the gap to just 11" but were unable to join them, while the rest of the second group split again due to the pace. De Knegt was in no mans land, chasing Wellens and Albert who were now 35" ahead. Peeters, Verstraeten, Dlask and Dieter Vanthourenhout were a further 10" behind Knegt.
In the seventh lap Wellens and Albert finally joined the leaders Nys, Vantornout and Stybar. Their lead on a group of seven with Groenendaal, Dieter Vanthourenhout, Sven Vanthourenhout, Gerben De Knegt, Dlask, Verstraeten and Soetens was now 35". Meanwhile world champion Vervecken struggled from crash to crash, 1'22" down on the five leaders.
Stybar attacked a couple of times with Nys quickly responding to the Czech's accelerations with Wellens working himself onto the wheel of Nys. Groenendaal - overcoming a bad start - took up the command in the pursuing group and bgan making his way back to the leaders. With two laps to go Albert crashed in the long sand pit while Groenendaal made contact with the leaders. That was just the sign Nys needed to begin upping the pace in preparation for the finish, keeping the speed high with Vantornout now on his wheel. In the last lap Nys rode the sand to perfection while his rivals struggled and lost contact. Wellens and Stybar tried to come back on Nys but the chase was fruitless as Nys grabbed his fourth win of the season.
Photography
For a thumbnail gallery of these images, click here
Images by Isosport
Images by AFP Photo
Images by Brecht Decaluwé/Cyclingnews.com
Results
Elite
 
1 Sven Nys (Bel) Rabobank                                 1.00.43
2 Zdenek Stybar (Cze) Fidea Cycling Team                     0.04
3 Bart Wellens (Bel) Fidea Cycling Team                      0.08
4 Niels Albert (Bel) Palmans Cras                            0.10
5 Klaas Vantornout (Bel) Fidea Cycling Team                  0.13
6 Richard Groenendaal (Ned) AA Sport Drinks                  0.14
7 Sven Vanthourenhout (Bel) Sunweb Pro Job                   0.19
8 Dieter Vanthourenhout (Bel) Easypay Cyclocross Team        0.38
9 Gerben De Knegt (Ned) Rabobank                             0.43
10 Petr Dlask (Cze) Fidea Cycling Team                       0.50
11 Jan Verstraeten (Bel) Sunweb Pro Job                      0.53
12 Jan Soetens (Bel) Jartazi Promo Fashion                   0.57
13 Enrico Franzoi (Ita) Lampre-Fondital                      1.07
14 Radomír Simunek (Cze) Palmans Cras                        1.16
15 Kevin Pauwels (Bel) Fidea Cycling Team                    1.22
16 Thijs Al (Ned) Combi Kennemerland / Bataaf                1.23
17 Rob Peeters (Bel) Landbouwkrediet - Tönissteiner          1.36
18 Jonathan Page (USA) Subweb Pro Job                            
19 Ryan Trebon (USA) Kona-Your Key Mortgage Team                 
20 Ben Berden (Bel) Revor Cycling Team                       1.54
21 David Willemsens (Bel) Sunweb Pro Job                     1.59
22 Tim Van Nuffel (Bel) Easypay Cyclocross Team                  
23 Erwin Vervecken (Bel) Fidea Cycling Team                  2.13
24 Tom Van Den Bosch (Bel) Palmans Cras                      2.22
25 Davy Commeyne (Bel) Palmans Cras                          2.42
26 Tom Vannoppen (Bel) Sunweb Pro Job                        3.09
27 Wilant Van Gils (Ned) ZZPR.nl                             3.11
28 Marco Bianco (Ita)                                        3.14
29 Rafaele Visinelli (Ita)                                   3.34
30 Bjorn Traen (Bel) John Saey Cycling Team                  3.54
31 Jimmy Tielens (Bel) 2 Mega Saeco - Heist o/d berg         4.09
32 Peter Van Santvliet (Bel)                                 4.23
33 Arne Daelmans (Bel) Klaipeda - Splendid Cycling Team      4.28
34 Marek Cichosz (Pol)                                       4.36
35 Pedro Baelen (Bel) John Saey Cycling Team                 4.41
36 Geert Wellens (Bel)                                       4.55
37 Bjorn Rondelez (Bel) Lingier Versluys Beachbikers Team    5.19
38 Nico Clarysse (Bel) Cycling Team Oost-West                5.38
39 Steven Decaluwé (Bel) Sunweb Pro Job                      6.04

One lap behind

40 Camiel Van den Bergh (Ned) Stevens                            
41 Jo Naert (Bel) Lingier Versluys Beachbikers Team              
42 Johan Myngheer (Bel) VC De Zilverbergvrienden - Rumbeke       
43 Freddy De Meester (Bel) Rijschool AH - Gentse Velosport       
 
Espoir
 
1 Tom Meeusen (Bel) Fidea Cycling Team                      50.19
2 Julien Taramarcaz (Swi)                                    0.02
3 Thijs van Amerongen (Ned)                                  0.08
4 Wim Leemans (Bel) AWS Cycling Team Kasterlee               0.12
5 Bart Verschueren (Bel)                                     0.20
6 Kenneth Van Compernolle (Bel) Sunweb Pro Job                   
7 Stijn Huys (Bel) Palmans Cras                              0.36
8 Maxim Debusschere (Bel) Sunweb Pro Job                     0.41
9 Jan Van Dael (Bel) Sunweb Pro Job                          0.43
10 Joeri Adamxs (Bel)                                        0.46
11 Hans Becking (Ned)                                        1.03
12 Kevin Cant (Bel) AWS Cycling Team Kasterlee                   
13 Ramon Sinkeldam (Ned)                                     1.21
14 Thomas Vernaeckt (Bel) Asfra Racing Team                  1.24
15 Quentin Bertholet (Bel) Fidea Cycling Team                1.29
16 Gianni Denolf (Bel)                                       1.37
17 Mitchell Huenders (Ned) Team Löwik Meubelen               1.56
18 Dimitri Stevens (Bel) 2 Mega Saeco - Heist o/d berg           
19 René Lang (Swi)                                           2.02
20 Jerry Kallenfels (Ned) Easypay Cyclocross Team            2.16
21 Philipp Walsleben (Ger)                                   2.26
22 Thomas Boeckx (Bel) Edegem BC                             2.33
23 Sven Verboven (Bel)                                       2.42
24 Ivar Hartogs (Ned)                                        3.00
25 Kenneth Verdickt (Bel) Scott USA Cycling Team             3.03
26 Twan van den Brand (Ned)                                  3.17
27 P. Janiszewski (Pol)                                      3.25
28 Greg Franckaert (Bel) Asfra Racing Team                   3.28
29 Kristof Zegers (Bel) WSC Jonge Renners - Booischot            
30 Vincent Baestaens (Bel) Fidea Cycling Team                    
31 Kristof Cop (Bel) AWS Cycling Team Kasterlee              3.52
32 Davy Depaepe (Bel) CT Keukens Buysse Knesselare           4.21
33 Harm Vandekerckhove (Bel)                                 4.30
34 Jan Van Zeebroeck (Bel) WK Noord-West Brabant             4.35
35 Dries Dewit (Bel) Scott USA Cycling Team                  4.40
36 Dennis Verhoeven (Bel) AWS Cycling Team Kasterlee         5.03
37 Nick De Proost (Bel) DCM-GB Vorselaar Cycling Team vzw    5.11
38 Bart Hermans (Bel) Balen BC                               5.21
39 Tom Last (Gbr)                                            6.05
40 Kjell Van Driessche (Bel)                                 6.10
41 Julian van Dijk (Ned)                                     6.45
42 Steffen Müller (Ger) RC Charlottenburg                    7.20

One lap behind

43 Lorenzo Messine (Bel)                                         
44 Christopher Janssens (Bel)                                    
45 Konrad Jasik (Pol)                                            
46 Tom Lambrechts (Bel) WSC Jonge Renners - Booischot            
47 Mathias Holvoet (Bel) Daikin Cycling Team Liedekerke vzw      
48 Mathias Holvoet (Bel) Daikin Cycling Team Liedekerke vzw      

Two laps behind

49 RobVan Der Velde (Ned)                                        
 
Juniors
 
1 Stef Boden (Bel)                                          39.27
2 Valentin Scherz (Swi)                                      0.08
3 Kevin Smit (Ned)                                           0.13
4 Steven van Leijen (Ned)                                    0.20
5 Arnaud Grand (Swi)                                         0.21
6 Geert van der Horst (Ned)                                  0.34
7 Ruben Veestraeten (Bel)                                        
8 Vinnie Braet (Bel)                                         0.36
9 Simon Geets (Bel)                                          1.23
10 Harm van der Sanden (Ned)                                 1.27
11 Bas Krauwel (Ned)                                             
12 Lars van der Haar (Ned)                                       
13 Jasper Ockeloen (Ned)                                         
14 Steven Galens (Bel)                                       1.31
15 Sven Beelen (Bel)                                         1.34
16 Bart Barkhuis (Ned)                                           
17 Michiel Dieleman (Bel)                                        
18 Wietse Bosmans (Bel)                                      1.38
19 Tijmen Eising (Ned)                                       1.40
20 Sieën Veestraeten (Bel)                                   1.44
21 Joachim Janssens (Bel)                                    1.46
22 Niels Wytinck (Bel)                                           
23 Angelo De Clercq (Bel)                                    1.53
24 Matthias Bossuyt (Bel)                                        
25 Thomas Gysbrechts (Bel)                                   2.04
26 Guillaume Van Keirsbulck (Bel)                            2.09
27 Milan van den Ende (Ned)                                      
28 Zeb Veestraeten (Bel)                                         
29 Ritchie Denolf (Bel)                                      2.15
30 Gerry Druyts (Bel)                                        2.20
31 Zeb Willems (Bel)                                             
32 Niels Koyen (Bel)                                             
33 Corne van Kessel (Ned)                                        
34 Robby Cobbaert (Bel)                                          
35 Daan Meijers (Ned)                                            
36 Rinze De Proost (Bel)                                         
37 Robin Poelvoorde (Bel)                                        
38 Max Walsleben (Ger)                                           
39 Sylvester Sioen (Bel)                                         
40 Jeffrey Depuydt (Bel)                                         
41 Jonathan Bervoets (Bel)                                       
42 Kenny Maes (Bel)                                              
43 Hans Antonissen (Bel)                                         
44 Jochen Torfs (Bel)                                            
45 Rob van der Heijden (Ned)                                     
46 Bert Noterman (Bel)                                           
47 Gert-Jan Opsomer (Bel) Easypay Cyclocross Team                
48 Jens Joosen (Bel)                                             
49 Sam Van Hemelen (Bel)                                         
50 Michaël Peeters (Bel)                                         
51 Cees de Ridder (Ned)                                          
52 Helen Wyman (GBr)                                             
53 Christian Weitermann (Ger)                                    
54 Wim Allary (Bel)                                              
55 Stpehanie Pohl (Ger)                                          
56 Jean-Baptiste Taleux (Fra)                                    
57 Dries De Vos (Bel)                                            
58 Martijn Pastoors (Ned)                                        
59 Gabriella Day (GBr)                                           
60 Dimitri Michielsen (Bel)                                      
61 Geert Kuit (Ned)                                              
62 Wesley Steekers (Bel)                                         
63 Kim Van Renterghem (Bel)                                      
64 Stefan van den Bergh (Ned)                                    
65 Gregor Lendenmann (Swi)                                       
66 Dany Lacroix (Bel)                                            
67 Dennis van Aalst (Ned)                                        
68 Jarno Van de Casteele (Bel)                                   
69 Kenneth Alleman (Bel)                                         
 
Beginners
 
1 Xandro Meurisse (Bel)                                     27.04
2 Hendrik Sweeck (Bel)                                           
3 Frederik Geerts (Bel)                                      0.21
4 Danny van Poppel (Ned)                                     0.24
5 Jens Vandekindere (Bel)                                        
6 Mike Teunissen (Ned)                                           
7 Kenzie Boutté (Bel)                                        0.31
8 Jeroen Meijers (Ned)                                       0.45
9 Jens Adams (Bel)                                               
10 Gianni Vermeersch (Bel)                                   0.55
11 Robin Wennekes (Ned)                                      1.08
12 Joeri Hofman (Bel)                                        1.20
13 Gregory Vandaele (Bel)                                    1.25
14 Jelle Cant (Bel)                                          1.31
15 Dylan Desruelle (Bel)                                     1.41
16 Jesper Baelen (Bel)                                       1.55
17 Kenny Bultynck (Bel)                                      2.05
18 Alois Mus (Bel)                                               
19 Wilco vn Beusekom (Ned)                                   2.15
20 Mark van der Heijden (Ned)                                    
21 Jasper Baert (Bel)                                            
22 Jordy Van Staeyen (Bel)                                       
23 Thomas Van Overbeke (Bel)                                     
24 Michael Vanthourenhout (Bel)                              2.33
25 Jeroen Eyskens (Bel)                                      2.38
26 Simon Lapeire (Bel)                                       2.50
27 Oscar Riesebeek (Bel)                                         
28 Sanne Cant (Bel)                                              
29 Niels Van den Driessche (Bel)                             3.08
30 Arno Sinnaeve (Bel)                                           
31 Martijn Masselis (Bel) Easypay Cyclocross Team                
32 Tim Deceuninck (Bel)                                      3.15
33 Daan Myngheer (Bel)                                       3.37
34 Lorenzo Pepermans (Bel)                                   3.47
35 Joshua Omez (Bel)                                         3.53
36 Wannes Cauwenbergh (Bel)                                  4.02
37 Glenn Watripont (Bel)                                         
38 Joeri Vermeiren (Bel)                                         
39 Stijn Lapiere (Bel)                                       4.37
40 Nick van Dijke (Ned)                                          
41 Mike Mutsaerts (Bel)                                          
42 Gijs Schefferie (Ned)                                     4.50
43 Bryan Borowski (Ned)                                      4.57
44 Bart De Zutter (Bel)                                      5.10
45 Yoeri Bertels (Bel)                                       5.17
46 Lars van der Zyden (Ned)                                  5.27
47 Dimitri Soetaert (Bel)                                    5.36
48 Jellen Schiettecatte (Bel)                                    
49 Eelke van der Horst (Ned)                                 6.24
50 Dylan Galens (Bel)                                        6.45
51 Robin Delanghe (Bel)                                          
52 Robin Bruneel (Bel)                                       7.50
53 Lenny De Buyser (Bel)                                     8.18
54 Danny Ariesen (Ned)                                       8.20
55 Jarno Du Mongh (Bel)                                          
56 Jens Van Slycke (Bel)                                         
57 Dylan Rommelaere (Bel)                                        
58 Nicole Oude Wansink (Ned)                                     

Superprestige standings after round #1
1 Sven Nys (Bel) Rabobank                                      15 pts
2 Zdenek Stybar (Cze) Fidea Cycling Team                       14
3 Bart Wellens (Bel) Fidea Cycling Team                        13
4 Niels Albert (Bel) Palmans Cras                              12
5 Klaas Vantornout (Bel) Fidea Cycling Team                    11
6 Richard Groenendaal (Ned) AA Sport Drinks                    10
7 Sven Vanthourenhout (Bel) Sunweb Pro Job                      9
8 Dieter Vanthourenhout (Bel) Easypay Cyclocross Team           8
9 Gerben De Knegt (Ned) Rabobank                                7
10 Petr Dlask (Cze) Fidea Cycling Team                          6
11 Jan Verstraeten (Bel) Sunweb Pro Job                         5
12 Jan Soetens (Bel)                                            4
13 Enrico Franzoi (Ita)                                         3
14 Radomír Simunek (Cze) Palmans Cras                           2
15 Kevin Pauwels (Bel) Fidea Cycling Team                       1


Past winners
2006 Sven Nys (Bel) Rabobank                          
2005 Bart Wellens (Bel) Fidea Cyclocrossteam
2004 Sven Nys (Bel) Rabobank
2003 Bart Wellens (Bel) Spaar Select
2002 Sven Nys (Bel) Rabobank
2001 Bart Wellens (Bel) Spaar Select
2000 Richard Groenendaal (Ned) Rabobank
1999 Sven Nys (Bel) Rabobank

Past winners by Mario Stiehl, www.world-of-cycling.com