Boulder Cup - C1
Boulder, Colorado, USA, November 4, 2007
2006 Results Results Past winners
Trebon takes two
Excalibur! 'Cross King Ryan Trebon (Kona-Your Key Mortgage)
Photo ©: Mitchell Clinton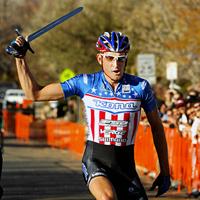 Ryan Trebon (Kona-Your Key Mortgage) took his second victory in as many days in a field of 66 Elite Men that put on a show for the crowd of 2,500 on a rare November afternoon with sunny skies and unseasonably warm temperatures. The warm temperatures had many riders aching for a feed zone while a crafty Chris Horner started the race with a bottle tucked in his jersey.
At the end of the 300 metre, slightly uphill start the charging pack was led by Danish National Champion Joachim Parbo followed by Barry Wicks (Kona-Your Key Mortgage), Todd Wells (GT Bicycles), Jeff Kabush (Maxxis-Litespeed), Ryan Trebon (Kona-Your Key Mortgage) and Danny Summerhill (Clif Bar Development Team).
Looking in control from the beginning, Trebon moved right to the front after the first trip through the TRP Brake Zone, the run up section in the first part of the course taking his team-mate Wicks with him. A short time later, after the sand section Trebon was solo with a group of three - Wicks, Powers and Tim Johnson - at a short seven seconds back.
Trebon looked untroubled by the physical ailments that plagued him in the last few days as he built his lead over Powers and Johnson with team-mate Wicks doing his job of hanging on. Kabush came through in fifth with Chris Horner (Indiana Medical Center Team) in a comfortable sixth.
On the second of the 11 laps covered and tired of their passenger, Powers took off with Johnson quickly getting up to his wheel while they shed Wicks from their tail.
With eight laps remaining Trebon held a gap of 29 seconds over Johnson and Powers, who worked jointly to build a short gap over Wicks. Meanwhile, Kabush continued to creep up on the leaders while Horner used his road fitness on the paved finish section to close in on his best ever 'cross finish.
Chris Horner (Ridley) put in a strong showing,
Photo ©: Mitchell Clinton

Some 40 seconds was the split from Trebon to the chasing pair of Johnson and Powers, while Kabush looked to be desperate in his attempt to hold off the Tour de France veteran Horner. Powers and Johnson pulled back a few seconds over the next lap, dropping it to a 35 second gap to Trebon while Horner looked like the fastest rider over the paved section closing in on Kabush.
With five laps to go Powers and Johnson lost some steam in the chase as the gap moved to 55 seconds and a charging Horner was bearing down on Kabush, the sand section being the spot where the mountain bike professional held the advantage. Horner made the catch on the paved section heading to the line with four to go, but Kabush stuck to his wheel briefly before falling back.
Having shed Kabush at the line with three laps remaining, Horner put Wicks in his sights. Wicks was sitting only 12 seconds ahead of the ever smiling Horner. Meanwhile Trebon was in a world of his own maintaining a lead of 1.30 minutes over the chasing duo.
Heading out on the final lap Trebon looked to be on a parade lap with Johnson and Powers racing for second over 1.45 minutes back. Johnson moved ahead of his team-mate at the line.
Crossing the line for his Boulder Cup victory, Trebon grabbed a toy sword from the crowd using the prop to vanquish his imaginary enemies. Rolling in for second was Johnson followed shortly by Powers. Behind the main action, Wicks increased his gap over Horner to preserve his fourth place over the seasoned roadman. Kabush held on for sixth place with a good gap over Erik Tonkin who was seventh. Todd Wells overcame mechanical problems for eighth, while Boulder's Brandon Dwight finished ninth, ahead of the Danish Champ Parbo, who popped a wheelie across the line as he took 10th spot.
Trebon described today's victory as a next step in his season preparation. He and Wicks will compete next week in the Single Speed World Championships in Portland.
Compton makes it a double
Katie Compton (SPIKE-Primus Mootry-ROL Wheels) takes her second victory
Photo ©: Mitchell Clinton

Starting in the blue jersey of UCI points leader Katie Compton (SPIKE Shooter) was primed to take her second win of the weekend after a convincing win Saturday in The Redline Cup, and she did just that. Some 27 riders lined up for the start of 40 minutes of racing at Harlow Platts Park in South Boulder, with the crowd continuing to build throughout the race in anticipation of the men's race.
Perhaps using her skills from a monster mountain bike season, Georgia Gould (Luna Chix) got the hole shot with Compton on her wheel and Rachel Lloyd (Proman/Paradigm) a short few metres back. Compton and Gould created a split on the first run up, with only Lloyd able to keep them at a close gap but the two proceeded to increase the gap with every section.
Before the end of lap one Compton had gotten clear of Gould and built a gap of 17 seconds with Lloyd in no women's land, another eight seconds back. Wendy Williams (River City Bicycles) sat in fourth while Boulder resident Kerry Barnholt (Tokyo Joes/Van Dessel) held down fifth place.
America's Georgia Gould (Luna Chix)
Photo ©: Mitchell Clinton

Compton continued to pile on the time and built a gap of 35 seconds over Gould with Lloyd hanging on at another 10 seconds. Compton's finesse showed as she easily danced up every grassy climb and rode flawlessly through the sandpit.
With three laps remaining Compton was unstoppable, with a gap that grew to 40 seconds over Gould and another 10 seconds over Lloyd who continued to hang on. Behind it was a repeat of Saturday with Williams and Barnholt riding together in pursuit.
On her way to lapping most of the field, Compton only piled it on increasing her gap to Gould by 56 seconds while a tenacious Lloyd hung on at a constant 10 seconds. Behind them Williams shed Barnholt to take a solid grip on fourth.
At the bell lap things were unchanged with Compton putting on a cross demonstration for the remainder of the field. Compton was clearly using the weekend of UCI cross racing in Boulder as an opportunity to prepare for a month-long trip to Europe in a short few days and crossed the line with a strong advantage over Gould. Lloyd hung on for her third place while Williams and Barnholt claimed fourth and fifth respectively.
Photography
For a thumbnail gallery of these images, click here
Images by Mitchell Clinton/www.clintonphoto.com
Images by Rob O'Dea Photography
Results

Elite men

1 Ryan Trebon (USA) Kona-Your Key Mortgage                 1.01.00
2 Tim Johnson (USA) Cannondale-LEER-Cyclocrossworld.com       1.21
3 Jeremy Powers (USA) Cyclocrossworld.com-LEER-Ridley         1.52
4 Barry Wicks (USA) Kona-Your Key Mortgage                    2.59
5 Chris Horner (USA) Ridley                                   3.28
6 Geoff Kabush (Can) Maxxis-Litespeed                         4.05
7 Erik Tonkin (USA) Kona                                      4.28
8 Todd Wells (USA)                                            4.39
9 Brandon Dwight (USA) Boulder Cycle Sport                    4.45
10 Joachim Parbo (Den) CCV-Protek                             5.13
11 Matt Pacocha (USA) Velonews                                5.22
12 Joey Thompson (USA) Rocky Mtn Chocolate Factory Cycling    5.32
13 Ross Schnell (USA) Trek / VW                               5.39
14 Colby Pearce (USA) Boulder Cycle Sport                     6.16
One lap down
15 Mitchell Peterson (USA)                                        
16 Danny Summerlill (USA)                                         
Two laps down
17 Brent Prenzlow (USA) Alan North American Cycling               
18 Taylor Carrington (USA) Turin - Powerbar                       
19 Christopher Case (USA) Boulder Cycle Sport                     
20 Ali Goulet (USA) Ridley factory team                           
Three laps down
21 James Schneider (USA) Jittery Joe's/Sonic Cycling              
22 Paul Brooks (USA)                                              
23 Kurt Refsnider (USA) FORT Factory Team                         
24 Troy Kilgore (USA) Boulder Cycle Sport CX Team                 
25 Ryan Iddings (USA) Lapierre USA                                
26 Travis Brown (USA) Trek / FRS                                  
Four laps down
27 Bradford- Parish (USA) Redline                                 
28 Damian Schmitt (USA) Sunnyside Sports                          
Five laps down
29 Allen Krughoff (USA) Team Rio Grande                           
30 Nicholas Weighall (USA) Rad Racing NorthWest                   
31 Shawn Harshman (USA) Harshman Wealth / Primus Mootry           
32 Collin Becker (USA) James Frames                               
33 Christian Mccarthy (USA)                                       
34 Whitey Debroux (USA)                                           
35 Scott Tietzel (USA) Vitamin Cottage Cycling Team               
36 Stephen Iles (USA)                                             
37 Taylor Lane (USA)                                              
38 Sean Babcock (USA)                                             
39 Mike West (USA)                                                
40 Aaron Bouplon (USA) Rocky Mounts / Izze                        
41 Chad Wells (USA)                                               
42 Will Campbell (USA) Vitamin Cottage Cycling Team               
43 Corey Carlson (USA) Rocky Mounts - Izze                        
44 Chris Peterson (USA)                                           
45 Blake Harlan (USA) Mona Vie/Cannondale                         
DNF Justin Torrellas (USA)                                        
DNF Michael Raney (USA) VooDoo Cycles                             
DNF Martin Guess (USA) Vitamin Cottage Cycling Team               
DNF Jesse Giordano (USA) Nob Hill Velo                            
 
Elite women

1 Katie Compton (USA) SPIKE-Primus Mootry-ROL Wheels         37.52
2 Georgia Gould (USA) Luna Chix                               1.16
3 Rachel Lloyd (USA) Proman/Paradigm                          1.40
4 Wendy Williams (USA) River City Bicycles                    2.09
5 Kerry Barnholt (USA) Tokyo Joes / Van Dessel                2.54
6 Dellys Starr (Aus) Sports Garage/BMC                        3.55
7 Amy Dombroski (USA) Velo Bella - Kona                       4.05
8 Sue Butler (USA) River City Bicycles                        4.10
9 Barbara Howe (USA) Velo Bella Kona                          4.28
10 Megan Elliot (USA)                                         7.01
11 Kris Walker (USA) Kriegcycling.com                         7.25
12 Nina Baum (USA) Nob Hill Velo                              9.10
13 Natasha Cowie (USA)                                        9.23
14 Lauren Costantini (USA) Sycip Racing                       9.26
15 Megan Monroe (USA) BMC-Sports Garage                       9.28
One lap down
16 Nicole Duke (USA) Boulder Cycle Sport                          
17 Jennifer Tilley (USA) Velo Bella/Kona                          
18 Anne Lannan (USA) Vitamin Cottage                              
19 Katie Monahan (USA) Blue Sky Velo                              
20 Kate Scheider (USA) FTS/North Atlantic Velo                    
21 Julie Freeman (USA)                                            
22 Rebecca Menke (USA)                                            
23 Lora Heckman (USA) New Belgium Brewing Co.                     
24 Monique Hein (USA)       

Women 35+

1 Karen Hogan (Chipotle - Titus)                                  
2 Margell Abel (Vitamin Cottage)                                  
3 Ladawn Stevenson (Tokyo Joes)                                   
4 Laura Mizener (Fleet Feet Boulder)                              
5 Martha Iverson (Durango Wheel Club)                             
6 Kayla Thomason (Schwab Cycles)                                  
7 Deirdre Garvey (LVC)                                            
8 Devora Peterson (Tokyo joe's)                                   
9 Pamela Dubrowolski                                              
10 Darcy Tiglas (Echelon Health/Lee's Cyclery)                    
11 Arianne Caporiccio (Red Rocks Velo)                            
12 Deanna Mclain                                                  
 
Men 35+

1 Eric Sheagley (Green Mountain Sports Velo)                 37.40
2 Jon Cariveau (MOOTS)                                        0.08
3 Dennis Farrell (RRV)                                        0.13
4 Karl Kiester (Great Divide Racing)                          0.59
5 Tim Faia (Independent Fabrication)                          1.11
6 Chris Phenicie (Green Mountain Sports Velo)                 1.48
7 Jeff Hartman (Big Shark Racing)                             2.07
8 Gaige Sippy (Durango Wheel Club)                            2.20
9 Brian Maslach (SPIKE-Primus Mootry)                         2.31
10 Jeff Wardell (Excel Sports/Xybix Systems)                  2.45
11 Joe Taddeucci (Vitamin Cottage Cycling Team)               3.02
12 Doug Reid (Veloce Cycles Portland)                         3.08
13 Brian Hludzinski (Boulder Racing)                          3.10
14 Mitch Westall (Green Mountain Sports Velo)                 3.14
15 Mike Hogan (Chipotle - Titus)                              3.17
16 Todd Cassan (Westwood Velo)                                3.19
17 Bill Marshall (KCCX/Verge)                                 3.21
18 Rod Yoder (Green Mtn. Sports Velo)                         3.23
19 Russell Kappius (Red Rocks Velo)                           3.31
20 Ward Baker (RockyMounts / Izze Racing)                     3.33
21 Tom Phillips (Ragnarok Racing)                             3.34
22 Jeff Cospolich (Copper Mt / HCRT)                          3.43
23 Clay Harris (Red Rocks Velo)                               3.45
24 Troy Krause (Lincoln Industries/Lemond)                    3.47
25 Stephen Oliver (COmotion Sports)                           3.48
26 Kelly Niquette (Rockymounts / IZZE)                        3.56
27 Ty Porter                                                  3.59
28 John Mckone (Northwave)                                    4.07
29 David Weber (Rocky Mounts - Team Izze)                     4.08
30 Greg Shoffner (Amgen)                                      4.15
31 Joel Mischke (Basalt Bike & Ski)                           4.20
32 Kris Thompson (mix1~Concept3d)                             4.24
33 Ryan Starr (FuentesDesign)                                 4.26
34 Patrick Gallegos (PM Racing Team)                          4.34
35 Jared Shuttleworth (Red Rocks Velo)                        4.52
36 Gregory Keller (Rocky Mounts - Izze Racing)                4.56
37 Brian Hannon (Bach Builders)                               4.58
38 Scott Forrest                                              5.07
39 Craig Hilton (Red Rocks Velo)                              5.09
40 Doug Karet                                                 5.16
41 Kenneth Bloomer (Independent Fabrication)                  5.40
42 Mike Sutter (wild oats PB al's barber shop)                5.49
43 John Cotton (Vitamin Cottage)                              5.54
44 Danny Sullivan (Green Mountain Sports Velo)                5.54
45 Taro Smith (Boulder Cycle Sport)                           6.03
46 Waldek Stepniowski (Luna Women's MTB Team)                 6.08
47 Kirk Olson (Ridley Factory Team)                           6.16
48 Mike Huffman (Harshman Wealth/Primus Mootry)               6.21
49 Tim Leahy (Vitamin Cottage Cycling Team)                   6.27
50 Jonathan Coln (Rocky Mounts - Izze Racing)                 6.51
51 Brad Fink (Rocky Mounts/Izzy)                              7.10
52 Pieter Schouten (Green Mountain Sports Velo)               7.14
53 Dan Depaemelaere (Harshman)                                7.19
54 Jamie Kilcoyne (Chipotle-Titus)                            7.26
 
Men 45+

1 Frank Hibbitts (Sibex Cycling Team)                        41.01
2 Brook Watts (Great Divide)                                  0.28
3 Bruce Hodgkins (Excel Sports)                               0.43
4 Craig Hofer (Green mountain sports velo)                    1.05
5 Bruce Whitesel (Green Mountain Sports Velo)                 1.33
6 Robert Bieterman (chipolte)                                 1.51
7 Joe Burtoni (Durango Wheel Club)                            2.06
8 Paul Humiston (Sports Garage)                               2.25
9 Bill Kellagher (Vitamin Cottage Cycling Team)               2.27
10 Mark Taylor (greatadventuresports.com)                     2.56
11 Larry Kaufman (Van Dessel Factory Team)                    3.00
12 Gary Meyer (Pikes Peak Velo)                               3.07
13 Joseph Paulson (Subway/Peerless Tyre)                      3.14
14 Tim James (Boulder Cycle Sport CX Team)                    3.16
15 Peter Marshall                                             3.35
16 Bill Herwig (Vitamin Cottage)                              3.52
17 Jeff Payne (Sports Garage Cycling Team)                    4.00
18 Bob Henry (Green Mountain Sports Velo)                     4.33
19 Brad Haswell (Green Mountain Sports Velo)                  4.40
20 John Shearer (Green Mountain Sports Velo)                  4.46
21 Doug Felkley (Boulder Cycle Sport CX Team)                 4.50
22 Jon Mcclurg (Rocky Mounts/Izze Racing)                     4.59
23 Joel Howes (Great Divide Cycling Team)                     5.12
24 Gareth Richards (Ryders Eyewear)                           5.15
25 Bill Johnson (Team Louisville Cyclery)                     5.16
26 Doug Squires (Rocky Mounts - Izze Racing)                  5.24
27 Robert Balgley (Pro Peloton Racing)                        5.26
28 Paul Bauersfeld (Swift Cycling)                            5.27
29 Jon Dellios (nob hill velo)                                5.36
30 Blair Whitaker (Schwab Cycles Racing Team)                 5.43
31 Scott Hendricks (Vitamin Cottage Cycling Team)             5.45
32 Lee Rivers (Dogs at Large)                                 5.49
33 Christopher Dacey (Boulder Cycle Sport CX Team)            5.57
34 Kevin Barker (Green Mountain Sports Velo)                  5.58
35 Larry Grossman (Mountain Pedaler)                          6.01
36 Gerald Greenleaf (Boulder Cycle Sport CX Team)             6.02
37 Justin Green (Chipotle-Titus)                              6.06
38 Andrew Forbes (boise cycling club)                         6.18
39 Reid Ackerman (Great Divide Cycling Team)                  6.35
40 Lance Larrabee                                             6.48
41 Corky Grimm (Green Mountain Sports Velo)                   7.13
42 Steve Young (Vitamin Cottage Cycling Team)                 7.16
43 Richard Squires (Rocky Mounts - Izze Racing)               7.16
44 Gary Wolff (Team Maxxis)                                   7.49
45 Tom Shanley (Haul'n Ass Race Team)                         7.56
One lap down
46 Michael Spak (Schwab Cycles Racing Team)                       
47 Tim Carlin                                                     
48 Mitch White (Idaho Cycling Enthusiasts/Rocky)                  
49 Danny Miller                                                   
50 John Modder (Boulder Cycle Sport)                              
51 Brian Dunn (Great Divide Cycling Team)                         
52 Jack Boltz (King of the Rockies)                               
53 Ken Brecheisen (RMRC)                                          
54 Michael Kruteck                                                
55 Dale Riley                                                     
56 Tom Keenan                                                     
57 Chancie Cavendish (Echelon Health/Lee's Cyclery)               
58 Al Pessot (Swift Cycling)                                      
59 Roger Hughes                                                   
60 David Chapman                                                  
61 John Chahbandour (Full Cycles)                                 
62 Kevin Healy (Pikes Peak Velo)                                  
63 Richard Bradfield (Ridley Factory Team)                        
64 Jack Mcdonald (Vitamin Cottage Cycling Team)                   
 
Men 55+

1 Lee Waldman (Redrocks Velo)                                47.15
2 Rick Abbott (ExcelSports.com)                               1.51
One lap down
3 Al Marvin (Posion Spider Cycling)                               
4 Scott Glasscock (Team Rio Grande)                               
5 Richard Elliott (Blacksheep Cycling)                            
6 Tim Downing (Team Louisville Cyclery)                           
7 James Kinsinger (Subway/Peerless Tyre)                          
8 Gary Peterson (ColoBikeLaw.com)                                 
9 Hunter Smith (Boulder Cycle Sport)                              
10 Loren Hettinger (Schwab Cycles Racing Team)                    
11 Gregory Skomp (Boulder Cycle Sport)                            
12 Erik Nordenson (Great Divide Cycling Team)                     
13 Jim Cushing-Murray (Celo Pacific Racing Team)                  
14 Paul Schulet                                                   
15 Richard Bagienski (Durango Wheel Club)                         
16 Gary Behlen                                                    
17 Chris Canfield (Team Evergreen Racing)                         
 
Men Cat 3

1 Conor Mullervy (Clif Bar Development CX Team)              59.04
2 Chad Melis (Oskar Blues Brewery/Redstone )                  0.33
3 Robin Eckmann (Glif Bar Development Team)                   1.09
4 Adam Lang (KCCX/Verge)                                      1.26
5 Kris Lathrop (Comotion/yeti)                                1.34
6 Adam Parke (Crankbrothers)                                  1.44
7 Tom Hopper (Bikeman.com)                                    1.52
8 Michael Mathers (Ridley Factory Team)                       1.57
9 Dusty Labarr (Joe's Bike Shop)                              2.06
10 Arthur Nelsen                                              2.14
11 Joseph Schmalz (Team X Cycling)                            2.14
12 Cody Cox (Clif Bar Development CX Team`)                   2.16
13 David Walker (VeloNews)                                    2.30
14 Darron Cheek (Copper Mtn./High Co.Racing)                  2.38
15 Andrew Barker (Clif Bar Development CX Team)               2.39
16 Yannick Eckmann (Glif Bar Development Team)                3.03
17 Robert Noyes (RockyMounts Izze)                            3.11
18 Eric Jones (Colavita Colorado)                             3.16
19 Kevin Wilde (Porcupine/ Specialized)                       3.20
20 Kevin Mulleruy                                             3.42
21 Chris Wallace (Team X Cycling)                             3.46
22 Scott Gordon (Boulder Cycle Sport)                         3.46
23 Simon Alexander (Echelon Elite/Denver Spoke)               3.49
24 Matt Opperman (Pro Peloton Racing)                         4.03
25 Lane Miller (Louisville Cyclery)                           4.11
26 Travis Lukens (Copper Mountain/HCRT)                       4.25
27 Robert Batey (Pro Peloton Racing)                          4.56
28 Peter Vraniak (Echelon Spokes and Slopes)                  4.58
29 Paul Rapinz (Ridley Factory Team)                          5.00
30 Jeff Struck (Team S & M)                                   5.08
31 David Fleck (Rocky Mountain Road Club)                     5.13
32 Jan Koles (Rocky Mountain Racing)                          5.13
33 Justin Moka                                                5.14
34 Michael Friedberg (Giant)                                  5.23
35 Arne Assor (Tokyo joes)                                    5.23
36 Kevin O'brien (Skins Racing)                               5.30
37 Ben Delaney (Velonews)                                     5.53
One lap down
38 Sean Steeves (Rocky Mountain Spine & Sport)                    
39 Travis Macy                                                    
40 Zachariah White (Rocky Mounts - Izze Racing)                   
41 Isaac Dancy (Blue Sky Velo)                                    
42 Leo Patnode (Colavita)                                         
43 Larry Marti (Skins Racing)                                     
44 Steve Dunn (Echelon Spokes and Slopes Racing )                 
45 Chris Porter (Team Evergreen Racing)                           
46 Ryan Artale (Mafiaracing.com)                                  
47 Marlon Crespin                                                 
48 Chris Smithwick                                                
49 Kevin Krajewski (Echelon Spokes and Slopes Racing)             
50 Jacob Gruzalski (Red Rocks Velo)                               
51 Josh Wiegand (DEAN Bikes)                                      
52 David Kutcipal (Mix 1 ~ Concept 3d)                            
53 Robert Love (Blue Sky Velo)                                    
54 Trent Cooper (Red Rocks Velo)                                  
55 Tom Needy (Christian Cycling)                                  
56 Seth Ramsbottom (GMS VELO / YETI)                              
57 John Calgiano (Rocky Mounts - Izze Racing)                     
58 Tim Barnes                                                     
59 Michael Fitch (HART/ CEScolorado.com)                          
60 Alec Uitti (Koday Gallery/Sierra Nevada)                       
61 Bil Pfaffendorf (Bang Salon/Haul'n Ass Race Team)              
62 Casey Hill (Schwab Cycles)                                     
63 David Hixson (Rocky Mounts-Izze Racing)                        
64 Ben Ollett (Western School of Sport)                           
65 Peter Lopez (Pedal Pusher Cycling Team)                        
66 Brian Brothers (Skins racing - Oh yeah!)                       
67 Daimeon Shanks (TIAA-CREF / 5280)                              
68 Bret Hunter (Sports Optical Racing Team)                       
69 Nicholas Legan                                                 
70 Jonathan Whitney (Echelon Spokes & Slopes Racing)              
71 Susan Einberger (BCS CX Team)                                  
72 Chris Woody (Crossniacs)                                       
73 Jeremiah Boobar (Sram Forza)                                   
74 Greg Albrechtsen                                               
75 Ryan Barlow (Colorado State University)                        
76 Steve Hageman (Haul'n Ass Race Team)                           
77 James Anderson                                                 
78 Eric Kuo (Denver Boulder Couriers Cycling)                     
79 Matthieu Chesaux (Ritchey)                                     
80 Bo Judd (Boulder Cycle Sport CX Team)                          
 
Men Cat 4

1 Alexander Vining (Nob Hill Velo)                           41.41
2 Jody Proctor (excelsports.com)                              0.35
3 Ed Schultz (Boulder CycleSport)                             1.02
4 Scott Jaime (Team Einstein's Cycling)                       1.27
5 James Sullivan (CU cycling)                                 1.33
6 Kervin Quinones (Rotor Bike Components)                     1.34
7 Juergen Eckmann (Not Attached)                              1.34
8 Craig Simons                                                1.48
9 Seth Smekal                                                 1.55
10 William Baker                                              2.13
11 Ben Domingue                                               2.17
12 Charlie Merrill                                            2.21
13 Scott Coldiron (External Validation)                       2.31
14 Harold Stephenson (boulder cycle sport cyclocross team)    2.34
15 Kristopher Keller                                          2.37
16 Kevin Burnette (Velo News)                                 2.43
17 Michael Hanna (Haul'n Ass Race Team)                       2.43
18 Eric Gutheinz (Boulder cycle sport)                        2.43
19 Kirk Peterson (Velochronic/Bicycle Link)                   2.49
20 Scott Sheehan                                              2.54
21 Christopher Downs (Nob Hill Velo)                          2.55
22 David Cole (Ridley Factory Team)                           3.02
23 Adam Rachubinski (CapoForma Custom Clothing)               3.07
24 Michael Tobiassen (Frites En Mayo Velo Club)               3.08
25 Jonathan Pulley (boulder cycle sports CX)                  3.27
26 James Mapes (CU Cycling)                                   3.30
27 Rich Arvizo                                                3.33
28 Dan Farrell (BLUE SKY VELO)                                3.46
29 Mario Chiarani (Jamis Bikes)                               3.47
30 Shawn Meredith (American Cycle and Fitness/WSC)            3.49
31 Chad Demoss (Sierra Nevada/Kodak)                          3.53
32 Michael Burton (Team Pro Cyclery)                          3.55
33 Matt Massengale                                            3.57
34 John Guillaume (Rocky Mounts / Izze Racing)                3.58
35 Scott Fliegelman (FastForward)                             3.59
36 Jeremy Duerksen (Blue Sky Velo)                            4.03
37 Nate Lustig (Campus Cycles)                                4.15
38 Ben Apple (Ridley Factory Team)                            4.22
39 Darryl Beachy (pikes peak velo racing)                     4.25
40 Mike Starck (Blue Sky Velo)                                4.25
41 Brian Moran (Louisville Cyclery Velo Club)                 4.26
42 James Bradley (Boulder Cycle Sport)                        4.27
43 Jeff Baker (Pikes Peak Velo)                               4.29
44 Jeffrey Homan (Hammer Racing Team - TVG LTD.)              4.31
45 Blake Ottersberg (VELONEWS)                                4.32
46 Jafar Tabaian (HART Racing Team)                           4.33
47 Roger Knight                                               4.38
48 Matt Wallace (Ridley Factory teram)                        4.39
49 James Heuck (Red Rocks Velo)                               4.42
50 Anthony Carcella (Rockymounts-Izze)                        4.51
51 Jason Giguere (Boulder Cycle Sport CX Team)                5.10
52 Lee Herndon (RMRC)                                         5.16
53 Clint Kay (Boulder Nordic Club)                            5.26
54 Kevin Graboski (Blue Sky Velo)                             5.30
55 John Twa (Team Louisville Cyclery)                         5.31
56 Christopher Bosch (Echelon Spokes & Slopes)                5.43
57 Chris Busacca (Mix1~Concept3D)                             5.46
58 Zach Lee                                                   5.47
59 Steve Gosselin (BPN)                                       5.48
60 Andrew Sprafke (Green Mountain Sports)                     5.51
61 Cary Dunn (Yeti Mountain Madness)                          5.57
62 Kevin Abraham (Blue Sky Velo)                              6.02
63 Bryan Grace                                                6.09
64 Michael Steinberg (Boulder Cycle Sport)                    6.20
65 Cory Bolen (Boulder CycleSport (BCS))                      6.21
66 Brian France (Team Evergreen Racing)                       6.23
67 Jason Sumner                                               6.27
68 Ivy Koger (Fleet Feet Triathlon)                           6.31
69 Bob Prieto                                                 6.33
70 Christopher Shotwell (Sram factory)                        6.36
71 Lee Gerakos (Blue Sky Velo)                                6.37
72 David Kilmoyer (Blue Sky Velo)                             6.37
73 John Bliss (Boulder Cycle Sport)                           6.38
74 Aaron Vaughn (CSU cyc)                                     6.54
75 Jeff Wu                                                    6.54
76 Neeraj Engineer (Ridley)                                   7.01
77 Walter Knapp (Boulder Cycle Sport)                         7.07
78 Robby Schweiss                                             7.07
79 Chris Settje (Alan Factory Team)                           7.12
80 Eric Peltier (Rocky Mounts Izze Racing)                    7.14
81 Eric Houck                                                 7.17
82 Bradley Swenson (Echelon Spokes & Slopes Racin)            8.18
83 Nathan Schwartz (CU Cycling)                               8.25
One lap down
84 Colin Kennedy (Hauln'ass)                                      
85 Adam Moskowitz (Einstein's)                                    
86 Colin Flannery                                                 
87 Albert Ioppolo (Boulder Triathlon)                             
88 Scott Bristol (ColoBikeLaw.Com)                                
89 Eric Zerowin (Campus Cycles /24 Hours in the)                  
90 Johannes Schmidt                                               
91 Joe Buhl                                                       
92 Michael Gentry                                                 
93 Nathan Hero (Ridley Factory Team)                              
94 Brad Kaminski (Velonews)                                       
95 Brian Milnick (green mountain sports velo)                     
96 Mario Chiarani (Jamis Bikes)                                   
97 Ron Dreasher (Blue Sky Velo)                                   
98 Nathan Meyers (Christiancycling.com)                           
99 John Kerschner                                                 
100 Kenneth Kowalski (Ridley Factory Team)                         
101 Tom Hall (Christiancycling.com)                                                                  

Past winners


2006 Barry Wicks (USA) Kona           Katie Compton (USA) Spike Professional/Primus Mootry