Koppenbergcross - C1
Oudenaarde, Belgium, November 1, 2007
2006 results Results Past winners
Blue-clad UCI leader Nys wins again on the Koppenberg
By Brecht Decaluwé in Oudenaarde
Sven Nys
Photo ©: Roberto Bettini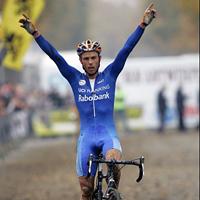 The mythical Koppenberg will not feature in the 2008 Tour of Flanders but there is one race where the cobbled climb plays the leading part and that is the Koppenbergcross. Four-time winner Sven Nys (Rabobank) was the big favourite before the race, a position which he commonly holds, and he did not disappoint his fans.
The UCI-leader, wearing a dark blue jersey, was always near the front and when he accelerated in the third lap, only Bart Wellens (Fidea Cycling Team) and Zdenek Stybar (Fidea Cycling Team) could follow. The Fidea riders couldn't form a coalition against the Belgian and with less than three laps to go, Nys attacked a second time. Stybar resisted before dropping back while Wellens took risks on the slippery descent of the Koppenberg. The temporary result was that Wellens went over his handlebars while Stybar lost touch with Nys. Eventually Wellens managed to come back in the lead in the last lap, but Nys kept his cool and launched a fierce acceleration which was enough to clinch his fifth-ever victory in the Koppenbergcross.
"I've been waiting for a tough cross like this where we're battling against each other, and I think Bart feels the same way about it. It's exciting when we try to pass each other everywhere," Nys smiled when thinking back to the last lap of the race.
"Wellens was very fast in the descent but I realized he took risks for that advantage. I decided to descend slower but safe[r]. My advantage was that I knew where I had to be in front, I could make the difference where the power was important," the UCI points leader explained. The opposition from Wellens didn't surprise Nys despite the fact that the Belgian champion has not been riding well in recent important races. "You always need to take Wellens into account when he's having a good day. He has periods where he's less good, he's not that consistent anymore."
Belgian champion Wellens was happy with his performance although he had to yield to Nys on the last lap. "It was extremely difficult today and I crashed on a crucial moment. I used my last cartridge to come back on him but then you know it would be hard to beat him," Wellens said. "In the end, it's not a shame to be beaten by Sven Nys."
His team-mate Zdenek Stybar was also happy, not surprising since Stybar wasn't expected to do well on a tough and technical course. "I'm really pleased," said the Czech to Cyclingnews. "I didn't expect to go up with them [Nys and Wellens] today." When asked whether he tried to stay on Nys' wheel for too long Stybar disagreed. "No thinking, just riding," Stybar said there wasn't much in the way of tactics happening in his head. "I only rode and tried to stay with Nys so I could get a top three result."
Sven Nys
Photo ©: Roberto Bettini

Veteran Richard Groenendaal (AA Cycling Team) was also pleased as he was the best-of-the-rest today. "I'm lacking power and that why I wasn't good enough at the start and the climb. Good riders finished ahead of me so I'm not complaining," Groenendaal said to Cyclingnews.
World champion Erwin Vervecken (Fidea Cycling Team) isn't riding as well these days, something he expressed concern about last week, but today's performance made him feel much better. "After a bad start I worked my way back to the front on character, moving up one position at a time. It's my best ever result over here and you've got to put the past results in perspective since they weren't so bad; it was a combination of bad luck and slightly less form," Vervecken explained.
Dutch champion Lars Boom (Rabobank) had a good start but dropped back from the third lap on to finish 13th; nevertheless, he managed to win the intermediate sprint for three GC points. "Those points are so much to the good gained. I'm not really disappointed although I expected more from this race. It's my first tough race and the others were very strong," Boom said about his performance.
A coughing Jonathan Page (Sunweb Projob) didn't finish the race, he rode back to the mobile home with three laps to go. His soigneur Franky Van Haesebroucke said he advised Page to quit the race. "It's not worth to damage yourself for a bad placing. He didn't choose the best tyres but that wasn't the reason for this performance. He was already coughing before the race and it was even worse now. He didn't have strength in his legs and I told him to skip the race in Eernegem and focus on the Superprestige race in Hamme-Zogge. Today's race is one to forget quickly."
The race in Hamme-Zogge is also the race organized by Page's team manager Jurgen Mettepenningen who will be waiting for good results from his riders.
How it unfolded
The pack quickly strung out
Photo ©: Roberto Bettini

The main topic before the race was the failure of enfant-terrible Frank Vandenbroucke to start. The much-discussed Belgian was spotted warming-up on the course before the race but eventually VDB decided not to take the start near the sloops from the Koppenberg because he felt cyclo-cross wasn't his cup of tea.
Another non-starter was Lampre's Enrico Franzoi who is back in Italy to support his heavily pregnant wife. Two US starters – Jonathan Page and Jonathan Baker - stood among the 53 riders who lined up for the start in Oudenaarde where rainfall at night made for a slippery and soggy course up and around the Koppenberg. Temperatures were around 13°C.
Rob Peeters (Landbouwkrediet - Tönissteiner) made the best start. He dove into the mud with Dutch champion Lars Boom on his wheel. Peeters quickly dropped back after a minor crash and the yellow shirt from Jan Verstraeten was spotted in the front during that first reconnaissance lap. The course was extremely tough for riders and equipment and despite there being no specific attacks, the peloton was stretched out over the course. Eleven men separated themselves from the rest. Missing from that bunch were world champion Vervecken, Page and Niels Albert. That Gent-Wevelgem-winner Marcus Burghardt (T-Mobile) wasn't at the front was more expected.
After an acceleration from Klaas Vantornout (Fidea Cycling Team) on the cobbled climb there were five leaders who lined up for the intermediate sprint for three GC points. Boom won that sprint over Wellens, Nys, Vantornout and Stybar. Page was riding in about twentieth position together with his team captain Sven Vanthourenhout (Sunweb Projob).
During the third lap on the second part of climb Nys took control of the race for the first time. Stybar rode into a fence while riding in third position and Nys and Wellens managed to sneak away in front. The young Czech came back during the technical muddy descent while Boom and Vantornout dropped back for good.
Fifteen seconds further Richard Groenendaal, Bart Aernouts (Rabobank), Petr Dlask (Fidea Cycling Team) and Peeters were closing in on the duo in front of them. Niels Albert (Palmans Cras) and Vervecken formed a duo in an effort to overcome their bad start. Halfway the race Nys, Stybar and Wellens were leading the race with a lead of 26" on five men: Boom, Vantornout, Groenendaal, Aernouts and Dlask; Vervecken and Albert were trailing at 38" while Page was three minutes down. Baker was half a lap behind while an exhausted Burghardt would soon be lapped. Dutch champion Boom dropped back but the Dutch flag was waved by Groenendaal who got better as the race progressed.
With less than three laps to go, Nys unleashed his forces again on the second steep part of the Koppenberg climb. Stybar tried but was simply no strong enough to stay in Nys' wheel, just like Wellens. The Belgian champion decided to take risks on the descent in an effort to come back to Nys but that proved to be a bad decision. Wellens went over the handle bars when his front wheel got stuck in the mud when going through one of the slippery downhill corners.
What followed was a Lance Armstrong miracle comeback although the last part where Wellens would have ridden away from Nys was missing. Wellens bridged up with Nys just before the duo hit the final lap, and the crowds were ecstatic after such a long time since the last time this duo would fight man-to-man in the final lap.
Wellens and Nys were indeed battling it out as they tried to overtake each other before every crucial point to get the best position possible. Eventually it was Nys who led at the second part of the Koppenberg climb and he immediately put his rival under pressure. Wellens couldn't clench his fists any tighter and he came second to the UCI leader who took his fourth consecutive win at the Koppenberg.
Behind this exiting main battle were more dogfights and a race for fifth place. World champion Vervecken overcame his bad start and once again pulled out a raging ultimate lap where he had set back Dlask and Albert. American riders Jonathan Page and Jonathan Baker didn't finish the race while Marcus Burghardt captured a 38th place out of 40 finishers.
Photography
For a thumbnail gallery of these images, click here
Images by Roberto Bettini/www.bettiniphoto.net
Images by Stijn Vercaemer
Images by Brecht Decaluwé/Cyclingnews.com
Results

Elite men (52 starters)

1 Sven Nys (Bel) Rabobank                                   1.01.18
2 Bart Wellens (Bel) Fidea Cycling Team                        0.12
3 Zdenek Stybar (Cze) Fidea Cycling Team                       0.51
4 Richard Groenendaal (Ned) AA Cycling Team                    1.25
5 Erwin Vervecken (Bel) Fidea Cycling Team                     1.38
6 Niels Albert (Bel) Palmans Cras                              1.46
7 Petr Dlask (Cze) Fidea Cycling Team                          1.54
8 Klaas Vantornout (Bel) Fidea Cycling Team                    2.16
9 Bart Aernouts (Bel) Rabobank                                 2.34
10 Rob Peeters (Bel) Landbouwkrediet - Tönissteiner            3.20
11 Wilant van Gils (Ned) ZZPR.NL                               3.25
12 Jan Soetens (Bel) Jartazi-Promo Fashion                     3.33
13 Lars Boom (Ned) Rabobank                                    3.45
14 Kevin Pauwels (Bel) Fidea Cycling Team                      4.00
15 Sven Vanthourenhout (Bel) Sunweb Projob                         
16 Thijs Al (Ned) Be One                                       4.22
17 Dieter Vanthourenhout (Bel) Easypay Cyclocross Team         4.32
18 Jan Verstraeten (Bel) Sunweb Pro Job                        4.37
19 Gerben de Knegt (Ned) Rabobank                              5.17
20 Marek Cichosz (Pol)                                         5.25
21 Tim Van Nuffel (Bel) Easypay Cyclocross Team                5.50
22 Ben Berden (Bel) Revor Cycling Team                         6.27
23 Davy Commeyne (Bel) Palmans Cras                            6.49
24 Marco Aurelio Fontana (Ita)                                 7.12
25 Wim Jacobs (Bel) Van der Vorst CT                           7.28
26 Roy van Heeswijk (Ned)                                      7.33
27 Isaac Suarez (Spa)                                          8.16
28 Mariusz Gil (Pol) LKS Pom                                   8.35
29 Kay Van Den Brande (Bel) Palmans Cras                       8.59

One lap down
30 Rafael Visinelli (Ita)                                          
31 Tom Van Den Bosch (Bel) Palmans Cras                            
32 Oscar Vazquez (Spa)                                             
33 Nico Clarysse (Bel) Cycling Team Oost-West                      
34 Geert Van Crombruggen (Bel) Royal Cureghem Sportif - Brussel    
35 Peter Van Den Heuvel (Ned)                                      
36 Wim Maes (Bel) Immo NLVK Cycling Team                           
37 Martin Műller (Swi)                                             
38 Marcus Burghardt (Ger) T-Mobile                                 
39 Martin Vestby (Den)                                             
40 Johan Mijngheer (Bel)                                           
 
Under 23 

1 Tom Meeusen (Essen)                                         49.20
2 Quentin Bertholet (Bel) Fidea Cycling Team                   0.56
3 Thijs van Amerongen (Ned)                                    1.33
4 Maxim Debusschere (Bel) Sunweb Pro Job                       2.02
5 Jempy Drucker (Lux)                                          2.30
6 Wim Leemans (Bel) AWS Cycling Team Kasterlee                 2.51
7 Kevin Cant (Bel) AWS Cycling Team Kasterlee                  3.18
8 Dries Govaerts (Bel) Scott USA Cycling Team                  3.22
9 Gianni Denolf (Bel)                                          3.33
10 Lukas Kloucek (Cze)                                         3.40
11 Rob van der Velde (Ned)                                     3.58
12 Sven Verboven (Bel)                                         4.03
13 Dries Dewit (Bel) Scott USA Cycling Team                    4.11
14 Jim Aernouts (Bel) Edegem BC                                4.24
15 Stijn Huys (Bel) Palmans Cras                               4.45
16 Robert Gavenda (Svk)                                        4.59
17 Kenny Geluykens (Bel) Sunweb Pro Job                        5.07
18 Hans Becking (Ned)                                          5.10
19 Thomas Vernaeckt (Bel) Asfra Racing Team                    5.37
20 Ivar Hartogs (Ned)                                          5.58
21 Bart Verschueren (Bel)                                      6.20
22 Mauro Gonzalez Fontana (Spa)                                6.33
23 Kristof Zegers (Bel) WSC Jonge Renners - Booischot          6.45
24 Sylwester Janiszewski (Pol)                                 6.53
25 Jerry Kallenfels (Ned)                                      7.04
26 Alex Atkins (GBr)                                           7.18
27 Dave De Cleyn (Bel) Scott USA Cycling Team                  7.21
28 Nivard Van Acker (Bel)                                      8.02
29 Kjell Van Driessche (Bel)                                   8.17
30 Jordy Beuker (Ned)                                          8.36
31 Marcin Sobiepanek (Pol)                                     8.49
32 Nick De Proost (Bel) DCM-GB Vorselaar Cycling Team vzw      9.07
33 Bart Hermans (Bel) Balen BC                                 9.19

One lap down
34 Gregory Franckaert (Bel)                                        
35 Lorenzo Messine (Bel) Cyclo Cross Team Waarschoot               
36 Julian van Dijk (Ned)                                           
37 Hans Van Den Bogaert (Bel) Rupelspurters Boom                   
38 Davy Depaepe (Bel) CT Keukens Buysse Knesselare                 
39 Koen van Grootel (Ned)                                          
40 Mark Smit (Ned)                                                 
41 Tom Lambrechts (Bel) WSC Jonge Renners - Booischot              
42 Marco Minnaard (Ned)                                            
43 Bart Wouters (Bel) WSC Hand in Hand - Baal                      
44 Peter Verstockt (Bel)                                           
45 Pierre Witkovski (Ger)                                          
46 Max Gensing-Podschun (Ger)                                      
47 Mathias Holvoet (Bel) Daikin Cycling Team Liedekerke vzw        
48 Tom Claux (Bel)                                                 
49 Mathias Holvoet (Bel) Daikin Cycling Team Liedekerke vzw        
 
Elite Women
 
1 Daphny van den Brand (Ned)                                  42.50
2 Reza Hormes-Ravenstijn (Ned)                                 1.26
3 Veerle Ingels (Bel)                                          1.37
4 Linda van Rijen (Ned)                                        1.56
5 Sanne Cant (Bel)                                             2.04
6 Stephanie Pohl (Ger)                                         2.25
7 Helen Wyman (GBr)                                            2.58
8 Joyce Vanderbeken (Bel)                                      3.30
9 Gabriella Day (GBr)                                          3.39
10 Anja Nobus (Bel)                                            3.56
11 Christine Vardaros (USA)                                    4.11
12 Laurence Leboucher (Fra)                                    4.36
13 Saskia Elemans (Ned)                                        5.22
14 Katrien Aerts (Bel)                                         5.24
15 Ilse Vandekinderen (Bel)                                    6.50
16 Aline Parsy (Fra)                                           7.01
17 Mika Ogishima (Jpn)                                         7.47
18 Katrien Vermeiren (Bel)                                     8.34
19 Daisy van der Aa (Ned)                                      8.56

One lap down
20 Gertie Willems (Bel)                                            
21 Monique van de Ree (Ned)                                        
22 Monika Heuveling (Ned)                                          
23 Cindy Clevers (Ned)                                             
24 Nancy Bober (Bel)                                               

Two laps down
25 Katia Verstraete (Bel)                                          
26 Sharon Defoor (Bel)                                             
27 Limke Peeters (Bel)                                             
28 Kim Van Renterghem (Bel)                                        
29 Sarah Liekens (Bel)                                             
30 Sandie Verriest.(Bel)                                           
 
Juniors (94 starters)

1 Marek Konwa (Pol)                                           38.45
2 Dany Lacroix (Bel)                                           0.30
3 Simon Geets (Bel)                                            0.36
4 Gerry Druyts (Bel)                                           0.42
5 Jasper Ockeloen (Ned)                                        0.58
6 Kaj Slenter (Ned)                                            1.10
7 Rudy Kowalski (Fra)                                          1.29
8 Bas Krauwel (Ned)                                            1.56
9 Tommy van Beem (Ned)                                         2.01
10 Michiel Dieleman (Bel)                                      2.03
11 Jonatan Bervoets (Bel)                                      2.08
12 Angelo De Clercq (Bel)                                      2.23
13 Valentijn Vandevelde (Bel)                                  2.48
14 Robby Cobbaert (Bel)                                        2.51
15 Daan Meijers (Ned)                                          3.00
16 Jeremy Cornu (Fra)                                              
17 Milan van den Ende (Ned)                                    3.02
18 Zeb Willems (Bel)                                           3.07
19 Thomas Gysbrechts (Bel)                                         
20 Mike Vreys (Bel)                                                
21 Zico Waeytens (Bel)                                         3.18
22 Guillaume Van Keirsbulck (Bel)                              3.27
23 Robin De Cnodder (Bel)                                          
24 Lars van der Haar (Ned)                                     3.33
25 Zeb Veestraeten (Bel)                                       3.40
26 Corné van Kessel (Ned)                                      3.42
27 Sylvester Sioen (Bel)                                       3.44
28 Ritchie Denolf (Bel)                                            
29 Yannick Pauwels (Bel)                                       3.54
30 Rob van der Heijden (Ned)                                   3.58
31 Kenny Maes (Bel)                                            4.04
32 Andrzej Bartkiewicz (Pol)                                   4.26
33 Arnaud Van den Abeele (Bel)                                 4.43
34 Niels Koyen (Bel)                                               
35 Robin Poelvoorde (Bel)                                          
36 Niels Wytinck (Bel)                                             
37 Wouter Haan (Ned)                                           4.58
38 Stijn Van Driessche (Bel)                                       
39 Bert Noterman (Bel)                                         5.19
40 Jeffrey Depuydt (Bel)                                           
41 Lennerd Van den Bleeken (Bel)                               5.29
42 Ruben Veestraeten (Bel)                                     5.47
43 Sieën Veestraeten (Bel)                                     6.00
44 Flavien Maurelet (Fra)                                      6.16
45 Rinze De Proost (Bel)                                       6.20
46 Sam Van Hemelen (Bel)                                       6.29
47 Kenneth Marien (Bel)                                        6.42
48 Lewis Rigaux (Bel)                                          6.52
49 Cedric Van Damme (Bel)                                      7.04
50 Steven Galens (Bel)                                         7.08
51 Bert Vermeiren (Bel)                                        7.18
52 Jan Van Meirvenne (Bel)                                     7.35
53 James Laureys (Bel)                                         7.51
54 Karl Peeters (Bel)                                          8.10
55 Rick van Deursen (Bel)                                      8.44
56 Kevin Callebaut (Bel)                                       8.57
57 Arian Smit (Ned)                                            9.12
58 Philip Van Hemelen (Bel)                                    9.21
59 Jens Van den Bosch (Bel)                                    9.32
60 Chris Weittermann (Ger)                                     9.34
61 Wesley Steekers (Ned)                                      10.06
62 Dimitri Michielsen (Bel)                                   10.33
63 Dimi Diels (Bel)                                           10.56
64 Maarten Kesteleyn (Bel)                                    11.05

One lap down
65 Arne Verstraete (Bel)                                           
66 Jonas Plasschaert (Bel)                                         
67 Jona Gladines (Bel)                                             
68 Wim Allary (Bel)                                                
69 Laurens Libbrecht (Bel)                                         
70 Jean Baptiste Taleux (Fra)                                      
71 Kenneth Goossens (Bel)                                          
72 Jasper Vander Beken (Bel)                                       
73 Sam Van Uytvange (Bel)                                          
74 Sonny Volders (Bel)                                             
75 Jony Martein (Bel)                                              
76 Jordan Becquet (Bel)                                            
77 Jelle Storms (Bel)                                              
78 Michiel Van Tilborg (Bel)                                       
79 Kevin Rokegem (Bel)                                             
80 Dries Van Maelzake (Bel)                                        
81 Brecht Vindevoghel (Bel)                                        
82 Rutger La Haeye (Bel)                                           
83 Jens Joosen (Bel)                                               
84 Niels van Gysegem (Bel)                                         
85 Florient Delmay (Bel)                                           
86 Steven Smet. (Bel)                                              
 
Beginners (73 starters)
 
1 Radek Polnicky (Cze)                                        31.28
2 Laurens Sweeck (Bel)                                         0.17
3 Emiel Dolfsma (Ned)                                          0.40
4 Xandro Meurisse (Bel)                                        1.02
5 Mike Teunissen (Ned)                                             
6 Jens Adams (Bel)                                                 
7 Diether Sweeck (Bel)                                         1.44
8 Hendrik Sweeck (Bel)                                             
9 Joeri Hofman (Bel)                                               
10 Jens Vandekinderen (Bel)                                        
11 Frederik Geerts (Bel)                                       2.42
12 Wilco van Beusekom (Ned)                                    3.00
13 James Ysebaert (Bel)                                            
14 Jelle Cant (Bel)                                            3.11
15 Tim Merlier (Bel)                                           3.18
16 Kenny Bultynck (Bel)                                            
17 Elmar Reinders (Ned)                                        3.40
18 Jeroen Meijers (Ned)                                            
19 Niels Van den Driessche (Bel)                               3.56
20 Jorn Claes (Bel)                                            4.00
21 Robin Van Goethem (Bel)                                         
22 Dylan Teuns (Bel)                                               
23 Jeroen Eyskens (Bel)                                            
24 Martijn Masselis (Bel) Easypay Cyclocross Team              4.30
25 Oscar Riesebeek (Ned)                                       4.50
26 Ief Faes (Bel)                                              5.27
27 Wannes Cauwenbergh (Bel)                                        
28 Alois Mus (Bel)                                             5.40
29 Geoffrey Michels (Bel)                                          
30 Rob Leemans (Bel)                                               
31 Jordy Van Staeyen (Bel)                                     5.55
32 Simon Lapeire (Bel) (Bel)                                       
33 Mathias Couckuyt (Bel)                                      6.00
34 Mathias Van Holderbeke (Bel)                                6.15
35 Jeffrey Mellemans (Bel)                                         
36 Mark van der Heijden (Ned)                                  6.20
37 Stijn Heyse (Bel)                                           6.27
38 Robin Delanghe (Bel)                                        6.42
39 Jens Saey (Bel)                                                 
40 Jens De Meyere (Bel)                                        7.00
41 Jellen Schiettecatte (Bel)                                  7.15
42 Glenn Coenen (Bel)                                              
43 Joshua Omez (Bel)                                           7.30
44 Dries Bombeke (Bel)                                             
45 Laurens Van Gansbeke (Bel)                                      
46 Kris Vermeir (Bel)                                          7.40
47 Ludwig Verstraete (Bel)                                         
48 Marijn Thijs (Bel) (Bel)                                        
49 Seppe Kopecky (Bel)                                             
50 Pierre Yves Toussaint (Bel)                                 9.00
51 Mike Mutsaerts (Bel)                                        9.10
52 Giljan Jacobs (Bel) United Cycling Team Sint-Truiden        9.33
53 Bart van Dongen (Ned)                                           
54 Dieter Michielsen (Bel)                                    10.00
55 Joeri Vermeiren (Bel)                                           

One lap down
56 Kenny Constant (Bel)                                            
57 Bart De Zutter (Bel)                                            
58 Gilles Loncin (Bel)                                             
59 Marion Meerkerk (Ned)                                           
60 Jens Verhaegen (Bel)                                            
61 Dylan Galens (Bel)                                              
62 Gilles Clauwaert (Bel)                                          
63 Jarno Du Mongh (Bel)                                            
64 Jimmy Cornu (Bel)                                               

Gazet van Antwerpen Trofee (GvA) Classification (after 1 event)

Elite Men
 
1 Sven Nijs (Bel) Rabobank                                                         36 pts
2 Bart Wellens (Bel) Fidea Cycling Team                                            32
3 Zdenek Stybar (Cze) Fidea Cycling Team                                           29
4 Richard Groenendaal (Ned) AA Sport Drinks                                        27
5 Erwin Vervecken (Bel) Fidea Cycling Team                                         26
6 Niels Albert (Bel) Palmans Cras                                                  25
7 Petr Dlask (Cze) Fidea Cycling Team                                              24
8 Klaas Vantornout (Bel) Fidea Cycling Team                                        23
9 Bart Aernouts (Bel) Rabobank                                                     22
10 Rob Peeters (Bel) Landbouwkrediet - Tönissteiner                                21
10 Lars Boom (Ned) Rabobank                                                        21
12 Wilant Van Gils (Ned) ZZPR.nl                                                   20
13 Jan Soetens (Bel) Jartazi-Promo Fashion                                         19
14 Kevin Pauwels (Bel) Fidea Cycling Team                                          17
15 Sven Vanthourenhout (Bel) Sunweb Projob                                         16
16 Thijs Al (Ned) Combi Kennemerland / Bataaf                                      15
17 Dieter Vanthourenhout (Bel) Easypay Cyclocross Team                             14
18 Jan Verstraeten (Bel) Sunweb Pro Job                                            13
19 Gerben De Knegt (Ned) Rabobank                                                  12
20 Marek Cichosz (Pol)                                                             11
21 Tim Van Nuffel (Bel) Easypay Cyclocross Team                                    10
22 Ben Berden (Bel) Revor Cycling Team                                              9
23 Davy Commeyne (Bel) Palmans Cras                                                 8
24 Marco Aurelio Fontana (Ita)                                                      7
25 Wim Jacobs (Bel) Van der Vorst CT                                                6
26 Roy Van Heeswijk (Ned)                                                           5
27 Isaac Suarez (Spa)                                                               4
28 Marius Gil (Pol)                                                                 3
29 Kay Van Den Brande (Bel) Palmans Cras                                            2
30 Rafael Visinelli (Ita)                                                           1

U23
 
1 Tom Meeusen (Bel) Fidea Cycling Team                                             28 pts
2 Quentin Bertholet (Bel) Fidea Cycling Team                                       24
3 Thijs van Amerongen (Ned)                                                        19
4 Maxim Debusschere (Bel) Sunweb Pro Job                                           17
5 Jempy Drucker (Lux)                                                              16
6 Wim Leemans (Bel) AWS Cycling Team Kasterlee                                     15
7 Kevin Cant (Bel) AWS Cycling Team Kasterlee                                      14
8 Dries Govaerts (Bel) Scott USA Cycling Team                                      13
9 Gianni Denolf en Lukas Kloucek (Tsj)                                             12
11 Rob van der Velde (Ned)                                                         10
12 Sven Verboven (Bel)                                                              9
13 Dries Dewit (Bel) Scott USA Cycling Team                                         8
14 Jim Aernouts (Bel) Edegem BC                                                     7
15 Stijn Huys (Bel) Palmans Cras                                                    6
16 Robert Gavenda (Svk)                                                             5
17 Kenny Geluykens (Bel) Sunweb Pro Job                                             4
18 Hans Becking (Ned)                                                               3
19 Thomas Vernaeckt (Bel) Asfra Racing Team                                         2
20 Ivar Hartogs (Ned)                                                               1

Elite Women 

1 Daphny van den Brand (Ned)                                                       25 pts
2 Reza Hormes-Ravenstijn (Ned)                                                     22
3 Veerle Ingels (Bel)                                                              19
4 Linda van Rijen (Ned)                                                            17
5 Sanne Cant (Bel)                                                                 16
6 Stephanie Pohl (Ger)                                                             15
7 Helen Wyman (GBr)                                                                14
8 Joyce Vanderbeken                                                                13
9 Gabriella Day (GBr)                                                              12
10 Anja Nobus (Bel)                                                                11
11 Christine Vardaros (USA)                                                        10
12 Laurence Leboucher (Fra)                                                         9
13 Saskia Elemans (Ned)                                                             8
14 Katrien Aerts (Bel)                                                              7
15 Ilse Vandekinderen (Bel)                                                         6
16 Aline Parsy (Fra)                                                                5
17 Mika Ogishima (Jpn)                                                              4
18 Katrien Vermeiren (Bel)                                                          3
19 Daisy van der Aa (Ned)                                                           2
20 Gertie Willems (Bel)                                                             1

Tussenspurten Classification
 
1 Lars Boom and Tom Meeusen                                                         3 pts
2 Bart Wellens and Quentin Bertholet                                                2
3 Sven Nys and Lukas Kloucek                                                        1

Past winners

2006 Sven Nys (Bel) Rabobank                 Marianne Vos (Ned) Team DSB - Ballast Nedam
2005 Sven Nys (Bel) Rabobank                 Daphny van den Brand (Ned)