Grand Prix de la Région Wallonne - C2
Dottignies, Belgium, October 13, 2007
2006 Results Results Past winners
Nys wins economically as opposition struggles in Wallonian sand pit
By Brecht Decaluwé in Mouscron
Sven Nys repeats his win from last year.
Photo ©: Cyclingnews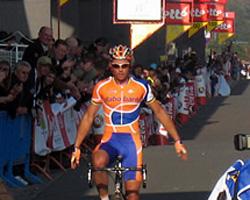 During the last rehearsal before the first big meeting of the cyclo-cross season Sven Nys showed that he's a level above the rest in the cyclo-cross fields. The Belgian – who combines cyclo-cross with chasing his Olympic MTB dream – strolled along with the leaders for eight laps. Then Nys exploited a collective collision from his adversaries in the sand pit to claim his third victory of the season and his third in the GP de la Région Wallonne (only Wallonian race). "If half the leading group crashes you can't wait. Let's call it luck, because this way I managed to take the victory in an economical way," said the 31 year-old winner. After that acceleration the opposition was blown apart and Francis Mourey turned out to be the strongest of them. "I'm not surprised," Mourey told Cyclingnews. "It was a tactical race with accelerations so you had to be attentive, which suits me well."
Just like Nys the French champion avoided the crash but he was too far away to join him in the lead. "I was in last position when the crash happened and barely avoided crashing by sneaking passed the right hand side. Afterwards I allowed Wellens to come back on me and even offered him a gap of about five seconds. During the last lap I was able to accelerate and came back on him," Mourey explained what happened during the last two laps. Bart Wellens (Fidea) tried to come back on his rival but couldn't come closer than twelve seconds. In the sprint Mourey proved to be much stronger.
"Mourey jumped away gigantically fast, and my moral was gone," Wellens explained to Cyclingnews. "It was a stupid incident that made me lose Nys' wheel. I thought I would be able to get passed the crashed riders but in the sand it is the bike who decides where you go," Wellens complained about the sand crash that decided the race with two laps to go. Then Wellens pointed towards the man that dominated the first half of the race, Enrico Franzoi (Lampre). "He rode a huge race, he just kept going," Wellens applauded the Italian champion. Just like Mourey it was clear that Franzoi was benefiting from his road season form. Before the race Franzoi told Cyclingnews that he had enjoyed only a little holiday. The Italian wants to gather a lot of UCI-points in this part of the season – and relax halfway the season - to make sure he has a decent starting position at the world championships in his homeland of Italy .
Ryan Trebon leads the race.
Photo ©: Cyclingnews

Another national champion who did well was Ryan Trebon (Kona), finishing in seventh position but that was less than he deserved. After a good start Trebon ended up in a big group at about fifteen seconds from five leaders. Thanks to his efforts and the tactical dawdling up front some of the pursuers managed to come back to the front. With three laps to go Trebon was leading the group and tried to sneak away on his own in his first European race of the season. "I was in front and felt I might as well try something instead of just sitting there," Trebon said. "I just arrived yesterday and had a really bad night." Nevertheless Trebon was a content man afterwards. "I'm happy with my race and with my result, but what I don't know is how close to their limit the other guys in front were," the 26 year-old wondered.
Compatriot Jonathan Page enjoyed his best start in a race so far, turning into the first corner as third and pulled off a far better performance than in Erpe-Mere. "It's respectable," Page expressed how he felt about his race. "It's not like how I did in Erpe-Mere, I'm happy with it. Right now the only thing I care about is getting better step-by-step," the vice world champion pointed out he is aiming to get in form later on this season. During today's race he couldn't follow the first accelerations from Franzoi and dropped back to a big group. "They were too fast, I didn't want to go too deep and never recover," Page explained about his tactics. With four laps to go the big group split up and Page battled it out with Berden and world champion Vervecken for eighth place. "Basically I was suffering together with Vervecken behind Berden," Page said. "I thought I had jumped Berden in the last corner but he managed to follow and get past me in the sprint."
How it unfolded
Sunny weather conditions welcomed a top quality field at the start of the Grand Prix de la Région Wallonne in French speaking Mouscron , just across the Belgian language border. Despite the good weather, perfect organization and the entertaining course there weren't too much Flemish fans that crossed this language border to support their heroes, maybe because tomorrow's Superprestige race in Ruddervoorde has an even more impressive starting field. It was interesting to see that the Wallonian organizers attracted a diverged international line-up that made the race feel like a mini-world championship. The main absentees were Lars Boom, Niels Albert, Klaas Vantornout, Zdenek Stybar and Petr Dlask while Sven Vanthourenhout (Sunweb) makes his return after surgery in Ruddervoorde.
Wellens is caught by Mourey.
Photo ©: Cyclingnews

With US-champion Ryan Trebon (Kona) and Jonathan Page (Sunweb) there were two top quality Americans at the start. At 3.30pm there were 44 riders who sprinted away from the Marché International Mouscronnois and it was Kamil Ausbuher (Podborany) who managed the hole shot. The Czech was followed by Bart Wellens (Fidea), Jonathan Page (Sunweb), Enrico Franzoi (Lampre) and young Rob Peeters (Landbouwkrediet). Franzoi quickly accelerated and managed to get away with Belgian champion Wellens. Sven Nys (Rabobank Continental) joined the duo right before the riders hit the second lap, together with Francis Mourey (fdjeux.com) and Gerben De Knegt (Rabobank Continental). While Franzoi set the pace up front there was a group of nine riders that stayed within reasonable distance of the leaders, the group existed of Page, Peeters, Ryan Trebon (Kona), Erwin Vervecken (Fidea) , Ben Berden (Webking), Radomir Simunek Jr (Palmans), Bart Aernouts (Rabobank Continental), Dieter Vanthourenhout (Easypay) and Jan Soetens (Jartazi).
The gap between the leaders and the big group behind them never grew bigger than 15". From the fourth lap on Trebon took the command in the group, he received help from Vervecken and Berden. Lap after lap the situation remained the same with Franzoi not allowing anybody to get past him, while the group behind them stayed in touch. In the sixth lap the pursuing group split apart as Trebon moved to the front, together with Aernouts. One lap later Franzoi and De Knegt were the first to get dropped after an attack from French champion Mourey but with three laps to go they were back in front as nobody kept working. Thanks to the slow speed in front Trebon and Aernouts joined the five leaders in the eighth lap, with Trebon immediately deciding to lead the group; by then Page, Vervecken, Berden and Soetens were following at 34". With two laps to go there was a crash from Aernouts in the sand pit and Franzoi, Wellens, Trebon and De Knegt couldn't avoid the young Belgian. Nys didn't hesitate and quickly gathered a gap of 12" on Mourey while Wellens was the first of the crashed riders to start the pursuit. Franzoi was a couple of seconds further down while the Rabobank duo De Knegt and Aernouts had a reasonable gap on Trebon. Behind Nys there was an effort from Wellens to come back to the front but he couldn't get much closer and in the last lap he was caught back by Mourey.
Nys economically cruised to his third victory of the season and showed he didn't lose strength after some extra MTB-races he did to make sure he can go to the Beijing Olympics in 2008. Mourey powered away from Wellens in a non-sprint while Franzoi just stayed ahead of a Rabobank sprint between De Knegt (5) and Aernouts (6). Trebon rolled over the finish line as seventh with about a half a minute on Berden who beat Page for eighth place. World champion Vervecken will be very disappointed with his tenth place, possibly a result of his season planning and his US-trip from last weekend.
Photography
For a thumbnail gallery of these images, click here
Images by Stijn Vercaemer
Images by Brecht Decaluwé/Cyclingnews.com
Results
1 Sven Nys (Bel) Rabobank                               1.02.36
2 Francis Mourey (Fra) Française des Jeux                  0.13
3 Bart Wellens (Bel) Fidea Cycling Team                    0.20
4 Enrico Franzoi (Ita) Lampre-Fondital                     0.32
5 Gerben De Knegt (Ned) Rabobank                           0.35
6 Bart Aernouts (Bel) Rabobank                                 
7 Ryan Trebon (USA) Kona-YourKey Mortgage                  0.51
8 Ben Berden (Bel) Webking.be                              1.15
9 Jonathan Page (USA) Sunweb Pro Job                           
10 Erwin Vervecken (Bel) Fidea Cycling Team                1.26
11 Jan Soetens (Bel) Jartazi                               1.32
12 Radomír Simunek (Cze) Palmans Cras                      2.09
13 David Willemsens (Bel) Sunweb Pro Job                   2.15
14 Kamil Ausbuher (Cze) Style and Concept                  2.20
15 Tom Vannoppen (Bel) Sunweb Pro Job                      2.22
16 David Derepas (Fra) Roubaix Lille                       2.23
17 Davy Commeyne (Bel) Palmans Cras                        2.24
18 Tom Van Den Bosch (Bel) Palmans Cras                    2.34
19 Quentin Bertholet (Bel) Fidea Cycling Team              2.54
20 Rafael Visinelli (Ita) Forestale                        3.27
21 Peter Van Santvliet (Bel)                               4.32
22 René Lang (Swi) VC Butzberg                             5.02
23 Stijn Huys (Bel) Palmans Cras                               
24 Marek Cichosz (Pol) Legia                               5.31
25 David Seco Amundarain (Spa) Busturia                    5.47
26 Maxim Debusschere (Bel) Sunweb Pro Job                  6.02
27 Dries Dewit (Bel) Scott USA Cycling Team                6.57

One lap behind

28 Valentijn Ponseele (Bel) WC De Molenspurters - Meulebeke    
29 Marcin Sobiepanek (Pol) Corona                                   
30 Sébastien Delfosse (Bel) PCW Bodysol-Euromillions                                    
31 Kondrat Jasik (Pol)                                         
32 Freddy De Meester (Bel) Rijschool AH - Gentse Velosport     
33 Sylwester Janiszewski (Pol) CWKS Legia Warszawa             
34 Benjamin Cochez (Bel) VC Ardennes                                      
35 Régis Flohimont (Bel)                                       
 
Juniors
 
1 Gregor Lendenmann (Swi)                                      
2 Arnaud Grand (Swi)                                           
3 Valentin Scherz (Swi)                                        
4 Dany Lacroix (Bel)                                           
5 Vincent Dias Dos Santos (Lux)                                
6 Lennert Van Den Bleeken (Bel)                                
7 Brian Brusselman (Ned)                                       
8 Kenneth Marien (Bel)                                         
9 Milan Van Den Ende (Ned)                                     
10 Clint Van Droogenbroeck (Bel)                               
11 Veerle Ingels (Bel)                                         
12 Mael Bantuelle (Bel)                                        
13 Jordan Becquet (Bel)                                        
14 Geert Kuit (Ned)                                            
15 Cedric Van Damme (Bel)                                      
16 Joyce Vanderbeken (Bel)                                     
17 Maarten Pastoors (Ned)                                      
18 Anja Nobus (Bel)                                            
19 Jean Baptist Taleux (Bel)                                   
20 Adrien Pire (Bel)                                           
21 Mathieu Philippe (Bel)                                      
22 Jimmy Simonet (Fra)                                         
23 Pierre Marien (Bel)                                         
24 Florient Delmay (Bel)                                       
25 Nicolas Clemence (Fra)                                      
26 Kevin Rogghe (Bel)                                          
27 Sandie Verriest (Bel)                                       
28 Maaike Lanssens (Bel)                                       
 
Novices
 
1 Xandro Meurisse (Bel)                                        
2 David Van Der Poel (Ned)                                     
3 Hendrik Sweeck (Bel)                                         
4 Laurens Sweeck (Bel)                                         
5 Diether Sweeck (Bel)                                         
6 Joeri Hofman (Bel)                                           
7 Gianni Vermeersch (Bel)                                      
8 Twan Brusselman (Ned)                                        
9 Timo Verschueren (Bel)                                       
10 Maarten Vantryp (Ned)                                       
11 Pierre-Yves Toussaint (Fra)                                 
12 Schefferlie Gijs (Ned)                                      
13 Johann Le Meut (Fra)                                        
14 Logan Somville (Bel)                                        
15 Jarno Du Mongh (Bel)                                        
16 Thibault Braem (Bel)                                        

Past winners

2006 Sven Nys (Bel) Rabobank
2005 Bart Wellens (Bel)  
2004 Davy Commeyne (Bel) MrBookmaker.com - Palmans
2003 Bart Wellens (Bel) Spaar Select
2002 Sven Nijs (Bel) Rabobank
2001 Mario De Clercq  (Bel) Domo-Farm Frites
2000 Kipcho Volckaerts (Bel)
 
Past winners by Mario Stiehl, www.world-of-cycling.com