Interbike 2003
Las Vegas, USA, October 10-14, 2003
More from Interbike 2003
By Paul Mirtschin and Robert Gilbreath
Stealthy
Photo: © Cyclingnews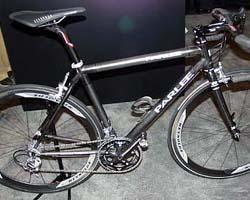 Parlee
A small company showing off a large range of lightweight carbon bikes at Interbike this year is Parlee. Bob Parlee's company gained quite a bit of exposure last year when Cyclingnews revealed that Tyler Hamilton had ridden a Parlee Cycles custom-made carbon fibre bike during the majority of the 2002 Giro.
For the coming season, Parlee plans to continue with his range of naked, full-carbon bikes, all made using his continuously wrapped, compression moulded carbon lugs.
Look forward to an in-depth look at a Parlee bike in the coming months.
Cannondale
Not pink enough
Photo: © Cyclingnews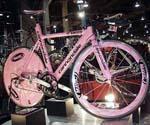 It's been a year of ups and downs at Cannondale, with the filing of Chapter 11, a buyout by Pegasus, having the winning bikes at the Giro, US Criterium Championships and Worlds, and in the weeks prior to Interbike, the removal of Scott Montgomery, Dan Alloway, Len Konecny from the company. It certainly has been a busy year.
As usual, Cannondale rolled out the range for Interbike, showing off one of the biggest ranges of road, mountain, youth and comfort bikes in sight. And with the excitement of Gilberto Simoni's win at the 2003 Giro d'Italia still at a high, what better reason to put on display the Cannondale bikes that helped Simoni claim ownership of the Maglia Rosa as well as the prototype CAAD8 that he rode in the Tour de France.
Another bike on display was the Major Taylor track bike. Cannondale is giving some of the profits from this bike to the Major Taylor Foundation at the University of Indiana. The foundation gives scholarships to minority students wishing to pursue cycling; the University of Indiana team got 2nd in last year's Little 500 race.
Argon 18
It's a wrap
Photo: © Cyclingnews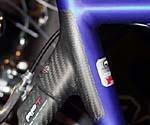 Argon 18, a Canadian company, use M30-HM carbon fibre matting, claimed to be the highest grade of carbon fibres available. The carbon joints are put together using HDS - Horizontal Dual System - method of laying the fibres to make then ultra stiff.
A number of Argon's bikes use a different method of bonding the carbon to the aluminium, preferring to wrap the carbon around the aluminium rather than the traditional method of slotting the carbon into the aluminium tube.
Photos
Images by Robert Gilbreath/Cyclingnews