EICMA 2003
Milan, Italy, September 16-21, 2003
Jan wants a Tour win, on a Bianchi!
Jan checks out his next bike
Photo: © Olympia Photo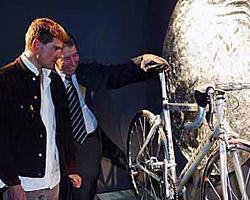 Jan Ullrich enjoyed a warm welcome at Milan's EICMA bike show this week, paying a visit to his team sponsor Bianchi and signing autographs for the assembled tifosi. Ullrich was given a guided tour of the Bianchi stand and took a look at the company's new XL EV3 bike. He also offered some insights into the end of his current season and the coming year.
"I'm riding my last race on Sunday on then I've got three weeks holiday with my girlfriend Gaby and our baby daughter," Ullrich said. "I'm not going to ride the world championships because after the Tour de France I was a bit tired and the worlds is right at the end of the season. This year I trained less because of my knee problems and don't have the base miles in my legs to keep racing right through to October.
Ullrich acknowledged once again that his contract options for 2004 remain open, but he doesn't plan a change of teams unless Bianchi is unable to meet his requirements.
"Several teams have called my manager to ask if I want to ride for them next year but I'm happy at Bianchi and I hope to stay with them next year," he explained. "Money isn't the most important thing, I want a strong team to help me win the Tour de France."
Jan was given the royal tour of the Bianchi stand while at EICMA, getting a first-hand look at what celeste bikes will be on offer in 2004.
XL EV4: A Tig welded frame and is perfect for climbers. The frame has had the addition of Structural Foam Injection to reduce road "buzz".
XL EV3 Alu Carbon: A perfect frame for those who love to dive down descents, or who love sprinting hard and do not want to lose any of the power they produce. Design by the Bianchi Reparto Corsa, the frame is aluminium with a carbon fibre rear.
XL Carbon: A carbon monocoque frame that offers optimum torsional rigidity thanks to Bianchi's Mega Pro tube shaping. The frame has a sloping geometry and a monostay rear.
SL3/ML3 Alu Carbon: Made from 7000 aluminium, the SL3 is designed for riders who power along constantly without the need for a reactive bike for sprinting, while the ML3 Alu is for the mad racers.
XL Titanio SL: Bianchi's top of the range, thanks to breathtaking aesthetics and lightweight titanium that is rigid but also gives a comfortable ride.
EV3 Alu: An all-aluminium frame with Structural Foam Injection and Tig welding.
Moser - revolution with continuity
25 years of Moser
Photo: © EICMA.it

25 years after the foundation of the Cicli F. Moser company, and 20 years after his hour record, Francesco continues to produced an authentic bikes combining 'revolution with continuity'. New craftsmen have been brought in, the logo has changed and most of all the bikes have changed.
Today Moser produces frames in carbon fibre, steel and aluminium, with most destined for racing but with others also being used for MTB and city use. Top of the Moser range is the Limited Edition, an aluminium and carbon fibre framed rocket destined for the podium.
Sidi
SIDI Carbon
Photo: © EICMA.it

The SIDI Ergo1 Carbon is the only cycling shoe to feature a nylon sole with two replaceable carbon inserts. The inserts are positioned in the metatarsus and arch support areas, where most of the foot pressure is applied, in order to exert the maximum muscular force while pedalling. The inserts are also designed to minimise foot stresses while riding.
2004 Maglia Rosa unveiled
It will be mine
Photo: © Olympia Photo

There will be an American in the 2004 Giro d'Italia. Not Lance Armstrong, as race director Carmine Castellano would like, but artist Marc Kostabi from Los Angeles. He has created 'Il Fuoco del Giro' - 'The Fire of the Giro', the official design of the Giro d'Italia 2004 that will decorate the maglia rosa. After Emilio Tadini, Concetto Pozzati and Ugo Nespolo, Kostabi joins the growing gallery of Giro artists. The design was created by Kostabi and his 24 staff in their studio in New York and represents a cyclist in action. "I like it" 2003 Giro winner Gilberto Simoni said hoping he will be able to win in 2004.
"The Giro is symbolic of Italy around the world. A few days ago I gave a maglia rosa to the mayor of San Francisco, even they celebrated my win. The pink jersey will also be in my heart" Simoni said. The route of the 2004 Giro d'Italia will be officially presented on November 8 in Milan.
Pozzato loves an Ego
Fassa's new blood
Photo: © Olympia Photo

With his fast sprint finish, good looks and friendly nature, Filippo Pozzato is the new star of Italian cycling. In his first season in the big league of cycling with Fassa Bortolo, Pozzato has shown he has the talent with wins at the Trofeo Laigueglia, the Trofeo dell'Etna and the overall classification of the Tirreno-Adriatico stage race. He also finished second in the Italia championships behind Paolo Bettini.
During his visit at the Pinarello stand at EICMA, Pozzato posed for photographs with Fausto Pinarello ­the head of the Cicli Pinarello company, signed autographs and talked to the 'tifosi' who crowded the huge Pinarello stand. The 22 year-old talent was especially interested in the new Dogma Ego bike presented at the Milan EICMA show. "I've been using the Dogma all season and I really like it. The magnesium tubes give a softer ride that means the frame is more comfortable than an aluminium frame. At the same time, it is also really light because of the magnesium. I think it's Pinarello's best ever bike. The Ego version is gorgeous. I love the reflective paint job. It makes the Dogma look even more special."
After a long season that started in February, Pozzato's season is virtually over and he confirmed to EICMA.it that he would not be looking for a place in the Italian team for the world championships. "I raced last weekend in Belgium but I've told the Italian coach Franco Ballerini not to consider me for the World Championships because I'm not in great form at the moment," Pozzato said. "I've had a long season and I'm still quite young and I don't want to burn myself out. I want to win even more in 2004 and hope to race at the Worlds in Verona, near my home in Italy."
Get on ya bike!
During the Eicma Milan show, a number of groups are convincing the Milan public to use the bicycle. "Milano che Pedala" -'Milan that Pedals' is a series of thirty events that will run until the end of the show to help the bicycle regain space in urban areas.
"Our attention is aimed at promoting short trips by bike," Augusto Castagna -President of the Associazione Italian Città Ciclabili said. "It's not only a Milan thing, European data shows that 50% of trips by car in the major cities are of less than 5km.''
"We're doing a lot to improve the use of bikes in city centres. But it's not about bike paths, there are lots of other ideas which can be equally effective such as speed limits, reserved bike areas and traffic regulation. For example in Bolzano, allowing bikes to travel in two directions on one-way streets and providing bike parking facilities has greatly increased the number of bikes used. Milan is a more complex situation but data shows that bikes are becoming more popular. In the last 20 years, the number of people using a bike in Milan has quadrupled, with an increase of 15% in the last year. To continue the trend we need everybody's hard work, especially by the local institutions but also by the bike industry that has to believe more in city bikes and the market these bikes can create in the future."
Coverage thanks to EICMA.it
Photos
Images by Olympia Photo
Images by EICMA.it
EICMA Coverage
Photos, photos and more photos