EICMA 2003
Milan, Italy, September 16-21, 2003
What's new at EICMA 2003
Coverage thanks to EICMA.it
Pinarello has an Ego
Every year Cicli Pinarello is present at the Milan bike show with a stand of 300 square metres dedicated to the entire Pinarello and Opera range.
Shiny shiny
Photo: © EICMA.it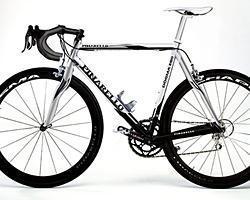 The Pinarello company can say with pride that they are the only company to produce special frames on a world wide scale using all the materials available on the market: steel, aluminium, titanium, carbon fibre and from last year, magnesium. The latest bike of the factory floor is the Dogma Ego, presented at the Pinarello stand by Fassa Bortolo rider Filippo Pozzato.
The Dogma Ego is the leading new product of the Pinarello range. Produced in a limited number, it is a special and luxurious bike, priced around 10,000 €, and an expression of cult destined for just a few passionate Pinarello clients. Identical in shape and materials used as the Dogma, the difference is a special decorative finish; the Dogma Ego has a mirror finish thanks to a special paint applied to the frame. Thanks to the extraordinary sales of the Dogma in its first year, the magnesium frame is clearly the jewel in the crown for Cicli Pinarello. The frame is made from first class materials that justify the extra cost in owning one. This year Dogma has been a success all over the world, including seven stage wins at the Tour de France. No bicycle in the world has been equally competitive and successful in 2003.
Sportful flies the Italian colours
Shiny shiny
Photo: © EICMA.it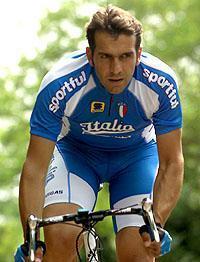 Franco Ballerini of Sportful, the sponsor of the Italian National Team in the last world championship in Zolder, suggested new style for National team official uniforms. The new 'microquadrato' jersey is now lighter, more comfortable and breaths better. The Italian team at the Hamilton World Championship in Canada will also wear the jersey.
The Fifty's style soft decal 'Italia' is in harmony with the technological flat seams, the silicon bends and the innovative design of the unbending sleeves. The Italian National Team Manager confirmed that names of the athletes summoned in Canada would be unveiled after Trofeo Beghelli, to be held September 28th.
Photos
Images by EICMA.it
EICMA Coverage
Photos, photos and more photos