International Cycle Show 2003
Islington, England, September 25-28, 2003
Cycle 2003 - Cyclery in the U.K.
By Paul Mirtschin and Mark Sharon
A toyshop for big kids
Photo: © Mark Sharon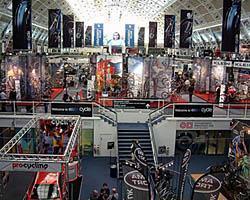 For the second year running, the Business Design Centre in Islington was host to the International Cycle Show from September 25-28. Cycle 2003 saw the big brands roll out their wares for the amassed crowd of trade and public visitors, giving them an idea of what is in store for the 2004 season.
Trek rolled out the latest from it's Klein, Gary Fisher and Bontrager brands, as well as the bikes due to be released with Trek stickers on them. 2003 World Mountain Biking Champion Filip Meirhaeghe was on hand at the Specialized stand to show off the Specialized Epic he rode to victory in Lugano, Switzerland.
SRAM bounced back from the run-in with Shimano at Eurobike to show off new X7 and X9 trigger shifters and rear derailleurs, while GT unveiled the new 2004 I-Drive system, complete with a bucket of confusion as the punters tried to work out how it all worked.
Hope, Scott, X-lite and USE were all in attendance, flying the British flag with the lightweight carbon and aluminium goodies we have come to expect from them. Novelty items such as Jean Marie LeBlanc's race director's car from the Tour de France, and David Millar's stage winning time-trial bike all gave the trainspotters something to photograph, ogle and talk about down at the local.
Who's a lucky boy?
Photo: © Mark Sharon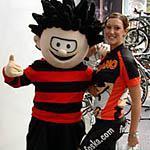 Photos
Images by Mark Sharon
Photos, photos and more photos