90th Giro d'Italia - GT
Italy, May 12-June 3, 2007
Main Page Results Overall standings Stage Details Live report Previous Stage Next Stage
Rest Day 2 - Monday, May 28:
Di Luca looks in control but the Zoncolan looms
Danilo Di Luca (Liquigas)
Photo ©: Sirotti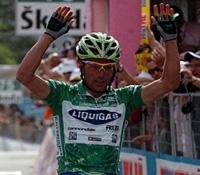 Been distracted by all the 'other' news over the past two weeks and been unable to keep up with the Giro? Fear not, Cyclingnews provides a wrap-up of the past 15 stages as Italy's Grand Tour heads into its exciting final week.
To experienced observers of road cycling, this year's Giro d'Italia has seen a style of stage racing that hasn't been witnessed for over a decade, perhaps even two. The racing is less predictable and no one rider is totally dominant. Last year's winning time gap of over nine minutes between first and second places now covers almost 20 riders on the general classification after 15 stages of this year's race. In 2007, if a rider puts in a super performance on a stage, the next day he looks weakened by the effort and invariably loses time.
As the Giro heads into its third and final week, the race is still wide open, although it has to be said that Danilo Di Luca still seems the cyclist most likely to ride into Milano wearing the maglia rosa. In case we're putting too fine a point on this, the combined effects of ongoing doping revelations seems to have resonated among those teams and riders competing in the Giro. This is not to say that Cyclingnews can definitively state the sport's catharsis is complete, but for many, if the first 15 stages of the Giro are an indication, then the sport can still offer all the excitement, colour and beauty that auger well for the future. There have been no police raids, no suspensions, no riders ludicrously declared "unfit to start" due to high hematocrit - just unpredictable stage racing that looks set to continue all the way to Milano.
The first 15 stages have also witnessed a pleasing return to form for sprinter Alessandro Petacchi ( Team Milram) who's comfortably leading the points classification after his three stage wins, while climber Leonardo Piepoli (Saunier Duval - Prodir) has a comfortable lead in the mountains classification. Interestingly, the rider in second place in both of those classifications is Di Luca, who is clearly the strongest overall rider in the Giro.
The real test ahead is undoubtedly stage 17, with a mountain-top finish up the brutally steep Monte Zoncolan. After three previous climbs, the peloton will face the challenge of climbing 1203 metres of altitude in just 10.1km, with almost six kilometres in the middle heading to the heavens at an average gradient of 14.9 percent. Ouch. Set your alarms: stage 17 is this Wednesday and it promises to be a cracker.
Stage 1 - Saturday, May 12: Caprera - La Maddalena (Team TT), 25.6 km
Enrico Gasparotto (Liquigas)
Photo ©: Roberto Bettini

Enrico Gasparotto led Liquigas over the line in La Maddalena, ensuring he took the race leader's Maglia Rosa and that his Italian team took the win. The 25 year-old from Friuli-Venezia Giulia rolled in with team leader Danilo Di Luca in a time of 33'35", 16 seconds better than Paolo Savoldelli's Astana team and 33 seconds better than Team CSC.
"It was great for the team. I am in great condition and it [going over the line first] was planned by the team," said Gasparotto after winning the day. Di Luca seemed to be shouting 'Dove vai?' ('Where are you going?') to Gasparotto as he kept on the front over the line. After the finish he was questioned.
"I was not upset, it is important that we as a team win," said Di Luca, who wore the Maglia Rosa in 2005. "It was great test for the team. ... I am not upset."
Stage 2 - Sunday, May 13: Tempio Pausania - Bosa, 205 km
Australian Robbie McEwen took the 90th Giro d'Italia's first sprint stage. The Predictor-Lotto rider latched on to the wheel of Alessandro Petacchi's Milram train and successfully over-powered the Italian and also kept the emerging World Champion Paolo Bettini at bay. The race leadership moved from Enrico Gasparotto (Liquigas) to his teammate Danilo Di Luca.
"I was pretty far back on the climb, there were maybe another 20 riders behind me going over the top," explained an exhausted but happy McEwen in Italian after winning. "But I was maybe 15, 20 positions behind Petacchi, so for me it was just important to come back to the Milram riders by the bottom of the descent. After that, the tactic was simple – I followed Petacchi and his team," McEwen said afterwards.
Stage 3 - Monday, May 14: Barumini - Cagliari, 181 km
'Ale-Jet' Alessandro Petacchi returned to take revenge after a year of suffering. The 33 year-old Italian ended his Giro d'Italia last year with a fractured kneecap but on stage 3, he returned to show that he still has the power to win on the big stage. The Milram sprinter took control in the final 300 metres to hold off an emerging Robert Förster (Gerolsteiner).
"I suffered so much," said Petacchi in tears of joy. "I am so happy. I want to thank everyone that stuck with me for the last year; my wife, my family, my friend Michele Bartoli... Thanks; thanks to everyone."
Milram once again dedicated its men to the chase to recapture the last two escapees. They worked hard to bring back Mikhail Ignatiev (Tinkoff Credit Systems) and Giovanni Visconti (Quickstep-Innergetic) with around four kilometres remaining and then setup the lead-out. But there were still doubts lingering after Petacchi's stage two miss.
Following a counter-attack by Matteo Tosatto (Quickstep-Innergetic), Milram was washed away in the final kilometre. Rabobank and Gerolsteiner moved to the fore before Irishman Nicolas Roche (Crédit Agricole) launched. The move did not stick and Ale-Jet arrived to the front with 300 metres remaining and steamed ahead to the line.
Stage 4 - Wednesday, May 16: Salerno - Montevergine Di Mercogliano, 153 km
Di Luca
Photo ©: Sirotti

Liquigas did a number on the final ascent of Montevergine by propelling Danilo Di Luca to the win and, at the same time, into the leader's Maglia Rosa. On a stage he first won in 2001, "The Killer" launched his sprint in the final 200 metres to hold off a strong Riccardo Riccò (Saunier Duval-Prodir). Damiano Cunego (Lampre-Fondital) finished some seconds back, in third.
"It was really a beautiful stage. Thanks to the team for doing all that work," said the 31 year-old after the stage. It was due to the work of Liquigas, and the unfortunate crash of teammate Enrico Gasparotto, that Di Luca moved back into the race lead.
Liquigas started its work on the Montevergine di Mercogliano after Saunier Duval had led all day. With the early escape trio (Pavel Brutt, Yuriy Krivtsov, and Markel Irizar) caught, the Italian team brought in the late move by Julio Pérez (Ceramica Panaria-Navigare). The three-time Giro stage winner tried a dig that started with nine kilometres remaining.
Stage 5 - Thursday, May 17: Teano - Frascati, 173 km
German Förster wins
Photo ©: Sirotti

German Robert Förster handled the final curves through the streets of Frascati with ease and successfully held off Thor Hushovd (Crédit Agricole) to win stage five. In third was Milram's Alessandro Petacchi, who bumped shoulders all the way to the finish with Maximiliano Richeze (Ceramica Panaria-Navigare). Danilo Di Luca (Liquigas) finished safely with the front-runners to keep the race leader's Maglia Rosa.
The 29 year-old Gerolsteiner sprinter, winner 2006's stage into Milan, scored his second Giro win. Thanks to the help of teammate Thomas Fothen and then Oscar Gatto, he was able to edge up on the Milram train. Italy is proving a land of plenty for Förster, who now has two wins for 2007, his first being in Italy's Coppi e Bartali.
"The last three or four kilometres of stage were very dangerous," recalled the stage winner, Frösi. "I went head-to-head with Napolitano, who pushed me towards barriers. It's not really guys like Petacchi or McEwen who cause problems, the regular sprinters, but more so the lesser riders who aren't normally there in the sprint."
Stage 6 - Friday, May 18: Tivoli - Spoleto, 177 km
Laverde with the stage
Photo ©: Sirotti

Luis Felipe Laverde (Ceramica Panaria-Navigare) and Marco Pinotti (T-Mobile) scored a double success in the 177-kilometre stage to Spoleto. With an attack on their three escape companions on the slopes of the Forca di Cerro, the duo moved free towards the finish in southern Italy, where the Colombian won the stage and the Italian took the Maglia Rosa. Danilo Di Luca's Liquigas squad controlled the pace all day but released its stranglehold on the leader's jersey for an earned rest.
"When one believes in something I think that they can make it happen," said the 31 year-old Pinotti, who lives in Bergamo. He was the only one of an early escape of five (Christophe Kern, Daniele Contrini and Hubert Schwab) who could stick with the attack of Laverde, who attacked at less than 22 kilometres to race, four kilometres before the summit of he days final climb.
Stage 7 - Saturday, May 19: Spoleto - Scarperia, 254 km
Alessandro Petacchi revved his big engine to success on the Mugello race track in Tuscany. Team Milram had its cylinders pumping hard in the finale with Lancaster and then Ongarato to deliver the 33 year-old Italian to the win over Thor Hushovd (Crédit Agricole), Paolo Bettini (Quickstep-Innergetic) and Danilo Napolitano (Lampre-Fondital). Marco Pinotti (T-Mobile) enjoyed his first full day in pink and arrived safely to keep the leader's Maglia Rosa.
"I had good sensations and I was able to make a great sprint," said Petacchi after taking Giro win number 21, the second in this year's edition. "I know that that there were other sprinters who were more tired than me [after the climb]. The team really put its faith in me. Also, thanks to my teammates at home, like Marco Velo."
Quickstep did the majority of the work today, especially to bring back the escape of four that at one point had a lead of 11 minutes and 30 seconds. Once the escape was reeled in, at 39 kilometres to go, the Belgian team did not ease off of the pace and kept the throttle down all the way to the Mugello race track.
Stage 8 - Sunday, May 20: Barberino Di Mugello - Fiorano Modenese, 200 km
Kurt-Asle Arvesen (Team CSC)
Photo ©: Sirotti

Kurt-Asle Arvesen grabbed success from an escape group of 22 riders in the eighth stage of the 2007 Giro d'Italia. The Norwegian CSC rider hooked on to World Champ Paolo Bettini's (Quickstep-Innergetic) wheel in the final 500 metres to capture a last minute dash by Emanuele Sella (Ceramica Panaria-Navigare). Marco Pinotti's T-Mobile had to work extremely hard to conserve the race lead but the team, thanks to the helping-hand of Saunier Duval, was able to keep the Maglia Rosa on the shoulders of its leader by 28 seconds.
The escape that formed by kilometre 49 worked smoothly all day until its dynamics fell apart in the final kilometres. Rinaldo Nocentini (Ag2r Prévoyance) opened up a gap that was followed by Pavel Brutt (Tinkoff Credit Systems) and then Emanuele Sella (Ceramica Panaria-Navigare). The latter kept going and looked to have a serious chance of winning the stage in Fiorano Modenese.
Stage 9 - Monday, May 21: Reggio nell'Emilia - Lido Di Camaiore, 177 km
Danilo Napolitano took a dream win ahead of sprint greats Robbie McEwen (Predictor-Lotto) and Alessandro Petacchi (Milram) at the end of the 177-kilometre stage to Lido Di Camaiore. The 26 year-old Lampre-Fondital rider from Sicily took advantage of the work of Milram to conquer Petacchi on home roads for his first Giro d'Italia win. Marco Pinotti's T-Mobile team did its share of the day's pace-making to keep the Italian in Rosa.
Petacchi had to settle for third, despite a picture-perfect set up from his Milram lead out train, which had the bunch spread out single file for the last five kilometres. With Alessandro Cortinovis (Milram) taking to the front for the right-hander into the final stretch along the Mar Tirreno and Viale Sergio Bernardini, Petacchi had to contend with Julian Dean of Crédit Agricole trying to set up his captain Thor Hushovd, as well as a last ditch attack by Salvatore Commesso's (Tinkoff Credit Systems) was captured at 800 metres to go.
Stage 10 - Tuesday, May 22: Lido Di Camaiore - Santuario Nostra Signora Della Guardia, 250 km
Champagne for Piepoli
Photo ©: Sirotti

Leonardo Piepoli conquered the intimidating stage ten to Santuario Nostra Signora della Guardia when he flew away from an elite group with four kilometres remaining on the final climb and hammered to a solo win and his third career Giro d'Italia stage. He reponded to the initial move by Italian Danilo Di Luca (Liquigas), who had attacked but then reconsidered his strategy. When Saunier's Piepoli launched himself on the steep slopes of the final climb, nobody could respond.
A brave move by Andy Schleck (Team CSC) was reeled in by another attack from Di Luca, who rode up to the Luxemburger, and then dropped him in the final kilometre to finish second. A visibly agonized Schleck managed to hold off Piepoli's team-mates, Simoni and Riccò who finished fourth and fifth.
Stage 11 - Wednesday, May 23: Serravalle Scrivia - Pinerolo, 198 km
Alessandro Petacchi (Milram)
Photo ©: Sirotti

Alessandro Petacchi, showing some of the sparkling form that propelled him to a record nine Giro d'Italia wins in 2004, used his unbeatable turn of speed to take his third Giro win on stage 11. Petacchi prevailed in a messy dash to the line in Pinerolo that saw a huge pileup behind the first ten riders, besting Italian Gabriele Balducci (Acqua & Sapone-Caffè Mokambo) and Robbie McEwen (Predictor-Lotto) after 198 kilometres in the saddle.
"I think today was dangerous but my companions did well," noted Petacchi after his 22nd Giro stage victory. "Maybe they went from too far out. I lost a little bit of speed [through the final bend] but I was able to make a great remount."
Just before the finish line, the wet pavement caused Nikolai Trusov's (Tinkoff Credit Systems) to lose control from a top ten position, and his crash caused a domino-like effect that resulted in maglia rosa Andrea Noè (Liquigas) sliding across the line on his backside. World Champion Paolo Bettini was also among the crash victims, but he and Noè were for the most part unharmed. Noè held onto the race lead, keeping his 1'08" advantage over Marzio Bruseghin (Lampre-Fondital).
Stage 12 - Thursday, May 24: Scalenghe - Briançon (Francia), 163 km
Danilo Di Luca (Liquigas)
Photo ©: Sirotti

Danilo Di Luca controlled the finale of stage 12 into Briançon, attacking an elite group of five twice in the final kilometre. His last jab distanced his rivals and he won ahead of a re-emerging Gilberto Simoni (Saunier Duval-Prodir) and a stunning Andy Schleck (Team CSC). With the powerful efforts of a strong Saunier Duval many of the favourites were distanced, including previous race leader Andrea Noè, allowing Di Luca to also take the race leader's Maglia Rosa.
"I did not know the descent [of Izoard] and I did not want to risk it. Then others re-entered and I did not want to push harder," said Di Luca, who chose to save his final strike for the short blast to Briançon.
Already knowing the race leadership would be his, 'The Killer' hunted for the stage victory as the parcours kicked upwards in the final 1300 metres to Briançon's Citadelle. Simoni led Damiano Cunego (Lampre-Fondital) and Eddy Mazzoleni (Astana) when Di Luca first launched at 900 metres to go. The fifth of five riders, Schleck, immediately latched onto Di Luca's wheel.
"I went at 900 metres to go for the win and to try to distance the others but it did not work." Schleck and then Simoni clawed their way back on to Di Luca's wheel. The 31 year-old rider led the duo over the medieval streets, and following two bridge crossings he powered off the front starting at -450m on a tight fan-packed pavé section.
Stage 13 - Friday, May 25: Biella - Santuario Di Oropa (Mountain TT), 12.6 km
Marzio Bruseghin (Lampre-Fondital)
Photo ©: Sirotti

Italian Time Trial Champion Marzio Bruseghin showed his skills are also effective on the vertical slopes by conquering the 12.58-kilometre climb to the Santuario di Oropa in 28 minutes and 55 seconds. Maglia Rosa Danilo Di Luca (Liquigas) marched up the mountain to take third, behind mountain goat Leonardo Piepoli (Saunier Duval-Prodir). He kept his race lead and in the process earned precious seconds on his rivals.
With a time of 28'55", 32 year-old Bruseghin took his second win in his eleventh year as a professional. He crossed the line next to the Santuario dressed in the Maglia Tricolore, the reward from his first pro win, which came on June 20, 2006, in the Italian time trial championships.
Bruseghin passed into the professional ranks in 1997 with Brescialat and then from 1999 to 2002 he raced in Spain with Banesto. In 2003, he returned to Italy to serve as a gregario for Petacchi at Fassa Bortolo and, starting with 2006, working for Cunego at Lampre-Fondital. He is currently in second overall, 1'03" behind Di Luca, but will dedicate himself in the coming stages to his team captain.
The rider from Piadera di Vittorio Veneto, Italy's north, just edged out Leo Piepoli, who comes from the south, in Puglia. Piepoli stormed through the early time check at kilometre 9.4 with a time of 21'02" and then arrived at the summit, clad in the best climber's Maglia Verde (on loan from Di Luca), with a time of 28'56".
Piepoli's time knocked out Captain America, David Zabriskie, who arrived in his national TT champion's jersey with the provisional best time of 29'14". It was a small ray of light for Team CSC considering that the team's manager, Bjarne Riis, was admitting to doping at the same moment in Denmark.
"To lose by one second always hurts," said Piepoli who ended the day with a time of 28'56". "But this is another result to confirm a condition that, especially in the mountains, sees me up with the front-runners. There are some regrets but the verdict is accepted, also because Saunier Duval's Giro does not end here at Oropa."
Stage 14 - Saturday, May 26: Cantù - Bergamo, 192 km
Garzelli does it!
Photo ©: Roberto Bettini

Today was supposed to be a mountain transitional stage but, instead, the Giro's champions attacked over the top of the first climb, the Passo di San Marco. Garzelli, Simoni and Savoldelli used their domestiques to put Maglia Rosa Danilo Di Luca (Liquigas) in difficulty. Stefano Garzelli (Acqua & Sapone-Caffè Mokambo) won the escape's seven-man sprint into Bergamo while a fatigued Di Luca led the chase home at 38".
"I have not won a stage in the Giro since 2004 and now I have added a really beautiful stage," noted the 2000 Giro Champ, 33 year-old Garzelli. The Acqua e Sapone captain escaped with teammate Codol and Gilberto Simoni (Saunier Duval-Prodir) over the top of San Marco.
The three were eventually joined by Astana's Paolo Savoldelli and Eddy Mazzoleni. This small group bridged to the early morning escape to form the final elite group of seven; Simoni, Garzelli, Mazzoleni, Savoldelli, Paolo Bettini (Quickstep-Innergetic), Fortunato Baliani (Ceramica Panaria-Navigare) and Ivan Parra (Cofidis).
Simoni surprised many by launching an attack from the seven-man gruppo on the pavé climb to Bergamo Alta, at 500 metres to the top. Garzelli and Bettini were the only two to respond to Simoni, and they each chased on their own through Porta San Lorenzo, over the top (at -3.4km) and down to Bergamo Bassa.
Results
Stage 15 - Sunday, May 27: Trento - Tre Cime Di Lavaredo, 184 km
Riccardo Riccò (Saunier Duval-Prodir)
Photo ©: Sirotti

23 year-old Riccardo Riccò has added his name to a list that includes Merckx and Gimondi by conquering the 184-kilometre stage to Tre Cime di Lavaredo, and in the process has won his first Giro d'Italia stage. He crossed the line with early escape companion, teammate Piepoli, with Ivan Parra (Cofidis) and Julio Pérez (Ceramica Panaria-Navigare) following behind.
In the fight for Maglia Rosa Danilo Di Luca reined champion by controlling the dangerous gap to attacker Eddy Mazzoleni. The Astana rider moved up the overall, 1'51" behind Liquigas' Di Luca, but was not able to take the race lead. Gilberto Simoni (Saunier Duval-Prodir) was not able to put Di Luca into difficulty and ended the day content with his team's success. Damiano Cunego (Lampre-Fondital) finished sixth, behind his former leader.
"Thanks to Gibo to let me and Leo [Piepoli] go for the stage, I am very happy to have a teammate like him," said Riccò after the stage, complementing his team captain, Simoni. "We did the climb this winter. He called me and said 'come with me and we will ride the hardest stage of the Giro.'"
Riccò was part of the Saunier one-two when his teammate opened the throttle at 325 metres to the top of the cold Tre Cime summit. The stage win moved him up in the GC and closer to his pre-Giro objective, the young riders Maglia Bianca. He is now only 43" behind leader Andy Schleck (Team CSC).
"I am happy to win my first Giro stage, and it was the hardest stage of the Giro."
Results
General classification after stage fifteen
 
1 Danilo Di Luca (Ita) Liquigas                                       68.00.55
2 Eddy Mazzoleni (Ita) Astana                                             1.51
3 Andy Schleck (Lux) Team CSC                                             2.56
4 Gilberto Simoni (Ita) Saunier Duval - Prodir                            3.19
5 Damiano Cunego (Ita) Lampre - Fondital                                  3.23
6 Riccardo Ricco (Ita) Saunier Duval - Prodir                             3.39
7 David Arroyo Duran (Spa) Caisse d'Epargne                               6.05
8 Emanuele Sella (Ita) Ceramica Panaria - Navigare                        7.02
9 Evgeni Petrov (Rus) Tinkoff Credit System                               7.29
10 Marzio Bruseghin (Ita) Lampre - Fondital                               9.29
11 Franco Pellizotti (Ita) Liquigas                                       9.30
12 Ivan Ramiro Parra Pinto (Col) Cofidis - Le Crédit par Téléphone       10.17
13 Paolo Savoldelli (Ita) Astana                                         12.08
14 Francisco Javier Vila Errandonea (Spa) Lampre - Fondital              12.35
15 Leonardo Piepoli (Ita) Saunier Duval - Prodir                         13.51
16 Domenico Pozzovivo (Ita) Ceramica Panaria - Navigare                  16.13
17 Stefano Garzelli (Ita) Acqua & Sapone - Caffe Mokambo                 20.02
18 Marco Pinotti (Ita) T-Mobile Team                                     21.59
19 Branislau Samoilau (Blr) Acqua & Sapone - Caffe Mokambo               26.44
20 Mario Aerts (Bel) Predictor - Lotto                                   27.58
21 Andrey Mizourov (Kaz) Astana                                          28.26
22 Vincenzo Nibali (Ita) Liquigas                                        30.18
23 Fortunato Baliani (Ita) Ceramica Panaria - Navigare                   34.35
24 Massimo Codol (Ita) Acqua & Sapone - Caffe Mokambo                    35.05
25 Hubert Dupont (Fra) AG2r Prévoyance                                   36.02
26 Paolo Tiralongo (Ita) Lampre - Fondital                               41.25
27 Luis Felipe Laverde Jimenez (Col) Ceramica Panaria - Navigare         42.40
28 Francis Mourey (Fra) Française des Jeux                               47.03
29 Paolo Bettini (Ita) Quickstep - Innergetic                            48.50
30 Pietro Caucchioli (Ita) Crédit Agricole                               49.18
31 Sylvester Szmyd (Pol) Lampre - Fondital                               49.44
32 Julio Alberto Perez Cuapio (Mex) Ceramica Panaria - Navigare          50.08
33 José Luis Rubiera Vigil (Spa) Discovery Channel Pro Cycling Team      50.28
34 Aitor Perez Arrieta (Spa) Caisse d'Epargne                            51.21
35 Bingen Fernandez Bustinza (Spa) Cofidis - Le Crédit par Téléphone     52.44
36 Charles Wegelius (GBr) Liquigas                                       53.02
37 Luca Mazzanti (Ita) Ceramica Panaria - Navigare                       53.47
38 Amaël Moinard (Fra) Cofidis - Le Crédit par Téléphone                 55.10
39 Dmitriy Muravyev (Kaz) Astana                                         56.28
40 Andrea Noe' (Ita) Liquigas                                            57.43
41 Olivier Bonnaire (Fra) Bouygues Telecom                               58.42
42 Matthias Russ (Ger) Gerolsteiner                                      59.14
43 Marco Marzano (Ita) Lampre - Fondital                               1.00.24
44 Mauro Facci (Ita) Quickstep - Innergetic                            1.00.51
45 Iban Mayo Diez (Spa) Saunier Duval - Prodir                         1.01.09
46 Rinaldo Nocentini (Ita) AG2r Prévoyance                             1.02.34
47 Dario David Cioni (Ita) Predictor - Lotto                           1.03.24
48 Yoann Le Boulanger (Fra) Bouygues Telecom                           1.03.51
49 Hubert Schwab (Swi) Quickstep - Innergetic                          1.08.15
50 Pablo Lastras Garcia (Spa) Caisse d'Epargne                         1.09.10
51 Aketza Pena Iza (Spa) Euskaltel - Euskadi                           1.09.46
52 William Walker (Aus) Rabobank                                       1.09.53
53 David Zabriskie (USA) Team CSC                                      1.12.12
54 Kurt-Asle Arvesen (Nor) Team CSC                                    1.17.29
55 Volodymyr Bileka (Ukr) Discovery Channel Pro Cycling Team           1.17.58
56 Jussi Veikkanen (Fin) Française des Jeux                            1.18.07
57 Carl Naibo (Fra) AG2r Prévoyance                                    1.19.42
58 Axel Merckx (Bel) T-Mobile Team                                     1.20.08
59 Josep Jufre Pou (Spa) Predictor - Lotto                             1.21.45
60 Vladimir Miholjevic (Cro) Liquigas                                  1.21.51
61 Mauricio Alberto Ardila Cano (Col) Rabobank                         1.24.21
62 Michael Rasmussen (Den) Rabobank                                    1.26.46
63 Christian Knees (Ger) Team Milram                                   1.29.01
64 Salvatore Commesso (Ita) Tinkoff Credit System                      1.30.38
65 David Canada Gracia (Spa) Saunier Duval - Prodir                    1.31.11
66 Jurgen Van Den Broeck (Bel) Predictor - Lotto                       1.32.32
67 Koos Moerenhout (Ned) Rabobank                                      1.34.03
68 Frantisek Rabon (Cze) T-Mobile Team                                 1.34.50
69 Alessandro Spezialetti (Ita) Liquigas                               1.34.54
70 Frédéric Bessy (Fra) Cofidis - Le Crédit par Téléphone              1.35.48
71 Matthew Lloyd (Aus) Predictor - Lotto                               1.36.51
72 Alberto Losada Alguacil (Spa) Caisse d'Epargne                      1.36.52
73 Christophe Riblon (Fra) AG2r Prévoyance                             1.37.24
74 Pavel Padrnos (Cze) Discovery Channel Pro Cycling Team              1.38.07
75 Yuriy Krivtsov (Ukr) AG2r Prévoyance                                1.39.00
76 Steve Morabito (Swi) Astana                                         1.40.15
77 Volodymir Gustov (Ukr) Team CSC                                     1.42.44
78 Pavel Brutt (Rus) Tinkoff Credit System                             1.44.42
79 Andrei Kunitski (Blr) Acqua & Sapone - Caffe Mokambo                1.45.06
80 Addy Engels (Ned) Quickstep - Innergetic                            1.45.41
81 Daniele Contrini (Ita) Tinkoff Credit System                               
82 Lorenzo Bernucci (Ita) T-Mobile Team                                1.46.53
83 Eric Berthou (Fra) Caisse d'Epargne                                 1.47.04
84 Mathieu Perget (Fra) Caisse d'Epargne                               1.47.12
85 Markel Irizar Aranburu (Spa) Euskaltel - Euskadi                    1.47.22
86 Giuseppe Palumbo (Ita) Acqua & Sapone - Caffe Mokambo               1.48.03
87 Laszlo Bodrogi (Hun) Crédit Agricole                                1.48.11
88 Nicolas Crosbie (Fra) Bouygues Telecom                              1.50.02
89 Iban Velasco (Spa) Euskaltel - Euskadi                              1.52.25
90 Lilian Jégou (Fra) Française des Jeux                               1.53.21
91 Andrea Pagoto (Ita) Ceramica Panaria - Navigare                     1.55.35
92 Jurgen Van Goolen (Bel) Discovery Channel Pro Cycling Team          1.56.10
93 Gorazd Stangelj (Slo) Lampre - Fondital                             1.56.28
94 Dmitry Kozontchouk (Rus) Rabobank                                   1.56.37
95 Enrico Gasparotto (Ita) Liquigas                                    1.57.37
96 Matteo Tosatto (Ita) Quickstep - Innergetic                         1.57.51
97 Angel Gomez (Spa) Saunier Duval - Prodir                            1.59.32
98 Assan Bazayev (Kaz) Astana                                          2.02.40
99 Ricardo Serrano Gonzalez (Spa) Tinkoff Credit System                2.03.33
100 Matthew White (Aus) Discovery Channel Pro Cycling Team             2.04.42
101 Alexandre Usov (Blr) AG2r Prévoyance                               2.05.06
102 Leonardo Scarselli (Ita) Quickstep - Innergetic                    2.05.32
103 Hervé Duclos-Lassalle (Fra) Cofidis - Le Crédit par Téléphone      2.05.35
104 Benoît Joachim (Lux) Astana                                        2.05.37
105 Giovanni Visconti (Ita) Quickstep - Innergetic                     2.06.19
106 Alessandro Vanotti (Ita) Liquigas                                  2.06.26
107 Maximiliano Richeze (Arg) Ceramica Panaria - Navigare              2.07.04
108 Alessandro Petacchi (Ita) Team Milram                              2.09.24
109 Mirco Lorenzetto (Ita) Team Milram                                 2.11.59
110 Steven Cummings (GBr) Discovery Channel Pro Cycling Team           2.12.50
111 Julian Dean (NZl) Crédit Agricole                                  2.13.31
112 Lloyd Mondory (Fra) AG2r Prévoyance                                2.14.16
113 Dario Andriotto (Ita) Acqua & Sapone - Caffe Mokambo               2.17.49
114 Alessandro Cortinovis (Ita) Team Milram                            2.18.35
115 Maxim Gourov (Kaz) Astana                                          2.20.23
116 Brett Lancaster (Aus) Team Milram                                  2.20.25
117 Franck Renier (Fra) Bouygues Telecom                               2.20.48
118 Christophe Kern (Fra) Crédit Agricole                              2.21.24
119 Angelo Furlan (Ita) Crédit Agricole                                2.21.26
120 Matti Breschel (Den) Team CSC                                      2.22.05
121 Pedro Horrillo Munoz (Spa) Rabobank                                2.24.16
122 Raivis Belohvosciks (Lat) Saunier Duval - Prodir                   2.25.03
123 Laurent Mangel (Fra) AG2r Prévoyance                               2.26.19
124 Thomas Fothen (Ger) Gerolsteiner                                   2.26.42
125 Mickaël Buffaz (Fra) Cofidis - Le Crédit par Téléphone             2.28.56
126 Arnaud Gérard (Fra) Française des Jeux                             2.29.28
127 Nicolas Roche (Irl) Crédit Agricole                                2.29.32
128 Alexandre Pichot (Fra) Bouygues Telecom                            2.31.45
129 Mikhail Ignatiev (Rus) Tinkoff Credit System                       2.32.27
130 Martin Müller (Ger) Team Milram                                    2.33.27
131 Pierre Drancourt (Fra) Bouygues Telecom                            2.34.55
132 Nikolai Trusov (Rus) Tinkoff Credit System                         2.37.50
133 Fabien Patanchon (Fra) Française des Jeux                          2.38.12
134 Stefano Zanini (Ita) Predictor - Lotto                             2.39.38
135 Tristan Valentin (Fra) Cofidis - Le Crédit par Téléphone           2.40.53
136 Nick Gates (Aus) Predictor - Lotto                                 2.46.38
137 Matteo Bono (Ita) Lampre - Fondital                                2.51.02
138 Elio Aggiano (Ita) Tinkoff Credit System                           2.51.12
139 Koldo Fernandez (Spa) Euskaltel - Euskadi                          2.51.53
140 Sven Krauss (Ger) Gerolsteiner                                     2.52.24
141 Aaron Olson (USA) T-Mobile Team                                    2.55.24
142 Oscar Gatto (Ita) Gerolsteiner                                     2.57.48
143 Anton Luengo Celaya (Spa) Euskaltel - Euskadi                      2.58.14