90th Giro d'Italia - GT
Italy, May 12-June 3, 2007
Main Page Results Overall standings Stage Details Live report Previous Stage Next Stage
Stage 17 - Wednesday, May 30: Lienz (Austria) - Monte Zoncolan, 142 km
Simoni: King of Zoncolan
Simoni and Schleck gain on Monte Zoncolan GC battle - Di Luca saves Maglia Rosa
By Gregor Brown and Tim Maloney
Gibo: King of Zoncolan
Photo ©: Sirotti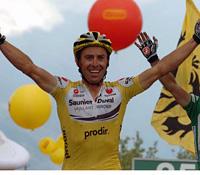 Gilberto Simoni conquered the Monte Zoncolan for a second time and this time, four years later, it was up the super-stiff gradients from Ovaro. With Saunier Duval teammate Leonardo Piepoli and Andy Schleck (Team CSC) he was not able to force Danilo Di Luca (Liquigas) out of the race leader's Maglia Rosa but the 35 year-old succeeded in making the feared 10.1-kilometre climb his and moved into third overall, behind Luxemburger Schleck.
"I said 'I will do it for you, I will do it for you,'" recalled Piepoli of his instance to help Simoni take Monte Zoncolan four years after his first, and for the first time the race ever climbed the 10.1 kilometres from Ovaro. Piepoli powered away from Schleck at 200 metres and then Simoni joined his mate at 125 metres to go. After Gibo's win the two embraced in celebration.
"At one point Leo told me to stop pulling, so he could work for me," noted Simoni standing next to his teammate. The two-time Giro winner worked with Piepoli and young Schleck up the gradients to put race leader Di Luca into difficulty. The Saunier duo was not able to make the distance and it then decided to focus on the stage victory.
Simoni vied for his first 2007 stage victory, eighth in career, and let 'Leo' take over the reins. "I thought it was wise because I saw how strong Schleck looked. I am happy, but I also think that Di Luca could have won today and it would have been merited. ... Nothing against Di Luca but we had to make our race against him."
"I did not know if it was possible to win here again after four years," continued Simoni on his pre-stage thoughts. "I saw that Di Luca was too strong for me [in the overall picture] so to win this stage helps. Leo did a good job and I had also did my work at the beginning of the climb."
Leonardo Piepoli (Saunier Duval-Prodir)
Photo ©: Luc Claessen

31 year-old Di Luca from Abruzzo proved to be as smart as he is strong. He wisely went at his own pace with the artilleries were fired by Saunier's Iban Mayo at nine kilometres to go. "I am satisfied with how I conserved myself," said Di Luca, who is looking more and more likely to be wearing the same pink jersey in Milano on Sunday. "The Giro ends on Saturday. The time trial is long. I have good gap but I will still watch out. I am not a cronoman but I think I can play my cards against Simoni and Schleck."
'The Killer' continued regarding the Zoncolan, "I paid a little bit at first but then I continued at my pace and it went okay." The riders covered the never before raced road up the western slope of Zoncolan. "The first six kilometres never seemed to end. Then after that it was a little easier, you could say.
Massimo Codol (Acqua & Sapone-Caffè Mokambo)
Photo ©: Luc Claessen

"Maybe on the first part of the climb I made a few small errors but then I think that I had a good finale." Di Luca passed Cunego for fourth and is now in the lead by 2'24" over Schleck and 2'28" over Simoni. "My advantage is important but it is not decisive."
Piepoli agreed with Di Luca's assessment. "I think that the race is still open. We have to watch Schleck."
"We escaped after 23 kilometres," noted Massimo Codol (Acqua & Sapone-Caffè Mokambo) who formed part of the day's major escape with the likes of Bettini, Baliani and Cioni . "We had a good move with Bettini, etcetera; men with good condition. I tried to climb at my own pace - we had 3'20" at the base. But the climb was very irregular. Saunier lifted the tempo and maybe if I had a few more seconds then I could have got the stage. It is too bad."
World Champion Bettini concurred with his compatriot but was happy to see Simoni win. "I knew behind the race was being fought and that it would have been hard to stay clear. ... Gibo is my same age; this is his piece of land and I am happy for him."
Simoni is uncertain of his future and the Zoncolan victory could have been his swan song. "I don't know what I will do next year," the day's champion said. "This victory helps me, it makes up for a lot. It gave me and the team a lot of joy. Maybe next year we can have Piepoli be the captain and me gregario," he jokingly concluded.
How it unfolded
A natural stadium.
Photo ©: Sirotti

It was partly cloudy and cool in Lienz at 13:05 as the riders departed on Pustertaler Strasse in Lienz. Many riders had the lowest gears possible to scale the terrible ascent of Zoncolan, with 34X29 compact mounted on the bicycle of Maglia Rosa Di Luca, and some riders were even using triple chainsets! The gruppo headed back to Italy the same way they came by the day before, except they avoided the Alpenhochstrasse and stayed on the main road along the river. After crossing the border after 33 kilometres, the riders made a left turn in San Candido and started the first climb of the day, Passo di Monte Croce di Comelico. Already on the 10-kilometre wall of Monte Zoncolan, race organizers were saying that there were almost 100,000 spectators along the road.
All early moves by usual suspects like Schwab (Quickstep) and Le Boulanger (Bouygues) were covered by Liquigas of Maglia Rosa Di Luca and Saunier Duval of Gibo Simoni who were riding fast tempo to keep the gruppo compatto and avoid any breaks getting away after 25 kilometres in Aftenbach. There was a move that got away which contained Cioni and Aerts (Predictor), Cano (Rabobank), Codol (Acqua & Sapone), Facci & Engels (Quickstep), Lucky Baliani (Panaria), Naibo (Ag2r), Le Boulanger (Bouygues Telecom), Irizar (Euskaltel) and Finnish champ Jussi Veikkanen (Française Des Jeux). When Bettini bridged he made it a dozen and after 30 kilometres in Sillian the fugitives had 30" and the double pace line was making time as everyone was working well. At the Austrian / Italian border the gap was already 2'30" and after 40 kilometres in San Candido, the break was gaining ground, but Liquigas and Saunier Duval were not giving them too much leeway.
At first GPM atop Passo di Monte Croce di Comelico, it was the ever opportunistic Lucky Baliani who took the points, with the Gruppo Maglia Rosa led by Saunier Duval's Litu Gomez at 4'10". Predictor's Cioni Aerts and Quickstep's Engels were driving the break hard. Aerts had won Flèche Wallonne and the skinny Belgian like steep climbs, while his teammate was really looking for a result on stage 17. At the Garibaldi intermediate sprint atop Cima Sappada with 52 kilometres to go, it was the rainbow jersey of Paolo Bettini that flashed across the line ahead of Le Boulanger and Codol with the stage pace over 20 minutes faster than the fastest (35km/hr) time schedule, with the Gruppo Maglia Rosa at 5'23".
The fugitives then descended the same road where Steven Roche attacked in 1987 with Ennio Salvador and his Carrera teammate, Maglia Rosa Vinsentini, whocracked on the ascent and ended losing the pink tunic at the stage finish that evening in Lido di Jesolo. The descent from Cima Sappada was a fast 15-kilometre run to the penultimate ascent of Tualis that commenced with 30 kilometres to go.
The 3.5-kilometre ascent was short but steep, with an average gradient of 9.4%. Then after the summit of Tualis there was a short descent, then a long gradual false flat ascent to the summit of the Ravasceltto climb with 21 kilometres to race. The final phase of stage 17 was about to begin as over 100,000 tifosi were waiting for the spectacle of riders racing up the terrible ramp of Monte Zoncolan from Liaariis. The gap between the escape and the Gruppo Maglia Rosa was 5'00" and falling as Lampre had joined the chase behind. Zabriskie (CSC) had a front flat in the Gruppo Maglia Rosa with 35 kilometres to go but got back in after a wheel change.
Danilo Di Luca (Liquigas)
Photo ©: Sirotti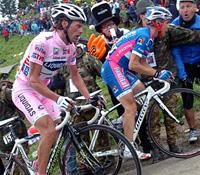 As the break began the ascent to Tualis, Cioni was making the tempo but as the grade got steeper, Codol hit the front. Behind the Gruppo Maglia Rosa, the serious players were swarming at the front as Liquigas, Saunier Duval and Astana were all there. Cofidis climber Parra had a flat at the base of the steep climb, got a wheel change from his teammate Buffaz and still got back before the summit, while one kilometre later, Dupont (Ag2r) had a flat and got an awkward wheel change. There were only 10 left up front as Irizar and Naibo were dropped and at the Tualis GPM it was that Lucky man Baliani again who took the points ahead of Cioni and Codol.
In the Gruppo Maglia Rosa 4'15" behind, Liquigas was still in control with Mikhailov and Spezialetti riding tempo. Everyone was waiting for the Monte Zoncolan ascent to begin. The sky was overcast with a cool mountain temperature of 20 degrees, a perfect afternoon for racing. On the descent to Comeglians and then Ovaro, Baliani, Cioni and Codol continued their action from the GPM and had a gap of about 10" on the eight other riders, with Irizar and Naibo at 45". Caucchioli and Petrov both had flats at the base of descent and had to work hard to get back to the front of the Gruppo Maglia Rosa, led by Liquigas.
The escape hit the base of the climb with Finnish champ leading with the Gruppo Maglia Rosa at 3'30" and closing. Veikkanen was leading on the first steep slopes, then Codol and Cano took over on the front. There would only be neutral service from motorcycles on the steep, narrow ascent of Monte Zoncolan. As the road became steeper after one kilometre, then went through the village of Liariis and then started the climb. Cioni moved his big frame to the front and started forcing the pace, exploding the front group, with only his teammate Aerts and Baliani able to maintain contact.
In the Gruppo Maglia Rosa two kilometres behind, Liquigas was still in command until Saunier Duval's Iban Mayo went to the front and upped the pace. But Liquigas still had Nibali and Pellizotti riding tempo and Mayo faded fast with eight kilometres still to climb. Their forcing dumped many riders as the road climbed to the sky, with Savoldelli, Rasmussen, Petrov and others going out the back.
Paolo Bettini (Quickstep-Innergetic)
Photo ©: Sirotti

With seven kilometres to go, Cioni was alone in the lead, 2'30" ahead of the Gruppo Maglia Rosa which was now down to 10 riders. Pellizotti was still there for Di Luca as the chase group was picking the remains of the break one after another. In the next kilometre as Pellizotti peeled off, Simoni then hit the front and started his own forcing.
Mazzoleni and Garzelli dropped off and his Saunier Duval teammate Riccò began to lose metre after metre. At the halfway point of the ascent of Monte Zoncolan, on a road lined five deep with tifosi, the race situation had become crystal clear. Predictor's Cioni was still in the lead, 40" seconds ahead of Codol who was closing on the big Anglo-Italian, while 2'00" behind, Simoni was putting pressure on Di Luca in the Gruppo Maglia Rosa. They were coming up fast on the race leaders as Cioni was slowing and a few hundred metres later both Di Luca and Cunego dropped off the pace. With four kilometres still to climb as a long, steep straight part of the climb began, Cioni was still hanging on out front, with Codol at 20" and closing, while Simoni was at 1'40" with his Saunier Duval teammate Piepoli and a surprising Andy Schleck, while both Maglia Rosa Di Luca and Cunego were hanging tough 20" back.
Eddy Mazzoleni (Astana)
Photo ©: Sirotti

There was still one steep, hard kilometre left to climb of Monte Zoncolan before the flatter, easier final two thousand metres and Codol had caught and passed Cioni, who had blown sky-high with 3500 metres still to race. The Simoni group was chasing at 30", while Maglia Rosa and Cunego were at 50". Cunego was trying to dump Di Luca but the Maglia Rosa was hanging tough. As the steepest part of the ascent of Monte Zoncolan ended with 2000 metres to go, Codol was just ahead of the gruppo Simoni, with the Maglia Rosa and Cunego at 20".
Codol hung on for a while but with 1500 metres to go, there were just three riders left, as Codol had been caught after 115 kilometres away. Piepoli was now riding hard to set up Simoni for a final attack and as the front trio rode under the one kilometre to go kite and approached the three tunnels in the final 1000 metres. There were three riders chasing them; Maglia Rosa Di Luca, Cunego and Codol. Piepoli wound it up and with 200 metres to go, the incredible Schleck finally popped and the two Saunier Duval riders headed to the finish line together.
Damiano Cunego (Lampre-Fondital)
Photo ©: Sirotti

After 39'05" of climbing at an average speed of 15.05kmh, Gilberto Simoni conquered the ascent of Monte Zoncolan for his second career win atop the terrible ascent, this time on the harder side from Ovaro. Simoni won the Giro stage atop Monte Zoncolan in 2003 and was very happy to win his first Giro d'Italia stage since 2004 at Corno del Scale. It was the 36th career victory for the tough little Trentino mountain man. Maglia Verde and super gregario Leo Piepoli was runner up and got a huge hug of thanks from Gibo after the stage.
The 21 year-old Andy Schleck was third at 7", while Di Luca dumped Cunego and came fourth at 32" with the Lampre rider 6" behind him. Codol had a great ride as the last rider out of the day's break for sixth at 58", while the best of the rest was magic Mexican Julio Pérez Cuapio who had a superb ride to finish stage 17 in seventh at 1'19", while Di Luca's Liquigas teammate Franco Pellizotti was eighth at 1'40" after working for the Maglia Rosa all day.
Di Luca kept his Maglia Rosa and lost some time, but the Liquigas rider may be worried about Saturday's time trial, as Andy Schleck has now moved into second on GC at 2'24" after gaining 32" on the Liquigas man today. Gibo Simoni also moved up the rankings into third at 2'28" behind the Maglia Rosa. Schleck is an excellent time trialist and should gain time on Di Luca, but it's unlikely that the Liquigas rider will lose the race lead in Saturday's 43-kilometre TT.
Can Simoni hang on to his podium spot, 1'01" ahead of Damiano Cunego, who is at 3'29" from Maglia Rosa on GC? Cunego did ride a superb final TT in last year's Tour De France and Simoni is in real danger of losing his podium spot to arch-rival and former teammate Cunego. Astana's Eddy Mazzoleni slipped from second to fifth today and although he is a good TT man, he'll have to recover almost 2'20" on Simoni to arrive on the podium at this year's Giro.
Ricardo Riccò lost some time today but still hung on to his sixth place on GC, while Caisse d'Epargne's Arroyo is still seventh on GC even though he lost almost 4'00" today. Despite some bad luck today, Tinkoff's Evgeni Petrov managed to move up one place on GC to eighth as Panaria climber Lele Sella had a bad day at the office and fell out of the top 10 on GC, while Di Luca's teammate Pellizotti moved into the top 10 with ninth place and Cunego's teammate Bruseghin moved back into the top 10 in 10th place.
Stage 18 - Thursday, May 31: Udine - Riese Pio X, 203 km
Speedsters to the fore on stage 18 from Friluian capital Udine across the flat Veneto roads to the small town of Riese Pio X, birthplace of Pope Pius 10. With two finishing circuits, look for Milram's Ale-Jet Petacchi to be the first across the line in Riese Pio X, the hometown of 2006 Tour stage winner Matteo Tosatto who is racing for Quickstep at this years Giro d'Italia.
Photography
For a thumbnail gallery of these images, click here
Images by Luc Claessen/www.ctm-images.com
Images by Fotoreporter Sirotti
Results
1 Gilberto Simoni (Ita) Saunier Duval - Prodir                           3.51.52 (36.745 km/h)
2 Leonardo Piepoli (Ita) Saunier Duval - Prodir                                 	
3 Andy Schleck (Lux) Team CSC                                               0.07	
4 Danilo Di Luca (Ita) Liquigas                                             0.31	
5 Damiano Cunego (Ita) Lampre - Fondital                                    0.37	
6 Massimo Codol (Ita) Acqua & Sapone - Caffe Mokambo                        0.58	
7 Julio Alberto Perez Cuapio (Mex) Ceramica Panaria - Navigare              1.19	
8 Franco Pellizotti (Ita) Liquigas                                          1.40	
9 Marzio Bruseghin (Ita) Lampre - Fondital                                  1.57	
10 Ivan Ramiro Parra Pinto (Col) Cofidis - Le Crédit par Téléphone          2.02	
11 Vincenzo Nibali (Ita) Liquigas                                           2.08	
12 Riccardo Ricco (Ita) Saunier Duval - Prodir                              2.11	
13 Eddy Mazzoleni (Ita) Astana                                              2.26	
14 Mario Aerts (Bel) Predictor - Lotto                                      2.38	
15 Fortunato Baliani (Ita) Ceramica Panaria - Navigare                      2.41	
16 Paolo Bettini (Ita) Quickstep - Innergetic                               2.43	
17 Dario David Cioni (Ita) Predictor - Lotto                                2.55	
18 Jussi Veikkanen (Fin) Française des Jeux                                 3.22	
19 Evgeni Petrov (Rus) Tinkoff Credit System                                3.27	
20 Stefano Garzelli (Ita) Acqua & Sapone - Caffe Mokambo                    3.35	
21 Branislau Samoilau (Blr) Acqua & Sapone - Caffe Mokambo                  3.41	
22 Mauro Facci (Ita) Quickstep - Innergetic                                     	
23 Paolo Savoldelli (Ita) Astana                                            3.50	
24 Andrey Mizourov (Kaz) Astana                                                 	
25 Addy Engels (Ned) Quickstep - Innergetic                                     	
26 Michael Rasmussen (Den) Rabobank                                         3.57	
27 David Arroyo Duran (Spa) Caisse d'Epargne                                4.26	
28 Francisco Javier Vila Errandonea (Spa) Lampre - Fondital                 4.28	
29 Emanuele Sella (Ita) Ceramica Panaria - Navigare                             	
30 Domenico Pozzovivo (Ita) Ceramica Panaria - Navigare                     4.34	
31 Hubert Dupont (Fra) AG2r Prévoyance                                      4.58	
32 Paolo Tiralongo (Ita) Lampre - Fondital                                  5.00	
33 Rinaldo Nocentini (Ita) AG2r Prévoyance                                  5.47	
34 Yoann Le Boulanger (Fra) Bouygues Telecom                                5.59	4"
35 Mauricio Alberto Ardila Cano (Col) Rabobank                              6.23	
36 Marco Marzano (Ita) Lampre - Fondital                                    6.41	
37 Luca Mazzanti (Ita) Ceramica Panaria - Navigare                          6.54	
38 Marco Pinotti (Ita) T-Mobile Team                                        6.58	
39 Carl Naibo (Fra) AG2r Prévoyance                                         7.33	
40 Yuriy Krivtsov (Ukr) AG2r Prévoyance                                     7.56	
41 Sylvester Szmyd (Pol) Lampre - Fondital                                  7.58	
42 José Luis Rubiera Vigil (Spa) Discovery Channel Pro Cycling Team         8.26	
43 Andrea Noe' (Ita) Liquigas                                               8.27	
44 Anton Luengo Celaya (Spa) Euskaltel - Euskadi                                	
45 Bingen Fernandez Bustinza (Spa) Cofidis - Le Crédit par Téléphone            	
46 Amaël Moinard (Fra) Cofidis - Le Crédit par Téléphone                        	
47 Pietro Caucchioli (Ita) Crédit Agricole                                      	
48 Alberto Losada Alguacil (Spa) Caisse d'Epargne                           9.01	
49 Axel Merckx (Bel) T-Mobile Team                                          9.13	
50 Koos Moerenhout (Ned) Rabobank                                               	
51 Josep Jufre Pou (Spa) Predictor - Lotto                                  9.35	
52 Iban Mayo Diez (Spa) Saunier Duval - Prodir                                  	
53 William Walker (Aus) Rabobank                                                	
54 Lorenzo Bernucci (Ita) T-Mobile Team                                     9.50	
55 Pavel Padrnos (Cze) Discovery Channel Pro Cycling Team                       	
56 Luis Felipe Laverde Jimenez (Col) Ceramica Panaria - Navigare                	
57 Hubert Schwab (Swi) Quickstep - Innergetic                              10.04	
58 Salvatore Commesso (Ita) Tinkoff Credit System                          10.27	
59 Christophe Kern (Fra) Crédit Agricole                                   10.42	
60 Matthew Lloyd (Aus) Predictor - Lotto                                   10.46	
61 Markel Irizar Aranburu (Spa) Euskaltel - Euskadi                        10.56	
62 Laszlo Bodrogi (Hun) Crédit Agricole                                    11.00	
63 Alessandro Petacchi (Ita) Team Milram                                   11.07	
64 Gorazd Stangelj (Slo) Lampre - Fondital                                      	
65 Andrea Pagoto (Ita) Ceramica Panaria - Navigare                         11.09	
66 Francis Mourey (Fra) Française des Jeux                                 11.13	
67 Kurt-Asle Arvesen (Nor) Team CSC                                        11.17	
68 Giovanni Visconti (Ita) Quickstep - Innergetic                          11.31	
69 Nicolas Crosbie (Fra) Bouygues Telecom                                  11.39	
70 Angel Gomez (Spa) Saunier Duval - Prodir                                12.04	
71 Pablo Lastras Garcia (Spa) Caisse d'Epargne                             12.09	
72 Alessandro Spezialetti (Ita) Liquigas                                   12.22	
73 Dario Andriotto (Ita) Acqua & Sapone - Caffe Mokambo                         	
74 Frédéric Bessy (Fra) Cofidis - Le Crédit par Téléphone                  12.38	
75 Volodymyr Bileka (Ukr) Discovery Channel Pro Cycling Team               12.41	
76 Leonardo Scarselli (Ita) Quickstep - Innergetic                         12.49	
77 Iban Velasco (Spa) Euskaltel - Euskadi                                       	
78 Charles Wegelius (GBr) Liquigas                                         12.54	
79 Laurent Mangel (Fra) AG2r Prévoyance                                         	
80 Brett Lancaster (Aus) Team Milram                                            	
81 Dmitriy Muravyev (Kaz) Astana                                           13.12	
82 Vladimir Miholjevic (Cro) Liquigas                                      13.14	
83 Giuseppe Palumbo (Ita) Acqua & Sapone - Caffe Mokambo                   13.30	
84 Aitor Perez Arrieta (Spa) Caisse d'Epargne                                   	
85 Hervé Duclos-Lassalle (Fra) Cofidis - Le Crédit par Téléphone           13.36	
86 Steve Morabito (Swi) Astana                                                  	
87 Matteo Tosatto (Ita) Quickstep - Innergetic                                  	
88 Olivier Bonnaire (Fra) Bouygues Telecom                                      	
89 Andrei Kunitski (Blr) Acqua & Sapone - Caffe Mokambo                    13.42	
90 Angelo Furlan (Ita) Crédit Agricole                                     13.47	
91 Aaron Olson (USA) T-Mobile Team                                         13.55	
92 Jurgen Van Goolen (Bel) Discovery Channel Pro Cycling Team              14.09	
93 Alexandre Pichot (Fra) Bouygues Telecom                                 14.11	
94 Alessandro Cortinovis (Ita) Team Milram                                      	
95 Matthias Russ (Ger) Gerolsteiner                                             	
96 Raivis Belohvosciks (Lat) Saunier Duval - Prodir                             	
97 Lilian Jégou (Fra) Française des Jeux                                        	
98 Elio Aggiano (Ita) Tinkoff Credit System                                14.19	
99 Daniele Contrini (Ita) Tinkoff Credit System                            14.25	
100 Maxim Gourov (Kaz) Astana                                              14.32	
101 Mirco Lorenzetto (Ita) Team Milram                                     14.40	
102 Mickaël Buffaz (Fra) Cofidis - Le Crédit par Téléphone                 15.01	
103 Arnaud Gérard (Fra) Française des Jeux                                 15.05	
104 Nicolas Roche (Irl) Crédit Agricole                                         	
105 Koldo Fernandez (Spa) Euskaltel - Euskadi                              15.26	
106 Mathieu Perget (Fra) Caisse d'Epargne                                  15.45	
107 Julian Dean (NZl) Crédit Agricole                                      16.01	
108 Volodymir Gustov (Ukr) Team CSC                                             	
109 Enrico Gasparotto (Ita) Liquigas                                            	
110 Jurgen Van Den Broeck (Bel) Predictor - Lotto                               	
111 Maximiliano Richeze (Arg) Ceramica Panaria - Navigare                       	
112 Matthew White (Aus) Discovery Channel Pro Cycling Team                      	
113 Tristan Valentin (Fra) Cofidis - Le Crédit par Téléphone                    	
114 Lloyd Mondory (Fra) AG2r Prévoyance                                    16.10	
115 Dmitry Kozontchouk (Rus) Rabobank                                           	
116 Assan Bazayev (Kaz) Astana                                             16.14	
117 Thomas Fothen (Ger) Gerolsteiner                                            	
118 Frantisek Rabon (Cze) T-Mobile Team                                         	
119 David Canada Gracia (Spa) Saunier Duval - Prodir                       16.22	
120 Pierre Drancourt (Fra) Bouygues Telecom                                16.25	
121 Fabien Patanchon (Fra) Française des Jeux                              16.37	
122 Pavel Brutt (Rus) Tinkoff Credit System                                     	
123 Matti Breschel (Den) Team CSC                                          16.41	
124 Martin Müller (Ger) Team Milram                                        16.52	
125 Christian Knees (Ger) Team Milram                                           	
126 Christophe Riblon (Fra) AG2r Prévoyance                                     	
127 Alexandre Usov (Blr) AG2r Prévoyance                                   16.56	
128 Matteo Bono (Ita) Lampre - Fondital                                    17.00	
129 Oscar Gatto (Ita) Gerolsteiner                                         17.08	
130 Franck Renier (Fra) Bouygues Telecom                                   17.43	
131 Stefano Zanini (Ita) Predictor - Lotto                                 17.50	
132 Pedro Horrillo Munoz (Spa) Rabobank                                    18.06	
133 Benoît Joachim (Lux) Astana                                            18.12	
134 Sven Krauss (Ger) Gerolsteiner                                         18.19	
135 Steven Cummings (GBr) Discovery Channel Pro Cycling Team               18.28	
136 Nick Gates (Aus) Predictor - Lotto                                     18.33	
137 Alessandro Vanotti (Ita) Liquigas                                           	
138 Ricardo Serrano Gonzalez (Spa) Tinkoff Credit System                   18.39	
139 David Zabriskie (USA) Team CSC                                         18.51	
140 Mikhail Ignatiev (Rus) Tinkoff Credit System                           18.55	
141 Nikolai Trusov (Rus) Tinkoff Credit System                             18.58	
142 Eric Berthou (Fra) Caisse d'Epargne                                    20.24	
 	
Points	
 	
1 Gilberto Simoni (Ita) Saunier Duval - Prodir                                25 pts	
2 Leonardo Piepoli (Ita) Saunier Duval - Prodir                               20	
3 Andy Schleck (Lux) Team CSC                                                 16	
4 Danilo Di Luca (Ita) Liquigas                                               14	
5 Massimo Codol (Ita) Acqua & Sapone - Caffe Mokambo                          14	
6 Damiano Cunego (Ita) Lampre - Fondital                                      12	
7 Julio Alberto Perez Cuapio (Mex) Ceramica Panaria - Navigare                 9	
8 Franco Pellizotti (Ita) Liquigas                                             8	
9 Paolo Bettini (Ita) Quickstep - Innergetic                                   8	
10 Marzio Bruseghin (Ita) Lampre - Fondital                                    7	
11 Ivan Ramiro Parra Pinto (Col) Cofidis - Le Crédit par Téléphone             6	
12 Yoann Le Boulanger (Fra) Bouygues Telecom                                   6	
13 Vincenzo Nibali (Ita) Liquigas                                              5	
14 Riccardo Ricco (Ita) Saunier Duval - Prodir                                 4	
15 Fortunato Baliani (Ita) Ceramica Panaria - Navigare                         4	
16 Eddy Mazzoleni (Ita) Astana                                                 3	
17 Mario Aerts (Bel) Predictor - Lotto                                         2	
18 Dario David Cioni (Ita) Predictor - Lotto                                   2	
19 Addy Engels (Ned) Quickstep - Innergetic                                    1	
 	
Mountains	
 	
Passo Di Monte Croce Di Comelico - Km 55.9	
1 Fortunato Baliani (Ita) Ceramica Panaria - Navigare                          5 pts	
2 Yoann Le Boulanger (Fra) Bouygues Telecom                                    3	
3 Paolo Bettini (Ita) Quickstep - Innergetic                                   1	
 	
Tualis - Km 116.1	
1 Fortunato Baliani (Ita) Ceramica Panaria - Navigare                          5 pts	
2 Dario David Cioni (Ita) Predictor - Lotto                                    3	
3 Massimo Codol (Ita) Acqua & Sapone - Caffe Mokambo                           1	
 	
Monte Zoncolan - Km 142	
1 Gilberto Simoni (Ita) Saunier Duval - Prodir                                15 pts	
2 Leonardo Piepoli (Ita) Saunier Duval - Prodir                               10	
3 Andy Schleck (Lux) Team CSC                                                  6	
4 Danilo Di Luca (Ita) Liquigas                                                4	
5 Damiano Cunego (Ita) Lampre - Fondital                                       2	
 	
T.V. Garibaldi	
 	
1 Paolo Bettini (Ita) Quickstep - Innergetic                                   5 pts	
2 Yoann Le Boulanger (Fra) Bouygues Telecom                                    4	
3 Massimo Codol (Ita) Acqua & Sapone - Caffe Mokambo                           3	
4 Fortunato Baliani (Ita) Ceramica Panaria - Navigare                          2	
5 Dario David Cioni (Ita) Predictor - Lotto                                    1	
6 Addy Engels (Ned) Quickstep - Innergetic                                      	
 	
Most combative	
 	
1 Fortunato Baliani (Ita) Ceramica Panaria - Navigare                          8 pts	
2 Gilberto Simoni (Ita) Saunier Duval - Prodir                                 6	
3 Paolo Bettini (Ita) Quickstep - Innergetic                                   6	
4 Yoann Le Boulanger (Fra) Bouygues Telecom                                    6	
5 Leonardo Piepoli (Ita) Saunier Duval - Prodir                                5	
6 Massimo Codol (Ita) Acqua & Sapone - Caffe Mokambo                           5	
7 Andy Schleck (Lux) Team CSC                                                  4	
8 Danilo Di Luca (Ita) Liquigas                                                3	
9 Dario David Cioni (Ita) Predictor - Lotto                                    3	
10 Damiano Cunego (Ita) Lampre - Fondital                                      2	
 	
Azzurri d'Italia	
 	
1 Gilberto Simoni (Ita) Saunier Duval - Prodir                                 4 pts	
2 Leonardo Piepoli (Ita) Saunier Duval - Prodir                                2	
3 Andy Schleck (Lux) Team CSC                                                  1	
 	
Trofeo Fuga Gilera	
 	
1 Dario David Cioni (Ita) Predictor - Lotto                                   23 pts	
2 Massimo Codol (Ita) Acqua & Sapone - Caffe Mokambo                          20	
3 Fortunato Baliani (Ita) Ceramica Panaria - Navigare                         18	
4 Mario Aerts (Bel) Predictor - Lotto                                         16	
5 Paolo Bettini (Ita) Quickstep - Innergetic                                  16	
6 Jussi Veikkanen (Fin) Française des Jeux                                    16	
7 Mauro Facci (Ita) Quickstep - Innergetic                                    16	
8 Addy Engels (Ned) Quickstep - Innergetic                                    16	
9 Yoann Le Boulanger (Fra) Bouygues Telecom                                   16	
10 Mauricio Alberto Ardila Cano (Col) Rabobank                                16	
 	
Trofeo fast team	
 	
1 Saunier Duval-Prodir                                                  11.37.47	
2 Liquigas                                                                  2.08	
3 Lampre-Fondital                                                           4.51	
4 Acqua & Sapone-Caffe Mokambo                                              6.03	
5 Ceramica Panaria-Navigare                                                 6.17	
6 Astana                                                                    7.55	
7 Quickstep-Innergetic                                                      8.03	
8 Predictor-Lotto                                                          12.57	
9 AG2r Prévoyance                                                          16.07	
10 Cofidis-Le Crédit par Téléphone                                         16.45	
11 Rabobank                                                                17.22	
12 Caisse d'Epargne                                                        23.25	
13 T-Mobile Team                                                           23.50	
14 Team CSC                                                                25.14	
15 Tinkoff Credit System                                                   26.02	
16 Française des Jeux                                                      26.35	
17 Crédit Agricole                                                         27.58	
18 Discovery Channel Pro Cycling Team                                      28.46	
19 Bouygues Telecom                                                        29.03	
20 Euskaltel-Euskadi                                                       30.01	
21 Team Milram                                                             36.01	
22 Gerolsteiner                                                            45.22	
 	
Trofeo super team	
 	
1 Saunier Duval-Prodir                                                        48 pts	
2 Liquigas                                                                    40	
3 Lampre-Fondital                                                             28	
4 Ceramica Panaria-Navigare                                                   20	
5 Team CSC                                                                    18	
6 Acqua & Sapone-Caffe Mokambo                                                16	
7 Cofidis-Le Crédit par Téléphone                                             11	
8 Predictor-Lotto                                                             11	
9 Astana                                                                       8	
10 Quickstep-Innergetic                                                        5	
11 Française des Jeux                                                          3	
12 Tinkoff Credit System                                                       2	
13 Rabobank                                                                     	
14 Caisse d'Epargne                                                             	
15 AG2r Prévoyance                                                              	
16 Bouygues Telecom                                                             	
17 T-Mobile Team                                                                	
18 Discovery Channel Pro Cycling Team                                           	
19 Euskaltel-Euskadi                                                            	
20 Crédit Agricole                                                              	
21 Team Milram                                                                  	
22 Gerolsteiner                                                                 	
 	
General classification after stage 17	
 	
1 Danilo Di Luca (Ita) Liquigas                                         77.35.35	
2 Andy Schleck (Lux) Team CSC                                               2.24	
3 Gilberto Simoni (Ita) Saunier Duval - Prodir                              2.28	
4 Damiano Cunego (Ita) Lampre - Fondital                                    3.29	
5 Eddy Mazzoleni (Ita) Astana                                               3.46	
6 Riccardo Ricco (Ita) Saunier Duval - Prodir                               5.19	
7 David Arroyo Duran (Spa) Caisse d'Epargne                                10.00	
8 Evgeni Petrov (Rus) Tinkoff Credit System                                10.25	
9 Franco Pellizotti (Ita) Liquigas                                         10.39	
10 Marzio Bruseghin (Ita) Lampre - Fondital                                10.55	
11 Emanuele Sella (Ita) Ceramica Panaria - Navigare                        10.59	
12 Ivan Ramiro Parra Pinto (Col) Cofidis - Le Crédit par Téléphone         11.48	
13 Leonardo Piepoli (Ita) Saunier Duval - Prodir                           13.08	
14 Stefano Garzelli (Ita) Acqua & Sapone - Caffe Mokambo                   14.36	
15 Paolo Savoldelli (Ita) Astana                                           15.27	
16 Francisco Javier Vila Errandonea (Spa) Lampre - Fondital                16.32	
17 Domenico Pozzovivo (Ita) Ceramica Panaria - Navigare                    20.16	
18 Marco Pinotti (Ita) T-Mobile Team                                       28.26	
19 Branislau Samoilau (Blr) Acqua & Sapone - Caffe Mokambo                 29.54	
20 Mario Aerts (Bel) Predictor - Lotto                                     30.05	
21 Andrey Mizourov (Kaz) Astana                                            31.45	
22 Vincenzo Nibali (Ita) Liquigas                                          31.55	
23 Massimo Codol (Ita) Acqua & Sapone - Caffe Mokambo                      35.30	
24 Fortunato Baliani (Ita) Ceramica Panaria - Navigare                     36.45	
25 Hubert Dupont (Fra) AG2r Prévoyance                                     40.29	
26 Paolo Tiralongo (Ita) Lampre - Fondital                                 45.54	
27 Luis Felipe Laverde Jimenez (Col) Ceramica Panaria - Navigare           46.20	
28 Pietro Caucchioli (Ita) Crédit Agricole                                 50.05	
29 Julio Alberto Perez Cuapio (Mex) Ceramica Panaria - Navigare            50.56	
30 Paolo Bettini (Ita) Quickstep - Innergetic                                   	
31 José Luis Rubiera Vigil (Spa) Discovery Channel Pro Cycling Team        51.14	
32 Sylvester Szmyd (Pol) Lampre - Fondital                                 57.11	
33 Francis Mourey (Fra) Française des Jeux                                 57.45	
34 Luca Mazzanti (Ita) Ceramica Panaria - Navigare                       1.00.10	
35 Bingen Fernandez Bustinza (Spa) Cofidis - Le Crédit par Téléphone     1.00.40	
36 Amaël Moinard (Fra) Cofidis - Le Crédit par Téléphone                 1.03.06	
37 Yoann Le Boulanger (Fra) Bouygues Telecom                             1.03.36	
38 Mauro Facci (Ita) Quickstep - Innergetic                              1.04.01	
39 Aitor Perez Arrieta (Spa) Caisse d'Epargne                            1.04.20	
40 Charles Wegelius (GBr) Liquigas                                       1.05.25	
41 Andrea Noe' (Ita) Liquigas                                            1.05.39	
42 Dario David Cioni (Ita) Predictor - Lotto                             1.05.48	
43 Marco Marzano (Ita) Lampre - Fondital                                 1.06.34	
44 Rinaldo Nocentini (Ita) AG2r Prévoyance                               1.07.50	
45 Dmitriy Muravyev (Kaz) Astana                                         1.09.09	
46 Iban Mayo Diez (Spa) Saunier Duval - Prodir                           1.10.13	
47 Olivier Bonnaire (Fra) Bouygues Telecom                               1.11.47	
48 Matthias Russ (Ger) Gerolsteiner                                      1.12.54	
49 Pablo Lastras Garcia (Spa) Caisse d'Epargne                           1.13.39	
50 Hubert Schwab (Swi) Quickstep - Innergetic                            1.17.48	
51 William Walker (Aus) Rabobank                                         1.18.57	
52 Jussi Veikkanen (Fin) Française des Jeux                              1.20.58	
53 Carl Naibo (Fra) AG2r Prévoyance                                      1.26.44	
54 Kurt-Asle Arvesen (Nor) Team CSC                                      1.28.15	
55 Axel Merckx (Bel) T-Mobile Team                                       1.28.50	
56 Volodymyr Bileka (Ukr) Discovery Channel Pro Cycling Team             1.30.08	
57 Michael Rasmussen (Den) Rabobank                                      1.30.12	
58 Mauricio Alberto Ardila Cano (Col) Rabobank                           1.30.13	
59 David Zabriskie (USA) Team CSC                                        1.30.32	
60 Josep Jufre Pou (Spa) Predictor - Lotto                               1.30.49	
61 Vladimir Miholjevic (Cro) Liquigas                                    1.34.34	
62 Salvatore Commesso (Ita) Tinkoff Credit System                        1.34.53	
63 Koos Moerenhout (Ned) Rabobank                                        1.42.45	
64 Alberto Losada Alguacil (Spa) Caisse d'Epargne                        1.45.22	
65 Christian Knees (Ger) Team Milram                                            	
66 Yuriy Krivtsov (Ukr) AG2r Prévoyance                                  1.46.25	
67 Alessandro Spezialetti (Ita) Liquigas                                 1.46.45	
68 David Canada Gracia (Spa) Saunier Duval - Prodir                      1.47.02	
69 Matthew Lloyd (Aus) Predictor - Lotto                                 1.47.06	
70 Pavel Padrnos (Cze) Discovery Channel Pro Cycling Team                1.47.26	
71 Frédéric Bessy (Fra) Cofidis - Le Crédit par Téléphone                1.47.55	
72 Jurgen Van Den Broeck (Bel) Predictor - Lotto                         1.48.02	
73 Addy Engels (Ned) Quickstep - Innergetic                              1.49.00	
74 Lorenzo Bernucci (Ita) T-Mobile Team                                  1.50.31	
75 Frantisek Rabon (Cze) T-Mobile Team                                   1.50.33	
76 Steve Morabito (Swi) Astana                                           1.53.20	
77 Christophe Riblon (Fra) AG2r Prévoyance                               1.53.45	
78 Markel Irizar Aranburu (Spa) Euskaltel - Euskadi                      1.57.47	
79 Volodymir Gustov (Ukr) Team CSC                                       1.58.14	
80 Andrei Kunitski (Blr) Acqua & Sapone - Caffe Mokambo                  1.58.17	
81 Laszlo Bodrogi (Hun) Crédit Agricole                                  1.58.40	
82 Daniele Contrini (Ita) Tinkoff Credit System                          1.59.35	
83 Pavel Brutt (Rus) Tinkoff Credit System                               2.00.48	
84 Giuseppe Palumbo (Ita) Acqua & Sapone - Caffe Mokambo                 2.01.02	
85 Nicolas Crosbie (Fra) Bouygues Telecom                                2.01.10	
86 Eric Berthou (Fra) Caisse d'Epargne                                   2.01.18	
87 Mathieu Perget (Fra) Caisse d'Epargne                                 2.02.26	
88 Iban Velasco (Spa) Euskaltel - Euskadi                                2.04.43	
89 Matteo Tosatto (Ita) Quickstep - Innergetic                           2.05.33	
90 Andrea Pagoto (Ita) Ceramica Panaria - Navigare                       2.06.13	
91 Lilian Jégou (Fra) Française des Jeux                                 2.07.01	
92 Gorazd Stangelj (Slo) Lampre - Fondital                               2.07.04	
93 Jurgen Van Goolen (Bel) Discovery Channel Pro Cycling Team            2.09.48	
94 Angel Gomez (Spa) Saunier Duval - Prodir                              2.11.05	
95 Giovanni Visconti (Ita) Quickstep - Innergetic                        2.11.38	
96 Dmitry Kozontchouk (Rus) Rabobank                                     2.12.16	
97 Assan Bazayev (Kaz) Astana                                            2.12.42	
98 Enrico Gasparotto (Ita) Liquigas                                      2.13.07	
99 Ricardo Serrano Gonzalez (Spa) Tinkoff Credit System                  2.14.24	
100 Benoît Joachim (Lux) Astana                                          2.17.35	
101 Leonardo Scarselli (Ita) Quickstep - Innergetic                      2.17.50	
102 Hervé Duclos-Lassalle (Fra) Cofidis - Le Crédit par Téléphone        2.18.40	
103 Alessandro Petacchi (Ita) Team Milram                                2.20.00	
104 Matthew White (Aus) Discovery Channel Pro Cycling Team               2.20.12	
105 Alexandre Usov (Blr) AG2r Prévoyance                                 2.21.31	
106 Maximiliano Richeze (Arg) Ceramica Panaria - Navigare                2.22.34	
107 Julian Dean (NZl) Crédit Agricole                                    2.23.22	
108 Lloyd Mondory (Fra) AG2r Prévoyance                                  2.24.16	
109 Alessandro Vanotti (Ita) Liquigas                                    2.24.28	
110 Mirco Lorenzetto (Ita) Team Milram                                   2.26.08	
111 Dario Andriotto (Ita) Acqua & Sapone - Caffe Mokambo                 2.29.40	
112 Steven Cummings (GBr) Discovery Channel Pro Cycling Team             2.30.47	
113 Laurent Mangel (Fra) AG2r Prévoyance                                 2.31.15	
114 Christophe Kern (Fra) Crédit Agricole                                2.31.35	
115 Alessandro Cortinovis (Ita) Team Milram                              2.32.15	
116 Brett Lancaster (Aus) Team Milram                                    2.32.48	
117 Maxim Gourov (Kaz) Astana                                            2.34.24	
118 Angelo Furlan (Ita) Crédit Agricole                                  2.34.42	
119 Franck Renier (Fra) Bouygues Telecom                                 2.38.00	
120 Matti Breschel (Den) Team CSC                                        2.38.15	
121 Raivis Belohvosciks (Lat) Saunier Duval - Prodir                     2.38.43	
122 Pedro Horrillo Munoz (Spa) Rabobank                                  2.41.51	
123 Thomas Fothen (Ger) Gerolsteiner                                     2.42.25	
124 Mickaël Buffaz (Fra) Cofidis - Le Crédit par Téléphone               2.43.26	
125 Arnaud Gérard (Fra) Française des Jeux                               2.44.02	
126 Nicolas Roche (Irl) Crédit Agricole                                  2.44.06	
127 Alexandre Pichot (Fra) Bouygues Telecom                              2.45.25	
128 Martin Müller (Ger) Team Milram                                      2.49.46	
129 Pierre Drancourt (Fra) Bouygues Telecom                              2.50.49	
130 Mikhail Ignatiev (Rus) Tinkoff Credit System                         2.50.51	
131 Fabien Patanchon (Fra) Française des Jeux                            2.54.18	
132 Nikolai Trusov (Rus) Tinkoff Credit System                           2.56.17	
133 Tristan Valentin (Fra) Cofidis - Le Crédit par Téléphone             2.56.23	
134 Stefano Zanini (Ita) Predictor - Lotto                               2.56.57	
135 Sven Krauss (Ger) Gerolsteiner                                       3.04.33	
136 Nick Gates (Aus) Predictor - Lotto                                   3.04.40	
137 Elio Aggiano (Ita) Tinkoff Credit System                             3.05.00	
138 Anton Luengo Celaya (Spa) Euskaltel - Euskadi                        3.06.10	
139 Koldo Fernandez (Spa) Euskaltel - Euskadi                            3.06.48	
140 Matteo Bono (Ita) Lampre - Fondital                                  3.07.31	
141 Aaron Olson (USA) T-Mobile Team                                      3.08.48	
142 Oscar Gatto (Ita) Gerolsteiner                                       3.14.25	
 	
Points classification	
 	
1 Alessandro Petacchi (Ita) Team Milram                                      135 pts	
2 Danilo Di Luca (Ita) Liquigas                                              122	
3 Paolo Bettini (Ita) Quickstep - Innergetic                                 104	
4 Leonardo Piepoli (Ita) Saunier Duval - Prodir                               93	
5 Gilberto Simoni (Ita) Saunier Duval - Prodir                                92	
6 Stefano Garzelli (Ita) Acqua & Sapone - Caffe Mokambo                       90	
7 Andy Schleck (Lux) Team CSC                                                 75	
8 Riccardo Ricco (Ita) Saunier Duval - Prodir                                 74	
9 Damiano Cunego (Ita) Lampre - Fondital                                      69	
10 Maximiliano Richeze (Arg) Ceramica Panaria - Navigare                      59	
11 Marzio Bruseghin (Ita) Lampre - Fondital                                   58	
12 Alexandre Usov (Blr) AG2r Prévoyance                                       56	
13 Eddy Mazzoleni (Ita) Astana                                                50	
14 Franco Pellizotti (Ita) Liquigas                                           46	
15 Assan Bazayev (Kaz) Astana                                                 44	
16 Julio Alberto Perez Cuapio (Mex) Ceramica Panaria - Navigare               41	
17 Ivan Ramiro Parra Pinto (Col) Cofidis - Le Crédit par Téléphone            38	
18 Fortunato Baliani (Ita) Ceramica Panaria - Navigare                        37	
19 David Arroyo Duran (Spa) Caisse d'Epargne                                  36	
20 Marco Pinotti (Ita) T-Mobile Team                                          32	
21 Evgeni Petrov (Rus) Tinkoff Credit System                                  32	
22 Emanuele Sella (Ita) Ceramica Panaria - Navigare                           30	
23 Kurt-Asle Arvesen (Nor) Team CSC                                           29	
24 Luis Felipe Laverde Jimenez (Col) Ceramica Panaria - Navigare              28	
25 Laurent Mangel (Fra) AG2r Prévoyance                                       28	
26 Paolo Savoldelli (Ita) Astana                                              26	
27 Yoann Le Boulanger (Fra) Bouygues Telecom                                  25	
28 Christophe Kern (Fra) Crédit Agricole                                      24	
29 Mickaël Buffaz (Fra) Cofidis - Le Crédit par Téléphone                     20	
30 David Zabriskie (USA) Team CSC                                             20	
31 Daniele Contrini (Ita) Tinkoff Credit System                               18	
32 Ricardo Serrano Gonzalez (Spa) Tinkoff Credit System                       18	
33 Giovanni Visconti (Ita) Quickstep - Innergetic                             16	
34 Hubert Schwab (Swi) Quickstep - Innergetic                                 16	
35 Nicolas Crosbie (Fra) Bouygues Telecom                                     15	
36 José Luis Rubiera Vigil (Spa) Discovery Channel Pro Cycling Team           15	
37 Lloyd Mondory (Fra) AG2r Prévoyance                                        15	
38 Massimo Codol (Ita) Acqua & Sapone - Caffe Mokambo                         14	
39 Lorenzo Bernucci (Ita) T-Mobile Team                                       14	
40 Enrico Gasparotto (Ita) Liquigas                                           12	
41 Francisco Javier Vila Errandonea (Spa) Lampre - Fondital                   12	
42 Yuriy Krivtsov (Ukr) AG2r Prévoyance                                       12	
43 Hervé Duclos-Lassalle (Fra) Cofidis - Le Crédit par Téléphone              12	
44 Mikhail Ignatiev (Rus) Tinkoff Credit System                               12	
45 Frédéric Bessy (Fra) Cofidis - Le Crédit par Téléphone                     11	
46 Giuseppe Palumbo (Ita) Acqua & Sapone - Caffe Mokambo                      11	
47 Markel Irizar Aranburu (Spa) Euskaltel - Euskadi                           10	
48 Pablo Lastras Garcia (Spa) Caisse d'Epargne                                10	
49 Volodymyr Bileka (Ukr) Discovery Channel Pro Cycling Team                  10	
50 Alessandro Spezialetti (Ita) Liquigas                                      10	
51 Luca Mazzanti (Ita) Ceramica Panaria - Navigare                             9	
52 Salvatore Commesso (Ita) Tinkoff Credit System                              9	
53 Andrea Noe' (Ita) Liquigas                                                  8	
54 Rinaldo Nocentini (Ita) AG2r Prévoyance                                     8	
55 Alexandre Pichot (Fra) Bouygues Telecom                                     8	
56 Pietro Caucchioli (Ita) Crédit Agricole                                     7	
57 Pavel Brutt (Rus) Tinkoff Credit System                                     7	
58 Pedro Horrillo Munoz (Spa) Rabobank                                         7	
59 Sylvester Szmyd (Pol) Lampre - Fondital                                     6	
60 Dario David Cioni (Ita) Predictor - Lotto                                   6	
61 Alberto Losada Alguacil (Spa) Caisse d'Epargne                              6	
62 Christophe Riblon (Fra) AG2r Prévoyance                                     6	
63 Michael Rasmussen (Den) Rabobank                                            5	
64 Julian Dean (NZl) Crédit Agricole                                           5	
65 Martin Müller (Ger) Team Milram                                             5	
66 Koldo Fernandez (Spa) Euskaltel - Euskadi                                   5	
67 Branislau Samoilau (Blr) Acqua & Sapone - Caffe Mokambo                     4	
68 Mario Aerts (Bel) Predictor - Lotto                                         4	
69 Andrei Kunitski (Blr) Acqua & Sapone - Caffe Mokambo                        4	
70 Pierre Drancourt (Fra) Bouygues Telecom                                     4	
71 Nikolai Trusov (Rus) Tinkoff Credit System                                  4	
72 Sven Krauss (Ger) Gerolsteiner                                              4	
73 Elio Aggiano (Ita) Tinkoff Credit System                                    3	
74 William Walker (Aus) Rabobank                                               3	
75 Jurgen Van Den Broeck (Bel) Predictor - Lotto                               3	
76 Fabien Patanchon (Fra) Française des Jeux                                   3	
77 Matteo Bono (Ita) Lampre - Fondital                                         3	
78 Domenico Pozzovivo (Ita) Ceramica Panaria - Navigare                        2	
79 Hubert Dupont (Fra) AG2r Prévoyance                                         2	
80 Francis Mourey (Fra) Française des Jeux                                     2	
81 Mauro Facci (Ita) Quickstep - Innergetic                                    2	
82 Paolo Tiralongo (Ita) Lampre - Fondital                                     1	
83 Iban Mayo Diez (Spa) Saunier Duval - Prodir                                 1	
84 Mauricio Alberto Ardila Cano (Col) Rabobank                                 1	
85 Addy Engels (Ned) Quickstep - Innergetic                                    1	
86 Eric Berthou (Fra) Caisse d'Epargne                                         1	
87 Brett Lancaster (Aus) Team Milram                                           1	
88 Oscar Gatto (Ita) Gerolsteiner                                              1	
89 Franck Renier (Fra) Bouygues Telecom                                       -3	
90 Aitor Perez Arrieta (Spa) Caisse d'Epargne                                 -5	
91 Charles Wegelius (GBr) Liquigas                                            -5	
92 Matti Breschel (Den) Team CSC                                              -5	
93 Thomas Fothen (Ger) Gerolsteiner                                           -5	
94 Marco Marzano (Ita) Lampre - Fondital                                      -6	
95 Christian Knees (Ger) Team Milram                                          -9	
96 Jurgen Van Goolen (Bel) Discovery Channel Pro Cycling Team                -10	
97 Benoît Joachim (Lux) Astana                                               -14	
98 Tristan Valentin (Fra) Cofidis - Le Crédit par Téléphone                  -15	
 	
Mountains classification	
 	
1 Leonardo Piepoli (Ita) Saunier Duval - Prodir                               73 pts	
2 Fortunato Baliani (Ita) Ceramica Panaria - Navigare                         46	
3 Danilo Di Luca (Ita) Liquigas                                               45	
4 Riccardo Ricco (Ita) Saunier Duval - Prodir                                 36	
5 Gilberto Simoni (Ita) Saunier Duval - Prodir                                31	
6 Yoann Le Boulanger (Fra) Bouygues Telecom                                   24	
7 Luis Felipe Laverde Jimenez (Col) Ceramica Panaria - Navigare               23	
8 Andy Schleck (Lux) Team CSC                                                 20	
9 Marzio Bruseghin (Ita) Lampre - Fondital                                    15	
10 Christophe Riblon (Fra) AG2r Prévoyance                                    15	
11 Emanuele Sella (Ita) Ceramica Panaria - Navigare                           14	
12 Damiano Cunego (Ita) Lampre - Fondital                                     13	
13 Ivan Ramiro Parra Pinto (Col) Cofidis - Le Crédit par Téléphone            13	
14 Julio Alberto Perez Cuapio (Mex) Ceramica Panaria - Navigare                9	
15 Pavel Brutt (Rus) Tinkoff Credit System                                     8	
16 Marco Pinotti (Ita) T-Mobile Team                                           8	
17 Hubert Schwab (Swi) Quickstep - Innergetic                                  8	
18 Eddy Mazzoleni (Ita) Astana                                                 7	
19 Pietro Caucchioli (Ita) Crédit Agricole                                     7	
20 Michael Rasmussen (Den) Rabobank                                            7	
21 Josep Jufre Pou (Spa) Predictor - Lotto                                     6	
22 Paolo Savoldelli (Ita) Astana                                               5	
23 Stefano Garzelli (Ita) Acqua & Sapone - Caffe Mokambo                       5	
24 Sylvester Szmyd (Pol) Lampre - Fondital                                     4	
25 David Zabriskie (USA) Team CSC                                              4	
26 Mauro Facci (Ita) Quickstep - Innergetic                                    3	
27 Dario David Cioni (Ita) Predictor - Lotto                                   3	
28 Daniele Contrini (Ita) Tinkoff Credit System                                3	
29 Christophe Kern (Fra) Crédit Agricole                                       3	
30 Franco Pellizotti (Ita) Liquigas                                            2	
31 Francisco Javier Vila Errandonea (Spa) Lampre - Fondital                    2	
32 Pablo Lastras Garcia (Spa) Caisse d'Epargne                                 2	
33 Lorenzo Bernucci (Ita) T-Mobile Team                                        2	
34 Markel Irizar Aranburu (Spa) Euskaltel - Euskadi                            2	
35 Fabien Patanchon (Fra) Française des Jeux                                   2	
36 Massimo Codol (Ita) Acqua & Sapone - Caffe Mokambo                          1	
37 Paolo Bettini (Ita) Quickstep - Innergetic                                  1	
38 José Luis Rubiera Vigil (Spa) Discovery Channel Pro Cycling Team            1	
39 William Walker (Aus) Rabobank                                               1	
40 Salvatore Commesso (Ita) Tinkoff Credit System                              1	
41 Alberto Losada Alguacil (Spa) Caisse d'Epargne                              1	
42 Yuriy Krivtsov (Ukr) AG2r Prévoyance                                        1	
43 Frédéric Bessy (Fra) Cofidis - Le Crédit par Téléphone                      1	
44 Eric Berthou (Fra) Caisse d'Epargne                                         1	
 	
T.V. Garibaldi classification	
 	
1 Mickaël Buffaz (Fra) Cofidis - Le Crédit par Téléphone                      13 pts	
2 Yoann Le Boulanger (Fra) Bouygues Telecom                                    9	
3 Nicolas Crosbie (Fra) Bouygues Telecom                                       9	
4 Marco Pinotti (Ita) T-Mobile Team                                            8	
5 Paolo Bettini (Ita) Quickstep - Innergetic                                   8	
6 Fortunato Baliani (Ita) Ceramica Panaria - Navigare                          8	
7 Mikhail Ignatiev (Rus) Tinkoff Credit System                                 8	
8 Ivan Ramiro Parra Pinto (Col) Cofidis - Le Crédit par Téléphone              7	
9 Frédéric Bessy (Fra) Cofidis - Le Crédit par Téléphone                       7	
10 Markel Irizar Aranburu (Spa) Euskaltel - Euskadi                            6	
11 Pierre Drancourt (Fra) Bouygues Telecom                                     6	
12 Julio Alberto Perez Cuapio (Mex) Ceramica Panaria - Navigare                5	
13 Giovanni Visconti (Ita) Quickstep - Innergetic                              5	
14 Laurent Mangel (Fra) AG2r Prévoyance                                        5	
15 Christophe Kern (Fra) Crédit Agricole                                       5	
16 Elio Aggiano (Ita) Tinkoff Credit System                                    5	
17 Pavel Brutt (Rus) Tinkoff Credit System                                     5	
18 Marzio Bruseghin (Ita) Lampre - Fondital                                    4	
19 Leonardo Piepoli (Ita) Saunier Duval - Prodir                               4	
20 Dario David Cioni (Ita) Predictor - Lotto                                   4	
21 Alberto Losada Alguacil (Spa) Caisse d'Epargne                              4	
22 Yuriy Krivtsov (Ukr) AG2r Prévoyance                                        4	
23 Christophe Riblon (Fra) AG2r Prévoyance                                     4	
24 Daniele Contrini (Ita) Tinkoff Credit System                                4	
25 Benoît Joachim (Lux) Astana                                                 4	
26 Riccardo Ricco (Ita) Saunier Duval - Prodir                                 3	
27 Massimo Codol (Ita) Acqua & Sapone - Caffe Mokambo                          3	
28 Andrei Kunitski (Blr) Acqua & Sapone - Caffe Mokambo                        3	
29 Martin Müller (Ger) Team Milram                                             3	
30 Luis Felipe Laverde Jimenez (Col) Ceramica Panaria - Navigare               2	
31 Evgeni Petrov (Rus) Tinkoff Credit System                                   2	
32 Sylvester Szmyd (Pol) Lampre - Fondital                                     2	
33 Jurgen Van Den Broeck (Bel) Predictor - Lotto                               2	
34 Giuseppe Palumbo (Ita) Acqua & Sapone - Caffe Mokambo                       2	
35 Fabien Patanchon (Fra) Française des Jeux                                   2	
36 Matteo Bono (Ita) Lampre - Fondital                                         2	
37 Alessandro Petacchi (Ita) Team Milram                                       1	
38 Paolo Savoldelli (Ita) Astana                                               1	
39 Mario Aerts (Bel) Predictor - Lotto                                         1	
40 Hubert Dupont (Fra) AG2r Prévoyance                                         1	
41 Mauro Facci (Ita) Quickstep - Innergetic                                    1	
42 Marco Marzano (Ita) Lampre - Fondital                                       1	
43 Hubert Schwab (Swi) Quickstep - Innergetic                                  1	
44 Michael Rasmussen (Den) Rabobank                                            1	
45 Franck Renier (Fra) Bouygues Telecom                                        1	
 	
Most combative classification	
 	
1 Leonardo Piepoli (Ita) Saunier Duval - Prodir                               36 pts	
2 Fortunato Baliani (Ita) Ceramica Panaria - Navigare                         36	
3 Alessandro Petacchi (Ita) Team Milram                                       31	
4 Paolo Bettini (Ita) Quickstep - Innergetic                                  30	
5 Danilo Di Luca (Ita) Liquigas                                               29	
6 Gilberto Simoni (Ita) Saunier Duval - Prodir                                23	
7 Riccardo Ricco (Ita) Saunier Duval - Prodir                                 21	
8 Luis Felipe Laverde Jimenez (Col) Ceramica Panaria - Navigare               20	
9 Stefano Garzelli (Ita) Acqua & Sapone - Caffe Mokambo                       18	
10 Marco Pinotti (Ita) T-Mobile Team                                          17	
11 Andy Schleck (Lux) Team CSC                                                17	
12 Yoann Le Boulanger (Fra) Bouygues Telecom                                  16	
13 Ivan Ramiro Parra Pinto (Col) Cofidis - Le Crédit par Téléphone            15	
14 Mickaël Buffaz (Fra) Cofidis - Le Crédit par Téléphone                     13	
15 Julio Alberto Perez Cuapio (Mex) Ceramica Panaria - Navigare               11	
16 Christophe Kern (Fra) Crédit Agricole                                      11	
17 Marzio Bruseghin (Ita) Lampre - Fondital                                   10	
18 Laurent Mangel (Fra) AG2r Prévoyance                                       10	
19 Pavel Brutt (Rus) Tinkoff Credit System                                    10	
20 Nicolas Crosbie (Fra) Bouygues Telecom                                      9	
21 Eddy Mazzoleni (Ita) Astana                                                 9	
22 Emanuele Sella (Ita) Ceramica Panaria - Navigare                            9	
23 Damiano Cunego (Ita) Lampre - Fondital                                      8	
24 Hubert Schwab (Swi) Quickstep - Innergetic                                  8	
25 Mikhail Ignatiev (Rus) Tinkoff Credit System                                8	
26 Markel Irizar Aranburu (Spa) Euskaltel - Euskadi                            7	
27 Frédéric Bessy (Fra) Cofidis - Le Crédit par Téléphone                      7	
28 Christophe Riblon (Fra) AG2r Prévoyance                                     7	
29 Daniele Contrini (Ita) Tinkoff Credit System                                7	
30 Assan Bazayev (Kaz) Astana                                                  7	
31 Kurt-Asle Arvesen (Nor) Team CSC                                            6	
32 Paolo Savoldelli (Ita) Astana                                               6	
33 Pietro Caucchioli (Ita) Crédit Agricole                                     6	
34 Dario David Cioni (Ita) Predictor - Lotto                                   6	
35 Maximiliano Richeze (Arg) Ceramica Panaria - Navigare                       6	
36 Pierre Drancourt (Fra) Bouygues Telecom                                     6	
37 Giovanni Visconti (Ita) Quickstep - Innergetic                              5	
38 Elio Aggiano (Ita) Tinkoff Credit System                                    5	
39 Evgeni Petrov (Rus) Tinkoff Credit System                                   5	
40 Massimo Codol (Ita) Acqua & Sapone - Caffe Mokambo                          5	
41 Sylvester Szmyd (Pol) Lampre - Fondital                                     4	
42 Michael Rasmussen (Den) Rabobank                                            4	
43 Alberto Losada Alguacil (Spa) Caisse d'Epargne                              4	
44 Yuriy Krivtsov (Ukr) AG2r Prévoyance                                        4	
45 Ricardo Serrano Gonzalez (Spa) Tinkoff Credit System                        4	
46 Benoît Joachim (Lux) Astana                                                 4	
47 Alexandre Usov (Blr) AG2r Prévoyance                                        4	
48 Franco Pellizotti (Ita) Liquigas                                            3	
49 José Luis Rubiera Vigil (Spa) Discovery Channel Pro Cycling Team            3	
50 Mauro Facci (Ita) Quickstep - Innergetic                                    3	
51 David Zabriskie (USA) Team CSC                                              3	
52 Josep Jufre Pou (Spa) Predictor - Lotto                                     3	
53 Andrei Kunitski (Blr) Acqua & Sapone - Caffe Mokambo                        3	
54 Martin Müller (Ger) Team Milram                                             3	
55 Fabien Patanchon (Fra) Française des Jeux                                   3	
56 Pablo Lastras Garcia (Spa) Caisse d'Epargne                                 2	
57 Jurgen Van Den Broeck (Bel) Predictor - Lotto                               2	
58 Giuseppe Palumbo (Ita) Acqua & Sapone - Caffe Mokambo                       2	
59 Koldo Fernandez (Spa) Euskaltel - Euskadi                                   2	
60 Matteo Bono (Ita) Lampre - Fondital                                         2	
61 Francisco Javier Vila Errandonea (Spa) Lampre - Fondital                    1	
62 Mario Aerts (Bel) Predictor - Lotto                                         1	
63 Hubert Dupont (Fra) AG2r Prévoyance                                         1	
64 Marco Marzano (Ita) Lampre - Fondital                                       1	
65 Lorenzo Bernucci (Ita) T-Mobile Team                                        1	
66 Angelo Furlan (Ita) Crédit Agricole                                         1	
67 Franck Renier (Fra) Bouygues Telecom                                        1	
 	
Azzurri d'Italia classification	
 	
1 Alessandro Petacchi (Ita) Team Milram                                       15 pts	
2 Danilo Di Luca (Ita) Liquigas                                               11	
3 Leonardo Piepoli (Ita) Saunier Duval - Prodir                               10	
4 Stefano Garzelli (Ita) Acqua & Sapone - Caffe Mokambo                        8	
5 Gilberto Simoni (Ita) Saunier Duval - Prodir                                 8	
6 Riccardo Ricco (Ita) Saunier Duval - Prodir                                  6	
7 Paolo Bettini (Ita) Quickstep - Innergetic                                   6	
8 Marzio Bruseghin (Ita) Lampre - Fondital                                     4	
9 Luis Felipe Laverde Jimenez (Col) Ceramica Panaria - Navigare                4	
10 Kurt-Asle Arvesen (Nor) Team CSC                                            4	
11 Andy Schleck (Lux) Team CSC                                                 3	
12 Marco Pinotti (Ita) T-Mobile Team                                           2	
13 Laurent Mangel (Fra) AG2r Prévoyance                                        2	
14 Ivan Ramiro Parra Pinto (Col) Cofidis - Le Crédit par Téléphone             1	
15 Christophe Kern (Fra) Crédit Agricole                                       1	
16 Damiano Cunego (Ita) Lampre - Fondital                                      1	
17 Assan Bazayev (Kaz) Astana                                                  1	
18 Ricardo Serrano Gonzalez (Spa) Tinkoff Credit System                        1	
19 Maximiliano Richeze (Arg) Ceramica Panaria - Navigare                       1	
 	
Fuga Gilera classification	
 	
1 Mickaël Buffaz (Fra) Cofidis - Le Crédit par Téléphone                     365 pts	
2 Mikhail Ignatiev (Rus) Tinkoff Credit System                               314	
3 Elio Aggiano (Ita) Tinkoff Credit System                                   304	
4 Pavel Brutt (Rus) Tinkoff Credit System                                    303	
5 Ivan Ramiro Parra Pinto (Col) Cofidis - Le Crédit par Téléphone            284	
6 Frédéric Bessy (Fra) Cofidis - Le Crédit par Téléphone                     268	
7 Fortunato Baliani (Ita) Ceramica Panaria - Navigare                        263	
8 Fabien Patanchon (Fra) Française des Jeux                                  206	
9 Mauro Facci (Ita) Quickstep - Innergetic                                   190	
10 Alberto Losada Alguacil (Spa) Caisse d'Epargne                            178	
11 Giovanni Visconti (Ita) Quickstep - Innergetic                            172	
12 Mauricio Alberto Ardila Cano (Col) Rabobank                               164	
13 Marco Pinotti (Ita) T-Mobile Team                                         149	
14 Hubert Dupont (Fra) AG2r Prévoyance                                       148	
15 Yoann Le Boulanger (Fra) Bouygues Telecom                                 140	
16 Luis Felipe Laverde Jimenez (Col) Ceramica Panaria - Navigare             118	
17 Alexandre Pichot (Fra) Bouygues Telecom                                   115	
18 Daniele Contrini (Ita) Tinkoff Credit System                              111	
19 Yuriy Krivtsov (Ukr) AG2r Prévoyance                                      109	
20 Paolo Bettini (Ita) Quickstep - Innergetic                                105	
21 Markel Irizar Aranburu (Spa) Euskaltel - Euskadi                          104	
22 Andrei Kunitski (Blr) Acqua & Sapone - Caffe Mokambo                       94	
23 Nicolas Crosbie (Fra) Bouygues Telecom                                     94	
24 Hubert Schwab (Swi) Quickstep - Innergetic                                 92	
25 Christophe Kern (Fra) Crédit Agricole                                      92	
26 Christophe Riblon (Fra) AG2r Prévoyance                                    79	
27 Stefano Garzelli (Ita) Acqua & Sapone - Caffe Mokambo                      78	
28 Gilberto Simoni (Ita) Saunier Duval - Prodir                               70	
29 Eddy Mazzoleni (Ita) Astana                                                65	
30 Julio Alberto Perez Cuapio (Mex) Ceramica Panaria - Navigare               52	
31 José Luis Rubiera Vigil (Spa) Discovery Channel Pro Cycling Team           51	
32 Riccardo Ricco (Ita) Saunier Duval - Prodir                                45	
33 Leonardo Piepoli (Ita) Saunier Duval - Prodir                              45	
34 Paolo Savoldelli (Ita) Astana                                              41	
35 Dario David Cioni (Ita) Predictor - Lotto                                  38	
36 Sylvester Szmyd (Pol) Lampre - Fondital                                    34	
37 Michael Rasmussen (Den) Rabobank                                           34	
38 Danilo Di Luca (Ita) Liquigas                                              25	
39 Andy Schleck (Lux) Team CSC                                                25	
40 Laurent Mangel (Fra) AG2r Prévoyance                                       25	
41 Damiano Cunego (Ita) Lampre - Fondital                                     24	
42 Massimo Codol (Ita) Acqua & Sapone - Caffe Mokambo                         20	
43 Benoît Joachim (Lux) Astana                                                20	
44 Marco Marzano (Ita) Lampre - Fondital                                      19	
45 Josep Jufre Pou (Spa) Predictor - Lotto                                    19	
46 David Canada Gracia (Spa) Saunier Duval - Prodir                           19	
47 Pietro Caucchioli (Ita) Crédit Agricole                                    17	
48 Ricardo Serrano Gonzalez (Spa) Tinkoff Credit System                       17	
49 Mario Aerts (Bel) Predictor - Lotto                                        16	
50 Jussi Veikkanen (Fin) Française des Jeux                                   16	
51 Addy Engels (Ned) Quickstep - Innergetic                                   16	
53 Sven Krauss (Ger) Gerolsteiner                                             11	
54 Iban Mayo Diez (Spa) Saunier Duval - Prodir                                 9	
55 Kurt-Asle Arvesen (Nor) Team CSC                                            8	
56 Lorenzo Bernucci (Ita) T-Mobile Team                                        7	
57 Assan Bazayev (Kaz) Astana                                                  7	
58 Pablo Lastras Garcia (Spa) Caisse d'Epargne                                 5	
59 Julian Dean (NZl) Crédit Agricole                                           5	
 	
Young rider classification	
 	
1 Andy Schleck (Lux) Team CSC                                           77.37.59	
2 Riccardo Ricco (Ita) Saunier Duval - Prodir                               2.55	
3 Domenico Pozzovivo (Ita) Ceramica Panaria - Navigare                     17.52	
4 Branislau Samoilau (Blr) Acqua & Sapone - Caffe Mokambo                  27.30	
5 Vincenzo Nibali (Ita) Liquigas                                           29.31	
6 Amaël Moinard (Fra) Cofidis - Le Crédit par Téléphone                  1.00.42	
7 Mauro Facci (Ita) Quickstep - Innergetic                               1.01.37	
8 Olivier Bonnaire (Fra) Bouygues Telecom                                1.09.23	
9 Matthias Russ (Ger) Gerolsteiner                                       1.10.30	
10 Hubert Schwab (Swi) Quickstep - Innergetic                            1.15.24	
11 William Walker (Aus) Rabobank                                         1.16.33	
12 Carl Naibo (Fra) AG2r Prévoyance                                      1.24.20	
13 Alberto Losada Alguacil (Spa) Caisse d'Epargne                        1.42.58	
14 Matthew Lloyd (Aus) Predictor - Lotto                                 1.44.42	
15 Jurgen Van Den Broeck (Bel) Predictor - Lotto                         1.45.38	
16 Frantisek Rabon (Cze) T-Mobile Team                                   1.48.09	
17 Steve Morabito (Swi) Astana                                           1.50.56	
18 Andrei Kunitski (Blr) Acqua & Sapone - Caffe Mokambo                  1.55.53	
19 Pavel Brutt (Rus) Tinkoff Credit System                               1.58.24	
20 Mathieu Perget (Fra) Caisse d'Epargne                                 2.00.02	
21 Andrea Pagoto (Ita) Ceramica Panaria - Navigare                       2.03.49	
22 Giovanni Visconti (Ita) Quickstep - Innergetic                        2.09.14	
23 Dmitry Kozontchouk (Rus) Rabobank                                     2.09.52	
24 Enrico Gasparotto (Ita) Liquigas                                      2.10.43	
25 Maximiliano Richeze (Arg) Ceramica Panaria - Navigare                 2.20.10	
26 Lloyd Mondory (Fra) AG2r Prévoyance                                   2.21.52	
27 Matti Breschel (Den) Team CSC                                         2.35.51	
28 Thomas Fothen (Ger) Gerolsteiner                                      2.40.01	
29 Arnaud Gérard (Fra) Française des Jeux                                2.41.38	
30 Nicolas Roche (Irl) Crédit Agricole                                   2.41.42	
31 Alexandre Pichot (Fra) Bouygues Telecom                               2.43.01	
32 Pierre Drancourt (Fra) Bouygues Telecom                               2.48.25	
33 Mikhail Ignatiev (Rus) Tinkoff Credit System                          2.48.27	
34 Fabien Patanchon (Fra) Française des Jeux                             2.51.54	
35 Nikolai Trusov (Rus) Tinkoff Credit System                            2.53.53	
36 Tristan Valentin (Fra) Cofidis - Le Crédit par Téléphone              2.53.59	
37 Sven Krauss (Ger) Gerolsteiner                                        3.02.09	
38 Matteo Bono (Ita) Lampre - Fondital                                   3.05.07	
39 Oscar Gatto (Ita) Gerolsteiner                                        3.12.01	
 	
Fast team classification	
 	
1 Saunier Duval-Prodir                                                 231.59.40	
2 Ceramica Panaria-Navigare                                                 0.49	
3 Liquigas                                                                  3.40	
4 Lampre-Fondital                                                           5.34	
5 Astana                                                                    8.10	
6 Acqua & Sapone-Caffe Mokambo                                             52.23	
7 Cofidis-Le Crédit par Téléphone                                        1.41.41	
8 Caisse d'Epargne                                                       1.43.49	
9 Predictor-Lotto                                                        1.47.43	
10 Quickstep-Innergetic                                                  1.57.08	
11 AG2r Prévoyance                                                       2.11.15	
12 Team CSC                                                              2.15.02	
13 Tinkoff Credit System                                                 2.41.18	
14 T-Mobile Team                                                         2.47.01	
15 Rabobank                                                              2.48.36	
16 Discovery Channel Pro Cycling Team                                    2.56.29	
17 Crédit Agricole                                                       3.29.04	
18 Bouygues Telecom                                                      3.44.49	
19 Française des Jeux                                                    3.58.32	
20 Euskaltel-Euskadi                                                     4.16.33	
21 Gerolsteiner                                                          4.37.07	
22 Team Milram                                                           5.42.11	
 	
Super team classification	
 	
1 Lampre-Fondital                                                            357 pts	
2 Liquigas                                                                   323	
3 Ceramica Panaria-Navigare                                                  304	
4 Saunier Duval-Prodir                                                       293	
5 Astana                                                                     218	
6 Acqua & Sapone-Caffe Mokambo                                               212	
7 Team CSC                                                                   197	
8 Caisse d'Epargne                                                           194	
9 AG2r Prévoyance                                                            174	
10 Quickstep-Innergetic                                                      160	
11 Tinkoff Credit System                                                     156	
12 Crédit Agricole                                                           148	
13 Team Milram                                                               148	
14 Predictor-Lotto                                                           127	
15 Gerolsteiner                                                              101	
16 Discovery Channel Pro Cycling Team                                         92	
17 Euskaltel-Euskadi                                                          81	
18 Cofidis-Le Crédit par Téléphone                                            79	
19 Bouygues Telecom                                                           72	
20 Rabobank                                                                   65	
21 T-Mobile Team                                                              53	
22 Française des Jeux                                                         16	
 	
Fair play classification	
 	
1 AG2r Prévoyance                                                               	
2 Française des Jeux                                                            	
3 Predictor-Lotto                                                              3 pts	
4 Quickstep-Innergetic                                                         5	
5 Ceramica Panaria-Navigare                                                   10	
6 Acqua & Sapone-Caffe Mokambo                                                25	
7 T-Mobile Team                                                               25	
8 Saunier Duval-Prodir                                                        45	
9 Caisse d'Epargne                                                            55	
10 Gerolsteiner                                                               55	
11 Tinkoff Credit System                                                      60	
12 Team Milram                                                                60	
13 Rabobank                                                                   63	
14 Bouygues Telecom                                                           80	
15 Crédit Agricole                                                            88	
16 Discovery Channel Pro Cycling Team                                         90	
17 Astana                                                                     95	
18 Liquigas                                                                  120	
19 Euskaltel-Euskadi                                                         145	
20 Team CSC                                                                  165	
21 Lampre-Fondital                                                           190	
22 Cofidis-Le Crédit par Téléphone                                           195