Tour of Southland - 2.5
New Zealand, November 3-8, 2003
2002 Results Stage List Start List Photos Past winners
Dean heads classy field for Tour of Southland
By Alan Messenger
Julian Dean in the Tour de la Region Wallonne
Photo: © AFP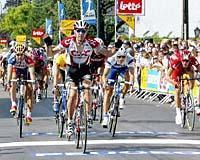 The PowerNet Tour of Southland gets under way on Monday November 3 with one of the classiest fields in its 47 year history. Expat Kiwi Julian Dean heads the ninety strong field and he'll be out to show good form for his new bosses at Crédit Agricole.
Dean comes into the six day Tour with good form. He missed a start with Team CSC in the Tour de France, but won the USPRO Wachovia Classic in Trenton, New Jersey in June and in August the five stage Tour de la Region Wallonne in Belgium. More recently, the Kiwi sprinter beat Robbie McEwen in a stage of the Circuit Franco-Belge and finished second to the Aussie in another stage.
At Invercargill, Dean will line up with Gordon McCauley, Jeremy and Matt Yates and Heath Blackgrove in the Zookeepers Café team. McCauley is a previous winner of the Tour and is a three times winner of the New Zealand Road Championship. Jeremy Yates is a former World Junior Road Champion while Blackgrove is a major contender in his own right. Following on from a good season in Europe he won the National Road Championship last Sunday.
McCauley spelled out how he would feel about working for Dean in the Tour. "I'll be quite happy to put my body on the line for Jules down there," he said.
Lieswyn wins the 2002 Tour of Southland
Photo: © Tom Balks

There will be plenty of riders in the international field keen to spoil the after tour party at the Zookeepers Café. Hayden Roulston is highly regarded as a young pro in Europe and his Winton Middle Pub team includes track star Greg Henderson and master tactician and eight times winner of the Tour Brian Fowler. Also in the field are two other previous winners, Scott Guyton and Glen Mitchell. Guyton won the final stage of the Sun Tour and Mitchell finished second in the National Road Race.
Last year's Tour was won by won by an American visitor John Lieswyn, and although he's not in the field this year, there will be an American team headed by seasoned pro Josh Horowitz. Also adding to the international flavour are two teams from Australia and a handful of overseas riders competing in composite teams.
The Tour has been one of New Zealand's major sporting events for many years and was first held in 1956. It began when a group of local cycling enthusiasts decided to stage a race as a "one off" to mark the Province Centennial. It's still going strong and over the years it has been won by most of the sports NZ big names including Warwick Dalton, Tino Tabak, Eric McKenzie, Brian Fowler, Jack Swart and Graeme Miller.
This year the Tour of Southland will cover 870km with 10 stages over the six days. It starts from Invercargill on Monday November 3 and finishes back in the city the following Saturday, November 8.
The Stages
Start list
Winton's Middle Pub            Zookeepers Café
 
1 Greg Henderson (NZl)         6 Julian Dean (NZl)
2 Hayden Roulston (NZl)        7 Gordon McCauley (NZl)
3 Hayden Godfrey (NZl)         8 Jeremy Yates (NZl)
4 Brian Fowler (NZl)           9 Matthew Yates (NZl)
5 Cameron Hughes (Aus)         10 Heath Blackgrove (NZl)
 
The Southland Times            Team MGZT
 
11 Glen Mitchell (NZl)         16 Robert Young (Aus)
12 Scott Guyton (NZl)          17 Simon Morcom (Aus)
13 Kirk Obee (USA)             18 Mikkeli Godfree (Aus)
14 Tim Gudsell (NZl)           19 Joel Pearson (Aus)
15 Marc MacKay (NZl)           20 Andrew Graham (Aus)
 
Hilo Decorating                Meadow Fresh
 
21 Josh Horowitz (USA)         26 Jason Allen (NZl)
22 Eddie Monier (USA)          27 Phillip Schneider (Swi)
23 Jonny Rondash (USA)         28 Robin Reid (NZl)
24 Ryan Yee (USA)              29 Fraser McMaster (NZl)
25 Robert Coble (USA)          30 Kris Gemmell (NZl)
 
Sycamore Print                 Calder Stewart
 
31 Adam Tully (Aus)            36 Karl Murray (NZl)
32 Michael McGee (Aus)         37 Jeremy Vennell (NZl)
33 Michael Tolhurst (Aus)      38 Matt Gilbert (NZl)
34 Aaron Phillips (Aus)        39 Andrew Small (NZl)
35 Ryan Hoogenberg (NZl)       40 Aaron Rushden (NZl)
 
Wensleys Avanti                Rabobank
 
41 Peter Latham (NZl)          46 Stephen Collins (NZl)
42 Troy Klink (NZl)            47 Geoff Burndred (NZl)
43 Scott Allen (NZl)           48 Ross Machejefski (NZl)
44 Matt King (NZl)             49 Nicholas Kiralay (Aus)
45 Adam Curry (NZl)            50 Brendan Higgins (Aus)
 
Cycle Surgery                  Creation Signs
 
51 Logan Hutchings (NZl)       56 Joseph Chapman (NZl)
52 Craig Thomson (NZl)         57 Anthony Chapman (NZl)
53 Scott Lyttle (NZl)          58 Ben Lowe (NZl)
54 Danny Hillary (NZl)         59 Ben Robson (NZl)
55 Paul Gough (NZl)            60 Daniel Blain (NZl)
 
Ascot Park Hotel               Hot Cycles Auckland
 
61 Matthew Randall (NZl)       66 Aaron Strong (NZl)
62 Jerard Stock (NZl)          67 Craig Pitt (NZl)
63 Travis Kane (NZl)           68 Paul Bishop (NZl)
64 Nicholas Atkinson (NZl)     69 Wayne Mason (NZl)
65 Stephen Wallis (NZl)        70 Stephen Elden (NZl)
 
Team Embassy PNP               Southland Television
 
71 Craig Lawn (NZl)            76 Daryl Cleghorn (NZl)
72 Paul Davies (NZl)           77 Graham Stone (NZl)
73 Gerard O 'Flynn (NZl)       78 Hayden Lawrence (NZl)
74 Garth Gregory (NZl)         79 Michael Crowther (NZl)
75 Jamie Thynne (NZl)          80 Steven Hands (NZl)
 
Share The Road                 Allied SouthRoads
 
81 Jack Swart (NZl)            86 Ben Brears (NZl)
82 Lee Chapman (NZl)           87 Jordan Wood (NZl)
83 John Alabaster (NZl)        88 Dave Beadle (NZl)
84 Justin Kerr (NZl)           89 Paul Whitley (NZl)
85 Corey Winder (NZl)          90 Andrew Jamieson (NZl)

Past winners
2002 John Lieswyn (USA) Winton's Middle Pub
2001 Karl Moore (NZl) Southroads                     
2000 Glen Mitchell
1999 Graeme Miller
1998 Scott Guyton
1997 Graeme Miller
1996 Gordon McCauley
1995 Brian Fowler
1994 Doug Bath
1993 Landrey Burt
1992 Brian Fowler
1991 Stuart Lowe
1990 Brian Fowler
1989 Brian Fowler
1988 Brian Fowler
1987 Brian Fowler
1986 Brian Fowler
1985 Brian Fowler
1984 Jack Swart
1983 Jack Swart
1982 Stephen Cox
1981 Stephen Cox
1980 Anthony Cuff
1979 Eric McKenzie
1978 Paul Jesson
1977 Wayne Perkinson
1976 Paul Jesson
1975 Chris Hogan
1974 Bruce Ramsey
1973 Michael Hughes
1972 Blair Stockwell
1971 John Dean
1970 David Gee
1969 Warwick Dalton
1968 Merv Davis
1967 Tino Tabak
1966 Tino Tabak
1965 Tino Tabak
1964 Malcolm Powell (Aus)
1963 Dick Johnstone
1962 Tony Walsh
1961 Warwick Dalton
1960 Gary Ulmer
1959 Warwick Dalton
1957 Tom Tindale
1956 Kelvin Hastie

Past winners by Mario Stiehl, www.world-of-cycling.com