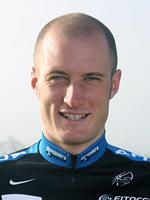 Photo: © Discovery Channel
Eyes on the road: The Steve Cummings Giro diary 2007
Well known for his role in Great Britain's fearsome team pursuit squad, 26 year-old Steve Cummings now has his sights firmly set on the road with Discovery Channel. And it doesn't get much bigger than the Giro d'Italia where Steve is making his Grand Tour debut.
Follow his progress on Cyclingnews as he helps Discovery's bid for Giro glory whilst also keeping one eye on the finish in Milan.
Monday, May 28, 2007
Ready to have a go
It's Sunday morning and I have left the hotel already.
It was very hard yesterday. I finished with the biggest groupetto at 20 mins or so back but today (Stage 15) is going to be a lot tougher. I hope I can survive. I really want to finish my first big Tour but I feel very tired and do not think I will be going on the attack today so I'll just concentrate on finishing the stage, which will be easily the hardest race I have ever ridden on the road. Tomorrow is a rest day, thank God.
I have got to like riding big hills, but let me tell you, the big mountains are something else completely. Sean (Sean Yates, Disco team manager) said some nice things about me on Eurosport yesterday, the most important being that that I am very professional, I fit in really well with the team and I do what is asked of me. It's always nice to know that I am appreciated and I am doing my job well.
Sean suggested I deserve a chance of personal glory if I am up to it!!. It's going to by touch and go but I hope I am going to feel good enough one day and have a go before Milan. Just because I am British, it is no easier to have Sean as a boss; he has done it all but he always has had confidence in me, and I do not want to let him down.
By the way don't mention the soccer (Liverpool v MiLan, we were robbed) but at least I didn't get attacked by the soccer tifosi.
I hope to bring you up to date tomorrow (on the rest day) about my experience in Sunday's stage if I am still alive & not too tired. Got to go I have a little race to ride.
Until next time, best Steve.