Latest Cycling News, March 25, 2009
Edited by Bjorn Haake
Injury won't derail Armstrong's Tour plans
By Les Clarke
Lance Armstrong (Astana) was not in a good mood after his crash, but is now looking at the brighter sides
Photo ©: AFP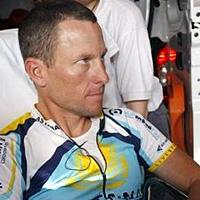 Despite facing the possibility of a longer injury layoff than initially anticipated, Lance Armstrong is still looking forward to riding the Tour de France in July.
Asked if the injuries sustained in an accident during stage one of the Vuelta a Castilla y León would derail preparations for the Tour, Armstrong replied, "This is definitely a setback and it's the biggest setback I've ever had in my cycling career.
"It's a new experience for me but fortunately I've done a lot of off-season work that will help me, and I felt like my condition was really coming to a place where I was going to be able to ride at the front of the races."
It was good news and bad news at the same time for Armstrong. "The bad news is that I wasn't able to show it in the race, but the good news is that if you're injured you can come back in good form, so you're not starting from rock bottom."
The American, who has admitted he's been extremely busy since announcing his comeback last year, could be forgiven for approaching this latest development with a sense of pessimism. When questioned by journalists at a press call whether he felt his return to competition may have been 'cursed', he remained philosophical.
"Lying in the ditch in that situation yesterday... yeah. But I think that's normal. You're laying there and you're asking yourself, 'What the hell am I doing here?' I think that's perhaps a normal reaction," said Armstrong.
Armstrong didn't feel the same way a day later, even though he was still in a lot of pain. "I am ready to get this thing behind me. It was a shock, and again, I've raced bikes for a long time and I've never had anything like that.
"To go as long as I have without this happening... it's a miracle," he continued. "While you're sitting there in a hell of a lot of pain, you think, 'It was bound to happen at some point'. It's not good timing, but it sure could be a lot worse."
Armstrong looked at the incident from a different perspective, given the curve balls his life and health have thrown at him in the past. "Laying in that ditch with a shattered collarbone is a lot better than other health scares I've had," the cancer-survivor said.
In a comment that's bound to keep cycling fans in Italy pleased, Armstrong said, "Even if I went into the Giro [d'Italia] underprepared and using it as preparation for other events, I'd still do it and be excited about doing it."
Weigh in with your own share of bad luck in our Injury discussion.
Sánchez as super-domestique for Valverde in Tour
By Antonio J. Salmerón
Luis León Sánchez won Paris-Nice, but will be a domestique for Valverde in the Tour de France
Photo ©: AFP

Luis León Sánchez (Caisse d'Epargne) has had a good year so far, winning the stage races Paris-Nice and the Tour Méditerranéen. Come Tour de France time he will however be 100 percent loyal to his team captain, Alejandro Valverde.
Despite his good year, Sánchez doesn't see himself at the top yet. "I return to the Tour for the learning experience and to help our team leader, Alejandro Valverde, as much as I can. We are convinced that this season he is in the best possible form and that he can fight for the overall win."
Sánchez has no problem playing the domestique "for Valverde or any other teammate considered by [Team Manager] Eusebio Unzúe. I need a couple of more years to mature and then I can start contesting for the Tour win." He knows there are no guarantees in the biggest bike race in the world. "I can't say I will win the Tour, as there can only be one and he has to be a great cyclist, but I am not ruling out contesting for victory in the future."
Sánchez knows what a good teammate is worth and he was definitely happy to have Oscar Pereiro at his side in Paris-Nice. "He has a lot of experience and can read the races very well. For example, he really calmed me down when Contador attacked from far our in the last stage of Paris-Nice. I punctured right then, and Pereiro took control [of the chase]," said Sánchez.
Coming up on
Cyclingnews will cover the 60th edition of the Dauphiné Libéré live as of stage 4 on Wednesday, June 10, at approximately 15:00 local Europe time (CEST)/ 23:00 Australian time (CDT)/ 9:00 (USA East).

WAP-enabled mobile devices: http://live.cyclingnews.com/wap/
Despite downplaying his overall options in the Tour de France, he has already achieved a stage win last year. It is for his victory salute that he now received the Mejor Gesta Deportiva ("best sports gesture") award from the Association of the Sports Press in Murcia, his Spanish home region. You can discuss this and other great victory salutes in our forum thread " Victory Salute Like A Pro".
Sánchez knows where his recent success were coming from. "It is thanks to the hard work that I did in the last few seasons that weren't rewarded then." He already felt in optimal form at his season start in Australia and realised he was up for a good first third of the season. "I usually like to start the season out strongly and I do the same programme to be at 100 percent in those races that I now won."
His recent racing left him a bit tired and he had no desire to touch his bike until after the Vuelta al País Vasco, but reason quickly settled back in. "It's a race where I know the route very well and which usually fits my characteristics, especially since there is a time trial."
He essentially won Paris-Nice by time trialing away from his competitors in stage seven and it is a form of racing he thoroughly enjoys. "I will ride the Dauphiné Libéré and then the Spanish National Championships, where I want to defend my time trial title from last year."
Cofidis unlikely to defend Dwars title
By Bjorn Haake
Alexandre Blain stayed at home in southern France
Photo ©: Bjorn Haake

French ProTour team Cofidis won the Dwars door Vlaanderen in 2008 through Sylvain Chavanel. One year later things look less promising. The strong Cofidis Classics faction around Chavanel has left and young Alexandre Blain, who is designated to eventually take over this role, is suffering from health problems.
Cyclingnews tried to reach Blain in the team's hotel in Gent ahead of the mid-week race, but was only able to speak with directeur sportif Alain Deloeuil. "Alexandre is not here, he is sick. He is undergoing some more tests to see what is really wrong with him."
Deloeuil added that Blain had to abandon Milano-Sanremo last week. "He has intestinal problems and couldn't eat, but we don't know the exact cause yet." The rider stayed in his home near Nice rather than traveling to Belgium.
Without a clear leader, it leaves the rest of the team in limbo. "We can just try to to do a good race," Deloeuil said. It may be another opportunity to shine for neo-pro Guillaume Blot, who was in a long break in the Omloop Het Nieuwsblad.
This year was supposed to be Blain's first full Spring Classics campaign, but it already started out badly. In the very first race, the Omloop Het Nieuwsblad, Blain crashed on the cobbled Paddestraat. He was unable to finish the race and could also not ride the next day in Kuurne-Brussel-Kuurne.
Flèche and Liège: Diquigiovanni yes, LPR no
By Gregor Brown
Davide Rebellin won Liège-Bastogne-Liège in 2004 and can do so in 2009
Photo ©: Olympia Photo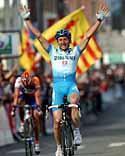 Organiser of the Flèche Wallonne and Liège-Bastogne-Liège, Amaury Sport Organisation (ASO), sent invitation notices to Italy-based teams Diquigiovanni and LPR Brakes. Gianni Savio's Diquigiovanni (with captain Davide Rebellin) will race the two Ardennes Classics, but Fabio Bordonali's LPR Brakes (with Danilo Di Luca) will not.
"They did not give me any reason," Bordonali said to Cyclingnews. "It is hard to find a logical reason to this decision."
Bordonali believes that all was in place for the team's invitation after adhering to the International Cycling Union's (UCI) biological passport system. He will ask the organiser for their reasoning in the coming days.
Di Luca won Flèche Wallonne in 2005 and Liège-Bastogne-Liège in 2007. It will be his second year to miss the races due to the team's lack of an invitation.
It was better news for Davide Rebellin, twice winner of Flèche Wallonne (2004 and 2007) and 2004 winner of Liège-Bastogne-Liège. His team manager, Savio, received an invitation from the organiser last night, according to Agr.
Both teams lack invitations to the first of three Ardennes Classics, Amstel Gold.
Amaury Sport Organisation (ASO) also organises the Tour de France.
Eeckhout is Mr. Dwars
Niko Eeckhout is always there in Dwars door Vlaanderen
Photo ©: Bjorn Haake

The 30th edition of Dwars door Vlaanderen will take place today in Waregem, Belgium. One of the most successful riders in recent years is Niko Eeckhout (An Post - Sean Kelly Team). He won the race in 2001 and 2005 and in the last eight years finished in the top six seven times.
His 2001 victory was memorable for his break that lasted most of the 201-kilometre race. He took off with teammate Thierry Marichal at kilometre eight and rode the last 50km by himself.
Eeckhout told Sportwereld that signs point towards a third win. "The last weeks I felt my form getting better. The weather forecast is to my advantage." The last couple of days Belgium has seen heavy rain showers and strong gusts of wind.
Dwars door Vlaanderen is a good preparation race for the upcoming bigger Classics. At 200km it is not quite as long as the Ronde van Vlaanderen, but the ten little climbs include some of the Ronde's hellingen, like the Oude Kwaremont, the Berendries or the Patersberg.
Davis and Quick Step extend UCI leads
Allan Davis (Quick Step) continues to lead the UCI rankings
Photo ©: Emmanuel Isnard

Allan Davis finished fourth in Milano-Sanremo and increased his lead in the UCI world ranking. His team Quick Step sits atop the team rankings and has also widened the margin. Australia leads the nations' ranking.
Davis leads Spaniard Luis León Sánchez (Caisse d'Epargne) by 71 points (up from 11). Quick Step is ahead of Columbia Highroad by 66 points. Quick Step led by only 17 points over Saxo Bank in the previous ranking. Columbia Highroad made a big leap through the win of Mark Cavendish, gaining 174 points.
Cavendish was not in the previous ranking, but his Milano-Sanremo immediately put him in third place in the individual ranking, at 110 points.
In the nations ranking, Australia took over the lead from Spain with 375 points. Spain has 354 points and Italy 348.
The full standings are here.
Agritubel quits cycling
By Bjorn Haake
After five years of sponsoring a cycling team Agritubel will quit the sport at the end of the season. Agritubel, the maker of agricultural equipment, saw its team receive the ProContinetal status in 2005.
The team told Cyclingnews that José Fornes, CEO of Agritubel, has reached his goals, which was to make his brand known on a bigger scale and receive some reputation. Fornes indicated that it is time to turn the page, despite the passion that he still has for cycling. Fornes added that France is going through a financial crisis "that doesn't quite help."
The team is currently looking for a new sponsor to be able to keep riders, staff and management together. The current team has several strong riders, including the brothers Brice and Romain Feillu and Kevin Ista, who won the thrid stage of the Tour Méditerranéen and finished second in the Omloop Het Nieuwsblad.
The first big success for the team was a stage win in the 2006 Tour de France. Nicolas Vogondy became French champion last year and Romain Feillu won the yellow jersey in stage three of the Tour de France.
Da Ros is free, investigation ongoing
Gianni Da Ros is free again after a Milan prosecutor accepted the request to withdraw the house arrest order yesterday. The Anti-Narcotics Group (NAS) of Milan arrested the Italian, former first-year professional with Liquigas, March 11 for links to drug trafficking. The investigation is ongoing.
"I could hardly wait. I finally see a little light," said Da Ros in La Gazzetta dello Sport.
The arrest of the cyclist from Nave di Fontanafredda (Friuli) followed a night of searches across northern Italy. The investigation is part of an effort by the anti-narcotics group to stop drug trafficking in a series of gyms.
Liquigas and the Italian cycling federation (FCI) immediately suspended the 22-year-old after the arrest. Investigating prosecutors released him from the San Vittore jail in Milan on March 14.
Da Ros' links to the case could bring about a criminal sentence of three months to three years. The investigation is pending. (GB)
Sutherland aims for Redlands victory
By Kirsten Robbins in Redlands, California
Rory Sutherland (Ouch p/b Maxxis) wants to win Redlands
Photo ©: Mark Johnson

Rory Sutherland placed fourth in the Redlands Bicycle Classic last year and has his sights set on a victory this time around. Sutherland and his teammate Floyd Landis will lead the OUCH p/b Maxxis team in the four-day stage race set to kick off on Thursday, March 26, with the Sun Prologue.
"I had a great day at the prologue last year and I'll have to do the same this year," said Sutherland, who won the opening event but lost the yellow leader's jersey to Santiago Botero, former Rock Racing all-rounder, during the stage two circuit race held in Beaumont.
"The problem with winning last year is that this year expectations are higher. Placing second, third or fourth is never going to be good enough. I have aspiration here and I'd love to add my name to the list of overall winners."
If there is one rider who Sutherland will need to worry about its his own teammate Floyd Landis, the event's marquee rider. The Redlands Bicycle Classic marks Landis's first North American Race Calendar (NRC) event since his series victory in 2006 while racing with Phonak. He won both the Tour of California and the Tour de Georgia that year. Landis joined OUCH p/b Maxxis at the Tour of California marking his first race back after completing a two-year suspension in January.
"Having someone like Floyd on the team and at the races brings a lot more media attention which is fantastic," Sutherland said. "People will come up and see him race on a local scene. I think we will see a lot of people out here watching and that can only be good for the sport and the team. Him and I racing together and racing at the same level... I think it's going to be a lot of fun."
According to Sutherland, despite the lull in the racing calendar between the Tour of California and the Redlands Bicycle Classic, his squad's ambitions include that of the overall victory, sprints and stage wins.
"Redlands is a very important race for the team and for me," he continued. "We have a lot of fire power and more of a complete team this year. What we are trying to do is get everyone on the same page but it doesn't just click directly, it takes time to make that happen."
The race roster includes Sutherland and Landis along with Cameron Evans, Pat McCarty, Tim Johnson, Andrew Pinfold, Bradley White and Roman Kilun. "We rounded out the squad and we have a new entity with OUCH," Sutherland said. "We are stronger in a few different avenues this year."
Team Type 1 women's squad debuts at Redlands
The Team Type 1 women's team
Photo ©: Marco Quezada

The Team Type 1 women's professional team makes its debut Thursday at the 25th edition of the Redlands Bicycle Classic. Six of the team's total of eight riders will race in California. Two of the riders, Monique Hanley and Morgan Patton, have Type 1 diabetes.
Hanley and Patton must closely monitor their blood sugar level because their bodies do not naturally produce insulin. Women's Directeur Sportif Jack Seehafer said one of the team's primary goals is to get Hanley and Patton onto the podium throughout the year.
"We also want to show that we have put together a great team and that every rider has that potential," Seehafer said. "My expectations are few, but they will be demanding."
Patton will be joined at Redlands by Jacqueline Crowell, Veronica Leal, Alison Powers, Samantha Schneider and Kori Seehafer. Powers is the reigning national time trial champion and a former national-level ski racer, while Seehafer (the spouse of the team director) has won stages at virtually every women's stage race in the United States and is an accomplished criterium racer.
Jen McRae, the eighth member of the team and the winner of the USA CRIT Finals last year in Las Vegas, will join Hanley in sitting out the second event on the women's National Race Calendar.
The Redlands Classic consists of a 3.1-mile (5 km) individual time trial Thursday, a 72-mile (116 km) circuit race Friday, an hour-long criterium on Saturday and a 65-mile (107 km) road race on Sunday. Team Type 1 is one of 21 women's teams in the race.
The women's team is part of a larger program whose mission is to instill hope and inspiration for people around the world affected by diabetes. There is also a men's professional team, two teams for the Race Across America (Team Type 1 and Team Type 2), a triathlon team and a developmental squad.
Vienna blood bank investigation closed
Austrian authorities have closed their investigation of "Humanplasma", a blood bank in Vienna. Charges could not be brought because blood doping is illegal in Austria only since last summer.
The investigation was opened in January 2008, based on allegations that some 30 to 50 world-class athletes, ranging from skiers to cyclists, had visited the facilities for forbidden blood transfusions.
Blood doping became illegal in Austria only in August 2008. Before that, illegal doping was defined to explicitly include the use of medications. There was no indication that the Clinic used any sort of medications, prosecutors said, nor was there evidence of insurance fraud.(SW)
Austrian cyclist out of jail
The Austrian cyclist arrested for dealing in doping products has been released from police custody, it was announced Tuesday. The investigation against him continues.
The cyclist has been officially identified only as "K". The Austrian Continental team RV ARBÖ Wels Gourmetfein announced that it has cancelled its contract with rider Christof Kerschbaum, who it said was "in all probability" the rider involved.
The rider was arrested last week obtaining doping material including EPO from a pharmacist and passing it on to others, over an extended period of time.
Prosecutors said that they asked a judge to release the rider because there was no danger of his acting to suppress evidence nor of him attempting to leave the country.(SW)
Work for the world's leading cycling website
Cyclingnews, the world's leading cycling website, is recruiting writers based in the UK.
Applicants are required to have a keen interest and thorough knowledge of competitive cycling, as well as editorial or writing experience with excellent English skills. Writers should be competent in producing and subbing reports, news, results and features from the world of cycling, so fluency in a second language is also an advantage, as is experience in journalism, attention to detail and flexibility in hours.
Applicants may also be required to attend major cycling events. Training in online production techniques can be provided.
Please send your CV with a covering letter and examples of your work, via e-mail to daniel.benson@futurenet.com with "Cyclingnews online writer -" in the subject line.
(Additional editorial assistance provided by Gregor Brown and Susan Westemeyer.)
(All rights reserved/Copyright Future Publishing (Overseas) Limited 2009)