Latest Edition Cycling News, March 11, 2009
Edited by Bjorn Haake
Hesjedal leads Garmin's Tirreno charge
By Gregor Brown
Canadian Ryder Hesjedal is ready for the Tirreno challenge
Photo ©: Roberto Bettini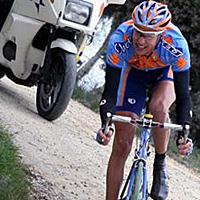 Canadian Ryder Hesjedal will lead Garmin-Slipstream's team at Tirreno-Adriatico this week, March 11 to 17. The 28-year-old is on good form prior to his fourth participation in the Italian stage race.
"I am looking to improve my eighth place from last year," said Hesjedal to Cyclingnews. "The team is made up of Classics guys, who are looking to get training and lots of kilometres."
Hesjedal proved his form on Saturday in the Eroica Toscana. He led a serious of attacks in the race marked with gravel roads and steep climbs. He finished tenth behind winner Thomas Lövkvist of Columbia-Highroad.
Coming up on
Cyclingnews will cover the 60th edition of the Dauphiné Libéré live as of stage 4 on Wednesday, June 10, at approximately 15:00 local Europe time (CEST)/ 23:00 Australian time (CDT)/ 9:00 (USA East).

WAP-enabled mobile devices: http://live.cyclingnews.com/wap/
Garmin will support him to better his result of last year in the Corsa dei Due Mari ('race of the two seas'). It starts with flat sprinters' stages, but ends with two serious mountain tests and a time trial.
"I am used to the pressure. I feel comfortable based on last year's race. I have had this racing block on my mind for some time, plus this year we tagged Milano-Sanremo onto it."
Though often victorious in his mountain bike days, it has been two years since Hesjedal won a race, when he took the Canadian time trial championships. A win might not be far away if you consider that he was vying for Eroica with the likes of Andy Schleck and Daniele Bennati.
"You always want to win. Lövkvist pointed out that Eroica was his first win since 2007 and I don't think Andy Schleck won a race last year [he did take the Tour de France young rider classification - ed.].
"You can focus on winning, but you can beat yourself up doing that. Victories are especially hard to come by since I am not doing many small races these days."
Hesjedal will line up at the Milano-Sanremo one-day Classic four days after Tirreno-Adriatico ends in San Benedetto del Tronto.
Cunego readies in Tenerife for Classics campaign
By Gregor Brown
Damiano Cunego gets the bikes ready for a training ride
Photo ©: Ben Atkins

Damiano Cunego of Lampre-NGC is preparing for April's Ardennes Classics and a second Giro d'Italia title on the Spanish island of Tenerife through March 19. The warm weather and high altitudes suit the winner of last year's Amstel Gold.
"I did Paris-Nice last year, but I was cold," said Cunego to Cyclingnews. "I heard about the stage today [yesterday's hard-fought stage to Vichy - ed.] and I am convinced about the choice I made.
"I can see that it is more productive here, and when I return I will be right back into racing with the Coppi e Bartoli."
Cunego travelled to Tenerife (south of mainland Spain, west of Morocco) on February 26 with Directeur Sportif Brent Copeland and teammates Paolo Tiralongo, Marco Marzano and Mauro Santambrogio. He returns six days before the start of the Coppi e Bartoli stage race.
Yesterday, he took in 3,000 metres of climbing over three climbs with conditions at 25°C. The final climb was a simulation of a mountaintop stage finish of the Giro d'Italia.
"I did five hours with specific work in the mountains. I like it here a lot. There are demanding routes that are very good for training, plus the fact that you can rest and sleep at 2000 metres is very advantageous."
After Coppi e Bartoli, Cunego will race País Vasco (April 6-11), Amstel Gold (April 19), Flèche Wallonne (April 22), Liège-Bastogne-Liège (April 26) and the Tour de Romandie (April 28-May 3).
He believes the benefits of training at altitude will carry all the way through to the Giro d'Italia, May 9 to 31. The 2004 winner will line up as one of the favourites to repeat in the three-week Grand Tour against the likes of Ivan Basso and Lance Armstrong.
Cunego keeps an eye on Paris-Nice and Tirreno-Adriatico while he is in Spain. He hopes one of his teammates wins Tirreno, but noted the form of CSC's Andy Schleck.
Liquigas' Da Ros arrested for drug trafficking
Italy's Anti-Narcotics Group (NAS) of Milan arrested Liquigas' neo-professional Gianni Da Ros, 22, this morning with 11 others for drug trafficking. He remains in jail until further questioning tomorrow by prosecutor Andrea Pellegrino, according to La Gazzetta dello Sport.
The arrest of the cyclist from Nave di Fontanafredda (Friuli) followed a night of searches across northern Italy. The anti-narcotics group did not find Da Ros at home, but where he was training with the national track team at the University of Padova.
The investigation is part of an effort by the anti-narcotics group to stop drug trafficking in a series of gyms.
Gianni joined the Liquigas team in August 2008 as a stagiaire. He raced the Tour Down Under, Tour of Qatar, Giro di Sardegna and Giro del Friuli this season. (GB)
Basso to race Liège-Bastogne-Liège
Basso will race Liège-Bastogne-Liège
Photo ©: Riccardo Scanferla

Ivan Basso announced he will race the one-day Classic Liège-Bastogne-Liège on April 26. The Italian of Liquigas will travel to Belgium for the race immediately after the Giro del Trentino, which ends the day before in Italy.
"It's a Classic that you can't pass up," he said to La Gazzetta dello Sport on Tuesday. "It is suited to my characteristics. I have always done well there."
The cyclist from Varese finished third in 2002 when he raced for Fassa Bortolo. Basso placed 10th in his last participation, 2006. That year he was involved in the Operación Puerto doping investigation. He served a subsequent two-year suspension and returned to racing this in the fall of 2008.
The journey north will be well coordinated with the team. After the four-day Giro del Trentino stage race, April 22 to 25, there will only be a few hours to travel to Liège for the start of the 250-kilometre race. "That night we will travel with a private jet arranged by Liquigas."
Amaury Sport Organisation (ASO) organises the Tour de France as well as Liège-Bastogne-Liège. Basso ruled out racing the French Grand Tour in his first season back.
Basso starts the Tirreno-Adriatico, March 11 to 17, today. He plans on training at altitude on the Spanish island of Tenerife, April 3 to 17. He will race the GP Nobili the day after returning, April 18, and then the Giro d'Italia, May 9 to 31.
For more about Basso read his Cyclingnews diaries. (GB)
Steegmans won't ride Milano-Sanremo
Gert Steegmans will not ride Milano-Sanremo this year, telling his Team Katusha that it would be better to give his place to a teammate who is fitter.
The Belgian went into Paris-Nice after a bout with the flu, and is still not up to speed. He is currently in 34th place, only 1:54 down. He hopes to finish the race in decent condition and get healthy again, according to Sportwereld.
The new Russian team still has two strong leaders for the race, in Filippo Pozzato, who won the race in 2006 and finished second last year, as well as sprinter Robbie McEwen. Katusha will announce its Milano-Sanremo line-up after Paris-Nice.
Steegmans, 28, rode the Italian race last year for the first time. This year he wants to concentrate on the Belgian Spring Classics. (SW)
Klöden checks form at Tirreno
Andreas Klöden uses Tirreno as a form check
Photo ©: Jon Devich

Andreas Klöden (Astana) is starting in Tirreno-Adriatico today to see how his form has improved compared to his last race, the Volta ao Algarve in February. In-between he has done a block of training in the Tessin area of Switzerland.
"The weather there was better than at home," Klöden wrote on his website, andreas-kloeden.com. "There were a few mediocre days, but for 10 days I was able to do my training programme in good weather, like I had planned."
Klöden will use Tirreno to get in form for other races in the spring, but may test himself. "Maybe I will pick one or two stages where I want to get a good result."
Priorities have shifted for the German, who won the race overall in 2007. Besides his important team role for captains Alberto Contador, Lance Armstrong or Levi Leipheimer, he may also opt for races coming a little bit later. Last year he won the Tour de Romandie in late April/early May.
For the week ahead he had just one hope. "Good weather and no crash!"
Cooke to ride in Etrusca
Olympic champion Nicole Cooke likes to train in Tuscany
Photo ©: Roberto Bettini

Olympic champion Nicole Cooke (Vision 1 Racing) will ride in the Trofeo Costa Etrusca on March 21. The Briton has already travelled to Italy where she is in a two-week training camp to prepare for her 2009 season.
Cooke will use the race as a gauge about her training, but a win would not come as a surprise. She had been victorious at the same event already three times, in 2002, 2005 and 2007. The last two victories came in a solo breakaway.
Renzo Parietti, head of the Trofeo Costa Etrusca, was delighted to have Cooke on board once again. "She seems to like our roads. She started her great 2008 season in our area as well. Nicole likes Tuscany and it is ideal for her training."
Twenty-five teams will dispute the race and there will be a full field of around 200 riders. Five national teams will take to the start. There are three individual races between March 20 and March 22. Cooke's wins came in the Premio Comuni di Riparbella-Montescudaio.
Schedule:
March 20: Rosignano Marittimo – Livorno, 109km
March 21: Riparbella – Montescudaio, 113km
March 22: Santa Luce – Castellina Marittima, 102km

Post Danmark Rundt presented
Smiles all round at the presentation
Photo ©: Kristina Møller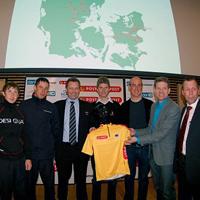 The route for this year's Post Danmark Rundt was presented Tuesday at a press conference held in the Frederiksberg Castle in Copenhagen. Home team Saxo Bank goes into the '09 edition as the squad to beat, with last year's winner Jakob Fuglsang now riding for the Danish outfit, plus former victor Kurt-Asle Arvesen likely to be on the roster if he foregoes Tour de France duties.
The race retains its late-July time slot, with the event held between July 29 and August 2. Starting out in Hirtshals, the parcours will take the riders on an 830km journey to Frederiksberg Allé in Copenhagen. The biggest change for this year's race is the finish on stage one at the top of Rebild Bakker, a very demanding finale in some of Denmark's most beautiful surrounds.
A total of 16 teams will contest the race, including the aforementioned Team Saxo Bank, plus Team Columbia-Highroad, Silence-Lotto, Cervélo Test Team, Topsport Vlaanderen, Vacansoleil Pro Cycling Team, Skil Shimano, Team Capinordic, Team Designa Køkken and Team Post Danmark.
The stages:
Stage 1 - July 29: Hirtshals - Rebild, 175km
Stage 2 - July 30: Aars - Århus, 190km
Stage 3 - July 31: Århus - Vejle, 185km
Stage 4 - August 1: Korsør - Køge, 115km
Stage 5 - August 1: Roskilde - Roskilde (ITT), 15.5km
Stage 6 - August 2: Ringsted - Frederiksberg, 150km
Photography
For a thumbnail gallery of these images, click here
Images by Kristina Møller/www.CyclingWorld.dk
Veilleux breaks collarbone
David Veilleux (Kelly Benefits Strategies) broke his collarbone
Photo ©: Mark Zalewski

Canadian David Veilleux broke his collarbone at the end of a two-week training camp with his Kelly Benefit Strategies Pro Cycling team. The accident happened in San Antonio, Texas, when Veilleux removed one hand from his handle bar to put his sunglasses in the back pocket and rode over a pothole.
Veilleux underwent surgery immediately after the incident and hopes to be back on the bike by the Tour of the Battenkill in New York, April 18-19. He will, however miss the Redlands Classic, March 23-26. "It's always disappointing when one of our athletes suffers an injury, but these things happen and I know that David will make a quick recovery," said Jonas Carney, the team's performance director.
"He's a tough kid – that's why we call him Le Carcajou. In English it means wolverine. He may look cute and fuzzy, but wolverines are aggressive and tenacious animals. When David returns to racing he'll be more dangerous than ever."
Veilleux's injury comes shortly after the team's first race (and win) at the Lago Vista road race in San Antonio, Texas. "We're coming right off a great few weeks of training and a nice first win in our first outing of the season," said Carney. "The rest of our guys are racing at the top of their game and we're more than ready for Redlands."
Veilleux had a successful 2008 season, winning the Tour of Pennsylvania, the Tour of Elk Grove and the Kelly Cup, among others.
European Cycling Union elects president
The European Cycling Union (UEC) held its General Assembly on March 8 in Pruszkow, Poland, and elected Wojciech Walkiewicz to its new president. He takes over from Vladimir Holecek, who has reached UEC's age limit for the post. Walkiewicz was the only presidential candidate.
The Assembly also elected the UEC Management Committee. The new members are Daniel Baal (France, former president of the French Cycling Federation FFC), Michael Concannon (Ireland), Madis Leopajoe (Estonia), Alexander Muraviev (Belarus), Carmen Ramos (Spain) and Athanassios Tzimas (Greece).
At the end of the Assembly, Pat McQuaid, the UCI President, summarised the biological passport programme and outlined the main aspects of the UCI's campaign against doping to the European National Federations. He called upon the Federations to reinforce their collaboration with the UCI in the fight against doping.
Mr McQuaid then presented the "True Champion or Cheat?" programme. The objective of this initiative is to ensure that the riders are informed of the anti-doping regulations and underlying principles in the most effective manner possible and to encourage them not to dope.
"True Champion or Cheat?" is an educational programme that has been developed in collaboration with the Norwegian and Swiss anti-doping agencies, together with the company Transform Learning and the UCI Academy. Riders will have access to the programme through a website and by means of a CD.
National Federations will play a primary role in making riders aware of the programme. Ultimately, it will be an obligation to disseminate information on the programme to all license holders.
The meeting's host town, Pruszkow, will hold the UCI Track Cycling World Championships from March 25-29.
Garmin Felt tops South African junior podium
The South African Junior Road Championships were dominated by the Garmin Felt juniors in Oudtshoorn on Tuesday. Christopher Jennings won the race ahead of Stefano Maiorana. Jon Van Gesselleen finished in third.
The Garmin duo had escaped on the second climb of the day and rode to the finish together. They crossed the line hand in hand, one minute ahead of Van Gesselleen and the first group.
Garmin's Team Manager Ciska Austin was very pleased with the result. "The team rode very well together and as a unit they look to be unbeatable, they have really embraced riding as a team," she said.
Ivan Haasbroek from MR Price attacked immediately after start. After 25 kilometres Haasbroek was brought back and several counter moves followed, none of which decisive. Austin had made the strategic plan. "We wanted to control the race until km 80 use the steep little climb to ... force a breakaway."
A puncture by Rian Gouws delayed the plan, but Bradley Mitchell paced Gouws back to the group. Then Jennings went and was soon joined by Maiorana. The lead kept hovering around the 45-second margin before extending to one minute in the end.
See the full race coverage of the South African Championships
Team OUCH to Battenkill
Team OUCH presented by Maxxis will race in the 2009 Tour of the Battenkill, April 18-19, 2009 in Cambridge, New York. The team will send a strong roster for the two-day battle, hoping to come out with overall victory.
The preliminary team roster includes recent Vuelta a Mexico Sprint Champion Karl Menzies of Tasmania, five-time US Cyclocross Champion Tim Johnson and 2008 Tour of Taiwan Champion John Murphy of Jacksonville, FL.
Introducing the Cyclingnews Forum
We're pleased to unveil the Cyclingnews Forum and we'd like to welcome you to drop by! To kick things off we've created a selection of folders based on the themes you're familiar with from our site, including one for all topics mountain bike related. We'll be adding more sections over the coming weeks as we find out which topics and sub-topics you, our readers, are talking about.
And we won't stop there. We'll also be improving the look and feel of the forums as we gear up for a total redesign of the site in a few months' time. All you have to do click on the link below and sign up.
Don't forget to let us know what sections or sub sections you want to see in the Forum, and stop by our About the website folder to see what's coming up in the future. For an extensive run down on features such as private message, avatars and profiling please click here.
(Additional editorial assistance provided by Susan Westemeyer and Gregor Brown.)
(All rights reserved/Copyright Future Publishing (Overseas) Limited 2009)