Bike Jam/Kelly Cup - NE
Baltimore, Maryland, USA, May 24, 2008
2007 Results Results Past winners
Veilleux takes home the Kelly Cup
By Kirsten Robbins in Baltimore, Maryland
David Veilleux (Kelly Benefit) takes the win
Photo ©: Todd Leister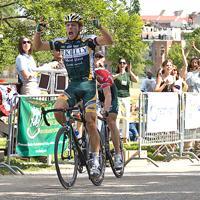 Kelly Benefit Strategies/Medifast's young talent David Veilleux took his first NRC victory when he out sprinted Kyle Wamsley (Colavita/Sutter Home) and Dominique Rollin (Toyota-United) from a four-man break that included Dave Fuentes (Batley-Harley Davidson).
The current U23 Canadian national time trial champion committed to the winning four man break but was regarded as the underdog, up against notable riders like Rollin, Wamsley and Fuentes. However, according to Veilleux, riding on the front for his team-mates all spring gave him the fitness needed for some mid season success.
"Of course I'm young but since the beginning of the year I've been doing a lot of teamwork and riding at the front a lot," said Veilleux who chose a fitting race to win in front of his sponsors John Kelly of Kelly Benefit Strategies, who coincidentally was the event's title sponsor. "I think this helped my strength and I knew when I got my chance I would be able to race well like today."
One hundred and thirty riders started the Baltimore Bike Jam/Kelly Cup ready to take on forty laps of a one-mile circuit at full speed. Several attacks lead to breakaways that shuffled and re shuffled over the courses undulating terrain and strong winds.
Rite-Aid tried to make the day a success,
Photo ©: Todd Leister

With fifteen laps to go, Johnny Sundt (Kelly Benefit Strategies) and Kyle Wamsley initiated the beginning of what turned into the winning break. Six additional riders soon joined the pair that included Veilleux, Rollin and Fuentes along with Scott Jackson (DLP Racing), Luis Amaran (Colavita/Sutter Home) and Armando Borrajo (Ciudad de Chivilcoy).
Team TIME organized a strong chase from the peloton and were later joined by Team's Type 1 and Bissell all of whom were not represented in the front separation. However, even the collaboration of the three partial teams was not enough to gain back the time lost to the escapees.
Rollin lived up to his nickname 'The Horse' and gave one powerful surge that split the break in half, in an effort to narrow his odds at victory but failed to leave enough left in his legs for the sprint. According to Rollin, the day's efforts were not all in loss but rather a fruitful training day in his preparations for the Commerce Bank Triple Crown beginning in two weeks. "After the work in the break I wanted to see if I had something there for the sprint but I didn't, but in the end the effort still benefits me," said Rollin.
A break of eight,
Photo ©: Todd Leister

"As a well-marked rider you have to be more patient and intelligent about your moves," continued Rollin regarding his current success on the national calendar that included a stage win in February's Tour of California. "You need to think about surprising the field because it's hard to just hit the front and ride away from them. But, it was fun to be a new guy on the circuit last year, like Veilleux is now, and I'm sure he is enjoying his win today, his first win on this circuit and I know there will be plenty more for him."
The four break away riders worked well together to gain a healthy forty-second lead until the final lap when the riders began to focus on a tactical finish. "Of course I felt a little bit like the underdog today in that break away but this result has help my team to have more confidence in me," said Veilleux.
"Rollin knew who I was but the other riders did not and I think that may have helped me a little bit. Maybe Wamsley got on my wheel because he didn't know me, thought I was young and thought he was probably going to beat me."
"I almost wanted to ride away from my team after the race 'cause I thought they were going to beat me up for not winning, after they'd worked so hard today," said Wamsley. "But, this is just the first race of many to come up and we've been doing really well. We are happy to be on the podium. We still have Somerville to play around with too in two days. Somerville is my favourite race and so I'm super excited for it."
Team's Colavita/Sutter Home and Toyota-United have certainly had their fair share of victories during the early season months despite the efforts of hidden talents on team's like Kelly Benefit Strategies. "Of course our team had a goal to be in the front as much as we could and to be involved in the moves at the right time," said Veilleux. "It was great to be in the break at a race where all my sponsors are and a lot of people were cheering for our team."
Gauthier too good
Shontell Gauthier (Colavita/Sutter Home)
Photo ©: Todd Leister
Colavita/Sutter Home continued their criterium prowess with Shontell Gauthier who convincingly won the pro women's bunch sprint ahead of the Team Type 1's duo Morgan Patton and Monique Hanley.
"We had a strong team here," Gauthier said. "We planned to control the race and the girls responded well to all the attacks which keep the race all together for me. They just got back from racing Mt. Hood and were very strong and capable of staying at the front for the whole race."
A record number of pro women assembled at the start of the Baltimore Bike Jam/Kelly Cup to race twenty laps of a one-mile circuit. A flurry of attacks set the stage in the opening laps where several breakaways cleared the peloton for only a half a lap before being reabsorbed.
"There were some strong teams but they were holding the field together," said second place on the day Patton. "We realized it was going to be a bunch sprint. I went for a prime toward the beginning to see how my legs were and Monique was covering a lot of moves."
With twelve laps to go, officials neutralized the field after a large crash saw Advil/ChapStick's Anna Milkowski taken to the local hospital with a broken fibula. This lead to many riders flood the wheel pits area for mechanical service and first aid. The peloton rolled back to the starting area where the riders lined up for a restart once the course was deemed safe enough to continue.
The women line up
Photo ©: Todd Leister

Colavita/Sutter Home riders took control of the women's field, keeping their sprinters safely at the front and to of harms way. "The last three laps were fast where Dvorak drilled it for a long time," said Gauthier. "McGrath took over the lead out on the last lap and Wangsgard brought me through the last corner and through the start of the hill.
"I was a little worried that some of the other sprinters would start coming around me but the girls did a great job to keep the speed high coming into the finishing laps," continued Gauthier.
Patton and Hanley noted their ability to communicate well with one another despite being a team of two entered in their first race as team-mates. "I wasn't feeling it too good at the beginning with all the traveling and my legs weren't firing to well," said Patton who began bike riding as a healthy activity used to manage her Type 1 diabetes.
"With five laps to go, Monique took me to the front, did a phenomenal job. She went for it on the last climb and I jumped from her wheel. We were keying off of Colavita because they had strong riders here."
Advil-Chapstick took to the front early.
Photo ©: Todd Leister

Both Hanley and Patton were diagnosed with diabetes in their early teens and battle the daily routines of monitoring blood sugar levels with insulin intake while balancing a nearly flawless nutritional diet.
"I sort of went a little out of it part way through the race today because my blood sugar levels dropped so rapidly," said Patton who's blood sugar levels started at a high level of 180 and dropped to insufficient levels twenty-minutes into the criterium, where a non diabetic's would stabilize at 90-100. "I had to shove a couple gels in my mouth which then caused my blood sugar levels to increase to over 280 by the end of the race."
A second crash happened through the final corner at the five hundred meters to go mark. Colavita/Sutter Home drove the pace toward the final climb to the finish line with Team Type 1 in tow. "We needed to make sure we were on the Colavita lead out," said Hanley who knew where to jump based on winning an early race prime. "There are only two of us and so we needed to be a bit cagey and jump on other team's lead outs. There was a crash in the last tight chicane, we were clear out of trouble and able to sprint."
Photography
For a thumbnail gallery of these images, click here
Images by Todd Leister /www.leisterimages.com
Images by Fj Hughes/www.fhughesphoto.com
Images by Bill McCarrick
Results

Pro men
 
1 Veilleux David (Kelly Benefit Strategies/Medifa)       1.29.19
2 Wamsley Kyle (Colavita Sutter Home p/b Cookin)                
3 Rollin Dominique (Toyota-United pro cycling Team)             
4 Fuentes Dave (Battley Harley-Davidson/Capitol)            0.01
5 Haedo Sebastian (Colavita Sutter Home p/b Cookin)         0.10
6 Damiani Luca (Colavita Sutter Home p/b Cookin)                
7 Hopkins Jeff (Team Inferno Pro Cycling)                       
8 Gilbert Martin (Kelly Benefit Strategies/Medifa)              
9 Myerson Adam (TIME PRO CYCLING)                               
10 Keough Jake (CRCA/Sakonnet Technology)                   0.11
11 Quintero Lisban (CRCA/FOUNDATION CYCLING)                    
12 Frattini Davide (Colavita Sutter Home p/b Cookin)            
13 Borrajo Armando (Ciudad de Chivilcoy)                        
14 Jukich Esteban (Richmond Pro Cycling fueled by )             
15 Page Jonathan (Battley Harley-Davidson/Capitol)          0.12
16 Kincaid Stephan (Rite Aid Pro Cycling pb Shebell)            
17 Solar Ward (Nerac Cycling)                                   
18 Nelessen Guillaume (Van Dessel Factory Team)                 
19 King Ben (Kelly Benefit Strategies/Medifa)                   
20 Abraham Emile (Team Type 1)                                  
21 Schildge Eric (Fiordifrutta)                             0.13
22 Zwizanski Scott (Bissell Pro Cycling Team)               0.14
23 Butts Brian (Battley Harley-Davidson/Capitol)                
24 Epstein Gavriel (CRCA/Sakonnet Technology U25)               
25 Cody Michael (Jelly Belly)                                   
26 Lea Bobby (Rite Aid Pro Cycling pb Shebell)                  
27 Dodson Craig (Richmond Pro Cycling fueled by )               
28 Langley Russ (Battley Harley-Davidson/Capitol)               
29 Mele Ryan (Richmond Pro Cycling fueled by )                  
30 Friedman Mike (Team Slipstream Powered By Chip)          0.15
31 Brownell Eric (CRCA/Empire Cycling Team)                     
32 Chauner Michael (Pennsylvania Lightning)                 0.16
33 Baumann Ryan (CRCA/Sakonnet Technology U25)                  
34 Charles Aidan (Nerac Cycling)                                
35 Bozak David (Clean Currents p/b Don Beyer Vo)                
36 Hutcheson Chuck (Battley Harley-Davidson/Capitol)        0.17
37 Burrowes Jermaine (WS UNITED/SHEEPSHEAD CYCLE)               
38 Mumford Jonathan (Kelly Benefit Strategies/Medifa)           
39 Baldesare James (jim) (Team Inferno Pro Cycling)         0.18
40 Baker Keck (Battley Harley-Davidson/Capitol)                 
41 Hucker Tim (garneau-crocs)                                   
42 McKinney Ryan (Clean Currents p/b Don Beyer Vo)              
43 DeCanio Matt (Haymarket)                                     
44 Calabria Fabio (Team Type 1)                                 
45 Fader Evan (Battley Harley-Davidson/Capitol)                 
46 Lechowicz Martin (CRCA/FOUNDATION)                           
47 Marzot Toby (Fiordifrutta)                               0.19
48 Uinknown rider                                               
49 Guptill Andrew (Colavita Sutter Home p/b Cookin)             
50 Elliston William (Rite Aid Pro Cycling pb Shebell)           
51 Waite Nick (Kelly Benefit Strategies/Medifa)                 
52 Zmolik Daniel (CRCA/Empire Cycling Team)                     
53 England Josh (Team Inferno Pro Cycling)                      
54 Johnson Turner (Penn State Hershey Cancer Insti)         0.20
55 Donahue Alec (Nerac Cycling)                                 
56 Huss Terry (Raleigh All-Stars)                           0.22
57 Johnson Boyd (DLP Racing)                                    
58 Joanisse Michael (garneau-crocs)                             
59 Sandberg Colin (Penn State Hershey Cancer Insti)             
60 Uinknown rider                                           0.23
61 Murfet Clay (Kelly Benefit Strategies/LSV Am)                
62 Scotto Divetta Salvatore (Team Inferno Pro Cycling)      0.24
63 Loehner John (CRCA/Empire Cycling Team)                      
64 Dewald Ryan (Battley Harley-Davidson/Capitol)                
65 Ladd Peter (garneau-crocs)                               0.25
66 Barrie Sean (Georgetown University)                      0.26
67 Amaran Luis (Colavita Sutter Home p/b Cookin)                
68 Buckles Jeffrey (Richmond Pro Cycling fueled by )            
69 Brooks Ben (Team Type 1)                                 0.27
70 Castro Gerardo (Richmond Pro Cycling fueled by )             
71 Erdelyi Jonathan (Rite Aid Pro Cycling pb Shebell)           
72 UNKNOWN RIDER                                                
73 Warno Mark (bike lane)                                       
74 Borrajo Anibal (Colavita Sutter Home p/b Cookin)         0.28
75 Duncan David (TIME PRO CYCLING)                          0.29
76 Delisle Stephen (Richmond Pro Cycling fueled by )        0.30
77 Frick Joshua (Clean Currents p/b Don Beyer Vo)           0.31
78 Hamblen Jon (TIME PRO CYCLING)                               
79 Jackson Scott (DLP Racing)                               0.32
80 Coddington Joey (DLP Racing)                             0.35
81 Misicki Igor (CRCA/FOUNDATION)                           0.38
82 Buchholz Brian (Kelly Benefit Strategies/Medifa)             
83 Deeny Sheldon (CRCA/Empire Cycling Team)                 0.40
84 Shaw Andrew (NCVC Inova Health Systems)                  0.49
 
Pro women
 
1 Gauthier Shontell (Colavita/Sutter Home p/b Cookin)      52.31
2 Patton Morgan (Team Type 1)                               0.01
3 Hanley Monique (Team Type 1)                                  
4 Caravella Sarah (Team TIBCO)                              0.02
5 Candrian Lorena (HPC powered by Altarum)                      
6 Buchanan Rushlee (Team TIBCO)                             0.03
7 Golenor Lesley (HPC powered by Altarum)                       
8 Jellett Lisa (Verducci/Breakaway Racing)                      
9 Kurth Jacqueline (Team Kenda Tire)                        0.04
10 UNKNOWN RIDER                                                
11 Morse Hill Elizabeth (Hub Racing)                            
12 Silliman Erin (Artemis)                                  0.05
13 O'Connor Brooke (Hub Racing)                                 
14 Matsen Nazarian Susanna (Kelly Benefit Strategies/LSV Am)    
15 Flore Kate (HPC powered by Altarum)                      0.06
16 Huizing Marjan (Team Kenda Tire)                         0.07
17 Steelman Holli (Juice Plus/NC cycling)                   0.10
18 Goldberg Heidi (Team Kenda Tire)                             
19 Zider Mary (NEBC/Cycle Loft/Devonshire Dent)                 
20 Martinez Veronica (JVR Sports)                           0.11
21 Wehlburg Christine (NCVC/Inova Health System)                
22 Rankin Tracy (Clean Currents p/b Don Beyer Vo)               
23 Black Trish (Morgan Stanley/Specialized/24 H)                
24 Veronneau Kate (Kutztown Cutters)                        0.12
25 Annis Sally (NEBC/Cycle Loft/Devonshire Dent)                
26 Farrin Sheba (Hub Racing)                                    
27 Manderson Leeanne (Hub Racing)                               
28 Scheffenacker Kristy (HPC Powered by Altarum)                
29 Ulmer Wendy (Team CycleLife)                                 
30 Monteiro Lepene Flavia Regina (Team 19 cycling)              
31 UNKNOWN RIDER                                            0.13
32 Jishi Reem (Team Advil-ChapStick)                            
33 Evers Sonja (C3-Sollay.com)                                  
34 Wellons Rebecca (NEBC/Cycle Loft/Devonshire Dent)            
35 Olney Janet (C3-Sollay.com)                                  
36 McLeon Anna (Harvard)                                        
37 Howard Nonnie (Verducci/Breakaway Racing)                    
38 Blakely Christy (BMW-Bianchi)                                
39 Warner Rachel (Juice Plus/NC cycling)                        
40 Delaney Susanne (NEBC/Cycle Loft/Devonshire Dent)        0.14
41 Wexler Judith (Tufts University)                         0.16
42 Leyden Liz (Hub Racing)                                      
43 Olson Cora (BMW Binachi p/b Hendrick BMW)                0.17
44 Labance Heather (Team Advil-ChapStick)                       
45 Cook Laura (TriPower)                                        
46 Swartz Melanie (Team CycleLife)                          0.18
47 Watson Amanda (Artemis)                                  0.19
48 Hefler Susan (HPC powered by Altarum)                        
49 Tye Dale (Hub Racing)                                    0.20
50 Grim Diane (C3-Sollay.com)                                   
51 McGrath Kristin (Colavita/Sutter Home p/b Cookin)            
52 Robbins Kirsten (Team Advil-ChapStick)                   0.21
53 Fischer Alison (Hub Racing)                                  
54 Klemko Natalie (Team Advil-ChapStick)                    0.22
55 Lipfert Lorraine (C3-Sollay.com)                         0.23
56 Harker Marni (Team Kenda Tire)                           0.24
57 Bote Michele (HPC powered Altarum)                       0.26
58 Kelley Chris (HPC powered by Altarum)                    0.29
59 Maxwell Jennifer (TEAM KENDA TIRE)                       0.43
60 Dvorak Andrea (Colavita/Sutter Home p/b Cookin)          0.58
61 Kelso Anna (HPC/List)                                    1.08
62 Jennings Leslie (Team CycleLife)                         1.17
63 Luebbe Andrea (Verducci/Breakaway Racing)                1.50
64 Teitenberg Heidi (C3-Sollay.com)                         1.51
65 Carr Kathryne (Sunappe/S&W Racing Team)                      
Past winners

2007 Hilton Clarke (Aus) Navigators Insurance Cycling Team) Laura Van Gilder (USA) Cheerwine
2006 Kyle Wamsley (USA) Colavita - Sutter Home              Tina Pic (USA) Colavita/Cooking Light
2005 Aaron Olson (USA) Colavita Olive Oil-Sutter Home       Laura Van Gilder (USA) Quark
2004 Sebastian Alexandre (Arg)                              Joanne Kiesanowski (NZl)
2003 Scott Zwizanski (USA)                                  Lynn Gaggioli (USA)
2002 Henk Vogels (Aus)                                      Laura Van Gilder (USA)
2001 Jonas Carney (USA)                                     Jen Scott (USA)
2000 Ivan Dominguez (Cub)                                   Becky Conzelman (USA)
1999 Josh Frick (USA)                                       Cassandra Ramirez (USA)
1998 Jacob Hacker (USA)                                     Rosalind Reekie (NZl)
1997 Jeff Rutter (USA)                                      Jackie Martin (RSA)
1996 Jon Wirsing (USA)                                      Pat Caldera (USA)