Bike Jam/Kelly Cup - NE
Baltimore, Maryland, USA, May 26, 2007
2006 Results Results Past winners
Navigators dominate; VanGilder's Cup
By Kirsten Robbins in Baltimore, Maryland
Hilton Clarke
Photo ©: Richard Anderson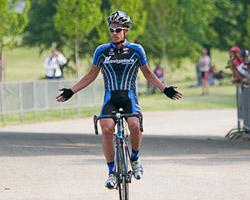 An unexpected split in the men's field saw twenty riders take off creating a race of their own half a lap ahead of the main bunch on Saturday at the Kelly Cup in Baltimore, Maryland. The break had representation from every team but was driven predominantly by the six Navigator riders who seemed almost destined to win the Kelly Cup. In the end it was Hilton Clarke who snapped away from his break away companions and lapped the chasing peloton before the finish. Clarke's teammate Viktor Rapinski was the next rider to cross the line after he too separated himself from the large breakaway. But it was Priority Health's sprinter Emile Abraham who put a glitch in the Navigators reign of the top five results after winning the sprint for third place.
Hilton Clarke commented on his timely fitness heading into the prized Commerce Bank Triple Crown events that will begin in two weeks. "Philly week has been a massive goal of mine for the whole season and I think I'm right on track," Clarke said. The Australian was aware that his team had the strength and the numbers to play both a field sprint and a breakaway but admitted they preferred the security that a solo win would provide. "We had the fastest guys, but mainly because we had the numbers we didn't want to leave it to a field sprint," Clarke said. "So we wanted to try to get a rider of on alone to make the win secure."
Though the field was aggressive from the gun, it was Rite Aid's Alejandro Borrajo who ignited the large break after he launched himself out of the field into a solo move that lasted several laps. Navigators forced the speeds to skyrocket while on the hunt for Borrajo causing a split in the field that couldn't be repaired.
Navigators, Priority Health, Kodak-Sierra Nevada, Rite Aid had multiple riders in the break while Colavita/Sutter Home, Abercrombie and Fitch, Outfitters, Kelly Benefit represented with single riders. The gap quickly opened to thirty seconds and with eight laps to go Navigators started sending off their bullets with Oleg Griskin and with Clarke soon after. The two riders joined and gained a sizable lead but with five laps to go Kodak-Sierra Nevada's Josh Thornton attempted to bridge to the duo causing them to rider further away from the field. " When Oleg and I were off the front, Josh Thornton was trying to bridge up to us and I knew he would sit on and make it difficult for us in the end," explained Clarke. "Oleg really drilled it to make sure he couldn't get on us and then I just kept going from there. It was a good enough gap with five laps to go."
Clarke reconnected with the back end of the peloton on hid final lap for the win while his teammate Viktor Rapinski felt no need wait for a sprint and jumped out of the group to solo in for second place.
The outnumbered Priority Health and Rite Aid teams tried desperately to bring back the solo Navigators rider for their sprinters but with out help from the other teams Clarke only further increased his lead. "Navigators had to best power out there and they also had six guys in the break," Priority Health's Emile Abraham said. "We only had three riders who worked very hard when Hilton and Viktor were off the front. I wish we had a little bit of help from some of the other teams but I know some of the guys were hurting. I knew I had the legs to do well and I was hoping the break would come back together."
VanGilder owns the Kelly Cup
Women's Podium
Photo ©: Richard Anderson

The women's was highlighted with a similar aggressive flare but in the end Cheerwine's Laura VanGilder claimed the Kelly Cup in a field sprint over US national criterium champion from team Verducci's Theresa Cliff-Ryan and T-Mobile's former national road champion from Australia Kate Bates.
The lone T-Mobile rider has spent much of her mid-season competing on North American soil using races like the Kelly Cup to experience competitive criterium racing and gain fitness. Bates commented the stellar field in attendance at this year's event after she took third place in the field sprint. "I always love racing in America," Bates said. "It is so aggressive all the time and so many girls that give it a go, today was no exception. It was fast and hard from the get go and I was looking out for Laura VanGilder because I know that she won yesterday and the girl to beat. I couldn't get anywhere near her at the finish but I'm not disappointed with third."
Race winner Laura VanGilder tested her legs midway through the twenty-five lap criterium and no rider was able to jump on her wheel as rapidly as she was able to snap off the front. VanGilder has brought home multiple wins this season and commented in her recent arrival back to east coast racing with ample fitness. "It is exciting to return to the east coast racing because they are so familiar to me and I like the atmosphere, the fans and the courses," said the sprinter from the Pocono's in Pennsylvania.
Several breaks gained time on the field but VanGilder noted that the course was one that favored a field sprint and nothing was able to stay off the front of the peloton for more that a lap or two. "The course kept the field together because there are no real corners and big long downhill stretches plus everyone was interested in a field sprint."
Cheerwine started their lead out through a round about with six hundred meters to the line and held it strong until the base of the climb. Aaron's jumped started the sprint early where VanGilder reacted and was able to hold off the sprinters hot on her heels.
The U.S national criterium champion Theresa Cliff-Ryan made her first appearance on the NRC circuit since her notorious win in Downers Grove last year. Cliff-Ryan placed a close second to VanGilder with no disappointment in the marginal sprint finish. "I've been in Australia because that is where my husband is from and I've been able to train and get some good miles in," Cliff-Ryan said. "It was a good race but I didn't just as early as I should have. I think if I had gone earlier the race would have been even closer -- She is an awesome sprinter and I am happy to get second behind her."
Photography
For a thumbnail gallery of these images, click here
Images by Richard Anderson/www.rnaphoto.com
Hilton Clarke of Navigators Insurance Cycling team wins Baltimore Bike Jam/ Kelly Cup Pro Men's bike race 18 seconds in front of his team mate Viktor Rapinski and 24 seconds in front of the leading group in Patterson Park, Baltimore MD. May 26, 2007.
Images by FJ Hughes/www.FHughesPhoto.com
Hilton Clarke (Navigators Insurance Cycling team)
Women's Podium l-r; Kate Bates (T-Mobile), Laura Van Gilder (Cheerwine), Theresa Cliff-Ryan (Verducci Breakaway Racing)
Men's Podium l-r; Emile Abraham (Priority Health), Hilton Clarke (Navigators), Viktor Rapinski (Navigators).
Images by Kurt Jambretz/Action Images
Results

Pro men
 
1 Hilton Clarke (Navigators Insurance Cycling Team)      1.29.31
2 Viktor Rapinski (Navigators Insurance Cycling Team)       0.18
3 Emile Abraham (Priority Health)                           0.24
4 Oleg Grishkin (Navigators Insurance Cycling Team)             
5 Ciaran Power (Navigators Insurance Cycling Team)              
6 Davide Frattini (Colavita-Sutter Home)             
7 Dan Timmerman (Kodak Gallery / Sierra Nevada)                 
8 Matt White (FiordiFrutta Elite Cycling Team)                  
9 Mark Hekman (A&F Pro Development Cycling Team)                
10 Jonny Sundt (Kelly Benefit Strategies Medifa)                
11 Jonathan Hamblen (Manulife Financial Cycling Team)       0.25
12 Alejandro Borrajo (Rite Aid Pro Cycling Team)                
13 Kenneth Johnson (Battley Harley-Davidson/Hudson)            
14 Kristian House (Navigators Insurance Cycling Team)       0.32
15 Ben Brooks (Navigators Insurance Cycling Team)           0.37
16 Scott Zwizanski (Priority Health)                        0.47
17 Bobby Lea (Toyota-United Pro Cycling Team)               0.54
18 Richard England (Priority Health)                        1.05
19 Stephan Kincaid (Rite Aid Pro Cycling Team)              1.21
20 Keck Baker (Seigler / Axley Cycling Team)                1.54
21 Kyle Wamsley (Navigators Insurance Cycling Team)         1.59
22 Graham Howard (Priority Health)                          2.00
23 Jonathon Page (Manulife Financial Cycling Team)              
24 Randy Smargiassi (Gotham Cyclists)                           
25 Cody O'reilly (Kodak Gallery / Sierra Nevada)                
26 Chris Frederick (AEG-TOSHIBA-JetNetwork)                     
27 David Wenger (HealthCoach)                               2.01
28 Philip Wikoff (HealthCoach)                                  
29 Dave McCook (Kelly Benefit Strategies/Medifa)                
30 Mason Haymes (Seigler / Axley Cycling Team)                  
31 Jason Meidhof (NCVC/Inova Health System)                     
32 Rich Harper (Abercrombie and Fitch)                          
33 Ryan Mckinney (Clean Currents p/b Don Beyer)                 
34 Bryan Butts (ABRT/Latitude)                                  
35 Bennet Van Der Genugten (Abercrombie and Fitch)          2.02
36 Terry Huss (Raleigh All-Stars)                               
37 Evan Fader (Battley Harley-Davidson/Hudson )                 
38 Jack Simes (Pennsylvania Lightning)                          
39 Jamiel Danesh (Kodak Gallery / Sierra Nevada)                
40 Steve Lusby (Kelly Benefit Strategies/LSV)                   
41 Ward Solar (Nature's Path)                               2.03
42 Andy Gutill (Colavita-Sutter Home)                           
43 Rick Norton (Kelly Benefit Strategies/LSV)                   
44 Joe Whitman (Team Alliance Environmental)                2.04
45 Edward King (Priority Health)                                
46 Mike Dietrich (Kodak Gallery / Sierra Nevada)            2.05
47 Nick Pakulla (Kelly Benefit Strategies LSV)                  
48 David Bozak (Clean Currents p/b Don Beyer)               2.06
49 Pete Whitlock (Seigler / Axley Cycling Team)                 
50 Daniel Vaillancourt (Colavita-Sutter Home)                   
51 Hugh Moran (Manulife Cycling Team)                       2.08
52 Tyler Wren (Colavita-Sutter Home)                            
53 Mark Warno (Evolution Cycling)                           2.11
 
Pro women
 
1 Laura Van Gilder (Cheerwine)                          49.56.00
2 Theresa Cliff-Ryan (Verducci/Breakaway Racing)                
3 Katherine Bates (T-Mobile)                                1.00
4 Sarah Caravella (Aaron's Corporate Furnishings)               
5 Jenette Williams (Hub Racing)                                 
6 Brenda Lyons (TEAm Lipton)                                    
7 Shontelle Gauthier (Team Ultralink)                           
8 Jenna Trew (Vitesse Cycling)                                  
9 Lorena Candrian (HPC/List)                                2.00
10 Catherine Powers (Aaron's Corporate Furnishings)             
11 Lara Kroepsch (TEAm Liption)                                 
12 Heidi Woolever (ABRT/Latitude)                               
13 Mackenzie Dickey (Colavita/ Sutter Home)                 3.00
14 Marjan Huizing (Team Kenda Tire)                             
15 Heidi Goldberg (Team Kenda Tire)                             
16 Tricia Carnila (Verducci/Breakaway Racing)                   
17 Alison Fischer (Human Zoom / Pabst Blue Ribbon)              
18 Rebecca Larson (Aaron's Corporate Furnishings)               
19 Kim Foland (BMW-Bianchi)                                     
20 Kim Sawyer (BMW-Bianchi)                                     
21 Lisa Jellett (Verducci/Breakaway Racing)                     
22 Veronica Martinez (Argentina)                            4.00
23 Nichole Wangsgard (Vitesse Cycling)                          
24 Sarah Tillotson (Colavita/ Sutter Home)                      
25 Amity Elliot (Anthem/ Blue Cross Blue Shield)                
26 Kele Murdin (Team UltraLink)                                 
28 Mandy Lozanno (Targetraining Womens Team)                    
29 Jennifer Bodine (ABRT/Latitude)                              
30 Tiffany Cromwell (Colavita/ Sutter Home presented)           
31 Kacey Manderfield (Verducci/Breakaway Racing)            5.00
32 Nina Santiago (Targetraining Womens Team)                    
33 Susanne Delaney (NEBC/Cycle Loft)                            
34 Laura Bowles (Advil ChapStick)                               
35 Elisa Gagnon (Advil ChapStick)                           6.00
36 Sinead Miller (UPMC Cycling Performance)                     
37 Leigh Valetti (Targetraining Womens Team)                    
38 Andrea Myers (Targetraining Womens Team)                     
39 Shannon Hutchinson-Krupat (Aaron's Corporate Furnishings)    
40 Colleen Haydrek (Team Fuji/Salamander)                       
41 Dale Tye (Hub Racing)                                    7.00
42 Beth Mason (C3/ADG/Joe's Bike Shop)                          
43 Sue Estes (HPC/List)                                         
44 Lauren Shirock (BMW-Bianchi)                                 
45 Cora Webb (BMW-Bianchi)                                      
46 Hiroko Shimada (Targetraining Womens Team)                   
47 Ashley Hubka (NEBC/Cycle Loft)                           8.00
48 Jessie Maclean (Verducci/Breakaway Racing)                   
49 Rebecca Wellons (NEBC/Cycle Loft)                            
50 Mara Miller (Advil ChapStick)                                
51 Kirsten Robbins (Advil ChapStick)                            
52 Jennifer Rasmusson                                       9.00
53 Kimberly Geist (TEAm Lipton)                                 
54 Andrea Dvorak (Colavita/ Sutter Home presented)         10.00
55 Melissa Petty (BMW-Bianchi)                                  
56 Michele Bote (Hub Racing)                               11.00
57 Mandy Lozanno (Targetraining Womens Team)               12.00
58 Nicole Bossie (BMW-Bianchi)                             13.00
59 Kelly Benjamin (Cheerwine)                              14.00
60 Sarah Uhl (Cheerwine)                                        
61 Anna Miikowski (Targetraining Womens Team)              15.00
62 Nonnie Howard (Verducci/Breakaway Racing)               17.00
63 Sarah Bamberger (Cheerwine)                                  
64 Diane Castor (C3/ADG/Joe's Bike Shop)                        

Past winners
2006 Kyle Wamsley (USA) Colavita - Sutter Home             Tina Pic (USA) Colavita/Cooking Light
2005 Aaron Olson (USA) Colavita Olive Oil-Sutter Home      Laura Van Gilder (USA) Quark