First Edition Cycling News, March 11, 2009
Edited by Les Clarke
Chavanel: "I'm proud of myself"
By Jean-François Quénet in Vichy
Sylvain Chavanel (Quick Step) won the stage and took the overall lead
Photo ©: AFP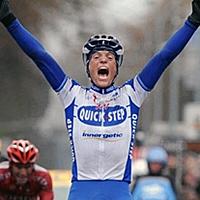 Sylvain Chavanel is a man of words. After Paris-Nice's inaugural time trial, he warned that he would try something before the mountain stage of Lure on Friday. He didn't wait long to deliver on his promise – stage three – although his triumph was largely unexpected.
With 40 kilometres to go until the finish in Vichy, a four-kilometre false-flat downhill section with a tailwind didn't seem to favour an escape group. Without the usual crosswinds used by the strong teams to create echelons, Rabobank surprised the rest of the field by making the move, which Chavanel followed.
"I saw the Rabobank riders gathering in the front," the Frenchman explained. "I took my jacket off – I was ready for the war." Savouring the moment, Chavanel explained, "This is the kind of racing I like the most, when there are riders everywhere on the road because it's hard and challenging." Indeed it was a fabulous stage finale to watch, given the terrible conditions.
Coming up on
Cyclingnews will cover the 60th edition of the Dauphiné Libéré live as of stage 4 on Wednesday, June 10, at approximately 15:00 local Europe time (CEST)/ 23:00 Australian time (CDT)/ 9:00 (USA East).

WAP-enabled mobile devices: http://live.cyclingnews.com/wap/
They were only seven riders competing for the stage win in the finale, and Chavanel was up against it "Against three Rabobank riders (Juan Antonio Flecha, Sebastian Langeveld and Juan Manuel Garate), it wasn't an easy task. In a small group, I'm quite fast but I couldn't win by myself. Kevin (Seeldrayers) did a fantastic job. It brought me back onto Flecha's colleague [Langeveld, who had attacked in the last kilometre]."
"Then it was another Flecha-Chavanel duel," the Quick Step rider added, referring to the last 10 kilometres of Kuurne-Brussel-Kuurne when he rode hard behind the Spaniard at the service of eventual winner and teammate, Tom Boonen.
It's clear that Chavanel has already learned good cycling lessons in Belgium. "Tactically, I've done well today. I'm proud of myself." He has every right to appreciate his achievements in testing conditions. "I'm not surprised there are some significant gaps because we rode so fast in the front." Contador is now 1:03 behind on general classification and Paris-Nice is traditionally a race where a few seconds separate the contenders – there were only three last year between Davide Rebellin and Rinaldo Nocentini.
"It's much better to be ahead than behind after three stages. I'd better not dream about the Montagne de Lure; that's not the place for beating Contador, and it's why I wanted to take the advantage today.
"On a climb like that, with a gradient between five and 10 percent, I know I can do something. I've already come fifth at the Mont Ventoux in the past. I hope I won't lose time like last year when I had the yellow jersey. I'm in a better shape than last year. My morale is huge right now.
"It was my first goal to win a stage, the second one is to do well on general classification – half of it is achieved already. For the coming stages, we have a team of climbers. It's a really nice team."
The 22-year-old Seeldrayers, a pure climber in the making, should add some fuel to the fire of Chavanel's general classification hopes. The combination of the two should make for interesting racing on Friday.
No-start rule not starting yet
By Shane Stokes
A 'no start' doesn't mean an infraction has occurred
Photo ©: AFP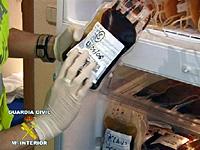 Contacted on Tuesday by Cyclingnews, the International Cycling Union (UCI) has said that it is currently holding off on implementing the so-called 'No Start' rule approved by its Management Committee last June. The measure would allow the governing body to impose a 15-day suspension of riders with suspicious blood values, similar to the 50 percent hematocrit rule which was introduced back in the mid-1990s.
Last summer the no start rule was seen as easier to enforce than a formal anti-doping suspension. A UCI statement indicated that since a sanction, "requires a greater degree of certainty," they may use the new clause for the first suspect value.
UCI President Pat McQuaid indicated that the order of introduction of the measures has changed, however. "We haven't gone down that route yet," he said, thus ruling out any speculation that the biological passport project may have already had an influence on race start lists.
"We are concentrating on finding athletes who might be liable for an ADR sanction. When we have progressed to the sanctioning process we will then start examinations as to how we might give suspensions such as the 'health suspensions' under the 50 percent limit."
The first route would seem to be the easier one to follow in quickly removing suspect riders from races. While the 15-day hematocrit suspensions are not seen as proof of doping but rather labelled as health precautions, the no start rule could also have been billed as such and thus been less open to legal challenge.
Even so, McQuaid argues that the current route is the correct one to follow, due to the prioritisation of manpower. "We are first concentrating with the experts on finding positive cases. Bearing in mind the workload and the limited number of world-renowned experts in this field, we have requested they concentrate on the more important element first."
So what of the timing of the latter? McQuaid has stated several times in recent months that the first official sanction against one or more riders under the biological passport was coming soon; at the Tour of California, he indicated this would happen in "days or weeks".
On Tuesday Cyclingnews sought an update as to the timeframe, but the UCI is still holding back on a firm pronouncement. "I have repeatedly said we cannot give an exact date as to when we might be commencing a process against a cyclist or cyclists under the Biological Passport programme. When we are ready and are sure we have a strong case we will proceed."
Valverde could ride Castilla y León
By Antonio J. Salmerón
After the announcement that Lance Armstrong and Alberto Contador would ride the Vuelta a Castilla y León later this month, Alejandro Valverde has thrown his name into the hat as a possible starter. Valverde's participation would add to the star quality of the field and create even more interest in a race that was almost defunct just three years ago.
According to Caisse d'Epargne manager Eusebio Unzúe, "the final decision will be made having taken into account different aspects; what we determine is the most adequate balance for Valverde."
Unzúe has to choose between the aforementioned Vuelta a Castilla y León, GP Cholet-Pays de Loire (March 22) or the Criterium International (March 28 to 29). In Castilla y León, Valverde will have the opportunity to pit himself against Contador, Armstrong and Carlos Sastre. "This race has an interesting test for Valverde: a 30km time trial stage," added Unzúe.
Unzúe did confirm the rest of Valverde's pre-Tour de France programme, which includes GP Miguel Indurain (April 4), Klasika Primavera-Amorebieta (April 12), Paris-Camembert (April 14), Amstel Gold (April 19), Flèche Wallonne (April 22), Liège-Bastogne-Liège (April 26), Volta Catalunya (May 18-24) and Dauphiné Liberé (June 7-14).
Gilbert's different priorities
By Jean-François Quénet in Vichy
Philippe Gilbert (Silence-Lotto)
Photo ©: ISPA

As Quick Step benefited from Rabobank's move during Paris-Nice's third stage, it was another disappointing day for Silence-Lotto. The second Belgian super team still has no wins in 2009 – a score only shared with Fuji-Servetto among the ProTour teams.
Belgian champion Jurgen Roelandts spent the day on the front but he wasn't fresh enough to sprint against Chavanel and finished seventh of the seven breakaway riders. "Our morale is not affected because we don't race according to what Quick Step does," said Philippe Gilbert after the finish.
Silence-Lotto's recruit was up there when Rabobank put the hammer down. "I was in that initial group of 40 riders," he explained, having limited the damage as he crossed the line in Vichy in 16th position, 1:09 behind Chavanel. "I was still up there when the group was reduced to 20 riders, but with 20 or 25km to go, I didn't manage to accompany the six guys who took off on a hill. I only missed it by 200 or 300 metres."
"I'm not disappointed. I've never ridden well at Paris-Nice, so I don't expect any miracle here. I take it day by day. If there is something interesting to do in the coming stages, I'll take my chance but I'm here mostly in preparation for Milano-Sanremo. The most important for me in this race is to not fall and not get sick."
Anti-doping expert praises biological passport
By Shane Stokes
While the biological passport has taken longer to develop than was originally envisaged, and a growing number of people are impatient to see results, the project was given a significant boost this week when one of those responsible for its implementation said that some benefits had already been seen.
"I would say that we have noted an evolution in the time [since it has been introduced]," Dr Neil Robinson of the anti-doping laboratory in Lausanne told AFP. "With the introduction of the passport, we are seeing an evolution of the parameters in the right direction, and less values that are markedly abnormal."
"You can see a clear deterrent effect. It is the biggest achievement of this year. In the past, whenever a doping laboratory introduced a new test for EPO or blood transfusions, etc, we also saw this dissuasive effect on the parameters. But we saw after that an adaptation by athletes and teams to the new conditions. The parameter that is being measured returns almost to normal levels, then there is an adaptation and the values increase again.
"What we hope with the biological passport is that they don't go back up again. The margin of manoeuvre is extremely low because the athlete is not compared to a fixed, limited value, but to his own parameters which serve as a reference. We will see the success of the passport this year."
Robinson said that thanks to the passport, it has been possible to see clear signs of suspicious behaviour. He gave the example that for some of those specialising in the Belgian Classics, and others preparing for races such as the Tour de France or Vuelta a España, it was possible to notice suspect readings before these competitions. This enabled the riders in question to be specifically targeted for more testing and, presumably, pressure be brought on them to stop what they had been doing.
His view is that cycling and other sports such as skiing and biathlon have a far more evolved anti-doping drive than some others. "Many have criticised the UCI, but he who seeks finds. There are profiles in certain sports that correspond to what we saw in cycling 10 years ago.
"I am not saying there is no doping in cycling, but the UCI has put in place a policy and the results are there."
McQuaid welcomed the comments, telling Cyclingnews that it was proof that the UCI and others were serious about cleaning things up.
"I think it is clear from what Dr Robinson says that cycling can no longer be accused of having a culture of doping. Indeed the opposite is the case, and within the sporting world cycling can now be seen to have possibly the strongest culture of anti-doping. This is to the credit of all of the stakeholders in our sport and augers well for the future."
Garmin supportive of Martin's withdrawal
By Shane Stokes
Martin appreciates team support
Photo ©: Stephen McMahon

Irish rider Daniel Martin was disappointed to withdraw from Paris-Nice prior to the start of stage three due to illness, but appreciates the way Garmin-Slipstream handled the decision.
"This team is so supportive," he told Cyclingnews. "They made it easy to make the right decision of not starting. Left up to me I probably would have started, but just like when I was ill at the Tour of Ireland last year, I would have regretted it."
Martin came into the race hoping to ride strongly, but lost a lot of time on stage two. "I don't know what's wrong," he said on Tuesday. "I just had no legs yesterday and no energy at all this morning. There's some kind of virus floating round my body, I think. I've been on/off since the training camp in January and I guess I just hit a real off-day yesterday."
He's able to take a pragmatic view of things, realising that pushing on would have done little for his health. "I am just going to get myself right and go from there. I have to think about the big picture... it's a long year. Paris-Nice is not a race you can do when at 50 percent, so it's best to step back and get back to 100%."
His team-mate Trent Lowe also suffered on Monday but was able to complete Tuesday's stage.
Garzelli and other favourites ready for Tirreno
Stefano Garzelli and the Acqua & Sapone-Caffè Mokambo squad will be looking to Tirreno-Adriatico to provide the team's first win of the season when they line up in Cecina today. The Italian outfit takes a dual attack into the race, with seasoned general classification contender Stefano Garzelli looking to perform overall, while wily sprinter Luca Paolini will chase victory in any sprint finishes.
"I am satisfied with my condition I feel good," said Garzelli. "There are many good riders in Tirreno-Adriatico looking for the win and I am confident in my ability to measure up to them." With a 30-kilometre time trial in Macerata to contend with, Garzelli will quickly discover if he has the early-season form to carry into the Classics and beyond.
The complete Acqua & Sapone-Caffè Mokambo lineup: Stefano Garzelli, Luca Paolini, Dario Andriotto, Massimo Codol, Alessandro Donati, Francesco Failli, Didac Ortega and Giuseppe Palumbo. Directeur sportif: Cenghialta Gini.
SRAM takes over Gila title sponsorship
Having faced financial difficulty in the past few months, organisers of the Tour of the Gila received the 'golden ticket' as component manufacturer SRAM announced title sponsorship of the event in 2009 and beyond.
"SRAM has given this race security for the next several years and, with their increasing popularity in the peloton, we can only anticipate growth for our event. And SRAM's professional neutral race support, along with their great team relationships, make them a perfect long-term partner," said Tour of the Gila race director Jack Brennan.
"Despite the tremendous grass-roots support for the 'Gila', the event was facing some financial challenges, and we wanted to come onboard and give the race a secure place in the calendar for the next several years," explained David Zimberoff, SRAM's global marketing director.
Introducing the Cyclingnews Forum
We're pleased to unveil the Cyclingnews Forum and we'd like to welcome you to drop by! To kick things off we've created a selection of folders based on the themes you're familiar with from our site, including one for all topics mountain bike related. We'll be adding more sections over the coming weeks as we find out which topics and sub-topics you, our readers, are talking about.
And we won't stop there. We'll also be improving the look and feel of the forums as we gear up for a total redesign of the site in a few months' time. All you have to do click on the link below and sign up.
Don't forget to let us know what sections or sub sections you want to see in the Forum, and stop by our About the website folder to see what's coming up in the future. For an extensive run down on features such as private message, avatars and profiling please click here.
(All rights reserved/Copyright Future Publishing (Overseas) Limited 2009)