First Edition Cycling News, March 26, 2009
Edited by Peter Hymas
Van Impe gets his chance at Dwars door Vlaanderen
By Bjorn Haake
Kevin Van Impe (Quick Step)
Photo ©: AFP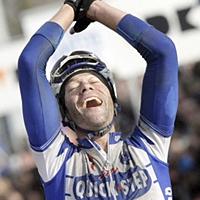 Kevin van Impe profited from a strong team performance of his Quick Step outfit to beat former winner Niko Eeckhout (An Post Sean Kelly) in a two-up sprint at Wednesday's Dwars door Vlaanderen. Eeckhout led out the sprint but had nothing left after being in the break of the day. A dozen seconds later Tom Boonen easily outsprinted an exhausted Heinrich Haussler for third. Haussler had animated the latter part of the race and his solo break forced a Quick Step team time trial to reel him back in.
A crash in the peloton, less than two minutes behind, brought down several riders, including Belgian champion Jürgen Roelandts (Silence-Lotto) and Andreas Klier (Cervélo Test Team).
With three men in the five-man break, Quick Step looked set for an easy win, but Haussler made it tough for the three Belgians Van Impe, Boonen and Stijn Devolder. When Haussler reeled back in a counter attack by Devolder, Van Impe went and drew Eeckhout with him. That put Haussler out of the game, but the experienced Eeckhout in the front was not necessarily good news for Quick Step.
Van Impe acknowledged that there was some pressure on him. "I wasn't sure I could beat him [Eeckhout], he is a fast man. But with the conditions like today, with the rain and the wind, things are a little different." Van Impe crossed the line with a big grin on his face, then buried his head in disbelief. "This is indescribable. My teammates kept Haussler in check behind. I have to thank Stijn and Tom for giving me this chance."
Van Impe added that Saturday at the E3 Prijs things will be different. "That's another level, there will be another name on the winner's board, but our team is very strong."
Continue to the full report
Armstrong's collarbone surgery successful
Lance Armstrong had successful surgery Wednesday in Austin, Texas, to repair what doctors originally thought was a simple fracture of his collarbone.
"This was not correct," said Dr. Doug Elenz, an Austin orthopedic surgeon, as reported on the Astana team website, www.astana-cyclingteam.com. "It was not in two, but four pieces." Dr. Elenz, along with another surgeon and a physician's assistant, used a five inch stainless steel plate with 12 screws to repair Armstrong's fracture. He noted that this was more than they would normally use, but necessary based on the extent of the fracture.
Armstrong would not spend the night in the hospital but would be taken to his home in Austin to recuperate. In terms of rehabilitation, the doctor wants Armstrong to take it easy for a week to let the wound heal, start back into aerobic training using a stationary bike so as not use his upper body, and then he would see about letting Armstrong out on the road.
"Normally we see 8-12 weeks for something like this to heal completely," Dr. Elenz said, stressing the word "completely." Doctors will monitor Armstrong's arm strength, range of motion in his shoulder, as well as his pain level in order to decide what kind of training he can do. While Dr. Elenz would not give a firm date on when he expected Armstrong to return to racing, he said that it will heal and he needs to give it time so he can get back to racing.
Armstrong broke his collarbone during stage one of the Vuelta a Castilla y Leon in Spain on Monday.
Lithuanian shatters Meares' 500m world record
Simona Krupeckaite (Lithuania)
Photo ©: AFP

Lithuania's Simona Krupeckaite stunned the crowd at the UCI World Track Championships in Pruszkow, Poland, by winning the women's 500m time trial with a new world record, 33.296 seconds. Krupeckaite, winner of the event at the Cali and Beijing World Cups, posted a blazing 54.06 km/h pace to shatter Australian Anna Meares' world record by 0.292 seconds.
Meares took second with a 33.796, while Great Britain's Victoria Pendleton was third, with 34.102. Defending World Champion Lisandra Guerra Rodriguez (Cuba) was a distant seventh.
The previous mark, 33.588 seconds, was set by Meares at the 2007 World Championships in Mallorca, Spain. Krupeckaite's new record of 33.296 seconds is nearly four-tenths of a second faster than her winning time set in Cali last December.
Shanks wins first world title in women's pursuit
New Zealand's Alison Shanks
Photo ©: Gerry McManus
New Zealand's Alison Shanks, making her first appearance in a world championship final, won the gold medal in the women's individual pursuit on the opening night at the UCI World Track Cycling Championships in Pruszkow, Poland. The 26-year-old Shanks covered the 3000m distance in 3:29.807 to defeat Beijing Olympic silver medalist Wendy Houvenaghel (Great Britain), the fastest in qualifying, by more than two seconds.
Shanks' medal is only the 11th ever won by a New Zealand cyclist in the UCI Track Cycling Championships dating back nearly 40 years, and the third in the women's pursuit following the gold won by Sarah Ulmer in 2004 at Melbourne and the silver by Madonna Harris at Maebashi in 1990.
Lithuania's Vilija Sereikaite won the women's individual pursuit bronze medal with a time of 3:33.583 against Great Britain's Joanna Rowsell, who finished in 3:35.209.
Rock Racing ready to defend Redlands title
By Kirsten Robbins in Redlands, California
Christopher Baldwin (Rock Racing)
Photo ©: AFP

Chris Baldwin is prepared to defend Rock Racing's title at the Redlands Bicycle Classic set to begin on Thursday, March 26 in Redlands, California. He placed second in the previous year's race, while riding for the Toyota-United team, to the now retired Santiago Botero.
Baldwin arrives at the Redlands Bicycle Classic in good form after placing third in last weekend's San Dimas Stage Race. However, he noted Rock Racing's somewhat green roster for this year's event.
"I feel good going into this race," Baldwin said. "I think we are bringing a younger team to the race this year and it's exciting to have them come along so well."
Rock Racing will field an eight-rider team, including Cesar Grajales, Mike Creed, Caleb Manion, Danny Finneran, Sergio Hernandez, Rahsaan Bahati, US elite national criterium champion, and Justin Williams, US amateur national criterium champion, in addition to Baldwin.
"For some of them this will be their first Redlands," Baldwin continued. "It has always been an important race and the kick off to the Nation Racing Calendar (NRC) season. We have a lot of speed with Bahati so we can expect good stage results from him."
The Redlands Bicycle Classic leader's jersey has historically been tossed around during the stages until the final day at the Sunset Circuit Race. "There are really fun courses and I think that having two big, open circuit races makes it difficult," said Baldwin, who believes that Sunset is hard, but not hard enough, to shake up the top overall contenders.
"A break succeeded on the circuit races last year and I wouldn't be surprised if that happens again," he continued. "I think it will come down to the best time trialist's result out of the breakaway riders."
VAC ready for Women's Prestige Cycling Series kick off
By Kirsten Robbins in Redlands, California
The Value Act Capital (VAC) women's professional cycling team is ready to take on the Redlands Bicycle Classic set to begin on Thursday, March 26. The event is the first of a four-part Women's Prestige Cycling Series (WPCS) highlighted on the team's North American race calendar.
Lisa Hunt, directeur sportif, has placed an emphasis on the 2009 WPCS. The series will start with the Redlands Bicycle Classic and move on to Arkansas' Joe Martin Stage Race held in May, Minnesota's Nature Valley Grand Prix held in June and Oregon's Cascade Cycling Classic held in July. Katharine Carroll, a former Aaron's rider who is now racing for the Tibco Professional women's team, won the overall title in 2008.
"Redlands is always important for us," said Hunt, who held a one week training camp for the 10-rider team in Hieldsburg, California. "We strongly support the Women's Prestige Cycling Series and it is always a challenging event."
According to Hunt, tough economic times caused several strong women's teams to fold at the end of the 2008 season. However, it presented an opportunity for her to strengthen the roster. "It's a disappointment that there were so many talented riders out there who couldn't find teams," Hunt said. "But there is Columbia-High Road, Webcor-Builders, Colavita-Sutter Home and Tibco among other teams and the competition is really going to be solid. I think we will see a lot of composite teams and regional teams coming out, too. It will still be a very aggressive year."
The squad's roster includes Sharon Allpress, Nicole Evans, Robin Farina, Leah Goldstein, Kristin McGrath, Martina Patella, Chrissy Ruiter, Kristin Sanders, Emily Zell along with Courtenay Brown, the team's only professional triathlete. "We have a very strong stage race squad and I think we can do very well at Redlands this weekend," Hunt said. "We have the potential to podium. I'm really excited about the season because these girls ride really well together."
VAC will field a roster at the Dana Point Grand Prix, Tour of the Gila, Joe Martin, Tulsa Tough, Liberty Classic, Nature Valley Grand Prix, Manhattan Beach, Fitchburg Longsjo Classic, Cascade Classic, USAC National Road Championships, Presbyterian and Hanes Park, Marion Classic, Chris Thater, USAC National Criterium Championships and San Francisco Twilight.
McQuaid elected to ASOIF council
UCI President Pat McQuaid
Photo ©: Roberto Bettini

Pat McQuaid, president of the International Cycling Union (UCI), was elected to the council of the Association of Summer Olympic International Federations (ASOIF) during its 33rd general assembly, which took place in Denver, Colorado, on March 24 alongside the SportAccord conference.
At the first meeting of the newly-elected council, McQuaid was made an ASOIF vice-president. Denis Oswald was re-elected president of the association.
The ASOIF council is made up of the president and six members, who are all international federation presidents. One of those members is designated vice-president. All members are elected for a term of four years.
The ASOIF, which was founded in 1983 and is based in Lausanne, Switzerland, now has 26 members. Its main purpose is to defend the common interests of its member federations and to strengthen links between them, in order to promote their authority and independence.
Hondo signed by PSK Whirlpool-Author
Danilo Hondo in action during the 2008 Giro di Lombardia
Photo ©: Riccardo Scanferla
The German cyclist Danilo Hondo has been awarded a contract with the Czech UCI Professional Continental team PSK Whirlpool-Author for the 2009 season.
"We have been in discussions with Danilo Hondo for a long time, but I can only just now confirm that he is our newest rider," said Vladimír Vávra, the manager of PSK Whilrlpool-Author. "We have signed Danilo for a one-year contract. His first race on our team will be in Turkey's Presidential Cycling Tour."
The 35-year-old German sprinter, a professional for 12 years, rode for the Italian team Serramenti PVC Diquigiovanni-Androni Giocattoli in 2008.
Hondo tested positive for Carphedon during the Tour of Murcia in March 2005. After being sentenced to a two-year ban from the sport, a Swiss court ruled that he was allowed to continue riding while he appealed the initial ruling. He rode part of the 2006 season for Team Lamonta. In 2007 he signed with Team Tinkoff, but in January his suspension was reinstated, which prohibited him from riding the 2007 season.
Hondo won the 2002 German road championship, a 1994 world championship on the track in the team pursuit, two stages of the 2001 Giro d'Italia and finished second in the 2005 Milano-Sanremo.
Olympic champion to race Pietermaritzburg MTB World Cup
Julien Absalon celebrates his 2008 Olympic win.
Photo ©: Casey Gibson

Frenchman Julien Absalon, currently the biggest name in cross-country mountain bike racing, has confirmed his participation in the opening round of the 2009 UCI World Cup in Pietermaritzburg, South Africa.
Absalon joins the current men's cross country world champion, Christoph Sauser, of Switzerland, and the women's cross country world champion, Margarita Fullana, of Spain, on the start list in what will be the most prestigious international cycling event ever held in South Africa.
Absalon has been the dominant cross-country racer at major events over the past few years, having claimed 17 World Cup victories, four consecutive world titles (2004-2007) and the gold medals at both the 2004 and 2008 Olympic Games. He has also been the overall winner of the World Cup Series four times in 2003, 2006, 2007 and 2008.
The 28-year-old Frenchman, who races for the Orbea international team, has stated that his goals for 2009 are to win a fifth overall World Cup title and a fifth world championship. He is already the record holder for number of victories in both competitions.
The World Cup, which incorporates the cross country, downhill and 4X disciplines, will take place in Pietermaritzburg from April 10-12.
Work for the world's leading cycling website
Cyclingnews, the world's leading cycling website, is recruiting writers based in the UK.
Applicants are required to have a keen interest and thorough knowledge of competitive cycling, as well as editorial or writing experience with excellent English skills. Writers should be competent in producing and subbing reports, news, results and features from the world of cycling, so fluency in a second language is also an advantage, as is experience in journalism, attention to detail and flexibility in hours.
Applicants may also be required to attend major cycling events. Training in online production techniques can be provided.
Please send your CV with a covering letter and examples of your work, via e-mail to daniel.benson@futurenet.com with "Cyclingnews online writer -" in the subject line.
(Additional editorial assistance provided by Laura Weislo.)
(All rights reserved/Copyright Future Publishing (Overseas) Limited 2009)