Redlands Bicycle Classic - NE
California, USA, April 3-6, 2008
Main Page Results Overall standings Previous Stage
Stage 4 - April 6: Sunset Road Race, 105.8/146.5 km
Botero wins overall; Borrajo takes Sunset
By Kirsten Robbins in Redlands, California
Alejandro Borrajo (Colavita) took the final stage in a sprint, after the peloton denied him a breakaway victory
Photo ©: Jon Devich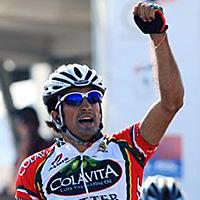 Rock Racing had their hands full in the final and most demanding stage of the Redlands Classic on the Sunset circuit race. The Colombian former world time trial champion Santiago Botero brought his lime and black clad-team the overall win, ahead of Chris Baldwin (Toyota-United) and Burke Swindlehurst (Bissell).
Colavita/Sutter Home presented by Cooking Light stretched their legs on the final five short circuits to bring their Argentinean sprinter Alejandro Borrajo the stage victory from a diminished thirty-rider field. Borrajo sprinted ahead of Tony Cruz (BMC) and Rory Sutherland (Health Net).
Overall race winner Santiago Botero commented on his team's performance in controlling the peloton over the Sunset circuit's twelve laps as a gesture of solid teamwork. "Without my team there would be no win," said Botero regarding his 2008 Rock Racing team-mates.
"I am really happy to have won my first stage race in the USA and grateful to all of the work my team did to achieve this," continued Botero, who took over the leader's jersey after his stage one solo victory in Beaumont.
Santiago Botero (Rock Racing) wins the overall
Photo ©: Jon Devich

"I knew that I had to gain time on the first stage and hold it in the stage two criterium and today's stage three because it would be easier for us to maintain the lead [by me] setting tempo and staying safe each day. I notice that the team's here at this race were very strong and it was not easy for us here."
Stage winner Alejandro Borrajo noted that the circuits grueling climb and technical, fast descent matched perfectly to his ability as a rider of attrition with a speedy finishing kick. "I really liked the circuit today and I knew I could do well here today," said Borrajo.
"My team executed our plan to win the stage perfectly," continued Borrajo, regarding his team's effort in winning the overall team competition by keeping their numbers high for the end of the race. "I tried to attack on the last lap of the big loop but it did not stay away; but with five of my team-mates still in the front group, they gave me a perfect lead-out to the line. I'd really like to thank John O'Connelly for inviting my team to stay with him in Santa Rosa to prepare for this event together."
The pro men's one hundred and fifty rider field diminished quickly, due to a large crash heading into the first of twelve large circuits. The front group contained all of the GC riders, with the exception of previous third-placed Francois Parisien (Symmetrics).
The second in GC, Chris Baldwin, fell victim to the one accident on the course, which ended in a wrist injury and two bike changes. However, according to the GC runner up, despite his obstacles his team worked hard to keep him moving forward.
"To place second behind Botero is a success," said Baldwin. "I've never seen a stage more under lock and key than it was today and I have to commend Rock Racing on doing such a good job this weekend. "We did our best to fire attacks at them but hey stayed calm and under control. My team-mates Chris Wherry and Dominique Rollin were there to bring me back to the group after my crash, so I wasn't worried about it."
Jeff Louder (BMC) showing good form and making Cruz proud
Photo ©: Jon Devich

Bissell initiated an opportunity to move ahead on the GC when Ben Jacques-Maynes attacked the field in a solo effort for the first several laps and was later joined by criterium winner Jeff Louder (BMC) and a little further down the road by Peter Stetina (Slipstream Chipotle H3O). The breakaway worked hard to maintain a thirty-second lead over the peloton that was heavily controlled by Rock Racing for approximately six laps. Second place finisher on the day, Tony Cruz, commented on the lengthy breakaway of his team-mate Louder as being a sign of great fitness. Cruz was looking forward for Louder to utilise it throughout this season in upcoming events.
"Louder is showing he is really strong right now," said Cruz. "I have been helping the guys with my race experience mainly by helping them stay calm and work together to achieve success. Being able to get on the podium today is a really a bonus for us."
With the field back together on the final two laps, third place went to Rory Sutherland (Health Net), who took a chance at putting time on the top-three GC riders in a solo break that was caught in the last lap. "I really wanted to stir things up because I feel like we need to go out there and race our bike," said Sutherland. "I felt like riders were getting to content just rolling around the circuits. The only way to move up is to try to get away and see what happens."
Upon Sutherland's return, stage winner Alejandro Borrajo tried to use his strength to break away from the severely dwindled peloton with Chris Jones (Team Type 1), but when the two riders were reabsorbed he knew his team had enough numbers remaining to provide for a successful lead-out. "The team led me around the last circuits very well and I felt very comfortable," said Borrajo. "I led the last half lap because I wanted to be through the last few corners first and sprint to the line from there."
Wrubleski takes all
Alex Wrubleski (Webcor) chipped away at the bonus sprints and too over GC in the last possible second of the race
Photo ©: Mitch Clinton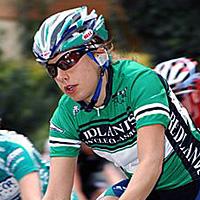 Webcor's former Canadian national champion Alex Wrubleski slowly picked away at the time bonus sprints to claim the overall victory in the Redlands Classic. Wrubleski sealed the overall lead after she won the final sprint in the Sunset circuit race to take the ultimate stage victory ahead of Leigh Hobson (Cheerwine) and Kim Anderson (High Road).
Current US national road champion Mara Abbott led the Redlands classic with a twenty-five second cushion after the Sun prologue. However, after a tactical battle through the final stage, Wrubleski earned the necessary twelve seconds needed to overtake Abbott for the overall win, while Katharine Carroll (Aaron's) maintained her unthreatened third place position. While using her sprint to pick up time bonuses, Wrubleski captured enough points to solidify her lead in both the points and QOM jerseys.
"We were definitely the underdogs after the prologue," said triple jersey winner Alex Wrubleski. "So we knew it wasn't going to be impossible to win the overall but that it would be hard. I also knew that Mara was a really good climber but after the first climbing stage I was pretty sure that I was really close to Mara in terms of climbing ability. Because I knew that she wouldn't be able to get away from me on the climbs, our plan was to have me slowly pick away at all the time bonuses everyday and keep moving ahead on GC."
While Abbott expressed her disappointment in coming up short on seconds, she commended her team on their effort to hold onto the leader's jersey. "My team was amazing this week, they did everything perfectly," said Abbott. "It comes down to seconds some times in these races and unfortunately I wasn't able to get enough of those in the right places. I love Redlands and I'm looking forward to this race next year."
Mara Abbott (High Road) lost the yellow on the last day
Photo ©: Mitch Clinton

The women's nine-lap Sunset circuit race started in a heated battle to the top of the first QOM, where Wrubleski was able to win and reduce her time difference to Abbott from eleven to nine. "After winning the time bonus I knew that coming into the finish all I needed to do was win the stage and that would give me the additional ten seconds I needed to win."
Shortly after the crucial QOM the field split into a decisive front group of twenty riders. Anne Samplonius (Cheerwine) launched an attack that separated herself from the field for nearly six laps. The solo rider was later joined by Meredith Miller (Aaron's) until the pair was reabsorbed into the peloton with two laps to go.
"I really wanted to test my legs today but I knew that it probably would not stay away," said Samplonius, delighted that her Cheerwine team won the overall team competition. "It was important for us to force High Road to chase, which might have allowed Leigh Hobson to move higher up on GC."
With two laps remaining Stacey Marple (Cheerwine) and Erinne Willock (Webcor) set out on another breakaway, however Willock was called out of the break on the final lap to help her Webcor team-mates set up a stage victory for Wrubleski. "Erinne came back from the break to help us chase Stacey Marple and to help prepare our lead-out for the final time bonus," said Wrubleski.
Marple remained off the front until three kilometers to the line when Kim Anderson surprised the group and jumped early in an effort to capture the stage victory and the bonuses needed to keep Abbott in the lead. "We were happy to have the Cheerwine rider off the front at the end because if she had won she would have taken the time bonus and that would have been great for us," said Abbott. "Webcor really pulled it all together in the end."
Webcor's Willock and Thorburn brought Anderson back and Wrubleski into the position she needed to call Redland Classic her own. "I had so much adrenaline and focus and I knew everyone was counting on me. I knew all I had was one job and that was to ... win the stage in order to win the overall."
Photography
For a thumbnail gallery of these images, click here
Images by Mitch Clinton/www.clintonphoto.com
Images by Jonathan Devich/

Images by Kurt Jambretz /www.actionimages.cc
Results
Women

1 Alex Wrubleski (Webcor Builders)                          2.52.35
2 Leigh Hobson (Cheerwine)                                         
3 Kim Anderson (High Road)                                         
4 Katharine Carroll (Aaron's)                                      
5 Tiffany Cromwell (Colavita-Sutter-Cooking Light)                 
6 Anne Samplonius (Cheerwine)                                      
7 Mara Abbott (High Road)                                          
8 Stacy Marple (Cheerwine)                                         
9 Suz Weldon (Wines of Washington)                                 
10 Andrea Dvorak (Colavita-Sutter-Cooking Light)                   
11 Erinne Willock (Webcor Builders)                                
12 Kristin Sanders (Aaron's)                                       
13 Alison Testroete (Aaron's)                                      
14 Leah Goldstein (Value Act Capital)                          0.10
15 Christine Thorburn (Webcor Builders)                            
16 Julie Beveridge (Aaron's)                                       
17 Rebecca Larson (Aaron's)                                    5.49
18 Laura Van Gilder (Cheerwine)                                    
19 Coryn Rivera (Rock Racing)                                  5.53
20 Devon Haskell (Dolce Vita)                                      
21 Robin Farina (Cheerwine)                                        
22 Iona Winter-Parks (Colavita-Sutter-Cooking Light)               
23 Rebecca Much (Webcor Builders)                                  
24 Shannon Koch (Rock Racing)                                      
25 Meredith Miller (Aaron's)                                   5.58
26 Sarah Bamberger (Cheerwine)                                 6.19
27 Rachel Heal (TIBCO)                                        14.29
28 Anna Milkowski (Advil-Chapstick)                                
29 Kathleen Billington (Rock Racing)                               
30 Hilary Billington (Bicycle John's)                         17.58
31 Amber Rais (TIBCO)                                              
32 Anne Guzman (Kenda Tire)                                        
33 Denise Ramsden (Dolce Vita)                                     
34 Kristin McGrath (Colavita-Sutter-Cooking Light)                 
35 Jerica Hutchinson (TIBCO)                                       
36 Betina Hold (Advil-Chapstick)                              21.00
37 MacKenzie Woodring (Colavita-Sutter-Cooking Light)         27.13
38 Cara Gillis (Bicycle John's)                               29.33
39 Rachel Tzinberg (Bicycle John's)                                
40 Tracy Kubas (Bicycle John's)                                    
41 Lana Atchley (Rock Racing)                                      
42 Nichole Wangsgard (Colavita-Sutter-Cooking Light)               
43 Flavia Oliveira (Vanderkitten)                                  
44 Jadine Riley (Wines of Washington)                              
45 Marni Hambleton (Value Act Capital)                             
46 Jacqueline Kurth (Kenda Tire)                                   
47 Kathryn Clark (Kenda Tire)                                      
48 Martina Patella (Value Act Capital)                             
49 Kelly Benjamin (Cheerwine)                                      
50 Amy Dombroski (Webcor Builders)                                 
51 Emilia Fahlin (High Road)                                       
52 Helen Kelly (TIBCO)                                             
53 Rushlee Mae Buchanan (TIBCO)                                    
54 Alex Rhodes (High Road)                                    35.32
55 Kirsten Robbins (Advil-Chapstick)                          46.09
56 Karla Kingsley (Dolce Vita)                                51.20
57 Jennifer Wilson (Vanderkitten)                                  
58 Hannah Banks (Value Act Capital)                                
59 Samantha Schneider (Colavita-Sutter-Cooking Light)         56.43
60 Jenny Trew (Vanderkitten)                                  58.10
61 Courtney Hammond (Rock Racing)                           1.00.03
62 Taitt Sato (Value Act Capital)                                  
63 Shontell Gauthier (Colavita-Sutter-Cooking Light)               
64 Lara Kroepsch (Value Act Capital)                               
65 Gina Grain (Webcor Builders)                                    
66 Brenda Lyons (Advil-Chapstick)                                  
 
Final General classification
 
1 Alex Wrubleski (Webcor Builders)                          7.07.50
2 Mara Abbott (High Road)                                      0.01
3 Katharine Carroll (Aaron's)                                  0.16
4 Leigh Hobson (Cheerwine)                                     0.19
5 Kim Anderson (High Road)                                     0.21
6 Tiffany Cromwell (Colavita-Sutter-Cooking Light)             0.41
7 Anne Samplonius (Cheerwine)                                  0.42
8 Christine Thorburn (Webcor Builders)                         0.43
9 Julie Beveridge (Aaron's)                                    0.57
10 Kristin Sanders (Aaron's)                                   1.10
11 Stacy Marple (Cheerwine)                                    1.15
12 Leah Goldstein (Value Act Capital)                          1.21
13 Andrea Dvorak (Colavita-Sutter-Cooking Light)               2.56
14 Alison Testroete (Aaron's)                                  3.00
15 Suz Weldon (Wines of Washington)                            3.02
16 Erinne Willock (Webcor Builders)                            7.27
17 Meredith Miller (Aaron's)                                       
18 Laura Van Gilder (Cheerwine)                                8.22
19 Robin Farina (Cheerwine)                                   11.34
20 Rebecca Much (Webcor Builders)                             12.52
21 Iona Winter-Parks (Colavita-Sutter-Cooking Light)          13.11
22 Shannon Koch (Rock Racing)                                 13.30
23 Devon Haskell (Dolce Vita)                                 13.41
24 Rebecca Larson (Aaron's)                                   14.03
25 Kathleen Billington (Rock Racing)                          17.25
26 Sarah Bamberger (Cheerwine)                                19.41
27 Coryn Rivera (Rock Racing)                                 19.48
28 Kristin McGrath (Colavita-Sutter-Cooking Light)            20.36
29 Rachel Heal (TIBCO)                                        21.29
30 Hilary Billington (Bicycle John's)                         21.47
31 Amber Rais (TIBCO)                                         25.25
32 Anne Guzman (Kenda Tire)                                   25.29
33 Jerica Hutchinson (TIBCO)                                  25.52
34 Betina Hold (Advil-Chapstick)                              28.54
35 Anna Milkowski (Advil-Chapstick)                           30.07
36 Denise Ramsden (Dolce Vita)                                30.48
37 Amy Dombroski (Webcor Builders)                            36.34
38 Flavia Oliveira (Vanderkitten)                             37.04
39 Emilia Fahlin (High Road)                                  37.14
40 Nichole Wangsgard (Colavita-Sutter-Cooking Light)          37.15
41 Helen Kelly (TIBCO)                                        37.30
42 Jadine Riley (Wines of Washington)                         37.32
43 Tracy Kubas (Bicycle John's)                               37.35
44 Rushlee Mae Buchanan (TIBCO)                                    
45 Marni Hambleton (Value Act Capital)                        37.38
46 Martina Patella (Value Act Capital)                        37.39
47 Jacqueline Kurth (Kenda Tire)                              38.19
48 Rachel Tzinberg (Bicycle John's)                           38.28
49 Kelly Benjamin (Cheerwine)                                 38.31
50 Lana Atchley (Rock Racing)                                 42.23
51 Alex Rhodes (High Road)                                    42.38
52 MacKenzie Woodring (Colavita-Sutter-Cooking Light)         44.55
53 Kathryn Clark (Kenda Tire)                                 46.29
54 Cara Gillis (Bicycle John's)                               46.43
55 Kirsten Robbins (Advil-Chapstick)                          54.27
56 Samantha Schneider (Colavita-Sutter-Cooking Light)       1.05.23
57 Karla Kingsley (Dolce Vita)                              1.05.27
58 Jennifer Wilson (Vanderkitten)                           1.09.26
59 Hannah Banks (Value Act Capital)                         1.10.05
60 Courtney Hammond (Rock Racing)                           1.21.52
61 Jenny Trew (Vanderkitten)                                1.23.59
62 Taitt Sato (Value Act Capital)                           1.24.06
63 Lara Kroepsch (Value Act Capital)                        1.24.23
64 Shontell Gauthier (Colavita-Sutter-Cooking Light)        1.28.30
65 Gina Grain (Webcor Builders)                             1.30.01
66 Brenda Lyons (Advil-Chapstick)                           1.36.01
 
Men
 
1 Alejandro Borrajo (Colavita-Sutter Home-Cooking Light)    3.25.26
2 Tony Cruz (BMC)                                                  
3 Rory Sutherland (Health Net-Maxxis)                              
4 Evan Elken (Jittery Joe's)                                       
5 Dominique Rollin (Toyota-United)                                 
6 Brent Bookwalter (BMC)                                           
7 Niel Shirley (Jittery Joe's)                                     
8 Christian Meier (Symmetrics)                                     
9 Jackson Stewart (BMC)                                            
10 Oscar Sevilla (Rock Racing)                                     
11 Danny Summerhill (Slipstream-Chipotle)                          
12 Adrian Gerrits (Kahala-LaGrange)                                
13 Chris Baldwin (Toyota-United)                                   
14 Andrew Bajadali (Kelly Benefit Strat-Medifast)                  
15 Chris Jones (Team Type 1)                                       
16 Bradley White (Successful Living)                               
17 Tom Danielson (Slipstream-Chipotle)                             
18 Sebastian Haedo (Colavita-Sutter Home-Cooking Light)            
19 Tyler Wren (Colavita-Sutter Home-Cooking Light)                 
20 Burke Swindlehurst (Bissell)                                    
21 Santiago Botero (Rock Racing)                                   
22 Peter Stetina (Slipstream-Chipotle)                             
23 Tom Zirbel (Bissell)                                            
24 Chris Wherry (Toyota-United)                                    
25 Luis Alberto Amaran (Colavita-Sutter Home-Cooking Light)        
26 Justin England (Toyota-United)                                  
27 Aaron Olson (Bissell)                                           
28 Steve Bovay (BMC)                                               
29 Scott Nydam (BMC)                                               
30 David Frattini (Colavita-Sutter Home-Cooking Light)             
31 James Mattis (Cal Giant Farms-Specialized)                  1.24
32 Michael Grabinger (Successful Living)                           
33 Tyler Hamilton (Rock Racing)                                    
34 Jorge Martinez (CAICO)                                          
35 Kiel Rejnen (Waste Management)                                  
36 Jeremy Vennell (Bissell)                                    4.43
37 Richard England (Bissell)                                       
38 Reid Mumford (Kelly Benefit Strat-Medifast)                     
39 Roman Kilun (Health Net-Maxxis)                                 
40 David Clinger (Rock Racing)                                     
41 Daniel Bowman (Kelly Benefit Strat-Medifast)                    
42 Phil Gaimon ( U25 Development)                                  
43 Kirk Carlsen (Slipstream-Chipotle)                              
44 Jonathan Cantwell (Jittery Joe's)                               
45 Alessandro Bazzana (Successful Living)                          
46 Ryan Sullivan (Jittery Joe's)                                   
47 Christian Valenzuela (Successful Living)                        
48 David Veill1eux (Kelly Benefit Strat-Medifast)              7.20
49 Sheldon Deeny (U25 Development)                             7.27
50 Walker Savidge (Slipstream-Chipotle)                       12.21
51 Jesse Moore (Cal Giant Farms-Specialized)                  16.21
52 Ozzie Olmos (Cal Giant Farms-Specialized)                       
53 Kayle Leogrande (Rock Racing)                                   
54 Brian Jensen (Successful Living)                                
55 Nick Reistad (Jelly Belly)                                      
56 David Guttenplan (Time Pro)                                     
57 Uthman Ray IV (ZteaM)                                           
58 Blake Caldwell (Slipstream-Chipotle)                            
59 Ian MacGregor (Team Type 1)                                     
60 Eric Wohlberg (Symmetrics)                                      
61 Ken Hanson (Cal Giant Farms-Specialized)                        
62 Andrew Pinfold (Symmetrics)                                     
63 Will Routley (Symmetrics)                                       
64 Jacob Erker (Symmetrics)                                        
65 Justin Spinelli (Kelly Benefit Strat-Medifast)                  
66 Cody Stevenson (Jittery Joe's)                                  
67 James Gunn (5 Star Waste Vegetable Oil)                    26.55
68 Taylor Tolleson (BMC)                                      28.19
69 Michael Creed (Rock Racing)                                     
70 Jonathan Chodroff (U25 Development)                        35.18
71 Danny Finneran (THF Racing)                                36.41
72 Nolan Froese (THF Racing)                                       
73 Luis-Alejandro Zamudio (American RADD)                          
74 Matt Seagrave (Kahala-LaGrange)                                 
75 Adam Livingston (5 Star Waste Vegetable Oil)                    
76 Brian Dziewa (THF Racing)                                       
77 Evan Oliphant (Plowman Craven)                             38.59
78 Eric Barlevav (Time Pro)                                   41.02
79 Heath Blackgrove (Toyota-United)                           42.40
80 Matthew Crane (Health Net-Maxxis)                          44.45
81 Corey Collier (Health Net-Maxxis)                               
82 Justin Kerr (Liquid Cycling at 46:34)                           
83 Christian Kearney (ZteaM)                                  47.04
84 Scotty Tickemyer (THF Racing)                              47.20
85 Cody O'Reilly (Successful Living)                          47.33
86 Curtis Gunn (Successful Living)                                 
87 Henk Vogels (Toyota-United)                                51.39
88 Alex Higham (Plowman Craven)                               51.44
89 Bryson Perry (American RADD at 54:15)                           
DNS Shawn Milne (Team Type 1)                                      
DNS Cameron Evans (Symmetrics)                                     
DNF Alex Candelario (Kelly Benefit Strat-Medifast)                 
DNF Keven Lacombe (Kelly Benefit Strat-Medifast)                   
DNF Martin Gilbert (Kelly Benefit Strat-Medifast)                  
DNF Karl Menzies (Health Net-Maxxis)                               
DNF Frank Pipp (Health Net-Maxxis)                                 
DNF Kyle Gritters (Health Net-Maxxis)                              
DNF Matt Cooke (Health Net-Maxxis)                                 
DNF Victor Hugo Pena (Rock Racing)                                 
DNF Fred Rodriguez (Rock Racing)                                   
DNF Ben Day (Toyota-United)                                        
DNF Ivan Dominguez (Toyota-United)                                 
DNF Bryce Mead (Jelly Belly)                                       
DNF Bernard Van Ulden (Jelly Belly)                                
DNF Mike Lange (Jelly Belly)                                       
DNF Jeremy Powers (Jelly Belly)                                    
DNF Nic Sanderson (Jelly Belly)                                    
DNF Aaron Tuckerman (Jelly Belly)                                  
DNF Matty Rice (Jelly Belly)                                       
DNF Trent Wilson (Jittery Joe's)                                   
DNF Chad Hartley (Jittery Joe's)                                   
DNF Anibal Borrajo (Colavita Sutter-Cooking Light)                 
DNF Anthony Colby (Colavita Sutter-Cooking Light)                  
DNF Gustavo Artacho (Colavita Sutter-Cooking Light)                
DNF Moises Aldape (Team Type 1)                                    
DNF Fabio Calabria (Team Type 1)                                   
DNF Valeriy Kobzarenko (Team Type 1)                               
DNF Daniel Ramsey (Time Pro)                                       
DNF Tom Soladay (Time Pro)                                         
DNF Jered Gruber (Time Pro)                                        
DNF Rand Miller (ZteaM)                                            
DNF Maxime Vives (ZteaM)                                           
DNF Alex Boyd (Waste Management)                                   
DNF Nicholas Brandt-Sorenson (Liquid Cycling)                      
DNF Max Jenkins (Cal Giant Farms-Specialized)                      
DNF Mark Santurbane (Cal Giant Farms-Specialized)                  
DNF Francois Parisien (Symmetrics)                                 
DNF Andrew Randell (Symmetrics)                                    
DNF Jorge Alvarado (Kahala-LaGrange)                               
DNF Ben Sonntag (Kahala-LaGrange)                                  
DNF Markus Weinberg (Kahala-LaGrange)                              
DNF Stefano Barberi (THF Racing)                                   
DNF Brandon Gritters (5 Star Waste Vegetable Oil)                  
DNF Nate Deibler (5 Star Waste Vegetable Oil)                      
DNF Ryan Baumann (U25 Development)                                 
DNF Ted King (Bissell)                                             
DNF Benjamin Jacques-Maynes (Bissell)                              
DNF Omer Kem (Bissell)                                             
DNF Alejandro Cortez (CAICO)                                       
DNF Wendy Cruz (CAICO)                                             
DNF Alexander Gonzalez (CAICO)                                     
DNF Javier Zapata (CAICO)                                          
DNF Jeff Louder (BMC)                                              
DNF Nathan Miller (BMC)                                            
DNF Simon Gaywood (Plowman Craven)                                 
DNF Simon Richardson (Plowman Craven)                              
DNF Tom Barras (Plowman Craven)                                    
DNF Neil Coleman (Plowman Craven)                                  
DSQ Terrence Keenan (THF Racing)                                   
 
Final General classification
 
1 Santiago Botero (Rock Racing)                             8.22.43
2 Chris Baldwin (Toyota-United)                                0.54
3 Burke Swindlehurst (Bissell)                                 1.06
4 Rory Sutherland (Health Net-Maxxis)                          1.26
5 Dominique Rollin (Toyota-United)                             1.40
6 Oscar Sevilla (Rock Racing)                                      
7 Luis Alberto Amaran (Colavita Sutter-Cooking Light)          1.41
8 Justin England (Toyota-United)                               1.47
9 Tyler Wren (Colavita Sutter-Cooking Light)                   1.48
10 Peter Stetina (Slipstream-Chipotle)                         1.50
11 Niel Shirley (Jittery Joe's)                                1.51
12 Scott Nydam (BMC)                                           1.52
13 Tom Danielson (Slipstream-Chipotle)                         1.53
14 Chris Wherry (Toyota-United)                                1.54
15 Andrew Bajadali (Kelly Benefit Strat-Medifast)                  
16 Sebastian Haedo (Colavita Sutter-Cooking Light)             2.07
17 Tony Cruz (BMC)                                             2.11
18 Bradley White (Successful Living)                               
19 Jackson Stewart (BMC)                                       2.12
20 Chris Jones (Team Type 1)                                   2.15
21 Christian Meier (Symmetrics)                                2.26
22 Alejandro Borrajo (Colavita Sutter-Cooking Light)           2.35
23 James Mattis (Cal Giant Farms-Specialized)                  3.04
24 Brent Bookwalter (BMC)                                      3.27
25 Kiel Rejnen (Waste Management)                              3.28
26 Michael Grabinger (Successful Living)                       3.37
27 Tom Zirbel (Bissell)                                        3.43
28 David Frattini (Colavita Sutter-Cooking Light)              3.51
29 Adrian Gerrits (Kahala-LaGrange)                            3.58
30 Aaron Olson (Bissell)                                       4.25
31 Jorge Martinez (CAICO)                                      5.13
32 Steve Bovay (BMC)                                           5.51
33 Tyler Hamilton (Rock Racing)                                6.00
34 Danny Summerhill (Slipstream-Chipotle)                      6.23
35 Jeremy Vennell (Bissell)                                    6.34
36 Phil Gaimon (U25 Development)                               7.01
37 Daniel Bowman (Kelly Benefit Strat-Medifast)                7.17
38 Richard England (Bissell)                                   8.23
39 Alessandro Bazzana (Successful Living)                      9.04
40 David Clinger (Rock Racing)                                 9.06
41 Jonathan Cantwell (Jittery Joe's)                          10.13
42 Sheldon Deeny (U25 Development)                            10.29
43 Roman Kilun (Health Net-Maxxis)                            10.36
44 Christian Valenzuela (Successful Living)                   11.31
45 Evan Elken (Jittery Joe's)                                 12.25
46 Reid Mumford (Kelly Benefit Strat-Medifast)                13.04
47 Kirk Carlsen (Slipstream-Chipotle)                         14.20
48 Ryan Sullivan (Jittery Joe's)                              14.23
49 Eric Wohlberg (Symmetrics)                                 18.27
50 Jacob Erker (Symmetrics)                                   18.28
51 Brian Jensen (Successful Living)                           18.37
52 Kayle Leogrande (Rock Racing)                              19.17
53 David Guttenplan (Time Pro)                                19.59
54 Ian MacGregor (Team Type 1)                                20.18
55 Blake Caldwell (Slipstream-Chipotle)                       20.22
56 Uthman Ray IV (ZteaM)                                      20.37
57 Cody Stevenson (Jittery Joe's)                             21.05
58 Jesse Moore (Cal Giant Farms-Specialized)                  21.10
59 Will Routley (Symmetrics)                                  21.51
60 Ken Hanson (Cal Giant Farms-Specialized)                   22.01
61 Nick Reistad (Jelly Belly)                                 24.40
62 Walker Savidge (Slipstream-Chipotle)                       25.21
63 David Veill1eux (Kelly Benefit Strat-Medifast)             27.01
64 Andrew Pinfold (Symmetrics)                                28.14
65 Justin Spinelli (Kelly Benefit Strat-Medifast)             29.02
66 Taylor Tolleson (BMC)                                      32.01
67 James Gunn (5 Star Waste Vegetable Oil)                    32.08
68 Ozzie Olmos (Cal Giant Farms-Specialized)                  33.10
69 Michael Creed (Rock Racing)                                37.21
70 Adam Livingston (5 Star Waste Vegetable Oil)               39.02
71 Evan Oliphant (Plowman Craven)                             41.11
72 Heath Blackgrove (Toyota-United)                           44.32
73 Matt Seagrave (Kahala-LaGrange)                            46.18
74 Luis-Alejandro Zamudio (American RADD)                     46.30
75 Eric Barlevav (Time Pro)                                   48.35
76 Jonathan Chodroff (U25 Development)                        50.48
77 Matthew Crane (Health Net-Maxxis)                          51.30
78 Nolan Froese (THF Racing)                                  53.57
79 Justin Kerr (Liquid Cycling)                               54.08
80 Christian Kearney (ZteaM)                                  54.23
81 Brian Dziewa (THF Racing)                                  54.44
82 Danny Finneran (THF Racing)                                55.21
83 Curtis Gunn (Successful Living)                            57.59
84 Bryson Perry (American RADD)                               58.31
85 Henk Vogels (Toyota-United)                              1.01.33
86 Corey Collier (Health Net-Maxxis)                        1.01.56
87 Cody O'Reilly (Successful Living)                        1.02.01
88 Alex Higham (Plowman Craven)                             1.04.45
89 Scotty Tickemyer (THF Racing)                            1.12.04