First Edition Cycling News, March 22, 2009
Edited by Bjorn Haake & Les Clarke
Sanremo: Cavendish came and conquered
By Gregor Brown in Sanremo
Mark Cavendish wins Milano-Sanremo
Photo ©: Sirotti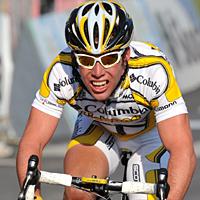 Mark Cavendish made a magical debut in Milano-Sanremo on Saturday, taking a bunch sprint to secure his first Classic title and become the third youngest winner in the race's history – Ugo Agostoni in 1914 and Eddy Merckx in 1966 were both 20.
Question: You won Milano-Sanremo at the first attempt. It took Mario Cipollini 13 times before he got the win. What did he say to you at the finish?
Mark Cavendish: "He came and congratulated me. He is a nice guy. I nearly made a mistake in California last year, but we worked it out over the winter when we trained together a few times. He is a nice guy. I know it [took him 13 years to win]. I know, I know... But I am sorry."
Q: What did Erik Zabel say to you at the end? You trained with him a lot in the days leading up to the race.
MC: "Erik came up to me and said he got this [a silver bracelet] as a gift when he won his first Milano-Sanremo. He gave it to me today. I can say that without his help I would not have won today. We did reconnaissance twice and I knew where I had to be at what time in the race's finale. You could see from the team's emotions that we knew it could work, and it did. It is a real special day for us both."
Cavendish had the help of the entire Columbia-Highroad team to achieve his win in one of only cycling's five monuments. Thomas Lövkvist, winner of Eroica Toscana a couple of weeks ago, led Cavendish and George Hincapie to the base of the Cipressa with 28 kilometres remaining. Hincapie took care of him through the finale, similar work to what he did in the final stage of the Tirreno-Adriatico.
Read the full feature about the young winner, and have your say about it on the Cyclingnews forum.
Haussler jumps Sanremo sprint
By Gregor Brown in Sanremo, Italy
Haussler gave it all, but missed it by a few centimetres
Photo ©: Sirotti

Heinrich Haussler nearly won Italy's Milano-Sanremo Saturday with the same finishing burst that won him stage two of the Paris-Nice a fortnight ago. The 25-year-old Cervélo TestTeam rider insisted his effort were for teammate Thor Hushovd.
"I came from behind with around 500 metres to go, but with too much speed," he said after his second place finish. "I yelled at Thor, 'Come on, get on my wheel,' and then I went. I was going too fast and he couldn't get on my wheel."
Haussler stormed down the right-hand side of Sanremo's Lungomare Italo Calvino. He caught all the big guns by surprise, and it was only Cavendish's last minute dash that spoilt his victory.
"I looked back and I saw bloody Cavendish coming. He was going really fast and my legs were just dying."
Fans and journalists were uncertain of the winner; for a moment it looked like Haussler, with three wins so far in 2009, had taken one of cycling's five Monuments. Despite mounted television screens displaying images of the photo finish, it was virtually impossible to tell the winner. Haussler dropped to the pavement when it was announced, "Mark Cavendish è il vincitore."
"Satisfied with second? Second place is the first loser. I know my form was good, but f**k."
Haussler began his season at the Tour of Qatar before winning two stages in Portugal's Volta ao Algarve and later doing the Belgian semi-classic weekend - Omloop Het Nieuwsblad and Kuurne-Brussel-Kuurne. At Paris-Nice he entered Sanremo calculations with an impressive stage win.
Discuss Haussler's performance on the Cyclingnews forum.
Cramps take Boonen out of Sanremo contention
By Gregor Brown in Sanremo, Italy
Tom Boonen (Quick Step) ended the day in 15th
Photo ©: Sirotti

A case of cramp prevented Tom Boonen contending the sprint finish in Milano-Sanremo Saturday. The dual Paris-Roubaix and Ronde van Vlaanderen champion blamed a 15th place on an insufficient amount of water and the weather.
"I had cramps on the Cipressa," the Quick Step rider said. "It does not happen often. It happened to me the first time I won Flanders, but then I could ride through it."
Quick Step had a strong team in place to deliver Tom Boonen to one of his season's goals. Sylvain Chavanel, Allan Davis and Matteo Tosatto were there for the 2005 world champion.
"I had to sit down on the Cipressa and then come back on the downhill. Tosatto took me back up, but I did not think I could win. Davis had the opportunity. Even in top shape I would have been third to Heinrich Haussler and Mark Cavendish, they were so strong."
Cavendish caught the early attack of Haussler at 350 metres from the finish line along Sanremo's waterfront and edged past Haussler to win in a photo finish.
"Was he a surprise? Yes. I saw him in Tirreno-Adriatico and he was dropped on the climbs, but today he was another person. I had to check his number to make sure it was him!"
Boonen will head back to Belgium to prepare for a third victory in his home race, Ronde van Vlaanderen, which takes place in two weeks.
"I will be fine for the Northern Classics. I need to keep an eye on Haussler, though. I thought he was past his peak, but apparently not."
Armstrong makes Euro return
By Gregor Brown
Lance Armstrong (Astana) going down the Poggio
Photo ©: Sirotti

Lance Armstrong made his return to racing in Europe Saturday with the Milano-Sanremo. The American finished in the second group which crossed the line eight minutes back, in 125th.
"It was fast," he told Cyclingnews before rushing away.
Team Astana looked intent on leaving a mark on the day's race with a strong presence over the race's new climb of Le Mànie. Seven of its men led on the 4.7-kilometre climb that left 85 kilometres to race.
"What a race! Fast, crazy, but great," he said later on his Twitter page. "My legs felt good. [I had a] bad position at start of the Cipressa, so my day was done."
Armstrong faded back after the Cipressa and then on the Poggio. The highest place Astana rider was Assan Bazayev.
It was Armstrong's eighth participation in the race, having finished 11th in 1996 before being diagnosed with cancer and subsequent comeback as a stage racer. The seven-time Tour de France champion is now back from a three-year retirement and building for the Giro d'Italia and the Tour de France.
"Good to get in close to 190 miles on the bike too... Congrats to Cavendish on a spectacular victory. Cool kid," Armstrong added on the popular website.
Both Mark Cavendish and Heinrich Haussler, who finishined first and second respectively, are over a decade younger than Armstrong. The American raced his first Sanremo when Cavendish was seven years old.
Cavendish commented that he was not surprised he did better on the day's climbs than the former victor of such climbs as L'Alpe d'Huez but admitted he had trained specifically for the race.
Armstrong now travels to Spain for the Castilla y León, March 23 to 27. He will race for the fist time with teammate Alberto Contador in their preparations for July's Tour de France.
Armstrong's Sanremo palmarès:
22nd in 1993
99th in 1994 as World Champion
73rd in 1995
11th in 1996
118th in 1999
108th in 2000
44th in 2002
125th in 2009
German scientists develop test to detect genetic doping
Scientists in Cologne, Germany, have developed a test to detect genetic doping. The test will detect GW1516, which has been added to the list of doping substances list year. GW1516 has been developed to fight obesity by stimulating fat oxidation.
The scientists have been working on the test for about a year. "The test is ready and we will be able to do genetic doping controls at the Olympics in 2012 and likely a lot earlier than that," Mario Thevis told Spiegel Online. Thevis is professor at the Deutsche Sporthochschule in Cologne.
The World Anti-Doping Agency (WADA) distinguishes two types of genetic doping, either the addition of foreign DNA or the concrete change of one's own DNA. GW1516 belongs to the latter category.
Thevis added that tests with animals showed that the substance increases one's endurance.
Redlands Bicycle Classic ready to go
By Kirsten Robbins
Rory Sutherland will want to win this year
Photo ©: Mitch Clinton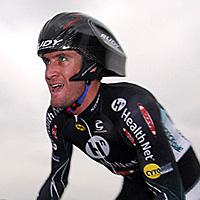 The Redlands Bicycle Classic is set to kick off on Thursday, March 26, in California. The event sets the stage as the first North American Racing Calendar (NRC) for the men and marks the second nationally-ranked event on the women's calendar while serving as the first event of the Women's Prestige Series.
More than 200 men are battling for the yellow jersey. The defending champion, Santiago Botero will not be returning to claim a second consecutive victory. The Colombian rider retired from cycling at the end of the 2008 season. There is a high caliber of competition ready to take his place.
Floyd Landis is one stand-out rider making a long awaited debut onto the NRC scene since returning to the sport following a two-year suspension. Landis led his California-based team OUCH p/b Maxxis at the Tour of California and will continue his leading role at the Redlands Bicycle Classic.
His teammate Rory Sutherland placed second last year and will be looking to improve to the top spot on the podium this time around. Other riders capable of taking the overall victory include Pat McCarty (OUCH p/b Maxxis), Ben Day (Fly V Australia p/b Successful Living), Jeff Louder (BMC), Darren Lill (Team Type 1), Luis Amaran (Colavita-Sutter Home), Ben Jacques-Maynes (Bissell), Calob Manion (Rock Racing), Andrew Bajadali (Kelly Benefits Strategies), Peter Stetina (Garmin-Holoweko Partners-Felt) and Jonny Clarke (Jelly Belly).
Riders vying for one day victories from a field sprint include US National Criterium Champion Rhassan Bahati (Rock Racing) and his teammate (Justin Williams), Alex Candelario (Kelly Benefit Strategies), Sebastian Haedo (Colavita-Sutter Home), Alessandro Bazzana (Fly V Australia p/b Successful Living), Andrew Pinfold (OUCH p/b Maxxis), Brad Huff (Jelly Belly), Frank Pipp and Kirk O'Bee (Bissell).
Read the full preview here.
Scharping re-elected as head of German federation
Rudolf Scharping was re-elected as President of the Bund Deutscher Radfahrer, the German cycling federation. He has served in that office since 2005.
Scharping received 399 of the votes, with the remaining 174 going to Dieter Berkmann.
Scharping, a former Minister for Defense, had recently been criticized by a number of cyclists and politicians, with many saying he was lax on the anti-doping front. He said that he was "torn apart" by criticism from mountain bike Olympic champion Sabine Spitz, who was against his re-election and called the BDR's anti-doping fight only "hot air".(SW)
Austrian team dismissed Kerschbaum
The Austrian Continental team RV ARBÖ Wels Gourmetfein announced that it has cancelled its contract with Christof Kerschbaum. The team said that "in all probability" Kerschbaum was the rider recently arrested for dealing in doping products.
The name of the person arrested this week has never officially been made public, although he has been identified in the press as "K", a 32-year-old rider who has performed well on the national level.
Kerschbaum has been with the team since 2007. The team management and teammates have been unable to contact him for several days, and he did not attend a mandatory press conference on Thursday.
"Now we know why," said Wilfried Luger, the club's chairman. "The club management has decided to immediately end our association with Christof Kerschbaum. We owe this to the young riders and their parents, the sponsors and club supporters as well as the many volunteers."(SW)
Introducing the Cyclingnews Forum
We're pleased to unveil the Cyclingnews Forum and we'd like to welcome you to drop by! To kick things off we've created a selection of folders based on the themes you're familiar with from our site, including one for all topics mountain bike related. We'll be adding more sections over the coming weeks as we find out which topics and sub-topics you, our readers, are talking about.
And we won't stop there. We'll also be improving the look and feel of the forums as we gear up for a total redesign of the site in a few months' time. All you have to do click on the link below and sign up.
Don't forget to let us know what sections or sub sections you want to see in the Forum, and stop by our about the website folder to see what's coming up in the future. For an extensive run down on features such as private message, avatars and profiling please click here.
(Additional editorial assistance from Susan Westemeyer)
Previous News Next News
(All rights reserved/Copyright Future Publishing (Overseas) Limited 2009)