Latest Cycling News, February 18, 2009
Edited by Bjorn Haake
Michael Rogers: struggle street makes way for the High Road
Michael Rogers on top of the time trial World Championships podium
Photo ©: Roberto Bettini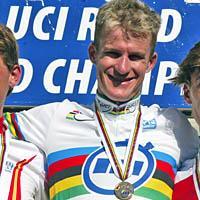 The last two years have been both tough and rewarding for Michael Rogers. Crashes and illness have been the low points. Starting a family and being part of a team that feels like one have been the highlights. It all adds up to a mature rider who knows his place is on the top step of the podium and one who knows the best way of getting there, as Cyclingnews' Les Clarke discovers.
Since his first Tour de France in 2003, Australia's Michael Rogers has been on the radar as a potential podium finisher in the world's biggest race. His ability to transfer the power he first developed as a raw track talent to the mountain stages of a Grand Tour has been a big drawcard for those interested in signing the 29-year-old born in Barham, in regional New South Wales.
That natural ability is reflected in his record in races against the clock. Rogers finished on the podium twice in the U23 time trial event at the world championships before going on to secure the senior title in the same discipline for three consecutive years - 2003 (Hamilton, Canada), '04 (Verona, Italy) and '05 (Madrid, Spain).
Add to this various national track titles, a Tour Down Under crown and a Commonwealth Games silver medal before his triple time trial success, and Michael Rogers was hot property for prospective employers.
Read the entire interview with one of the Australians's Tour hope.
Basso in the Golden State
Ivan Basso has updated his diary from California, where he is participating in the week-long stage race. In this latest instalment the former Giro winner questions the state's name, the Golden State:
I am here in the 'Golden State' of California but the weather has been gloomy since day one. It is just the same as the weather I left at home in Varese, Italy, but rainy as well.
The good side of it all is that I am going well and I think that my condition is already at a good level. I am right there with the others on the climbs. Overall the most important thing is that I am very happy with how I am doing.
Read Basso's entire take on California.
Serrano attacks CONI
Caisse d'Epargne rider Alejandro Valverde

The Madrid judge, Antonio Serrano, in charge of Operación Puerto says that CONI's actions in regards to obtaining the blood bag are "null and void." CONI has obtained the blood bags and compared the DNA to Alejandro Valverde. Valverde will have a hearing with CONI on February 19, at 17:00.
Serrano's comments were reported on Spanish press agency EFE. The statement went on to say that CONI had not obtained the necessary permission to proceed in the case.
The judge investigating Operación Puerto sent a clear message. "I am prohibiting exclusively for the acquired evidence to be used in the investigation by other parties, as is the case with Alejandro Valverde Belmonte."
Valverde's lawyer, Federico Cecconi, declared that the Spanish rider will be appearing before CONI regardless. "Valverde expressed his wish to go to Rome tomorrow and explain his position in Operación Puerto," Cecconi said.(AS)
Menchov building for Tour de France
Denis Menchov's goal is later in the year
Photo ©: Bert Geerts

Denis Menchov has no concerns over the 2009 Tour de France route. Counting on the support of his teammates, the former Vuelta winner and Rabobank leader believes the profile of the race is no different than previous editions of the event .
Interviewed on the team's website, rabosport.nl, the Russian said that the winter went well for him. "I am not in super from yet, but that wasn't the plan." The Russian will count on a better team this year. "The young riders have improved again and our new hires will surely strengthen our team."
To build up to the Tour, the 31-year-old will ride Murcia, Castilla y León and Romandie, followed by the Giro d'Italia, in which he finished fifth last year. In June, the Dutch ProTour team will hold a training camp to prepare for the Tour. "I am riding a similar programme to last year," Menchov said.
He has opened his season with the Vuelta a Andalucía , which is currently underway until February 19. Although he says he has not had, "a particularly good day," he goes into Wednesday's third stage in 18th place, only 17 seconds down. "However, I am still building my strength and this is more of a training week."(SW)
Amstel Gold wild cards to Cervélo and Landbouwkrediet
The Amstel Gold Race has issued its final wild card invitations to Cervélo TestTeam and Landbouwkrediet-Colnago. The earlier wild cards went to Skil-Shimano, Vacansoleil and Topsport Vlaanderen. The five Professional Continental teams will join the 18 ProTour teams, who have automatic invitations.
The wild card invitations mean that two previous winners, Davide Rebellin and Danilo Di Luca, will not be at the race. Rebellin, who won in 2004, now rides for Diquigiovanni, while Di Luca, winner in 2005, is with LPR Brakes. Neither team was invited.
This year's Amstel Gold Race is scheduled for Sunday, April 19, and will feature 23 teams with a total of 182 riders.(SW)
Romero won't defend World Championship title
Rebecca Romero (Great Britain) will not defend her pursuit title
Photo ©: John Pierce

There will be a new world champion in the women's individual pursuit race in Pruskow, Poland, next month. Defending champion Rebecca Romero has decided to skip the race. She will, however, continue her cycling career, according to endurance coach Dan Hunt.
At the Beijing Olympic Games she beat Wendy Houvenaghel to win the gold medal in the individual pursuit event. In the 2004 Games in Athens she finished second in the rowing competition.
Rumours started after Beijing that she may try to medal in a third sport. But her main goal is to deliver a gold medal for Great Britain in the 2012 Olympics in London, and cycling offers her the best chance.
Women's endurance coach Hunt confirmed to Cycling Weekly she still won't compete in her first event since the Olympics. "We'll not see her at the Worlds," he said. "But it's absolutely not the last we'll see of her on the track.
"We have decided we would have a little bit of time away, chill out, gather thoughts and then we can build again.
"We expect a lot from these riders and after what we did with 'Becks', working for two-and-a-half years absolutely flat out, we recognise you can't carry on at that level and keep peaking. It's unreasonable to expect an athlete to be at their absolute best for that length of time, so a bit of time out will do everyone good."
Houvenaghel missed the Copenhagen World Cup due to her road training but is ready to go to Poland.
O'Loughlin to make An Post debut in Tour of Algarve
David O'Loughlin will make his road debut in Portugal
Photo ©: An Post Sean Kelly Team

David O'Loughlin will make his debut for the An Post Sean Kelly team in tomorrow's five-day Tour of Algarve (February 18-22). He was still racing track events, including the World Cup race in Copenhagen last weekend, where he won silver in the individual pursuit.
O'Loughlin is looking forward to switching his attention to the road. "My confidence is high after my recent performance in Copenhagen on the track and I've known for quite a while that this would be my debut for the An Post team so I've been looking forward to it," O'Loughlin said.
"We have a strong team of riders here and hopefully we can continue the early form that the rest of the team has shown from the two opening races this year, but it is a tough four days ahead of us."
O'Loughlin will be joined by fellow Irishmen Paidi O'Brien and Stephen Gallagher, along with five Belgian riders.
The An Post Sean Kelly team will head to the Tour of Algarve with: David O'Loughlin, Stephen Gallagher, Paidi O'Brien, Niko Eeckhout, Jef Peeters, Kenny Lisabeth, Benny De Schrooder and Steven Van Vooren
Van Bon and Lampater lead final Six Day of the season
Leon van Bon and Leif Lampater lead the final Six Day race of the season in Hasselt, Belgium (February 17-22). After the first night the Dutch-German duo has 75 points. They are equal on laps with four other teams. Closest on points are Tim Mertens / Franco Marvulli (62) and Kenny de Ketele / Bruno Risi (60).
Van Bon and Lampater won the elimination and scratch races to earn their top placing but with five nights left the race is far from over. Racing will resume tonight in the Ethias Arena in Hasselt.
Full results for day one are here.
More overseas teams announced for women's Tour of New Zealand
Five more teams have confirmed their participation of the women's Tour of New Zealand, February 25-27. Race Director Jorge Sandoval announced the additions of the National teams from China, Japan and New Zealand, as well as Champion Systems Cycling team and the New Zealand-based Cyclosport team.
This is adding to the 41 Australians already registered. The New Zealand national team is led by Joanne Kiesanowski, professional at the US-based Tibco team. Supporting Kiesanowski are Emma Peterson, Serena Sheridan, Toni Bradshaw and Karen Fulton.
Australian hill climber Ruth Corset will lead the Champion Systems Pro team. Corset finished second on the stage up Admiral Hill in the 2008 tour, beaten by eventual tour winner Kristin Armstrong. Corset Canadian rider Steph Roorda, American pro Dotsie Baush and kiwi riders Malindi MacLean and Lauren Ellis will support Corset.
The Chinese team comes with a strong team, including 2007 Asia Championships Road Race champion Lang Meng, Yong Li Liu, Xiao Mei Huang, Min Gao, Li Chen and Fei Wang.
Sandoval is thrilled that more and more international teams are making their way to Wellington every year for the event. "We've got a fantastic field with lots of different experience and style. Riders who come here go home speaking highly about our tour and organisation - and this encourages even more overseas teams to come.
"The Japanese team has been in a training camp for the past two weeks in Japan preparing for our event. The New Zealand Tour is already looking like being bigger and better than last year, and that's fantastic for everyone involved."
A total of 70 riders in 14 teams will start the only international women's cycling event in Oceania next Wednesday 25 February.
The New Zealand Tour finishes on Friday 27 February, and on Sunday, riders take part in the Women's International Cup of Cycling in a 9km circuit in the city of Masterton.
(Additional editorial assistance from Susan Westemeyer and Antonio J. Salmerón)
(All rights reserved/Copyright Future Publishing (Overseas) Limited 2009)