First Edition Cycling News, March 6, 2009
Edited by Laura Weislo
Henderson tops on shortened stage in Murcia
Greg Henderson
Photo ©: Team High Road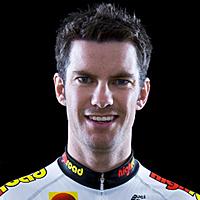 Team Columbia's Greg Henderson grabbed the sprint victory and the overall lead in the Vuelta Murcia on a stage which was drastically shortened due to high winds on Thursday. The New Zealander bested Euskaltel-Euskadi's Ruben Perez and countryman Julian Dean (Garmin-Slipstream), taking the overall lead from the shoulders of Australian Graeme Brown of Rabobank.
Normally, the 175-kilometre route would not have been the domain of the sprinters as it featured the Alto de San Juan, a category one climb which rises to 1,227m, but organisers were forced to skip the climb shorten the stage and due to wind gusts of up to 90km/h.
At first, the race jury planned to cut out the climb, leaving about 100km of racing, but the strong, gusty winds, rain and even hail caused them to neutralise all but the final three kilometres of the stage.
"We raced for about 50 kilometres but then it got very windy and guys were getting blown off the road, so the organisers decided to neutralise most of the stage," Henderson explained. "They then told us that the racing would start again just three kilometres from the line. When we reached that point of the course, everybody knew that was when racing would start so there'd been a lot of fighting for position beforehand. On top of that it had just started to rain and the road surfaces weren't brilliant, so it was all very tense."
Coming up on
Cyclingnews will cover the 60th edition of the Dauphiné Libéré live as of stage 4 on Wednesday, June 10, at approximately 15:00 local Europe time (CEST)/ 23:00 Australian time (CDT)/ 9:00 (USA East).

WAP-enabled mobile devices: http://live.cyclingnews.com/wap/
"I took one right-hand curve well," added Henderson, "and then was about fifth or sixth back coming into a second bend, a sharp left-hander, with about 350 metres to go. Me and Hoffie [sports director Tristan Hoffman] had looked at the route book during the stage to get an idea of the finish and he'd told me to take this corner full gas. It was only when I came into the corner in fifth or sixth place at full gas and noticed at the last moment that everybody else was braking that I got worried!"
Henderson held on to take the stage comfortably and don the overall leader's jersey, but he is uncertain whether he will be able to maintain his standing in Friday's 16km time trial.
"I'll do my best to defend the lead in the time trial tomorrow. Even though time trialing is not really my thing, I'll give it 100 percent and see what happens."
See also the full results of the Vuelta Murcia stage two.
Dekker building toward Classics
By Shane Stokes
Thomas Dekker and Marc Wauters
Photo ©: Roberto Bettini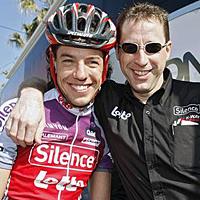 After taking fifth in both Amstel Gold and Flèche Wallonne last year as well as sixth in Liège-Bastogne-Liège, Dutch rider Thomas Dekker is building form towards what he is hoping will be a successful Classics campaign.
The 24-year-old Silence-Lotto rider checked out the route of Milano-Sanremo this week and, even if he doesn't think the race fully suits his characteristics, he believes that this and subsequent events will help him hone his condition.
"Of course, Milano-Sanremo is a really nice race, but it is not really the perfect race for me," he admitted to Cyclingnews on Thursday. "It is quite nervous, and normally the sprinters are still there at the finish. For the past ten years they have shown that they can also go really fast uphill.
"But it is a really nice race anyway, and it is also good for me to ride in preparation for the Spring Classics."
Following long disagreements – rumoured by some media as being at least partially related to the biological passport – Dekker and his previous team Rabobank mutually ended their association last August. He had a long time away from competition and used this time to build good condition. However a crash at the start of the year set things back somewhat, and he is still trying to catch up.
"I had a good winter and everything went okay," he explained. "For the first time in seven years I changed teams, going to Silence-Lotto. I didn't race from last August so I trained a lot instead.
"Things went okay, I started in the Etoile de Bessèges in France. But on the second day I crashed quite badly and I had some problems. I lost a little bit of form because I couldn't train for a while after the crash, then I had a stomach problem and I was on antibiotics for seven days."
Once recovered, he resumed training and then rode the Vuelta a Andalucía/Ruta del Sol. As he expected, his condition was lower than would otherwise have been the case but he'll use Tirreno-Adriatico and Milano-Sanremo to get in more racing kilometres.
"I hope I will be ready for Tirreno," he said, speaking about the race he won overall in 2006. "I am not in the shape I would like to be in…normally I would be going there aiming for the victory or a good classification placing, but I'm not sure how my condition is going. We will see how things go."
Following that and Milano-Sanremo, he will race Settimana Coppi-Bartali and the Vuelta al País Vasco (where he was third last year), then hit his first big targets of the season, the trio of Amstel Gold, Flèche Wallonne and Liège-Bastogne-Liège.
Grand Tour focus
After that, he'll be completely zoned in on getting ready for the month of July. "For sure, I want to be in really good shape for the Tour de France," he affirmed. "I hope I can do my work for [Cadel] Evans and maybe something for myself also. I will try to go for the classification as much as is possible."
Last year's race was one where Evans was isolated, often left without strong backup close to the finish of stages. Silence-Lotto had chosen not to retain Chris Horner, and Yaroslav Popovych was not on form; Evans ultimately lost out to the stronger collective firepower and tactical play of the CSC- Saxo Bank team.
Dekker thinks that this year's race is going to be more predictable, implying that it will be less about marking all the moves than about keeping tabs on one team in particular.
"I think that tactically it is going to be an easy Tour de France, because Astana has a really strong team with Contador, Armstrong, Leipheimer, Klöden, Popovych and guys like that," he said. "There is a prologue of 15 kilometres in Monaco; that is going to make the first differences in the general classification, but then after that there is also a team time trial. Astana is a really strong team… we also have a strong team, but not quite with riders like that. But I hope we can do a good team time trial."
He seems clear that a lot of the responsibility will be left on the shoulders of the Kazakh-backed squad. "I think we will ride three weeks behind the Astana guys because they are so strong. But at the end of it all, I hope that Evans is on the podium and that I can also have a good classification position."
UCI announce Schumacher decision on Friday
The International Cycling Union (UCI) will wait until a press conference on Friday to announce its decision regarding the possible suspension of German Stefan Schumacher. The winner of two stages of last year's Tour de France tested positive for the Erythropoietin (EPO) variant CERA in analyses done on blood samples last fall. The French anti-doping agency (AFLD) gave Schumacher a two-year suspension last month, but it is up to the UCI to enforce the ban outside of France.
Schumacher has denied having used the drug, unlike his former teammate Bernhard Kohl, who confessed and was suspended. Schumacher's attorney argued that the blood samples had been opened before the post-Tour analysis and that because there was no 'B' sample, there is no way to prove the positive wasn't a result of contamination.
According to the German news agency dpa, the UCI president Pat McQuaid and AFLP president Pierre Bordry will give a press conference in Paris prior to the start of Paris-Nice and make an announcement then.
Valverde wants the evidence
Alejandro Valverde has asked the anti-doping prosecutor of the Italian Olympic Committee (CONI) to send the evidence against him to the authorities in Spain, who his lawyers say are the only ones who have jurisdiction in this case, EFE reported Thursday.
His attorney Federico Cecconi sent a 21-page document to CONI Thursday morning to counter allegations that Valverde was involved in the blood doping clinic of Eufemiano Fuentes which was the center of the Operación Puerto investigation. One day prior to Valverde's deadline to respond to CONI, March 6, they requested the evidence be sent to the Spanish cycling federation (RFEC) and the court for sport.
Valverde was called to appear before the CONI in February, where he was also put under a criminal investigation for alleged DNA links between blood samples taken by the Italians during the 2008 Tour de France and those they obtained from the evidence in the Operación Puerto case.
The document argued that the CONI cannot prosecute its case because it has not specified "a time and place" where Valverde committed an offense, and cannot prove that he committed any crime on Italian soil. The lawyers also argued that he cannot be accused under the violation "of Article 2.2 of the World Anti-Doping Agency (WADA) code and part 2.11 of the Italian anti-doping rules," since those standards did not exist during the time Fuentes' clinic operated.
The CONI must now respond to the Spaniards' allegations and can either close the case or proceed with the charges and a sporting sanction, but there is no deadline set for an action.
Gerlach giving new meaning to 'clean cycling'
By Laura Weislo
On the neutral roll-out, Gerlach mugs for the camera
Photo ©: Amore e Vita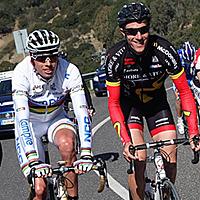 American Chad Gerlach is back in the pro peloton after a five and a half year absence, and his return is giving a new meaning to the term 'clean cycling'. While cycling and drugs have unfortunately become synonymous, Gerlach's poison wasn't EPO, steroids or any other performance enhancing drug, it was crack and booze. His amazing story is told in detail in our latest feature.
A pro from 1995 until he succumbed to addiction in 2003, Gerlach spent most of the past six years drinking, using drugs and living on the streets in Sacramento, California. But with the help of his friends and family and a television show called "Intervention", he got into rehab and cleaned up his life.
His former teammate, Roberto Gaggioli, a director for the Amore e Vita team, was eager to help the 35-year-old get back on the bike after seeing him o the program. The team's owner, Ivano Fanini and his manager, son Cristian, were more than willing to give Gerlach a chance.
The Fanini family did the same for Valentino Fois, a former teammate of Marco Pantani who had also suffered from addiction problems. Sadly, Fois died in March of last year before he could complete his return to form.
Cyclingnews spoke to Gerlach, who just participated in his first two professional races in six years, the Giro della Provincia di Grosseto and Giro di Sardegna. He enjoyed the experience of racing alongside the world champion, Alessandro Ballan.
"I was getting photos taken with Ballan – and I was joking with the guys that I'm a tourist. The guys don't know what to make of me. They all know who I am. The Italian public is sort of in awe of my story – that I was on the street and now I'm racing with these guys. Nobody yells at me in the pack, they just kind of let me ride around. Like, 'be careful, we don't want him to relapse'," Gerlach laughed.
Jokes aside, cycling has proven to be a dangerous place for people with fragile mental states. Just look at Pantani, Jose Maria Jimenez, Graeme Obree, Frank Vandenbroucke. But Gerlach said he felt happy with his new team and confident in his rehabilitation.
"Cycling is not a good place for someone who doesn't have a strong mind, or someone who still feels the pull of drugs and alcohol. I think for me right now, I kind of got past the mental obsession to drink and use – it's gone away."
He knows that despite all the attempts to clean up the sport, performance enhancing drugs are still a "major problem", but at Amore e Vita-McDonald's, the message to live a clean life – sporting or otherwise – has gotten through. "I just try not to think about what's going on outside our team. Our message is obviously anti-drugs, and my case was good for that."
Ironically, Gerlach said he knew a lot of people were doing EPO back in the late '90s, and he could have easily gotten access to the drug, but he was afraid to even try it.
"Go figure, I was scared to take performance enhancing drugs. It's so funny to say this, but I was afraid of what it would do to my heart, my cardiovascular system, but then I'd get jacked up on crack. It doesn't make much sense. I think it has to do with my conscious – I wanted to be fair."
Sure, he might have dabbled in using some ephedra back in the day, but Gerlach sees a big difference between using a stimulant and blood transfusions and EPO. "Every cyclist takes a stimulant once in a while, that's like normal. To abuse that or to take something like a blood transfusion – that's just nutty.
"People who use drugs to get better at sports are idiots."
After a short rest following the Italian stage races, Gerlach is scheduled to resume racing in Northern France later this month.
Read the full interview.
Kelly Benefit Strategies pro team launch
By Peter Hymas
Jonathan Sundt presents a signed team jersey
Photo ©: Circuit Global Sports Management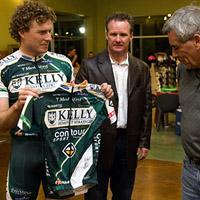 The Kelly Benefit Strategies pro cycling team officially launched their 2009 season February 26 in San Antonio, Texas at Bike World, one of the nation's largest Trek dealers. The third-year UCI Professional squad had already spent nearly 14 days in San Antonio, putting in sun-drenched 30+ hour weeks on the bike prior to the Thursday evening team presentation.
Todd Gogulski, race announcer and former professional cyclist, first spoke to the assembled media, VIPs and fans about the professional squad's origin in 2007, highlighted by its stunning victory in the US Professional Criterium Championships, the only time it's been won by a first-year team.
Gogulski continued with the team's 2008 palmarès including victories at the Tour of Pennsylvania, the Tour of Elk Grove, the Kelly Cup, the team sponsor's own race in Baltimore, MD and the final stage of the Nature Valley Grand Prix, near the team's home base of Minneapolis, MN before calling the team, its managers and two of its key sponsors out onto the floor.
The fifteen-rider squad, nearly all North American, returns seven members from last year's team while signing eight new riders for 2009. Both the returning riders and new additions are a mixture of seasoned veterans and upcoming, young talent, six of whom are 21 years of age or younger. Andrew Bajadali, Dan Bowman, Alex Candelario, Jake Keough, Reid Mumford, Jonathan Sundt and David Veilleux return from the 2008 lineup.
New for 2009 are three Canadian riders from Symmetrics, Ryan Anderson, Zachary Bell and Jacob Erker, Neil Shirley from Jittery Joe's, Scott Zwizanski from Bissell as well as three young neo-pros, Cheyne Hoag, Shane Kline and Clay Murfet. Hailing from Australia, the 20-year-old Murfet is the lone, non-North American rider.
Team Manager Jonas Carney spoke about this year's roster. "This is our third year, this is my fourth year directing, and I've never been so happy with a group of riders," said Carney. "It's the first time I feel that every single rider we've brought to the team is exactly who I wanted to get and I think this is going to be a breakthrough season for us. We don't have any weak links this year."
Carney discussed the importance of young riders to Kelly Benefit Strategies' program. "It's really tough to sign good, young riders these days because there are so many teams looking for them," said Carney. "Riders like David Veilleux, Jake Keough, Shane Klein and Cheyne Hoag are a big part of our team. We plan on being around for a long time and we plan on these riders leading the team when some of the older riders are ready to move on. We're always going to have about five guys who are 21 and younger and it's part of our plan to be the best team in America in a couple of years."
Carney talked about the team's race priorities, including events in the mid-Atlantic states close to their title sponsor's Baltimore headquarters, races in Minnesota where the team's management, Circuit Global Sports Management, and other sponsors are based, the nation's premier races such as the Philadelphia International Classic and the professional road and criterium championships, plus some international events, such as the Tour of Uruguay and the Tour of Thailand, to garner race fitness and international experience which can be put to use in the American peloton.
John Kelly, president of Kelly Benefit Strategies, a company which assists employers to design, manage and administer their benefit plans, spoke about his sponsorship of the team.
"We're involved in cycling for a variety of reasons," said Kelly. "I think it embodies the values of our company: hard work, discipline, team work. It's a unique combination of humanity and technology that create efficiency. Finally, it promotes good health. When you look at the health care crisis in America today, 75% of the cost of health care can be attributed to self-preventable disease. We want to take on the health care crisis by promoting wellness with these athletes and this team."
Also see a full gallery of images from the launch.
Frigo given suspended sentence
The Attorney General of the Chambéry Court of Appeal handed down a one year suspended prison sentence to former Italian rider Dario Frigo on Thursday. The winner of the 2001 Paris-Nice was arrested during the 2005 Tour de France after performance enhancing drugs were found in his wife's car.
The ruling extends a sentence given to Susanna and Dario Frigo in September 2008, of a six-month suspended sentence with a joint fine of 8757 euro. The pair had appealed that decision.
The judge also requested a token one euro in damages to the French Cycling Federation (FFC).
USA Cycling sends four to track worlds
USA Cycling will send four riders to the upcoming 2009 UCI Track World Championships in Pruszkow, Poland, March 25-29. Headlining the team will be Taylor Phinney, who broke two national records at the Copenhagen World Cup last month. He clocked in a 4:15.223 in the 4km pursuit and a 1:01.641 in the kilometre time trial. Both efforts earned him an automatic start at the world championships.
The 18-year-old phenom will also compete in the omnium, a five-race event which consists of a 200-meter time trial, a 7.5-kilometre scratch race, a 15-kilometre points race, a 3,000-meter individual pursuit and a kilometre time trial.
The men's mass-start endurance races will be contested Daniel Holloway and Colby Pearce. The two will team up for the Madison, while each will also contest an individual event – Holloway the scratch race and Pearce the points race.
Shelley Olds is the lone women's selection. After winning a bronze medal in the points race at the World Cup finale last month, Olds earned a discretionary selection to compete in both the points and scratch race events.
(All rights reserved/Copyright Future Publishing (Overseas) Limited 2009)