U.S. National Criterium Championships - NE
Downer's Grove Village, Illinois, USA, August 18-19, 2007
Main Page Results Overall standings Stage Details Previous Stage
Stage 5 - August 19: USPRO National Criterium Championships,
Gilbert nets huge win for first year team
By Mark Zalewski, North American Editor in Downers Grove, Illinois
O'Bee adds second crit jersey to closet
It was anyone's guess on the line but Martin Gilbert (Kelly Benefit Strategies)
Photo ©: Jon Devich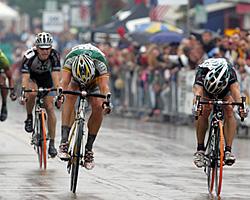 Kelly Benefits/Medifast's team director Jonas Carney has raced on the Downers Grove USPRO criterium championship course so many times that he really should write a book on how to win here -- or maybe on how not to lose. Not only did he give pointers to the 20 year old who won the elite amateur men's race, but his pro team controlled the last laps of the race with seven riders to set-up Canadian Martin Gilbert for the sprint win, just in front of American Kirk O'Bee (Health Net-Maxxis) who claimed his second stars and stripes jersey here.
"There are some things you can do to minimize your chances of crashing in the final lap," said Carney, who finally pulled off the win here in his final year as a pro. "You are not going to automatically win but you increase your chances. I made the mistakes ten years ago -- like ending up with two corners to go in twelfth place and not being able to make it up."
Carney went so far as to pre-ride the course with the team's newest edition Kevin Lacombe, showing him the important spots as he was tapped to be the set-up an for either fellow Quebecor Gilbert or American Dave McCook. "I told Jonas that he was fast," said Gilbert who was responsible for getting Lacombe on the team. "He was my teammate back in Quebec. He was the last guy and led it out for me. But every guy on the team did great for me today."
The Kelly Benefit Strategies/Medifast
Photo ©: Kurt Jambretz

Challenging Gilbert all the way to the line was Health Net-Maxxis' Kirk O'Bee, who was trying desperately to make up the ground on Gilbert from the final turn up the hill to the finish. "I just let Gilbert have too much room but I wanted to be safe," said O'Bee.
Health Net was clearly going for the jersey today as O'Bee's lead out man, Tassie Karl Menzies, gapped the American in the final two turns. Menzies' monster acceleration past Gilbert allowed him to slot into the gap in front of O'Bee, which he rode to the final turn. "From ten to go I was on [Menzies'] wheel and he kept me out of trouble," said O'Bee. "When he jumped I couldn't even go with him! With two turns to go he jumped and I let Gilbert in front of me. I was okay with that because I looked back and I knew I had the jersey."
Gilbert jumped on the opportunity and rode it all the way to the victory. "A Health Net guy [Menzies] passed me so I just took his wheel and passed him in the final turn to take the lead. I had a pretty small gear because I didn't know what to take here, but it ended up being enough."
How it unfolded
Slipstream/Chipotle did lots of work
Photo ©: Jon Devich

The rain soaked race was riddled with crash after crash, turning into a race of attrition. In some instances teams only had three or four riders left for the finale. Toyota-United only had two riders left and sprinter Ivan Dominguez out at the mid-race point. Much of the reason for this was hard-riding by defending champion Brad Huff's Slipstream-Chipotle team early in the race, with the strategy of capitalizing on riders trying to cruise on the back.
"I had an incredible team -- we only had six guys but rode like we had ten!" said Huff. But he and teammate Mike Friedman, both riding well, were on the wrong side of luck today. "It's just a hazardous condition day," said Huff. "It's not unlucky so much as when it is going to happen. People get the hero effect and feel like they are going to win, and not keep it safe. There are times to take risks when it is dry, but not when it is wet."
Friedman, riding well after a second place at the Tour of Elk Grove, was at the front for most of the day today. "With four laps to go I was feeling good and on the right train," he said. "All I had to do was let Brad come up to me. But for some reason I went through a turn just a half kilometer too fast and went down."
Late in the race, the Kelly Benefits/Medifast team was the only team to take any semblance of control -- though it was more than just a semblance with seven riders.
"Last week we rode a train for 18km and McCook just got beat by Freddie Rodriguez so I knew the guys could do it," said Carney. "The sprint it going to be a crap shoot no matter what you do. But it wasn't for show, it was to keep the guys safe and to give them an arm chair ride."
Trying to upset that rhythm was another French Canadian, Dominque Rollin (Kodak Gallery-Sierra Nevada), jumping out on a surprise solo attack with less that five laps to go. A surprise as Rollin is the team's designated sprinter. However, the frequency of crashes canceled out any patience he had to stay in the pack. "I know I should have stayed in the field but I got nervous ," he said. "I saw with six laps to go I almost crashed into a guy who hit his head. I know I am a sprinter but I felt everything was going too slow and that nobody could follow me in those corners. I attacked and got five meters -- by the next corner I had fifty. Unfortunately the guy from Navigators caught me and slowed it down in the corners and that cost us."
Dominique Rollin (Kodak/Sierra Nevada)
Photo ©: Jon Devich

But the Kelly Benefits team did not panic, and let Rollin have enough rope to hang himself. "I saw Dominque going -- he is a good friend," said Gilbert. "But we all stayed calm and caught him at the end. He is a good contender for the sprint so that was good for us to see him off the front."
Into the final lap it was still Kelly Benefits on the front, though with understandably dwindled numbers. Only Lacombe was left to escort Gilbert, and he did all he could. "I was really well positioned -- I was second behind Kevin coming down the hill, and he died between turn 6 and 7."
Ready to pounce on the moment was Health Net-Maxxis with Menzies leading out O'Bee. But the lead out was too fast and Gilbert was the beneficiary instead of the American O'Bee. Menzies saw this starting to happen, sitting up after the final turn to yell into his radio for O'Bee not to wait any longer. But as soon as Menzies got the 'GO, GO, GO!' out he was slammed into from behind by the rest of the field exiting the turn at full sprint -- causing a massive pile-up that put the icing on the crash-tastic day.
Photography
For a thumbnail gallery of these images, click here
Images by Jonathan Devich/epicimages.us
Images by Kurt Jambretz/Action Images
Results
1 Martin Gilbert (Can) Kelly Benefit                2.17.44
2 Kirk O'Bee (USA) Health Net presented by                 
3 Shawn Milne (USA) Health Net presented by                
4 Alex Candelario (USA) Jelly Belly                        
5 Antonio Cruz (USA) Discovery Channel Team                
6 Ben Raby (USA) Kodak/Sierra Nevada Brewing               
7 Evan Elken (USA) Jittery Joe's Pro Cycling               
8 Bobby Lea (USA) Toyota-United Pro Cycling                
9 Jake Rytlewski (USA) Rite Aid Cycling                    
10 Robert King (USA) Priority Health Cycling Team          
11 Tommy Nankervis (Aus) Jittery Joe's Pro Cycling         
12 Oleg Grishkin (Rus) Navigators                          
13 Garrett Peltonen (USA) Priority Health Cycling Team     
14 Darren Lill (RSA) Navigators                            
15 Ian MacGregor (USA) Slipstream-Chipotle                 
16 Neil Shirley (USA) Jittery Joe's Pro Cycling            
17 Mark Walters (Can) Kodak/Sierra Nevada Brewing          
18 Morgan Schmitt (USA) Priority Health Cycling Team       
19 Scottie Weiss (USA) AEG-Toshiba-Jetnetwork              
20 Daniel Holt (USA) Nerac Pro Cycling                     
21 Josh Thornton (USA) Kodak/Sierra Nevada Brewing         
22 Sean Sullivan (Aus) Toyota-United Pro Cycling           
23 Keven Lacombe (Can) Kelly Benefit                       
24 Andrew Bajadali (USA) Jelly Belly                       
25 Bernard VanUlden (USA) Navigators                       
26 Chris Wherry (USA) Toyota-United Pro Cycling            
27 Jonathon Clarke (Aus) Colavita Olive Oil/Sutter Home    
28 Chris Frederick (USA) AEG-Toshiba-Jetnetwork            
29 Charles Dionne (Can) Colavita Olive Oil/Sutter Home     
30 Doug Ollerenshaw (USA) Health Net presented by          
31 Gustavo Artacho (Arg) Colavita Olive Oil/Sutter Home    
32 Yosvany Falcon (Cub) AEG-Toshiba-Jetnetwork             
33 Dan Timmerman (USA) Kodak/Sierra Nevada Brewing         
34 Richard England (Aus) Priority Health Cycling Team      
35 Ken Hanson (USA) BMC Racing                             
36 Heath Blackgrove (NZl) Toyota-United Pro Cycling        
37 Matthew Rice (Aus) Jelly Belly                          
38 Scott Zwizanski (USA) Priority Health Cycling Team      
39 Rory Sutherland (Aus) Health Net presented by           
40 Tim Johnson (USA) Health Net presented by               
41 Ian McKissick (USA) BMC Racing                          
42 Graham Howard (USA) Priority Health Cycling Team        
43 Rahsaan Bahati (USA) Rock Racing                        
44 Dominique Rollin (Can) Kodak/Sierra Nevada Brewing      
45 Jeremiah Wiscovitch (USA) Rock Racing                   
46 Frank Pipp (USA) Health Net presented by                
47 Edward King (USA) Priority Health Cycling Team          
48 Emile Abraham (Tri) Priority Health Cycling Team        
49 Alejandro Borrajo (Arg) Rite Aid Cycling                
50 Karl Menzies (Aus) Health Net presented by              
51 John Murphy (USA) Health Net presented by               
52 Todd Henriksen (USA) AEG-Toshiba-Jetnetwork