Nature Valley Grand Prix - NE
Minnesota, USA, June 11-15, 2008
Main Page Results Overall standings Stage Details Previous Stage
Stage 6 - June 15: Stillwater Criterium
Veilleux victorious in Stillwater; Sutherland claims overall
By Kirsten Robbins in Stillwater, Minnesota
David Veilleux (Kelly Benefit Strategies/Medifast)
Photo ©: Matthew Moses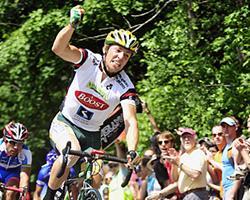 A depleted field of just 25 riders exploded up Chilkoot Hill, a massively steep 22% gradient, to contest the final sprint of the Nature Valley Grand Prix. Youngster David Veilleux (Kelley Benefit Strategies-Medifast) showed his class and a clean pair of wheels, taking the final stage ahead of overall winner Rory Sutherland (Health Net-Maxxis) and Ricardo Escuela (Successful Living).
"HealthNet was working really well in front so I decided to settle down and wait for the sprint at the end," said the Boost Best Young Rider Veilleux, a neo pro who has been consistently impressing the professional peloton. "I was so focused on the line in going for the win and I really didnít know I could win this stage."
"I just left it in the big ring and was slowly approaching the line hoping it would be a bit further for me but I got it," continued Veilleux, pleased to land his team a stage victory on their title sponsors home stomping ground. "This win is big for me and weíve been looking for a win here all week. I think Iím ready for the big racing scene."
Sutherlands Health Net-Maxxis team did a great job of keeping the race together in order to keep their leader in the yellow jersey. Keeping a steady tempo, they succeeded in bringing all the threatening break aways back together before the base the final climb and delivered Sutherland to the overall victory, his third straight stage race victory of the season. John Murphy, Sutherlands team-mate, finished second while B-World Champion Ivan Stevic (Toyota-United) was third.
Bradley White (Successful)
Photo ©: Matthew Moses

"First and foremost we have to protect the overall," said Sutherland. "I would have liked to have helped John Murphy win the stage but as you can see the young David Veilleux was awesome and coming up to the finish, it was a hard hill to lead someone else on. I had to go as hard as I could so the GC threat riders didnít try to pass me.
"I had no doubt that my team-mates were going to be able to do what they did today," said Sutherland regarding his teamís strong hold over the front of the peloton from start to finish. "Iíve said it all week, from Joe Martin to Mount Hood to now, those guys do every single meter on the front in some of the hardest work I have ever seen."
With the top two places on the GC solidified by Health Net-Maxxis, 2007 Nature Valley Grand Prix winner Ivan Stevic was less satisfied with his third place finish this year. "When you are used to winning its hard to accept third place as being such a good result," he explained.
"But, I think Iím a bit hard on myself," continued the Serbian who is in the midst of his Olympic Games preparation. "I should be happy just to be back in the top field. Iím glad Iím taking a break after this race because Iím feeling a little empty and flat, more with emotions than physically. I think that the long injury that I had has actually taken energy away from me this winter." Stevic has been slowly recovering from a severe knee and hip injury, sustained over the winter.
Kirk OíBee (Health Net-Maxxis) solidified his lead in the Wheaties sprinterís competition while Nic Reistad (Jelly Belly) held onto the Sport Bean KOM jersey.
How it unfolded
The Nature Valley Grand Prix is notorious for being a race of attrition where the final stage in Stillwater can make or break the tired legs on the 18 short circuits over Chilkoot Hill.
Luca Damiani (Colavita/Sutter Home) initiated the first significant break away followed by Bradley White (Successful Living), KOM leader Nic Reistad (Jelly Belly) and Michael Creed (Rock Racing).
Damiani was replaced by his team-mate Andy Guptill and the break of three riders continued to gain a maximum of ten seconds on the field lead by Health Net-Maxxis. The break away increased to four after Anibal Borrajo (Colavita/Sutter Home) joined the mix, jumping across the small gap.
Healthnet at the helm of the peloton.
Photo ©: Matthew Moses

Chilkoot Hill's steep grade deterred the bulk of the break away from continuing on. However, White earned the events Most Aggressive Riders jersey when he continued to dangle off of the front for the next nine laps.
Brian Jenson (Successful Living), and Jonathan Page (Battley-Harley Davidson) both made brief appearances at the front with White, However, neither were able to sustain the effort, leaving White out front on his own.
Six more riders escaped Health Netís grip to join White. Luis Amaran and his team-mate Davide Frattini (Colavita/Sutter Home), Jenson (Successful Living), Daniel Bowman (Kelly Benefit Strategies-Medifast), Caleb Manion (Toyota-United) and Aaron Olson (Bissell) all made the junction to the lone leader.
However Chilkoot Hill continued to separate the breakaway riders each lap while Health Net-Maxxis set a tempo that dwindle the main field to a mere 25 riders.
With six laps to go, Amaran and Olson were the only two riders out front and when they were within two second, race winner Veilleux tried to bridge across to the pair.
Coming into the last lap, the attacks continued from Colavita/Sutter Home followed by Rock Racing and Kelly Benefit Strategies-Medifast. Health Net-Maxxis provided a perfectly timed lead out into the base of the finish climb.
"Where youíve got other GC guys getting dropped, weíve got our guys still on the front, itís amazing," said Sutherland regarding the last laps of the criterium. "Some breaks today were threatening but I think some riders underestimate how hard this course really it."
Armstrong make is three
Kristin Armstrong (Cervelo-Lifeforce)
Photo ©: Matthew Moses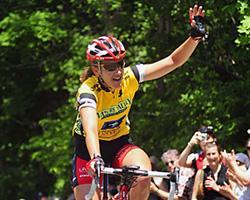 Former world time trial champion, Kristin Armstrong (Cervelo-Lifeforce) captured her third consecutive yellow jersey in the 2008 Nature Valley Grand Prix when she stormed away from her competitors on the Chilkoot climb to solo in for the final stage win in Stillwater.
Armstrong crossed the line nearly one minute ahead of the nearest chase group. Leigh Hobson (Cheerwine) won the group sprint ahead of Joanne Kiesanowski (Tibco) for second.
"There was nothing to laugh about on this course, it was hard," said Armstrong who separated herself from an early five-rider break away on the third lap. "Six stages is hard for anyone, we are all human."
"Before this stage I went out and rolled around for ten minutes but I couldnít do anymore than that. I went back to my husband and told him that my legs hurt so bad that I wasnít sure I could do it again today. But, once you get in the race you start to feel good."
The field was forced to let a dominant Armstrong go, relegating themselves to fight it out for second place. With Armstrong gone, the Cheerwine team decided to work towards a stage podium position rather than attempt to move Anne Samplonius who was sitting in third overall, further up the GC.
"We came to the finish with the large group that had caught up to us and I decided to try to go for a stage podium," said Hobson. "There were a few jumps going into the climb and I waited until a good opportunity to go.
"It was a tough stage and our goal was to try to move Anne [Samplonius] up on GC," Hobson continued. "At one point Anne was up the road but Katharine dug so deep to catch back on to the back of our group. So, while we worked hard, she worked that much harder."
Armstrong took the overall lead in stage threeís St Paul River Front time trial and continued to increase her advantage in the following two stages. Stillwater proved to be too challenging for changes to be made in the top three on GC and Armstrong remained in the lead ahead of Katharine Carroll (Aaronís) and Anne Samplonius (Cheerwine).
"I came over here with one team-mate, Emma Rickards and I couldnít have done this without her," said Armstrong who felt the strain of being out numbered during the six-day event. "Cycling is a team sport and there are a lot of good teams out here but we made it to the finish in the yellow. You always have to have someone by your side and Emma was there.
Four riders working to chase the solo Armstrong,
Photo ©: Matthew Moses

"Nature Valley is important to the second part of my season and getting ready for Beijing," continued Armstrong who is well into the second half of her season. "It doesnít matter where you are; whether itís a world cup in Europe or in a stage race in North America, a win is a win and everything you can do to get a victory leading into something like the Olympics is important."
Second place in the overall Katharine Carroll acknowledged her teamís efforts in trying to contain Armstrong during the five difficult stages prior to Stillwater. "I think today everyone was content with second place just by being realistic," said Carroll "We all tried our best to contain her in the last stages.
"That is a tough course when you start the first five laps trying to catch back on," continued Carroll describing the circuit. "Itís a tough week of racing and everyoneís legs were tired. Itís a huge race of attrition and the GC gets reshuffled. Either you have the legs or you donít, if you have the legs then you typically move up a couple of place."
How it unfolded
The women lined up at the base of Chilkoot Hillís 22% grade ready to take on their 12-lapped event. The top teams in North America took on the first three laps unsure of whether they would be able to hold down race leader Kristin Armstrong.
A break of six riders separated themselves from the rest of the tired field on the second ascent over Chilkoot. Riders included Armstrong, Samplonius, Felicia Gomez (Aaronís), Wheaties sprint winner Joanne Kiesanowski (Tibco) and Andrea Dvorak (Colavita/Sutter Home).
"I initially let the girls attack and go for the hill first," recalled Armstrong who had spent most of the previous stage chasing down numerous attacks to try and dent her GC lead. "On the third time up I saw a small group with a couple of Cheerwine riders in it and I wasnít going to subject myself to that again. Iíd rather be in control, so when I saw them coming up I said - Ďhey, I gotta go.í"
Armstrongís early lead from three laps into the race meant that she would pass through the remaining three QOM sprints accumulating enough points to surpass Felicia Gomez (Aaronís) for the Sport Bean climbers jersey.
"We ended up losing the KOM," said Carroll regarding her team-mates surprise when the jersey was awarded to Armstrong instead. "It was a technical error and itís not especially clear in the bible. We though the sprint was on the start of the third lap but it was at the end on the third lap so we missed out on it."
Not the type of criterium course that suits the National Criterium Champion,
Photo ©: Matthew Moses

Armstrong chase group of five riders was driven mainly by Dvorak who earned herself the events most aggressive rider jersey because of her hard work to keep her group from being reabsorbed by the main field.
Tactic for second place on the GC began to play out when Carroll initially missed the early break and was forced to chase after her nearest competitor, Samplonius.
"At the end of the first lap there was a big group and I was too far back," said Carroll who received a helping hand from team-mate Felicia Gomez, who dropped out of the break to help bridge her across.
"Anne drove it down the hill and over the first climb and I wasnít on that. I knew it was only up to me to chase that down. I had to pull and the gap stayed steady. I knew Felicia was told to sit back and once I got on her wheel she got me back up to Anne."
What was left of the main field was able to bridge across to Armstrongís chase group for an unexpectedly large sprint finish.
"Once Katharine had caught back up to our group we decided that we were happy with our third place on GC and that we would shift our focus to maintaining that third, getting a podium result and team GC," said Samplonius. "At the end of the day we are very happy with those results."
Photography
For a thumbnail gallery of these images, click here
Images by Matthew Moses/www.moses-images.com
Images by Frank Rowe/frankrowe.photoreflect.com
Results
1 David Veilleux (Kelly Benefit Strategies/Medifast)                  1.03.26
2 Rory Sutherland (Team Healthnet Presented by Maxxis)                       
3 Ricardo Escuela (Successful Living.com P/B Parkpre)                        
4 Ivan Stevic (Toyota-United)                                                
5 Benjamin Jacques-Maynes (Bissell Pro Cycling Team)                         
6 Emile Abraham (Team Type 1)                                                
7 Alex Candelario (Kelly Benefit Strategies/Medifast)                        
8 John Murphy (Team Healthnet Presented by Maxxis)                           
9 Edward King (Bissell Pro Cycling Team)                                     
10 Anthony Colby (Colavita Sutter Home)                                      
11 Michael Grabinger (Successful Living.com P/B Parkpre)                     
12 Russ Langley (Battley HARLEY-DAVIDSON/Sonoma Bar)                         
13 Luis Amaran (Colavita Sutter Home)                                        
14 Andrew Bajadali (Kelly Benefit Strategies/Medifast)                       
15 Matthew Busche (IS Corp Cycling Team)                                     
16 Tim Johnson (Team Healthnet Presented by Maxxis)                          
17 Keil Reijnen (Team Waste Management)                                      
18 Aaron Olson (Bissell Pro Cycling Team)                                    
19 Bradley White (Successful Living.com P/B Parkpre)                         
20 Bernard VanUlden (Jelly Belly Pro Cycling)                                
21 Cesar Grajales (Rock Racing)                                              
22 Jesse Moore (Nature Valley Cycling Team)                                  
23 Chris Wherry (Toyota-United)                                              
24 Shawn Milne (Team Type 1)                                                 
25 Caleb Manion (Toyota-United)                                          0.32
26 Scott Zwizanski (Bissell Pro Cycling Team)                            0.41
27 Dominique Rollin (Toyota-United)                                      0.45
28 Jesse Anthony (Team Type 1)                                           0.49
29 Nick Clayville (Hagens Berman LLP Cycling Team)                       0.57
30 Davide Frattini (Colavita Sutter Home)                                1.19
31 Richard England (Bissell Pro Cycling Team)                            1.35
32 Daniel Bowman (Kelly Benefit Strategies/Medifast)                     1.45
33 Adrian Hegyvary (Hagens Berman LLP Cycling Team)                      1.52
34 Doug Ollerenshaw (Rock Racing)                                            
35 Peter Dawson (Rock Racing)                                            1.56
36 Stevie Cullinan (Team Waste Management)                               2.07
37 Jonathan Page (Battley HARLEY-DAVIDSON/Sonoma Bar)                    2.10
38 Tom Zirbel (Bissell Pro Cycling Team)                                 2.47
39 Jeremy Vennell (Bissell Pro Cycling Team)                             2.52
40 Garrett Peltonen (Bissell Pro Cycling Team)                               
41 Phil Zajicek (Team Healthnet Presented by Maxxis)                     3.29
42 Brian Jensen (Successful Living.com P/B Parkpre)                      3.55
43 Aaron Tuckerman (Jelly Belly Pro Cycling)                             4.11
44 Martin Gilbert (Kelly Benefit Strategies/Medifast)                        
45 Tyler Wren (Colavita Sutter Home)                                         
46 Romun Kilun (Team Healthnet Presented by Maxxis)                          
47 Jon Parrish (Team Waste Management)                                       
48 David Guttenplan (TIME Pro Cycling)                                       
49 Eric Schildge (Fiordifrutta)                                              
50 Stefano Barberi (THF Racing)                                              
51 Rudolph Napolitano (Rock Racing)                                          
52 Heath Blackgrove (Toyota-United)                                          
53 Scott Tietzel (Jelly Belly Pro Cycling)                                   
54 Jason Walters (Nature Valley Cycling Team)                                
55 Alessandro Bazzana (Successful Living.com P/B Parkpre)                    
56 Hayden Brooks (Fiordifrutta)                                              
57 Cole House (Bianchi / Grand Performance)                                  
58 Kirk O'Bee (Team Healthnet Presented by Maxxis)                           
59 Nick Reistad (Jelly Belly Pro Cycling)                                    
60 Kayle Leogrande (Rock Racing)                                             
61 Nic Sanderson (Jelly Belly Pro Cycling)                               5.11
62 Michael Creed (Rock Racing)                                               
63 Jonathan Sundt (Kelly Benefit Strategies/Medifast)                        
64 Chris Hall (HRRC / Trek Stores)                                       5.42
65 Sam Johnson (Hagens Berman LLP Cycling Team)                              
66 Jordan Roessingh (IS Corp Cycling Team)                               6.17
67 Gregg Brant (Bianchi / Grand Performance)                                 
68 Joseph Kukolla (Wheel & Sprocket)                                         
69 Kip Spaude (IS Corp Cycling Team)                                         
70 Jered Gruber (TIME Pro Cycling)                                           
71 Michael Woell (Flanders/MBRC)                                             
72 Reid Mumford (Kelly Benefit Strategies/Medifast)                          
73 Jared Gilyard (Wheel & Sprocket)                                          
74 Sean Mazich (Team Waste Management)                                       
75 Jonny Clarke (Toyota-United)                                              
76 Jeff Hartman (Nature Valley Cycling Team)                                 
77 Daniel Ramsey (TIME Pro Cycling)                                          
78 Ryan Dewald (Battley HARLEY-DAVIDSON/Sonoma Bar)                          
79 Cody O'Reilly (Successful Living.com P/B Parkpre)                         
80 Toby Marzot (Fiordifrutta)                                                
81 Stolte Bill (HRRC / Trek Stores)                                     10.29
82 Tom Soladay (TIME Pro Cycling)                                            
83 David Zimmerman (Flanders/MBRC)                                           
84 Luca Damiani (Colavita Sutter Home)                                       
DNF Henk Vogels (Toyota-United)                                              
DNF Frank Pipp (Team Healthnet Presented by Maxxis)                          
DNF Anibal Borrajo (Colavita Sutter Home)                                    
DNF Andrew Guptill (Colavita Sutter Home)                                    
DNF Curtis Gunn (Successful Living.com P/B Parkpre)                          
DNF David Clinger (Rock Racing)                                              
DNF Bryce Mead (Jelly Belly Pro Cycling)                                     
DNF Matt Rice (Jelly Belly Pro Cycling)                                      
DNF Nick Frey (TIME Pro Cycling)                                             
DNF Steve Scholzen (IS Corp Cycling Team)                                    
DNF Eric Marcotte (Bianchi / Grand Performance)                              
DNF Andy Minier (Grandstay Hotels)                                           
DNF Doug Swanson (Grandstay Hotels)                                          
 
Sprints
 
1
1 Dominique Rollin (Toyota-United)                                          5 pts
2 Kirk O'Bee (Team Healthnet Presented by Maxxis)                           3
3 Frank Pipp (Team Healthnet Presented by Maxxis)                           1
 
2
1 Bradley White (Successful Living.com P/B Parkpre)                         5 pts
2 Anibal Borrajo (Colavita Sutter Home)                                     3
3 Michael Creed (Rock Racing)                                               1
 
3
1 Luis Amaran (Colavita Sutter Home)                                        5 pts
2 Bradley White (Successful Living.com P/B Parkpre)                         3
3 Caleb Manion (Toyota-United)                                              1
 
Mountains
 
Mountains 1
1 Nick Reistad (Jelly Belly Pro Cycling)                                    5 pts
2 Bradley White (Successful Living.com P/B Parkpre)                         3
3 Jesse Anthony (Team Type 1)                                               1
 
Mountains 2
1 Bradley White (Successful Living.com P/B Parkpre)                         5 pts
2 Anibal Borrajo (Colavita Sutter Home)                                     3
3 Tim Johnson (Team Healthnet Presented by Maxxis)                          1
 
Mountains 3
1 Luis Amaran (Colavita Sutter Home)                                        5 pts
2 Bradley White (Successful Living.com P/B Parkpre)                         3
3 Caleb Manion (Toyota-United)                                              1
 
Teams
 
1 Kelly Benefit Strategies/Medifast                                   3.10.18
2 Team Healthnet Presented by Maxxis                                         
3 Bissell Pro Cycling Team                                                   
4 Successful Livingcom P/B Parkpre                                           
5 Toyota-United                                                          0.32
6 Team Type 1                                                            0.49
7 Colavita Sutter Home                                                   1.19
8 Rock Racing                                                            3.48
9 Team Waste Management                                                  6.18
10 Jelly Belly Pro Cycling                                               8.22
11 Battley HARLEY-DAVIDSON/Sonoma Bar                                    8.27
12 Hagens Berman LLP Cycling Team                                        8.31
13 Nature Valley Cycling Team                                           10.28
14 IS Corp Cycling Team                                                 12.34
15 Fiordifrutta                                                         14.39
16 TIME Pro Cycling                                                     16.45
 
Final General classification
 
1 Rory Sutherland (Team Healthnet Presented by Maxxis)                8.15.22
2 John Murphy (Team Healthnet Presented by Maxxis)                       0.12
3 Ivan Stevic (Toyota-United)                                            0.15
4 Benjamin Jacques-Maynes (Bissell Pro Cycling Team)                     0.24
5 Edward King (Bissell Pro Cycling Team)                                 0.39
6 Anthony Colby (Colavita Sutter Home)                                   0.40
7 David Veilleux (Kelly Benefit Strategies/Medifast)                     0.43
8 Andrew Bajadali (Kelly Benefit Strategies/Medifast)                    0.57
9 Luis Amaran (Colavita Sutter Home)                                     1.13
10 Keil Reijnen (Team Waste Management)                                  1.25
11 Chris Wherry (Toyota-United)                                          1.31
12 Michael Grabinger (Successful Living.com P/B Parkpre)                 1.33
13 Alex Candelario (Kelly Benefit Strategies/Medifast)                   1.35
14 Ricardo Escuela (Successful Living.com P/B Parkpre)                       
15 Matthew Busche (IS Corp Cycling Team)                                 1.37
16 Bradley White (Successful Living.com P/B Parkpre)                     1.41
17 Cesar Grajales (Rock Racing)                                          1.43
18 Jesse Moore (Nature Valley Cycling Team)                              1.49
19 Dominique Rollin (Toyota-United)                                      2.01
20 Caleb Manion (Toyota-United)                                          2.02
21 Emile Abraham (Team Type 1)                                           2.22
22 Jesse Anthony (Team Type 1)                                           3.03
23 Aaron Olson (Bissell Pro Cycling Team)                                3.05
24 Doug Ollerenshaw (Rock Racing)                                        3.14
25 Daniel Bowman (Kelly Benefit Strategies/Medifast)                     3.17
26 Davide Frattini (Colavita Sutter Home)                                3.43
27 Bernard VanUlden (Jelly Belly Pro Cycling)                            3.54
28 Shawn Milne (Team Type 1)                                             4.52
29 Phil Zajicek (Team Healthnet Presented by Maxxis)                     4.57
30 Richard England (Bissell Pro Cycling Team)                            5.33
31 Jonathan Page (Battley HARLEY-DAVIDSON/Sonoma Bar)                    5.41
32 Adrian Hegyvary (Hagens Berman LLP Cycling Team)                      6.00
33 Nick Clayville (Hagens Berman LLP Cycling Team)                       6.09
34 Michael Creed (Rock Racing)                                           6.32
35 Kirk O'Bee (Team Healthnet Presented by Maxxis)                       6.37
36 Stefano Barberi (THF Racing)                                          6.51
37 Eric Schildge (Fiordifrutta)                                          6.57
38 Brian Jensen (Successful Living.com P/B Parkpre)                      7.24
39 Tyler Wren (Colavita Sutter Home)                                         
40 Jason Walters (Nature Valley Cycling Team)                            7.30
41 Hayden Brooks (Fiordifrutta)                                          7.31
42 Heath Blackgrove (Toyota-United)                                      8.02
43 Martin Gilbert (Kelly Benefit Strategies/Medifast)                    8.15
44 Rudolph Napolitano (Rock Racing)                                      8.53
45 Scott Zwizanski (Bissell Pro Cycling Team)                            9.06
46 Romun Kilun (Team Healthnet Presented by Maxxis)                      9.17
47 Daniel Ramsey (TIME Pro Cycling)                                          
48 Jon Parrish (Team Waste Management)                                   9.22
49 Jonathan Sundt (Kelly Benefit Strategies/Medifast)                    9.27
50 Nic Sanderson (Jelly Belly Pro Cycling)                               9.33
51 Cole House (Bianchi / Grand Performance)                              9.53
52 Kayle Leogrande (Rock Racing)                                         9.56
53 Nick Reistad (Jelly Belly Pro Cycling)                               10.02
54 Reid Mumford (Kelly Benefit Strategies/Medifast)                     10.12
55 Tim Johnson (Team Healthnet Presented by Maxxis)                     10.25
56 Peter Dawson (Rock Racing)                                           11.16
57 Chris Hall (HRRC / Trek Stores)                                           
58 Tom Zirbel (Bissell Pro Cycling Team)                                11.26
59 Garrett Peltonen (Bissell Pro Cycling Team)                          11.27
60 Jeremy Vennell (Bissell Pro Cycling Team)                            11.42
61 Stevie Cullinan (Team Waste Management)                              12.06
62 Jordan Roessingh (IS Corp Cycling Team)                              13.01
63 Toby Marzot (Fiordifrutta)                                           13.08
64 Aaron Tuckerman (Jelly Belly Pro Cycling)                            13.21
65 Sean Mazich (Team Waste Management)                                  13.37
66 Kip Spaude (IS Corp Cycling Team)                                    13.43
67 Alessandro Bazzana (Successful Living.com P/B Parkpre)               15.04
68 Luca Damiani (Colavita Sutter Home)                                  15.17
69 Sam Johnson (Hagens Berman LLP Cycling Team)                         15.22
70 Jonny Clarke (Toyota-United)                                         15.38
71 Ryan Dewald (Battley HARLEY-DAVIDSON/Sonoma Bar)                     15.55
72 Russ Langley (Battley HARLEY-DAVIDSON/Sonoma Bar)                    17.20
73 Cody O'Reilly (Successful Living.com P/B Parkpre)                    17.50
74 Gregg Brant (Bianchi / Grand Performance)                            17.55
75 Jared Gilyard (Wheel & Sprocket)                                     18.38
76 Stolte Bill (HRRC / Trek Stores)                                     21.01
77 David Zimmerman (Flanders/MBRC)                                      21.43
78 David Guttenplan (TIME Pro Cycling)                                  21.48
79 Jered Gruber (TIME Pro Cycling)                                      25.41
80 Michael Woell (Flanders/MBRC)                                        26.20
81 Scott Tietzel (Jelly Belly Pro Cycling)                              26.35
82 Joseph Kukolla (Wheel & Sprocket)                                    30.58
83 Jeff Hartman (Nature Valley Cycling Team)                            34.21
84 Tom Soladay (TIME Pro Cycling)                                       57.11
 
Young rider
 
1 David Veilleux (Kelly Benefit Strategies/Medifast)                  8.16.05
2 Keil Reijnen (Team Waste Management)                                   0.42
3 Eric Schildge (Fiordifrutta)                                           6.14
4 Hayden Brooks (Fiordifrutta)                                           6.48
5 Chris Hall (HRRC / Trek Stores)                                       10.33
6 Stevie Cullinan (Team Waste Management)                               11.23
7 Toby Marzot (Fiordifrutta)                                            12.25
8 Sean Mazich (Team Waste Management)                                   12.54
9 Kip Spaude (IS Corp Cycling Team)                                     13.00
10 Cody O'Reilly (Successful Living.com P/B Parkpre)                    17.07
11 Gregg Brant (Bianchi / Grand Performance)                            17.12
12 Jered Gruber (TIME Pro Cycling)                                      24.58
13 Joseph Kukolla (Wheel & Sprocket)                                    30.15
 
Sprints classification
 
1 Kirk O'Bee (Team Healthnet Presented by Maxxis)                          23 pts
2 Dominique Rollin (Toyota-United)                                         21
3 Luis Amaran (Colavita Sutter Home)                                       15
4 Ivan Stevic (Toyota-United)                                              13
5 Rory Sutherland (Team Healthnet Presented by Maxxis)                     11
6 Alex Candelario (Kelly Benefit Strategies/Medifast)                      11
7 Bradley White (Successful Living.com P/B Parkpre)                         8
8 John Murphy (Team Healthnet Presented by Maxxis)                          8
9 Anthony Colby (Colavita Sutter Home)                                      7
10 Jered Gruber (TIME Pro Cycling)                                          6
11 Tom Soladay (TIME Pro Cycling)                                           6
12 Andrew Bajadali (Kelly Benefit Strategies/Medifast)                      6
13 Davide Frattini (Colavita Sutter Home)                                   5
14 Scott Zwizanski (Bissell Pro Cycling Team)                               5
15 David Veilleux (Kelly Benefit Strategies/Medifast)                       5
16 Ricardo Escuela (Successful Living.com P/B Parkpre)                      5
17 Tim Johnson (Team Healthnet Presented by Maxxis)                         3
18 Sam Johnson (Hagens Berman LLP Cycling Team)                             3
19 Jonathan Sundt (Kelly Benefit Strategies/Medifast)                       3
20 Aaron Olson (Bissell Pro Cycling Team)                                   3
21 Luca Damiani (Colavita Sutter Home)                                      3
22 Michael Creed (Rock Racing)                                              2
23 Jeremy Vennell (Bissell Pro Cycling Team)                                2
24 Caleb Manion (Toyota-United)                                             2
25 Kayle Leogrande (Rock Racing)                                            2
26 Shawn Milne (Team Type 1)                                                2
27 Tom Zirbel (Bissell Pro Cycling Team)                                    1
 
Mountains classification
 
1 Nick Reistad (Jelly Belly Pro Cycling)                                   24 pts
2 Bradley White (Successful Living.com P/B Parkpre)                        11
3 Anthony Colby (Colavita Sutter Home)                                      8
4 David Veilleux (Kelly Benefit Strategies/Medifast)                        5
5 Luis Amaran (Colavita Sutter Home)                                        5
6 Jeremy Vennell (Bissell Pro Cycling Team)                                 5
7 Bernard VanUlden (Jelly Belly Pro Cycling)                                3
8 Aaron Olson (Bissell Pro Cycling Team)                                    2
9 Tim Johnson (Team Healthnet Presented by Maxxis)                          1
10 Caleb Manion (Toyota-United)                                             1
11 Jesse Anthony (Team Type 1)                                              1
12 Davide Frattini (Colavita Sutter Home)                                   1
13 Doug Ollerenshaw (Rock Racing)                                           1
14 Romun Kilun (Team Healthnet Presented by Maxxis)                         1
15 Nic Sanderson (Jelly Belly Pro Cycling)                                  1
 
Teams classification
 
1 Team Healthnet Presented by Maxxis                                 24.47.28
2 Kelly Benefit Strategies/Medifast                                      1.36
3 Toyota-United                                                          1.53
4 Bissell Pro Cycling Team                                               1.57
5 Successful Living.com P/B Parkpre                                      3.09
6 Colavita Sutter Home                                                   3.51
7 Team Type 1                                                            5.51
8 Rock Racing                                                            6.28
9 Team Waste Management                                                 13.52
10 Jelly Belly Pro Cycling                                              18.57
11 Fiordifrutta                                                         21.57
12 IS Corp Cycling Team                                                 22.03
13 Nature Valley Cycling Team                                           22.12
14 Hagens Berman LLP Cycling Team                                       24.47
15 Battley HARLEY-DAVIDSON/Sonoma Bar                                   36.22
16 TIME Pro Cycling                                                     39.30
 
Women
 
1 Kristin Armstrong (Cervelo-Lifeforce Professional Cycling Team)       48.00
2 Leigh Hobson (Cheerwine Cycling)                                       1.08
3 Joanne Kiesanowski (Team TIBCO)                                        1.10
4 Andrea Dvorak (Colavita / Sutter Home p/b Cooking Light)                   
5 Katharine Carroll (Aaron's Professional Women's Cycling Team)              
6 Laura Van Gilder (Cheerwine Cycling)                                       
7 Kristin McGrath (Colavita / Sutter Home p/b Cooking Light)             1.13
8 Lauren Franges (Team TIBCO)                                                
9 Anne Samplonius (Cheerwine Cycling)                                        
10 Christina Ruiter (ValueAct Capital Cycling Team)                          
11 Felicia Gomez (Aaron's Professional Women's Cycling Team)             1.20
12 Amanda Miller (Ryan Collegiate)                                           
13 Meredith Miller (Aaron's Professional Women's Cycling Team)           1.23
14 Rachel Lloyd (PROMAN Racing)                                          1.25
15 Kristin Sanders (Aaron's Professional Women's Cycling Team)           1.29
16 Brooke Miller (Team TIBCO)                                            1.42
17 Kristin Wentworth (Team Kenda Tire)                                   2.16
18 Emma Rickards (Cervelo-Lifeforce Professional Cycling Team)           2.21
19 Shelley Olds (PROMAN Racing)                                          2.37
20 Amy Dombroski (Webcor Builders)                                           
21 Amber Rais (Team TIBCO)                                                   
22 Martina Patella (ValueAct Capital Cycling Team)                           
23 Catherine Cheatley (Cheerwine Cycling)                                2.42
24 Anna McLoon (Ryan Collegiate)                                             
25 Kathleen Billington (Connecticut Coast Cycling)                       2.44
26 Tina Pic (Colavita / Sutter Home p/b Cooking Light)                   2.46
27 Robin Farina (Cheerwine Cycling)                                          
28 Marisa Asplund-Owens (Cheerwine Cycling)                              2.48
29 Flavia Oliveira (Metromint Cycling)                                       
30 Helene Drumm (PROMAN Racing)                                              
31 Ashley Anderson (Metro Volkswagen Cycling Team)                           
32 Megan Guarnier (PROMAN Racing)                                        2.52
33 Rebecca Much (Webcor Builders)                                        2.58
34 Ruth Clemence (Team SHO-AIR)                                              
35 Katheryn Curi (Webcor Builders)                                       3.05
36 Jane Robertson (Metromint Cycling)                                    5.01
37 Carla Swart (Ryan Collegiate)                                         5.21
38 Stacy Marple (Cheerwine Cycling)                                      5.41
39 Sarah Stewart (Team SHO-AIR)                                          6.00
40 Sharon Allpress (ValueAct Capital Cycling Team)                           
41 Ruth Corset (Jazz Apple Cycling Team)                                     
42 Bri Kovac (Team Revolution)                                               
43 Laura Bowles (Team Advil-ChapStick)                                       
44 Lorena Candrian (HPC powered by Altarum)                                  
45 Coryn Rivera (Kahala-La Grange)                                           
46 Marni Hambleton (ValueAct Capital Cycling Team)                           
47 Jadine Riley (Team SHO-AIR)                                               
48 Carrie Cash-Wootten (Team Revolution)                                 6.18
49 Lauren Ellis (Jazz Apple Cycling Team)                                    
50 Rebecca Larson (Aaron's Professional Women's Cycling Team)            6.28
51 Emily Zell (ValueAct Capital Cycling Team)                            6.50
52 Devon Haskell (Ryan Collegiate)                                           
53 Lara Kroepsch (ValueAct Capital Cycling Team)                             
54 Sue Butler (MonavieCannondale.com)                                    8.00
55 Sydney Brown (Team Revolution)                                            
56 Julie Bishop (Team Revolution)                                            
57 Chloe Forsman (Ryan Collegiate)                                           
58 Jacquelyn Crowell (Team Kenda Tire)                                       
59 Amanda Eaken (Metromint Cycling)                                          
60 Kele Murdin (Verducci/Breakaway Racing)                                   
61 Linsey Bradshaw (Team SHO-AIR)                                            
62 Mackenzie Woodring (Colavita / Sutter Home p/b Cooking Light)             
63 Alison Rosenthal (Team TIBCO)                                             
64 Cari Higgins (America's Dairyland)                                    9.36
65 Kendi Thomas (Team Revolution)                                            
66 Katie Weber (Team Revolution)                                             
67 Shana Sturla (Flanders/MBRC)                                              
68 Lesley Golenor (HPC powered by Altarum)                                   
69 Kate Flore (HPC powered by Altarum)                                       
70 Linda Sone (Flanders/MBRC)                                                
71 Shannon Koch (Metro Volkswagen Cycling Team)                              
72 Clare Vlahopoulos (America's Dairyland)                                   
73 Virginia Perkins (PROMAN Racing)                                          
74 Kristin Drumm (PROMAN Racing)                                             
75 Kacey Manderfield (Verducci/Breakaway Racing)                             
76 Michelle Orem (Kahala-La Grange)                                          
77 Ashley Dymond (Team SHO-AIR)                                              
78 Rushlee Buchanan (Team TIBCO)                                             
79 Morgan Kapp (SouthBay Wheelmen)                                           
80 Lana Atchley (Team SHO-AIR)                                               
81 Elisa Gagnon (Team Advil-ChapStick)                                  12.00
82 Jennifer Rasmusson (HPC powered by Altarum)                               
DNF Carmen McNellis (Aaron's Professional Women's Cycling Team)              
DNF Natalie Klemko (Team Advil-ChapStick)                                    
DNF Christen King (SouthBay Wheelmen)                                        
 
Sprints
 
Sprint 1
1 Anne Samplonius (Cheerwine Cycling)                                       5 pts
2 Andrea Dvorak (Colavita / Sutter Home p/b Cooking Light)                  3
3 Kristin Armstrong (Cervelo-Lifeforce Professional Cycling Team)           1
 
Sprint 2
1 Kristin Armstrong (Cervelo-Lifeforce Professional Cycling Team)           5 pts
2 Anne Samplonius (Cheerwine Cycling)                                       3
3 Andrea Dvorak (Colavita / Sutter Home p/b Cooking Light)                  1
 
Sprint 3
1 Kristin Armstrong (Cervelo-Lifeforce Professional Cycling Team)           5 pts
2 Brooke Miller (Team TIBCO)                                                3
3 Anne Samplonius (Cheerwine Cycling)                                       1
 
Mountains
 
Mountains 1
1 Kristin Armstrong (Cervelo-Lifeforce Professional Cycling Team)           5 pts
2 Andrea Dvorak (Colavita / Sutter Home p/b Cooking Light)                  3
3 Felicia Gomez (Aaron's Professional Women's Cycling Team)                 1
 
Mountains 2
1 Kristin Armstrong (Cervelo-Lifeforce Professional Cycling Team)           5 pts
2 Andrea Dvorak (Colavita / Sutter Home p/b Cooking Light)                  3
3 Joanne Kiesanowski (Team TIBCO)                                           1
 
Mountains 3
1 Kristin Armstrong (Cervelo-Lifeforce Professional Cycling Team)           5 pts
2 Leigh Hobson (Cheerwine Cycling)                                          3
3 Andrea Dvorak (Colavita / Sutter Home p/b Cooking Light)                  1
 
Teams
 
1 Cheerwine Cycling                                                   2.27.31
2 Aaron's Professional Women's Cycling Team                              0.22
3 Team TIBCO                                                             0.34
4 Colavita / Sutter Home p/b Cooking Light                               1.38
5 PROMAN Racing                                                          3.19
6 Webcor Builders                                                        5.09
7 Ryan Collegiate                                                        5.52
8 ValueAct Capital Cycling Team                                          6.19
9 Team SHO-AIR                                                          11.27
10 Metromint Cycling                                                    12.18
11 Team Revolution                                                      16.47
12 HPC powered by Altarum                                               21.41
 
Final General classification
 
1 Kristin Armstrong (Cervelo-Lifeforce Professional Cycling Team)     8.26.07
2 Katharine Carroll (Aaron's Professional Women's Cycling Team)          2.43
3 Anne Samplonius (Cheerwine Cycling)                                    2.53
4 Joanne Kiesanowski (Team TIBCO)                                        3.27
5 Leigh Hobson (Cheerwine Cycling)                                           
6 Kristin McGrath (Colavita / Sutter Home p/b Cooking Light)             3.47
7 Felicia Gomez (Aaron's Professional Women's Cycling Team)              3.59
8 Laura Van Gilder (Cheerwine Cycling)                                   4.00
9 Andrea Dvorak (Colavita / Sutter Home p/b Cooking Light)               4.27
10 Kristin Sanders (Aaron's Professional Women's Cycling Team)           5.06
11 Shelley Olds (PROMAN Racing)                                          5.15
12 Catherine Cheatley (Cheerwine Cycling)                                5.21
13 Amber Rais (Team TIBCO)                                               5.26
14 Martina Patella (ValueAct Capital Cycling Team)                       5.41
15 Marisa Asplund-Owens (Cheerwine Cycling)                              5.45
16 Brooke Miller (Team TIBCO)                                            5.46
17 Ashley Anderson (Metro Volkswagen Cycling Team)                       5.55
18 Kathleen Billington (Connecticut Coast Cycling)                       5.57
19 Megan Guarnier (PROMAN Racing)                                        6.10
20 Tina Pic (Colavita / Sutter Home p/b Cooking Light)                   6.11
21 Lauren Franges (Team TIBCO)                                           6.13
22 Meredith Miller (Aaron's Professional Women's Cycling Team)           6.26
23 Anna McLoon (Ryan Collegiate)                                         6.31
24 Kristin Wentworth (Team Kenda Tire)                                   7.01
25 Amanda Miller (Ryan Collegiate)                                       7.03
26 Amy Dombroski (Webcor Builders)                                       7.04
27 Rachel Lloyd (PROMAN Racing)                                          7.07
28 Robin Farina (Cheerwine Cycling)                                      7.25
29 Flavia Oliveira (Metromint Cycling)                                   7.32
30 Helene Drumm (PROMAN Racing)                                          7.42
31 Ruth Corset (Jazz Apple Cycling Team)                                 8.33
32 Stacy Marple (Cheerwine Cycling)                                      8.40
33 Carla Swart (Ryan Collegiate)                                         9.32
34 Jane Robertson (Metromint Cycling)                                    9.43
35 Sarah Stewart (Team SHO-AIR)                                         10.17
36 Rebecca Larson (Aaron's Professional Women's Cycling Team)           10.21
37 Sharon Allpress (ValueAct Capital Cycling Team)                      11.25
38 Jadine Riley (Team SHO-AIR)                                          11.26
39 Lara Kroepsch (ValueAct Capital Cycling Team)                        12.30
40 Chloe Forsman (Ryan Collegiate)                                      12.31
41 Katheryn Curi (Webcor Builders)                                      12.51
42 Kele Murdin (Verducci/Breakaway Racing)                              13.01
43 Sydney Brown (Team Revolution)                                       13.03
44 Sue Butler (MonavieCannondale.com)                                   13.17
45 Jacquelyn Crowell (Team Kenda Tire)                                  13.20
46 Linsey Bradshaw (Team SHO-AIR)                                       13.39
47 Devon Haskell (Ryan Collegiate)                                      13.57
48 Julie Bishop (Team Revolution)                                       13.59
49 Emily Zell (ValueAct Capital Cycling Team)                           14.11
50 Bri Kovac (Team Revolution)                                          14.20
51 Coryn Rivera (Kahala-La Grange)                                      15.06
52 Shana Sturla (Flanders/MBRC)                                         15.17
53 Lesley Golenor (HPC powered by Altarum)                              15.25
54 Emma Rickards (Cervelo-Lifeforce Professional Cycling Team)          15.50
55 Katie Weber (Team Revolution)                                        16.28
56 Kacey Manderfield (Verducci/Breakaway Racing)                        16.35
57 Morgan Kapp (SouthBay Wheelmen)                                      16.43
58 Amanda Eaken (Metromint Cycling)                                     16.53
59 Carrie Cash-Wootten (Team Revolution)                                17.08
60 Christina Ruiter (ValueAct Capital Cycling Team)                     19.18
61 Marni Hambleton (ValueAct Capital Cycling Team)                      19.53
62 Lana Atchley (Team SHO-AIR)                                          20.45
63 Ruth Clemence (Team SHO-AIR)                                         21.07
64 Rebecca Much (Webcor Builders)                                       21.14
65 Lorena Candrian (HPC powered by Altarum)                             21.34
66 Mackenzie Woodring (Colavita / Sutter Home p/b Cooking Light)        22.02
67 Kate Flore (HPC powered by Altarum)                                  22.31
68 Virginia Perkins (PROMAN Racing)                                     23.00
69 Lauren Ellis (Jazz Apple Cycling Team)                               25.06
70 Shannon Koch (Metro Volkswagen Cycling Team)                         25.37
71 Kristin Drumm (PROMAN Racing)                                        28.46
72 Cari Higgins (America's Dairyland)                                   29.18
73 Michelle Orem (Kahala-La Grange)                                     29.32
74 Laura Bowles (Team Advil-ChapStick)                                  31.04
75 Kendi Thomas (Team Revolution)                                       34.36
76 Linda Sone (Flanders/MBRC)                                           35.00
77 Rushlee Buchanan (Team TIBCO)                                        38.04
78 Ashley Dymond (Team SHO-AIR)                                         40.02
79 Alison Rosenthal (Team TIBCO)                                        45.27
80 Jennifer Rasmusson (HPC powered by Altarum)                          48.31
81 Clare Vlahopoulos (America's Dairyland)                              50.56
82 Elisa Gagnon (Team Advil-ChapStick)                                  52.29
 
Sprint classification
 
1 Joanne Kiesanowski (Team TIBCO)                                          39 pts
2 Kristin Armstrong (Cervelo-Lifeforce Professional Cycling Team)          23
3 Tina Pic (Colavita / Sutter Home p/b Cooking Light)                      20
4 Brooke Miller (Team TIBCO)                                               18
5 Katheryn Curi (Webcor Builders)                                          15
6 Katharine Carroll (Aaron's Professional Women's Cycling Team)            14
7 Lauren Franges (Team TIBCO)                                              13
8 Anne Samplonius (Cheerwine Cycling)                                      12
9 Laura Van Gilder (Cheerwine Cycling)                                     10
10 Coryn Rivera (Kahala-La Grange)                                          5
11 Andrea Dvorak (Colavita / Sutter Home p/b Cooking Light)                 5
12 Shelley Olds (PROMAN Racing)                                             5
13 Kristin Sanders (Aaron's Professional Women's Cycling Team)              3
14 Ruth Corset (Jazz Apple Cycling Team)                                    2
15 Amber Rais (Team TIBCO)                                                  1
16 Leigh Hobson (Cheerwine Cycling)                                         1
 
Mountains classification
 
1 Kristin Armstrong (Cervelo-Lifeforce Professional Cycling Team)          25 pts
2 Felicia Gomez (Aaron's Professional Women's Cycling Team)                23
3 Ruth Corset (Jazz Apple Cycling Team)                                     8
4 Andrea Dvorak (Colavita / Sutter Home p/b Cooking Light)                  7
5 Mackenzie Woodring (Colavita / Sutter Home p/b Cooking Light)             5
6 Joanne Kiesanowski (Team TIBCO)                                           4
7 Leigh Hobson (Cheerwine Cycling)                                          3
8 Anne Samplonius (Cheerwine Cycling)                                       1
9 Carla Swart (Ryan Collegiate)                                             1
 
Young rider
 
1 Kristin McGrath (Colavita / Sutter Home p/b Cooking Light)          8.29.54
2 Catherine Cheatley (Cheerwine Cycling)                                 1.34
3 Ashley Anderson (Metro Volkswagen Cycling Team)                        2.08
4 Megan Guarnier (PROMAN Racing)                                         2.23
5 Lauren Franges (Team TIBCO)                                            2.26
6 Amanda Miller (Ryan Collegiate)                                        3.16
7 Amy Dombroski (Webcor Builders)                                        3.17
8 Carla Swart (Ryan Collegiate)                                          5.45
9 Chloe Forsman (Ryan Collegiate)                                        8.44
10 Jacquelyn Crowell (Team Kenda Tire)                                   9.33
11 Linsey Bradshaw (Team SHO-AIR)                                        9.52
12 Coryn Rivera (Kahala-La Grange)                                      11.19
13 Kacey Manderfield (Verducci/Breakaway Racing)                        12.48
14 Rebecca Much (Webcor Builders)                                       17.27
15 Lauren Ellis (Jazz Apple Cycling Team)                               21.19
16 Shannon Koch (Metro Volkswagen Cycling Team)                         21.50
17 Kendi Thomas (Team Revolution)                                       30.49
18 Rushlee Buchanan (Team TIBCO)                                        34.17
19 Ashley Dymond (Team SHO-AIR)                                         36.15
 
Teams classification
 
1 Cheerwine Cycling                                                  25.28.13
2 Aaron's Professional Women's Cycling Team                              0.45
3 Team TIBCO                                                             1.28
4 Colavita / Sutter Home p/b Cooking Light                               4.53
5 PROMAN Racing                                                          7.48
6 Ryan Collegiate                                                       11.13
7 ValueAct Capital Cycling Team                                         11.38
8 Team SHO-AIR                                                          18.53
9 Metromint Cycling                                                     20.45
10 Team Revolution                                                      26.06
11 Webcor Builders                                                      28.40
12 HPC powered by Altarum                                               46.47