Latest Cycling News, March 6, 2009
Edited by Bjorn Haake
Bordonali reacts to Boonen's LPR comments
By Gregor Brown
LPR Brakes is in fact part of blood passport programme and Alessandro Petacchi will be able to particpate in some of the major races.
Photo ©: Roberto Bettini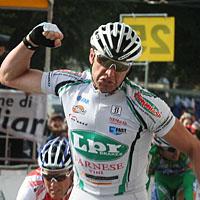 Fabio Bordonali, the manager of the LPR Brakes-Farnese Vini team defended his programme against the criticism of Tom Boonen yesterday. The Belgian was critical of the team's lack of wild card status, and suggested that it was not complying with the UCI's Biological Passport programme. But Bordonali clarified that the team has indeed paid for the passport testing this year and is fully compliant with the whereabouts system.
"The wild card label is not synonymous with the biological passport," Bordonali said to Cyclingnews. The UCI's wild card designation is based upon participation in the passport programme in part, but also carries other requirements unrelated to the anti-doping effort. Several teams missed the deadline for receiving the wild card designation which is required for ProTour races, but are still allowed to race the UCI's Historical calendar as long as they have paid into the passport system.
Without wild card status, LPR cannot start races such as the Ronde van Vlaanderen and Amstel Gold Race. But it is already on the list of invited teams to start in Tirreno-Adriatico, Milano-Sanremo and the Giro d'Italia. Tomorrow, it races in the Monte Paschi Eroica.
"I think that there is no intelligence and a lot of stupidity," Bordonali said of Boonen's comments. "It was not explained to Tom Boonen that LPR paid for the biological passport starting in [November] 2008."
Bordonali took over LPR at the end of 2007 with star rider Danilo Di Luca in his ranks. He found out early in 2008 that the team had to pay an additional sum of around 120,000 euro to join the International Cycling Union's new biological passport system. He did not pay because he did not have guarantees in which races his team could enter and he did not want to fuel the war between the Grand Tour organisers and the International Cycling Union (UCI).
The team hired Alessandro Petacchi mid-year following his suspension for excess asthma medication, but the organisers of Paris-Tours prohibited LPR Brakes from entering the race Petacchi won the previous year because it was not enrolled in the passport system. Since then, the team has started paying for the anti-doping testing programme, and it has the right to enter races that are important to the Italian team: the Giro d'Italia, Milano-Sanremo and Tour de France.
Coming up on
Cyclingnews will cover the 60th edition of the Dauphiné Libéré live as of stage 4 on Wednesday, June 10, at approximately 15:00 local Europe time (CEST)/ 23:00 Australian time (CDT)/ 9:00 (USA East).

WAP-enabled mobile devices: http://live.cyclingnews.com/wap/
"I would like to understand how there are teams that did not have a biological passport in 2008 and raced in the most important races together with Tom Boonen. He did not say anything about these teams. It needs to be clear that the ProTour teams often race alongside Continental teams who do not pay into the biological passport system."
Bordonali received a letter from the Amaury Sport Organisation (ASO) asking if the team would like to participate in its upcoming April classics: Paris-Roubaix, Flèche Wallonne and Liège-Bastogne-Liège (Di Luca is a past winner of the latter two). He affirmed the team's desire to race and the organiser will reveal the teams for its race by March 22.
The International Cycling Union will release information on which teams have paid into its anti-doping system by next week, which should help clear the confusion about the biological passport participation.
UCI confirms Schumacher suspension
The International Cycling Union UCI has confirmed French anti-doping agency AFLD's two-year ban against Stefan Schumacher. Schumacher tested positive for EPO-CERA in last year's Tour de France. Because the race was not sanctioned by the UCI, AFLD carried out the doping controls.
The UCI has accepted the arguments of the AFLD and confirmed the sentence against the German, according to radsportnews.com, which cites reliable sources. This will extend Schumacher's race ban from French soil to a world-wide exclusion of UCI races. UCI president Pat McQuaid will host a press conference later in the day.
Schumacher has always denied the charges and is questioning the transportation of his A-sample, which traveled opened and with his name attached to the re-test. His initial test came back negative, but a new test for CERA was administered to several samples from the 2008 Tour de France. Schumacher's then-teammate Bernhard Kohl was also found positive and has since admitted of taking EPO.
Vandenbroucke serious about comeback this time
Frank Vandenbroucke is once again back racing
Photo ©: Daniel Schamps

Frank Vandenbroucke is coming back once again to the sport of cycling and his entourage emphasised that this time it is serious. Vandenbroucke will ride for Cinelli-Down Under in 2009.
Vandenbroucke's sports manager Nico Mattan is convinced that Vandenbroucke can return to his former strength and even thought the Belgian could have done better in Wednesday's Samyn race. Mattan had clear words for Samyn's organiser, Jean-Luc Vandenbroucke, at the team's presentation on Thursday. "VDB and [Kevyn] Ista are on a counter attack behind the front group and your commissaire blocks the road, which prevented the two from coming back," he said according to the Belgian paper Dernière Heure.
Both Ista and Vandenbroucke belonged to the large group of 130 riders who did not finish the race. Mattan, a former winner of Gent-Wevelgem amidst some equal controversy, is certain that Vandenbroucke would have fared better without the mess created by the commissaires.
The man himself was surprisingly quiet about his ambitions for 2009. "I can only be vague on the subject of results for 2009," Vandenbroucke said. "I am proud to be here, at an acceptable level of fitness. I came from nowhere, so it is almost a miracle."
Mattan said that Vandenbroucke has changed for good. "Before, he got up at 11. In the past several months it is practically he who wakes me up by calling me in the morning... He is never late for meetings anymore. He lives again like a pro, as he did during his best years. But this time he is much more mature."
Even Vandenbroucke's father Jean-Jacques thinks things are off to a more promising start. "If he continues like that he can be really good in May." Jean-Jacques and uncle Jean-Luc were both surprised with Vandenbroucke's form at Le Samyn.
Vandenbroucke said he felt really good all-around. "It has been a long time since my father and my uncle had been at a team presentation of mine."
Cinelli team presentation with one professional
Frank Vandenbroucke (Cinelli-Down Under)
Photo ©: Isabelle Duchesne

The team Cinelli-Down Under was presented in Belgium on Thursday and it has one professional rider – Bert Roesems. The other 14 members, including Frank Vandenbroucke, have not yet received a professional contract.
Sports manager of the team is former professional rider Nico Mattan, the team's general manager is Gilbert de Weerdt. The budget is small with only 550,000 euro and De Weerdt explained the contract situation to Sportwereld. "Through Roesems many years of services as a pro we were required to give him a professional contract." Roesems turned professional in 1997 and was riding for Lotto between 2005 and 2008.
Vandenbroucke still lives in Italy. "VDB has still some logistical problems," De Weerdt said. "He will have to wait to become a professional. We are also in negotiations with other sponsors, so hopefully we can give a few other riders some contracts." If Vandenbroucke's status does not change he will not be able to ride the Belgian Championships in Aywaille on June 28.
The team is an international mix of riders. There four Belgians (Bert Roesems, Frank Vandenbroucke, Peter Ronsse, Sven De Weerdt), seven Australians (Michael Fitzgerald, Daniel Furmston, Mark Jamieson, Nick Mitchell, Tommy Nankervis, Nicholas Walker and Christopher James D'Amelio), the British riders Matt Green and Tom Snape, the New Zealander Logan Dennis Hutchings and Wade Wolfenbarger from the USA.
Nürnberger hopes to build on early successes
By Susan Westemeyer in Nürnberg, Germany
The 2009 Equipe Nürnberger
Photo ©: Olaf Grünewald

Equipe Nürnberger Versicherung has already gotten its season off to a good start with two early victories. The team hopes that this is only a token of things to come, as it introduced its 2009 squad, Thursday evening in Nürnberg, Germany. One of the new hires is World time trial champion Amber Neben.
The team features not only four new riders but also a new Directeur Sportif, Jochen Dornbusch. He had previously served as the German national women's coach before moving over to the trade team. "After 10 years as Bundestrainer, having won almost everything there was, I was ready for a change," he said.
The team has 14 riders, 11 of them German. Five riders left the team, including Edita Pucinskaite, but it has four newcomers, the most prominent being Neben. "The team is super strong, and I hope to add a little salt to it," the American said. Her first goal at her new team "is to be a good teammate. We have a strong team and I think we will win a lot. My second goal is to do well in stage races. Then, of course, there are the Worlds at the end of the season," where she hopes to repeat her victory from last October in Varese.
The team's two wins so far are Suzanne de Goedes' victory last weekend in the women's Omloop Het Nieuwsblad and Eva Lutz's win in the second stage of the Ladies' Tour of Qatar.
Alexander Oppelt, assistant team manager, said it was good for the team to have done so well at the start of the season. "It reduces the pressure, it's like getting six numbers right in the lottery. We have a strong new team, with a new directeur sportif, and we never dreamed that it would go so fast."
Team manager Herbert Oppelt noted that the team has many young riders, and "it is important to us to do something for the future." His goal is for the team to finish in the top three of the team's ranking at the season's end. His son, Alexander, said that the team's two main races this season were the German Championships at the end of June and the hometown race of Rund um die Nürnberger Altstadt, September 13.
Photography
For a thumbnail gallery of these images, click here
Images by Olaf Grünewald/www.equipe-nuernberger.de
Fuji-Servetto out of Paris-Nice
CAS has ruled on the case of Fuji-Servetto trying to participate in various races, with the team losing its quest to start Paris-Nice this Sunday. The team will however be able to ride Tirreno-Adriatico and Milano-Sanremo.
G.M. Bikes SA, owner of a UCI ProTour license for the team Fuji-Servetto, filed the case before CAS against Amaury Sport Organisation (ASO), organiser of Paris-Nice, and RCS Sport, organiser of the Italian events.
The involved parties were unable to settle at a meeting on March 5, requiring a quick interim decision by CAS.
The two organisers had different reasons for excluding Fuji-Servetto. ASO fears an affect of the race's the image, while RCS Sport said it has a discretionary choice to select the participants.
The arbitration procedure will continue shortly so that the CAS can proceed on the merits and render a final decision.
Lutz looking for more
By Susan Westemeyer in Nürnberg, Germany
Eva Lutz enjoyed the Qatar race
Photo ©: Olaf Grünewald

Eva Lutz won the second stage of the inaugural Tour of Qatar this year, breaking a dry spell going back to 2005. The personable 29-year-old is eager to ride the race again next year.
"The landscape was dull, but not the race," she said. "I want to go back." The hotel great and the whole logistics were still in place from the men's race.
One thing that was lacking was spectators. There were very few of them, Lutz said, and almost all male. "We barely saw any women at all, and if so only when they were accompanied by a man."
Besides her official prize for winning the stage, Lutz received a special present from Directeur Sportif Jochen Dornbusch. "Jochen promised me a camel if I won," she said. "The next morning at breakfast he presented me with a small wooden camel."
Her next goal is the German Championships, but "It doesn't have to be me, it just has to be one of us. I think a sprinter will win." Until then, she will "continue to train and work hard and hope that it works out well on the international level, otherwise I will just help the team like always."
Cyclingnews' podcast
Cyclingnews' managing editor Daniel Benson and Jeff Jones discuss recent events in cycling. From Valverde's blood bag ovr Het Volk – or is it Het Nieuwsblad? – to discussing Heinrich Haussler the two don't leave out a topic.
Check out the podcast here.
Tour of Missouri announces first teams
The jersey leaders in 2008
Photo ©: Jon Devich

The Tour of Missouri announced the first four teams for its third edition, scheduled September 7-13, 2009. United States-based teams Garmin-Slipstream and Columbia-Highroad, Italy's Liquigas and the Switzerland-based Cervélo TestTeam will be participating.
Chris Aronhalt of event organiser Medalist Sports already looks forward to the event. "We have had record interest in the event, which has precipitated the early announcement of the first teams committed to participate. The stature of the Tour of Missouri continues to grow ... and we anticipate the announcement of more teams in the next couple weeks."
The overall course will take on a very different slant in 2009. For the first time, the race will route east to west, starting in St. Louis and finishing in Kansas City. The past two years, the race routed west to east starting in Kansas City to finish in St. Louis.
Garmin-Slipstream is expected to field a top team that will include 2008 Tour of Missouri winner Christian Vande Velde. In the off-season, the team also signed Canadian Svein Tuft, who finished third overall in last year's race.
"We're coming back to Missouri to win again," said Garmin-Slipstream's general manager Jonathan Vaughters. "It's a major objective for us, as it's our chance to show Garmin and its employees what we're all about in their backyard."
Vande Velde has good memories, not only because of his win. "The race was well publicised, well organised and had great spectators. Truly world class. It was great to finish my season with a major stage race in the Midwest and not far from my home [in the Chicago area]. I look forward to coming back to defend my title with my Garmin teammates."
Columbia-Highroad will put up fight
Mark Cavendish is likely to return to Missouri this year
Photo ©: Jon Devich

Columbia-Highroad features 2007 Tour of Missouri champion George Hincapie and Britain's Mark Cavendish, who won three stages of the 2008 race and the points classification.
Columbia-Highroad's General Manager Bob Stapleton promised to put up a fight against Garmin. "We are looking forward to sending a top team to Missouri again this year. We had a great time last year with good success [four stage wins and second place overall]. We look to come back and do the same again this year. The race is very well organised and the people of Missouri were extremely welcoming and enthusiastic about the racing."
Liquigas, an entrant into last year's race, is one of Italy's top teams and last year was led by Czech Republic's Roman Kreuziger, who won the Best Young Rider jersey.
The newly established Cervélo TestTeam features 2008 Tour de France champion Carlos Sastre, top Norwegian sprinter Thor Hushovd, who already has won a stage of the Amgen Tour of California and the Omloop Het Nieuwsblad event this year. Canadian Dominique Rollin is also expected to ride. He finished third overall in the 2007 Tour of Missouri and won the King of the Mountains jersey last year.
The complete race rosters will not be announced until next August but team directors are already talking about sending many of their top stars, said Aronhalt.
The race will be contested over seven days and seven stages. There will be two circuit races (St. Louis, Kansas City), one individual time trial (Sedalia), and four point to point road races (Ste. Genevieve to Cape Girardeau; Farmington to Rolla; St. James to Jefferson City; Chillicothe to St. Joseph).
The overall mileage for the course is expected to be more than 600 miles.
Boardman lends support to autism
The National Autistic Society (NAS) has announced that Chris Boardman is supporting the charity in this year's Flora London Marathon (Sunday 26 April). NAS is UK's leading charity for people affected by autism
The former World Record holder and Olympic medal winner will be taking part in the 26.2 mile race to help raise awareness of the half a million people with autism in the UK.
Boardman said that autism is much more common than many other conditions. "But those get far more attention and I'm really pleased to be helping raise awareness to autism by lending my support to such a fantastic cause."
Boardman will be part of a 126-strong NAS team taking part in the running event. In 2008 the NAS running team raised 247,000 pounds, which went towards providing NAS services including the Advocacy for Education service, Befriending scheme, Parent to Parent support service and help! Programme.
To support Boardman in his efforts to raise funds for NAS, he can be sponsored. More details at www.justgiving.com/chrisboardman.
(All rights reserved/Copyright Future Publishing (Overseas) Limited 2009)