First Edition Cycling News, February 11, 2009
Edited by Les Clarke
Lucky 13 for wildcard teams
The Cervélo TestTeam gained wild card status.
Photo ©: Shane Stokes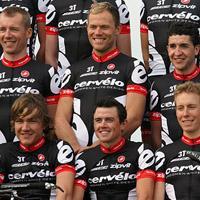 The UCI Licence Commission yesterday announced the teams granted 'wild card' status for the 2009 season. This gives these squads the chance to race in ProTour events despite not being registered as ProTour outfits.
The 13 teams granted wild card status are:
Vorarlberg - Corratec (Aut), Landbouwkrediet - Colnago (Bel), Topsport Vlaanderen - Mercator (Bel), Andalucia - Cajasur (Spa), Contentpolis - AMPO (Spa), Barloworld (GBr), Ceramica Flaminia - Bossini Docce (Irl), ISD (Ita), Skil - Shimano (Ned), Vacansoleil Pro Cycling Team (Ned), Cervélo TestTeam (Swi), BMC Racing Team (USA), Serramenti PVC Diquigiovanni - Androni Giocattoli (Ven)
These teams aren't guarantee a start in some of the year's biggest races, although the possibility exists for race organisers to invite any of the above squads to their events specifically under the wildcard banner. The UCI also made it clear that, "Teams with a wild card label are obliged to participate in the biological passport programme, which includes making a financial contribution and agreeing to provide athletes' whereabouts".
This is good news for Irish-registered Italian squad Ceramica Flaminia - Bossini Docce, whose manager Roberto Marrone recently spoke of the possibility the Italian national champion's jersey - worn by one of his riders, Filippo Simeone - would be at the Giro d'Italia in May. This latest development is another step towards being invited to Italy's national tour.
"It is with great satisfaction that we learn that the UCI awarded our team one of 13 wild cards for the 2009 season," said Marrone in a statement. "This award certifies the quality of our team on the basis of sporting, ethical and financial requirements, and puts us in the equation to be included in the biological passport program. We await with confidence for invitations to the most important competitions in the world."
Contentpolis AMPO manager Jose Antonio Ortuño was also pleased with the announcement - his team has been gradually working towards this point for several seasons, and it now has the chance to be invited to the Vuelt a España, amongst other events, later in the year.
"For us it is great news, because having passed the UCI Licensing Committee's ethical, administrative and bureaucratic requirements of the sport means that Contentpolis AMPO is equated to the UCI Pro Tour teams," said Ortuño. "It allows us to choose to race within that circuit under the blessing of the UCI. In turn we'll be linked to the 'biological passport'. This award also indicates the hard work we are doing for our team and cycling in general."
Barras adapts to road life
By Les Clarke
Former Australian national coach Martin Barras.
Photo ©: Tom Balks

Former Australian national track sprint coach Martin Barras has quickly settled into his job as head of the national women's road programme. The Canadian native took on the role after the Beijing Olympics, where he was criticised over the poor showing from Australia's track sprinters.
"The last time I was coaching on the road, radios had just been introduced, that's how long ago it was," Barras told Cyclingnews recently. "I wouldn't say it's been a shock, because it's still the environment I've been brought up in, but I just needed a fair bit of a touch up, and I'm getting that."
Barras had enjoyed a long period of success with the Australian squad, with the high point being the Australian team's performance at the 2004 Athens Olympics. He is widely acclaimed for his work with Olympic and world champion Anna Meares, who he worked closely with to secure those titles and the current 500m time trial world record.
Barras explained that he'll be based in Melbourne to allow for better family support, and said that he maintains contact with the riders of the track sprint squad. "The amount of time I'll be on the road is more than I've done in recent years, although I was travelling a fair bit already. That's the reason why I've moved the family to Melbourne - for some more support."
Having been credited with much of the success in Athens, it's hoped that Barras can construct the women's national team into a cohesive unit after a after this current transition phase. With talented youngsters such as Josie Tomic, Megan Dunn, Peta Mullens and Annette Edmondson - all riders with a track background looking to race on the road - the ingredients are there for Barras to 'work some magic'. "We're in an interesting situation; there are quite a number of young girls who have some promising talent. There is no shortage of numbers," he said.
"The other thing you notice is that a lot of the senior professional girls have retired, and if you look at this year's national championships in particular you can see those dynamics, where a lot of young women were looking around and seeing that those decision makers weren't around anymore. It's going to take a while to sort out who those new decision makers are; that's probably going to be the most important job I'll have in the first couple of years. I'll be helping riders make that decision and take the next step."
Despite a likely drop in government funding following the Olympics, and given the state of the global economy, Barras is confident he can make the most of a tighter budget by utilising his talented young women in the right way. "We have to deal with the financial realities of a post-Olympic year; nevertheless we've been able to construct quite an interesting program which we're staring in North America," he explained. "I think for the girls that will be great, because starting later in the season will enable them to break themselves in. We have a good solid program in Europe as well. I'm very excited about that."
Known for his affable nature and positive outlook, Barras is applying what comes naturally to his current situation - plenty of patience, combined with some optimism. He knows what he's in for, however. "With the track program I was lucky to be able to work at the very top, whereas on the road I'm starting back in the middle of the ranks," he explained. "I now have to work my way through, and it's time for me to put my money where my mouth is."
Clarke enjoying ProTour life
By Greg Johnson in Melaka, Malaysia
Hilton Clarke chats with Lance Armstrong at the Tour Down Under.
Photo ©: AFP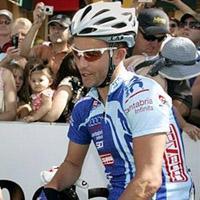 After nearly spending the year without a team, Australia's Hilton Clarke says he's fitting in well at ProTour squad Fuji-Servetto. Clarke, a builder by trade, was left without a ride after the closure of Toyota-United Pro in the United States of America, where he had dominated the local criterium racing scene in 2008.
"It's good, I'm learning quickly that I've got to learn a few languages other than Aussie," joked Clarke. "All the guys seem really great and I'm fitting in well."
Clarke was in the mix for yesterday's stage victory at the Tour of Langkawi, finishing the stage in fifth despite feeling a little off on Monday's opening stage. He was the third Australian to register a top five finish, after Chris Sutton (Garmin-Slipstream) took second on the opening stage.
"Yesterday I tried to help my teammate and I wasn't really feeling too well, so today's a better sign for my confidence," he said. "Riding with confidence tomorrow, I might to a little bit better.
"I was a little bit far behind on the cobbles and the cobbles are a little bit sketchy there, but it was the same for everyone," added Clarke. "We heard on the radio it was going to be cobbled, so we knew it was going to be cobbled, I was just a little bit behind.
Clarke said he is waiting to take on the ProTour riders on their home soil in Europe before making any comparisons between the level of racing in North America and Europe. He has contested both the Tour Down Under and the Tour of Langkawi previously.
Wintery California finish possible
By Mark Zalewski, North American Editor
Dave Zabriskie (Garmin-Slipstream) before stage four last year.
Photo ©: Jon Devich
The newly-designed final stage of the Amgen Tour of California has the potential for plenty of drama. If the GC riders are close together on overall time for the 11-mile ascent of Mt. Palomar north of San Diego, coming halfway through the stage, the climbing battle could be fierce. But on top of all that, winter weather has hit the top of the mountain hard, with snow and ice storms over the weekend cutting power to the Palomar Observatory and making the roads impassable.
Scott Kardel, public affairs co-ordinator for the observatory, wrote on the observatory's blog about the conditions. "Yesterday's snow storm was indeed impressive. At times the sleet was coming down with a fury that I have never seen before. The snow and sleet, combined with an intense wind, brought tree limbs and trees down, knocking out the power more than once."
Though southern California is often thought of as a mild climate, weather has always been an issue for the race, being so early in the year. Last year the now-infamous stage down Highway 1 was a torture test that made the freezing rain and sleet on the final stage over Mill Creek Summit pale in comparison.
For that final stage, race organisers were unsure if that pass would even be open as snow was forecasted. But an early morning decision was made to race over the pass and not use an alternative route. "We've gone over an area every year," Chuck Hodge, the race's technical director told Cyclingnews. Mill Creek was pretty bad last year going into Pasadena but it was passable. We sent a crew up there at 4:00am to make a judgment call."
He said that similar procedures are in place for Palomar this year. "We always have a back-up plan. Eric Smith has been working a lot on this stage and we just had an all-agency meeting about it and have great cooperation between everyone. We will asses the weather as it gets closer but it is still a week away, so we are hoping for a LOT of sunshine!"
Hodge said he has seen the conditions the past few days "We've had some pictures from up there. It's too bad Andy Hampsten isn't racing!"
On-the-job training at Cervélo
By Daniel Benson in Langkawi
Despite limited experience as a directeur sportif of a major trade outfit, Marcello Albasini of Cervélo TestTeam believes that any such deficiency can be overcome by the special nature of his new team. Just a few months into the team's inaugural season and Swiss outfit have hit the floor running, scoring significant wins at the Tour of Qatar, while also fighting for top honours at the Tour de Langkawi.
Albasini, father of Columbia professional Michael, served as the Swiss national coach for 10 years and sits alongside Alex Sans Vega, Jean-Paul Van Poppel, Jens Zemke, Manel Lacambra and Patrick Banfi as the team's directeurs. None of the above has served as a directeur for a major men's team but were cherry-picked by the team's manager Thomas Campana in order to create a unique blend of management and leadership.
"This was a new challenge for me," Albasini told Cyclingnews at the Tour of Langkawi. "After over 10 years with the Swiss national team I felt like I needed a change. My budgets were continually being cut back further and further and I'm a guy who likes to do the best he possibly can, but it got to the point where that wasn't possible anymore."
Cervélo approached Albasini in late 2008 and the timing for both parties couldn't have been better. "You can't say we have no experience. After all a race is race, whether it's the worlds or a Classic. Yes, of course some things are different between the level I was working at and where I am now but that's not a problem," he said.
"For example, here I have 25 riders to prepare and look after them all year around. In the national team it's just six riders picked on form. I used to have them for a few days and regardless of how they performed they always went home and back to their teams."
Certainly that's a shift in work pattern that can't be underestimated. Moving from a set up that involved selecting riders based simply of form has shifted to moulding, training, and harmonising a team from a variety of nationalities and backgrounds - and not just a seasoned outfit - a new one with all the teething problems that come along.
"We're planning a lot more. We have race schedules laid out for the season and all the riders have clear and defined goals. Unlike my previous role I'm working alongside the riders more," he explained. "Before it was about laying down the law, here it's about establishing the law. You can't tell me I have to spend time getting guys like Carlos Sastre and Thor Hushovd focussed on their training. Those guys have been around long enough to know what's expected of them and they're integral to help shaping the futures of some of the younger riders."
Albasini and his colleagues tap into the wealth of experience from riders like Sastre, Hushovd and Hammond. "We ask, what worked for you at your old team? What didn't work? From that we can outline our philosophy and make a team that gives every rider what they need to do well."
It's too early to tell how Cervelo's season will pan out. Yet as they work towards building a close-knit unit the prospects are good if not already backed up by their results so far.
Bennati back in business
Liquigas' Daniele Bennati scored his first win of the season at the Challenge Mallorca yesterday, breaking Katyusha's stranglehold on the event thus far. Bennati was lucky to avoid a crash in the final bend which took out Caisse d'Epargne's Alejandro Valverde, and powered to the win with a one second time gap over Rabobank's young Dutch sprinter, Tom Leezer and Quick Step's new recruit, Jérôme Pineau.
Previous stage winners Robbie McEwen and Gert Steegmans were notable absences from the third day of racing, leaving the door open for the likes Caisse d'Epargne's José Joaquin Rojas and Milram's Gerald Ciolek to notch up their first victories of 2009.
It wasn't to be, with Bennati proving his preparations for May's Giro d'Italia seem to be on track. The classy sprinter now heads the GC standings with two days of racing remaining.
Check out Cyclingnews' full coverage of the 18th Challenge Volta a Mallorca.
(All rights reserved/Copyright Future Publishing (Overseas) Limited 2009)