Latest Cycling News, February 11, 2009
Edited by Bjorn Haake
Garmin shifts focus to Genting climb
By Greg Johnson in Melaka, Malaysia
Chris Sutton came close to winning a stage for Garmin on the first day
Photo ©: Bruno Bade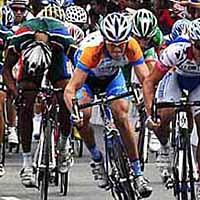 Garmin-Slipstream will play a conservative strategy on tomorrow's Tour of Langkawi Stage 4, after narrowly missing out on a sprint stage for the second time today. The team will rest on tomorrow's stage, the second most challenging of this year's event, in the hope of winning the race's queen stage on Friday.
"That's all we will do, we'll just conserve, conserve and wait," said team sprinter Chris Sutton. "Then we'll play our cards – maybe start opening 'a can of whoop-arse' on the climbs."
After finishing runner-up on Monday's opening stage, Sutton again tried to nab a stage victory on Wednesday. But the Australian rider was once again beaten by race leader Mattia Gavazzi (Diquigiovanni-Androni), after Sutton's teammate Ricardo Van Der Velde spent the majority of the day's stage in the leading break.
Stage 5 will feature two climbs, the first starting at kilometre 103.4 (367 metres of altitude) and the second comes 69 kilometres later where riders will climb to 459 metres before descending to the finish. Sutton expects the race to break up over the 220-kilometre stage, but whether there's a strong enough team to pull it back together for a fourth sprint finish is unknown.
"It definitely will break up," he said. "I just need to make sure we're at the front and well positioned. Cameron Meyer is here for me at the moment, but the other four guys can absolutely fly up the climbs. They should be up there on the Genting stage. Christian [Meier], Timmy [Duggan] and Lucas [Euser] – they're all going good."
While the team will change its focus for the next two stages, there's still time for a sprint stage win according to Sutton. The second-year professional is confident he can get ahead of Gavazzi before the week is over.
"I know I will," he smiled. "I mean, you've got to be confident, not cocky, you know. At the moment I'm only good enough for second place.
"I know if I've got a good day, then I can beat him, so it could be on Sunday as it's a short circuit race," he added. "That suits me fine with all the criteriums in Australia. We will wait and see, I guess."
Riis embraces Armstrong's return
By Kirsten Robbins in California
Bjarne Riis welcomes Lance Armstrong back in the peloton without question
Photo ©: Mark Gunter

Bjarne Riis, Saxo Bank's directeur sportif, hopes that the return of seven-time Tour de France winner, Lance Armstrong will re-ignite the world's interest in cycling despite the international economic hardships. Armstrong retired from cycling in 2005 but announced his return to the sport last September with a motivation to spread the Livestrong message and raise cancer awareness.
Riis was aware that Armstrong's comeback has been controversial. "But the cycling world needs to take advantage of the good things that he brings back to the sport."
Riis told Cyclingnews that he didn't know if Armstrong's comeback is good or bad for the sport or if Armstrong took the right decision. "I give him a lot of respect to have the courage to come back. Instead of complaining that he is back, we should try to see the positive things that he actually brings to the sport with him. And when he retires again it is up to us to keep up that momentum, create opportunities and possibilities for our future. If we, the cycling world, cannot do this then we are the ones who fail – we are simply not good enough."
The current economic crisis has negatively affected cycling around the world. "The world is in crisis right now and it is not easy to get sponsors," Riis said. He lost his long term title sponsor CSC and co-sponsor IT Factory last season. Riis said that Armstrong can make a difference. "There will be hundreds of thousands of people waiting to see him everywhere he is going to be this year."
Riis suggested that pointing fingers at Armstrong and criticising him would be unfair. "If we continue to see only the negative things we are going to kill ourselves and kill our sport. We need to take the opportunity to find solutions for the future of cycling. And we need to give him credit that he has the guts to come back."
Riis knew that the cancer campaign was part of the comeback, but that there may be more to it. "He has his reasons. He has his cancer foundation and I'm sure he also has his personal reasons. I believe he should be allowed to keep those reasons to himself. He's back and that is all that matters."
Armstrong has faced lots of doping accusations throughout his career, which doesn't bother Riis at all. "Some say he was not clean when he won his Tours. I think he was a great athlete."
Riis has admitted to using EPO when he won the Tour de France in 1996, but said the past should be left behind. "Where are we going to start and where are we going to end this negativity? It's not fair that people can judge him like that. I think if we have chosen to take him back then he should ... compete under the same circumstances as everybody else. I expect from him only the best, which I'm sure he will give us."
Riis saw Armstrong's chances to win the Tour of California and other targeted events this season, as difficult. "He will do well because he is a great athlete. He might not win but just coming here and doing some good for the sport means that he does not need to win. He will not fail if he does not win. In fact, maybe he will fail if he does win. I try to think of it like that. I have so much more respect for him to come here and actually not be the best. Just be here to give something back to us."
California prepares for the big show
The state of California is preparing for legions of cycling fans to descend upon its road sides for the fourth edition of the Amgen Tour. Cyclingnews' Les Clarke takes a look at if and why this year's race will be the biggest cycling show ever to hit US shores.
I'm going out on a limb here, but Tour of California organiser AEG Sports has assembled what is arguably the highest quality field for a cycling race ever seen in the United States. Don't believe me? AEG itself stated this apparent hyperbole in it's press release last month. But is it an exaggeration?
Find out the plethora of reasons why this it's not.
Saxo Bank may surprise in California
By Kirsten Robbins in California
Bjarne Riis says his team will race hard in California
Photo ©: AFP

Less than a week before the start of the Tour of California, Saxo Bank wrapped up its two-week training camp, held on the outskirts of Los Angeles in the Agoura Hills. California's 'mini Tour de France' is set to begin on February 14 in Sacramento. Bjarne Riis promised a tough fight from his star cast in the week-long event.
"We want to go for everything at the Tour of California, jerseys and stage wins, but we also need to be realistic that to win the overall might be difficult," Riis told Cyclingnews. "We will see how the race goes forward and we will be ready, as always, to do a strong performance. We have a strong team, no doubt about it, so we need to see how we can play our cards – we may surprise."
Saxo Bank gives California a chance to see its Tour de France roster in action. The team includes powerful GC contenders, brothers Fränk and Andy Schleck, along with former world time trial champion Fabian Cancellara, Gustav Larsson, Stuart O'Grady, JJ Haedo, Jason McCartney and Jens Voigt.
"We have one of the strongest teams here. Obviously Astana is going to be good and Levi [Leipheimer] is probably flying as always. But those are things we need to deal with and we can't give up before the race. That would be wrong."
Even though Riis considers the Tour of California an important event on the Saxo Bank calendar, the overall focus is still on the Spring Classics and the Tour de France. "Our riders have not trained specifically for this race," Riis said. "Some of them are going to be good now, but not too good. This is an important race for us which is why we brought a very good team. We take it seriously and you can see that the peloton is like a mini Tour de France. It is going to be an interesting event this year."
The organisers have incorporated at least one KOM summit in each of the eight road stages. The eighth and final stage stretches nearly 160 kilometres from Rancho Bernardo to Escondido and features four KOM summits. It is marked as the 'Queen' stage because it includes a 19-kilometre climb up the Palomar Mountain range, reaching 1,561m (5,123 feet) through 21 switchbacks.
"I think that the outcome of the race depends on where the climbs are located within each stage," Riis continued. "It looks difficult this year but I still believe the GC will be decided at the time trial. The last day is very hard and that can make a difference."
Wild's Qatar calculations golden
By Gregor Brown in Al Khor, Qatar
Kirsten Wild (Cervélo TestTeam) won the overall in Qatar
Photo ©: Gregor Brown
Kirsten Wild of Cervélo TestTeam claimed her first win of the season on Tuesday via smart calculations over the three days of racing in the Ladies' Tour of Qatar. She takes home to The Netherlands the gold leader's jersey thanks to a four-second margin over Italy's Giorgia Bronzini.
"We had the gold calculator in the car behind and we were calculating seconds the whole race. The team had good control, and that was really important," she said to Cyclingnews after the third and final stage in Al Khor.
Wild claimed the overall lead on day two thanks to winning both of the intermediate sprints for bonus seconds. She did not figure in the top three (and bonus seconds) at the finish in Al Shahaniyah, but she controlled the race by five seconds over Bronzini.
Wild delivered more of the same on Tuesday: she won both sprints and took third in the final sprint. Though Bronzini won the stage (and the 10 bonus seconds), Wild kept the jersey by four seconds.
"There was some chaos mid-race, but the team controlled it perfectly. My legs felt good, but you never know. ... I was also calculating in the final kilometre, I thought 'Oh sh*t if they go clear I will lose this!'"
The Tour of Qatar is the first professional women's race organised in the Middle East. It follows on the success of the men's stage race, this year in its eighth year and won by Tom Boonen of Team Quick Step.
"I think it is a well organised race. I like the race, no cars or traffic islands. It is like a Dutch race, but there are not a lot of traffic obstacles."
Wild spent the last three years with AA Drink Cycling Team. Last year, she claimed one-day victories in Omloop Het Volk, Omloop van Borsele and Therme Kasseienomloop.
Bronzini confirms in Qatar ahead of Worlds
By Gregor Brown in Al Khor, Qatar
Giorgia Bronzini (Italy) won two out of three stages and looks ready for the track events
Photo ©: AFP
Giorgia Bronzini confirmed her form in the Tour of Qatar this week ahead of next month's Track World Championships. The Team Italy rider won stages one and three of the first ever Middle East stage race for professional women.
"It's an honour to win in the first [women's] race in the Middle East. I hope I can return next year and with the same form," said Bronzini Tuesday.
Bronzini's preparation this winter for the World Championships meant that she is closer to top form than her competitors in the Ladies' Tour of Qatar. She won the opening stage and took the leader's jersey on Sunday. She confirmed her speed again Tuesday with a second stage win.
"The two stage wins confirms the form I have ahead of the points race at the world championships," she said to Cyclingnews. She finished second overall, four seconds behind Kirsten Wild (Cervélo).
Bronzini, from Piacenza, got her start on two wheels at the age of ten. She took her first win two years later. "A friend of my dad gave me a bicycle to try. I won my first race in a mixed race with boys, and I won five other races that year!"
Bronzini will line up in the Copenhagen Track World Cup, February 13 to 15, prior to Worlds. The World Championships will be in Poland, March 25 to 29.
Zubeldia gives his Astana debut in France
Spanish cyclist Haimar Zubeldia will do his first race for his new Astana team at the Tour du Haut Var in France (February 21-22). Zubeldia moved from Euskaltel-Euskadi to Astana at the end of last season.
Zubeldia will wear number 51 in the race in Southern France. "I think I am going well, I have trained all winter without any mishaps, but it is the first race of the season and of course I have no references," Zubeldia said.
Zubeldia will race Haut Var for the first time, but he knows a little bit about the race. "It is an event with a certain difficulty, due to its undulating terrain and the constant ups and downs. It will also be cold."
The next races for Zubeldia are the Giro de Cerdeña (February 24-28) and the GP Lugano on March 1.
Mosquera leads Xacobeo Galicia in Grossetto
Ezequiel Mosquera will lead Spanish Professional Continental team Xacobeo Galicia in the Giro di Grosseto, Italy, from February 13 to 15. The team will travel to the presentation of the teams on Thursday.
Xacobeo will use Grossetto as a first step to get used to the Giro d'Italia, which the team will ride in May. Despite Mosquera being the leader, the team will expect even more out of Gustavo César Veloso and Carlos Castaño, who started their season preparations earlier.
There is a clear sign that the team has stepped it up a notch. Manager Álvaro Pino has been invited to the Foro Pedro Ferrándiz next Thursday. This forum is held jointly by the organisers of the three Grand Tours. Angelo Zomegnan (Giro d'Italia), Christian Prudhomme (Tour de France) and Javier Guillén (Vuelta a España) will host the event.
Vorarlberg-Corratec having a good week
Wim Van Huffel may be signing with the Austrian team
Photo ©: Régis Garnier

It has been a busy and successful week for Team Vorarlberg-Corratec, with three top ten finishes in the Tour de Langkawi. It also received "wild-card" status from the International Cycling Union, allowing it to ride in ProTour races. To top it off it also may be on the verge of signing Wim Vanhuffel.
In Langkawi, Daniel Musiol finished sixth in the first stage of the Austrian Professional Continental team's season opener, and team newcomer René Haselbacher has finished seventh and sixth in the next two stages. "The sprinting works out quite well," said Directeur Sportif Gregor Gut. "Tomorrow [Thursday] we want to try again to be in the front, and then Friday it goes up into the mountains."
The team is currently in negotiations to sign Vanhuffel. The 29-year-old Belgian rode for Lotto for four years, but did not receive a new contract for 2009. Since then, he has signed with two teams that failed to get UCI licenses, TlTeck-H20 and Crota-Turbo' Hoet. Most recently he rode for Revor-Jartazi as an elite rider without a contract. That connection has now been dissolved.
Vanhuffel hopes to ride for the Austrian team, but admitted that things are not yet final. "I signed the offered contract and sent it back to the team manager, but so far I haven't received it back from him," he told hln.be. Frustrated by his difficult job search this winter, he said that if this contract doesn't work out, "then I will cut my bike into pieces and stop riding."
Vorarlberg-Corratec was one of 13 Professional Continental teams to receive "wild-card" status from the UCI this week. This status allows non-ProTour teams to be invited to ProTour races.(SW)
German cycling federation to file charges
The German cycling federation is preparing to file charges against the unkown rider who allegedly claimed the federation told him to get a false diagnosis of testicular cancer to cover up a positive doping test. Meanwhile, Philip Schulz, who told of the case, has now said that it may not be true.
"We will file charges this week against an unknown person, Rudolf Scharping, president of the Bund Deutscher Radfahrer (BDR) told the dpa press agency. The charges will be for slander and defamation.
Scharping said the charges would "specifically not be against Philip Schulz" the amateur rider who repeated the claims of the other rider to the press. On German TV, Schulz had said that another amateur rider tested positive for the hormone hGC in 2007, and that an employee of the BDR recommended that he "get an official diagnosis of testicular cancer to get out of the doping case."
On Wednesday, however, Schulz said that he couldn't rule out that the cyclist had not told him the truth about the matter.
The BDR once again denied the charges. "All employees of the BDR who deal with athletes have given their employer written statements that the claims are false," Scharping said. The employers are also willing to give these statements under oath if required.
Schulz tested positive for amphetamines in May 2008 and was given a two-year suspension. He is trying to get the ban reduced by half by becoming the first amateur to use the "cooperative witness" rule.(SW)
(Additional editorial assistance from Susan Westemeyer)
(All rights reserved/Copyright Future Publishing (Overseas) Limited 2009)