Recently on Cyclingnews.com
Tales from the peloton, August 3, 2005
The Legend of Lance: an Armstrong retrospective
He's gone but not forgotten. After winning an unprecedented seventh straight Tour de France title, Lance Armstrong can lay claim to the title of greatest Tour de France rider in the history of cycling. It's a title not likely to be challenged for many years, and Cyclingnews' European Editor, Tim Maloney, takes a look at what makes Armstrong great.
The number says it all.
Photo ©: AFP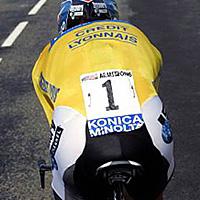 The fourth oldest Tour de France winner at 33 years and 10 months, Armstrong said in his final Tour de France press conference, 'It's nice to finish your career on a high note. As a sportsman, I wanted to go out on top. I have absolutely no regrets. I've had an unbelievable career. I've been blessed to ride 14 years as a professional...I've been blessed with financial rewards that I never thought would be possible. There's no reason to continue. I don't need more. It's time for a new face...(I have) no regrets."
Armstrong was born September 18, 1971 in Plano, Texas. As a youngster, he won the Iron Kids Triathlon at 13 and became a professional triathlete at only 16 years old. In 1988, Armstrong qualified to train with the US Olympic developmental team in Colorado Springs, Colorado and represented the USA at the Junior World Championships in Moscow in 1989. In 1990, he finished 11th in the World Championships in Japan. In 1991 Armstrong was the US National Amateur Champion on the Subaru-Montgomery team, winning the Settimana Bergamasca race in Italy for the US National team. and he remained an amateur competitor during the 1992 Olympic games in Barcelona.
Armstrong turned pro for Motorola after the Olympics and in his first pro race, the 1992 Clasica San Sebastian World Cup, he finished dead last. The next week, Armstrong rebounded to finish on the podium (taking second) at the Championship of Zurich World Cup event. In 1993, his first full year as a pro, Armstrong won the US PRO Championship and a few weeks later, his first stage victory in the Tour de France in Verdun. On August 29, 1993 on a cold and rainy Sunday, Armstrong became one of the youngest World Champions in cycling history (21 years, 11 months) with a dramatic solo win in Oslo, Norway.
Having a chat during the 2001 Tour
Photo ©: Sirotti

Wearing his rainbow jersey of World Champion in 1994, Armstrong was runner up in three big races; Liege-Bastogne-Liege, Tour du Pont and the Clasica San Sebastian, but did win the Thrift Drug Classic in Pittsburgh, Pennsylvania. In 1995, he dominated US racing again with wins in the Tour du Pont and KMart West Virginia Classic. Three days after the tragic death of his Motorola teammate Fabio Casartelli in the Tour de France following an horrific crash, Armstrong powered to a solo win on Stage 18 in Limoges with his fingers pointing towards heaven in a poignant homage to the fallen Italian. A month later, Armstrong took his first and only World Cup career victory at the Clasica San Sebastian in Spain.
Ranked world number one by the UCI as 1996 started, Armstrong soloed to victory in a cold Fleche Wallone, then repeated at Tour Du Pont. Armstrong abandoned the Tour de France and as a favorite in the 1996 Atlanta Olympic games, Armstrong's performance was strangely sub-par. He then signed a rich contract with Cofidis, but three weeks later, on October 2, 1996, Armstrong was diagnosed with advanced testicular cancer that had spread to his lungs and his brain. As agressive with his treatment as he was with his cycling, Armstrong began a chemotherapy programme that was still relatively untested - a "cocktail" of chemicals called "VIP" (Vinblastine, Etoposide, Ifosfamide, Cisplatin) that would offer a chance for a full recovery from cancer with far less danger of losing lung capacity as a side effect. Although he started riding his bike again in the spring of 1997, his battle to beat cancer and the long comeback road ahead would keep Armstrong away from the pro peloton for a year and a half, and Cofidis ended up unceremoniously dumping the recovering Armstrong. The only team that would have Armstrong was the fledgling United States Postal Service pro cycling team, and in February 1998, Armstrong came back to racing at the Ruta del Sol in Spain where he finished 15th.
Thanks guys!
Photo ©: Chris Henry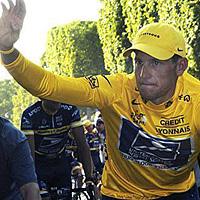 A month later, Armstrong was at Paris-Nice race where the bad weather and a crisis of confidence caused the Texan to pull out abruptly and return home to Austin. But a month later, his friend and coach Chris Carmichael organised a training camp in Boone, North Carolina and Armstrong rediscovered his motivation for the sport of cycling. Armstrong won his first race back in Europe, the Tour de Luxembourg, then took the Rheinland-Pfalz Rundfarht in Germany and returned to America in August of 1998 to win the Cascade Classic in Oregon. Upon his return to Europe in September, 1998, Arsmtrong was fourth in the Tour of Holland before stepping it up a notch, finishing fourth on GC in the Vuelta a Espana. Under cold rain and wind, Armstrong took two fourth places in the World TT and Road Race Championships in Valkenberg, Holland.
Late in 1998, Belgian Johan Bruyneel had joined the United States Postal Service team as sports director and he changed the game for Lance, telling Armstrong that he thought the American could win the Tour de France. As 1999 progressed, Armstrong took the ITT in the Circuit de la Sarthe and was a close runner-up in Amstel Gold, then rode well in the Dauphine' Libere' and Route du Sud. Entering the 1999 Tour de France as a dark horse, Armstrong took the prologue for his first ever maillot jaune, then proceeded to win three more stages before clinching his first ever Tour de France win. Armstrong repeated his Tour win in 2000, as well as winning a bronze medal at the Sydney Olympics in the individual time trial.
The two great rivals of the last decade
Photo ©: AFP

In 2001, Armstrong added the Tour of Switzerland to his palmares and moved to the top of the UCI rankings, before winning the Tour de France for the third consecutive time with four stage wins. 2002 saw Armstrong equal Eddy Merckx with a hat trick of wins in the Midi-Libre, Dauphine' Libere' and Tour de France, where he and his legendary Blue Train of US Postal crushed the competition and Armstrong won four more stages. Leading up to the centenary Tour in 2003, Armstrong won the Dauphine' Libere', but a crash there caused him to dig deep down into his reserves. The 2003 Tour de France would be difficult for Armstrong, with a major defeat in the Cap Decouverte TT to Jan Ullrich. But Armstrong showed his character and determination to win at Luz-Ardiden and capture his fifth straight Tour de France victory, equaling Tour greats Jacques Anquetil, Eddy Merckx, Bernard Hinault, and Miguel Indurain. For an unprecedented sixth straight Tour win in 2004, Armstrong came back stronger than ever, winning five stages and totally dominating the Tour, the final win for his US Postal Service squad.
In 2005, Armstrong opened the year by presenting his new team, the Discovery Channel Pro Cycling team in Silver Spring, Maryland in January. After a slow start in a cold and snowy Paris-Nice, Armstrong announced his retirement at the end of the 2005 Tour de France in Augusta, Georgia, then helped his Discovery Channel teammate Tom Danielson win the Tour De Georgia. Armstrong and the Discovery squad were ready once again for the Tour de France. After a narrow loss in the opening 19km time trial to fellow Amerian Dave Zabriskie, Discovery Channel took the TTT. The American played his cards close to the chest all race long and only made one major attack, on the ascent to Courchevel. Armstrong finished his Tour with a win in the Saint-Etienne ITT for his 22nd career stage wins, placing him fifth on the TDF all-time stage win list. During Armstrong's seven-year Tour career, he wore the maillot jaune more than his USPS or Discovery Channel team jersey, notching 83 days in the maillot jaune and 64 without.
Tour de France career review and overall career palmares
Hey Lance, stay still could ya?
Photo ©: Roberto Bettini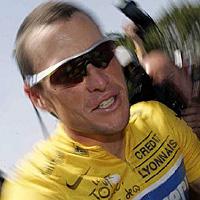 Seventh Heaven
2005 began with the inaguration of Lance Armstrong's new team, the Discovery Channel Pro Cycling Team. After a busy winter on the social scene at the Grammys, Oscars, etc, Armstrong started 2005 behind in his preparation. At Paris-Nice, the frigid air and hot racing was just the situation he wasn't looking for. Armstrong abandoned and headed back to Texas to train. Armstrong's next appearance was at the Tour of Georgia, where he announced he would retire at the end of the upcoming Tour de France, then helped his teammate Tom Danielson win the Georgia race, taking a step forward in his Tour de France preparations in the process.
As he began the quest for an unprecedented seventh straight Tour de France win, Armstrong missed the maillot jaune in the Stage 1 time trial, where young American Dave Zabriskie bested his time by two seconds. Armstrong took over the leader's jersey four days later when his Discovery Channel team took the TTT stage from Tours to Blois as Zabriskie crashed in the final run-in and his CSC squad lost by two seconds. Not really wanting to defend the race lead so early, Discovery did so until Jens Voigt was 'King for a day', then Lance took the Tour de France leader's tunic back on the first mountain stage to Courchevel. His chief rivals Basso and Ullrich were distanced on the ascent, and once Lance had the maillot jaune back, 'Big Tex' went into defensive mode to make sure he would make it to Paris in yellow. Along the way he took the stage 20 time trial, proving his status as the greatest Tour de France champion ever.
2004: The pressure
Star spangled banner time
Photo ©: Jon Devich

Like Neil Armstrong, the first man to walk on the moon, Lance Armstrong was attempting to go where no man had ever gone before. Six wins in the Tour de France would put the record on the shelf and Armstrong wanted it. His season began quietly in Spain, then after third place in the Criterium International in France, he headed back to the USA to be closer to his kids, taking a strong win in the Tour of Georgia while he was there. Back in Europe, Armstrong won Stage 5 atop Mont Saint Clair in the Tour of Languedoc-Roussilon (formerly Midi-Libre) and then a fourth in the Dauphine' Libere' as the Tour approached.
Armstrong was narrowly defeated in the Tour prologue in Liege, but his USPS-Berry Floor came back strongly to take the TTT in Stage 4 and give him the yellow jersey. The next day, the Tour's new leader let Frenchman Voeckler take over the mantle and then sat back and bided his time until Stage 13 to Plateau de Beille, where he exploded into the race and took control of the situation, even though Voeckler still had the maillot jaune.
The valiant young Frenchman hung on to the Tour lead for a few more stages until Stage 15 to Villard de Lans, where Armstrong won the stage and donned the leader's jersey. But Armstrong wasn't done; he dominated the Stage 16 l'Alpe d'Huez mountain time trial, then took a dramatic sprint win on Stage 17 to Le Grand Bornard, then administered the coup de grace in the final time trial on Stage 18 in Besancon. Armstrong had done it! By winning six straight Tours De France, the Texan had established a new record for victories in La Grande Boucle.
THAT fall in the 2003 Tour
Photo ©: AFP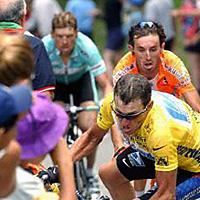 2003: The hardest win
In an intense, closely fought Tour de France, Armstrong pulled out his closest win ever, beating Jan Ullrich by just 1'01" to take the Centenary Tour for his fifth straight win, equalling Miguel Indurain's record. With the emotional turmoil surrounding his divorce causing him to lose focus in pre-Tour preparation, Armstrong was beset by minor physical problems at the beginning of the centenary Tour, which started with pomp and circumstance at the foot of the Eiffel Tower. Finally, US Postal Service won their first team time trial on Stage 4, making USPS's Victor Hugo Peña the first Colombian to wear the maillot jaune. After a long solo break on Stage 7 to Morzine, Richard Virenque took the jersey from Armstrong's teammate, but it only lasted a day. As a summer heat wave continued to bake Europe, Stage 8 to l'Alpe d'Huez provided the opportunity for Armstrong to charge into the lead ahead of challengers Beloki, Mayo, Ullrich and former teammate Hamilton. On brutally hot Stage 9 to Gap, a fit and focused Beloki tragically crashed out of the Tour, while Armstrong's off-road excursion to avoid the fallen Spaniard on the descent of the Cote de la Rochette entered Tour de France history.
With his main competition out, Armstrong still struggled to take control of the 2003 Tour. As the Tour headed out of the Alps and south towards the Pyrenees, the blast furnace heat increased. At Stage 12's Gaillac- Cap' Découverte TT, a resurgent Ullrich rode himself back into Tour contention with a brilliant TT win over a "not great" Armstrong. Uli was just 34" behind the American as the Pyrenees started, and the American lost time again the next day on the final ascent to Plateau de Bonascre.
But little by little, Armstrong began to feel better in the 2003 Tour as the opressive heat began to slacken. On Stage 15 from Bagnères-de-Bigorre to Luz-Ardiden, the legend of Lance enlarged. As the peloton began the steep final 13.4km climb of Luz-Ardiden awaiting an Uli-Lance battle, Armstrong and Mayo crashed as a spectators bag got entangled in Armstrong's handlebars, taking him and Mayo down. Both riders got up and chased back on, and then an energized, adrenalin fuelled Armstrong rode to the dramatic stage win ahead of Ullrich and Mayo, and turned the corner at the 2003 Tour de France. "This has been a Tour of too many problems; too many close calls, too many near misses," he said after his win in Luz-Ardiden. "I just wish it would stop and I could have some uneventful days."
Armstrong clinches the 2003 Tour
Photo ©: Sirotti

Things were relatively uneventful until the penultimate stage, a 47km time trial from Pornic to Nantes. Ullrich was just 1'05" behind Armstrong and looked poised to give the American a run for his money. In contrast to the weather earlier that July, the day of the Stage 19 time trial dawned wet and windy. Ullrich had a strong ride until his crash on a slippery roundabout, which took away any chance he had of beating the American, while Armstrong was 3rd and clinched his fifth straight Tour win in the most exciting Tour de France for years. At the post-race press conference on the Champs-Elysées, Armstrong said, "It's a dream, really a dream to win my fifth Tour. Now it's difficult to think about it. This year, the Tour was very, very hard - the hardest - but now I'm very happy because it's finished and I'm really tired. But for sure, I'll be back next year. I love cycling. I love my job and next year I'll come back to go for a sixth win. We'll change my programme a little bit for next year and we'll hope for a little good luck next year since we had some bad luck this year."
2002: The year of the team
Attacking Beloki in 2002
Photo ©: AFP

Armstrong opened his 2002 season well, with a second at the Criterium International, and then a win at the GP Midi Libre and Dauphine' Libere' in June to put his competitors on notice that the American would be very ready to race in July. Jan Ullrich was not on hand in 2002, as the talented German was plagued by a knee problem and other misadventures that kept him at home during July. Lance called 2002 Year Of The Team, as Armstrong fielded a solid squad that included Czech chomper Pavel "Jaws Padrnos and American Floyd Landis for the first time, as well as old pros Ekimov and Joachim, while Armstrong's key support came from a terrific trio of climbers, Roberto Heras, "Chechu" Rubiera and Colombian Victor Hugo Peña. Armstrong flexed his muscles in the Tour de France Prologue in Luxembourg, then gave up the yellow tunic as the Pyrennes commenced at La Mongie. Armstrong and his team steamrolled the peloton, with only Joseba Beloki of O.N.C.E. able to match his pace. The next day, as Laurent Jalabert charged across the Pyrenees to take the Maillot Pois at the Tour, Armstrong rode to his second straight stage win on Stage 12 to Plateau de Beille. As an appetiser for the Alps, Armstrong tried to conquer le Mont Ventoux, but a feisty Richard Virenque win prevented that. Still, Armstrong put almost two minutes into Beloki and solidified his Tour lead with a week to go. From there to the final ITT in Macon, Armstrong's USPS team controlled the race with an iron grip until Lance unleashed his final assault to win the final time test. At the end of Le Tour, it was Armstrong for his fourth straight win with over seven minutes in hand on Joseba Beloki.
Nice hair, yeah yeah!
Photo ©: AFP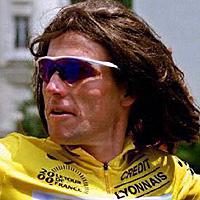 2001: Another Triple Crown
Coming into the first Tour de France of the 21st century, Lance Armstrong changed his preparation with a win in the Tour Of Switzerland. The American came into the Tour with the #1 UCI ranking and after finishing third in the wet Dunkirk prologue, Armstrong played his cards close to the chest and on rainy Stage 8 to Colmar, a big break gained 35' and put Francis Simon in the Maillot Jaune. On Stage 10 from Aix-Les-Bains to l'Alpe d'Huez, Armstrong and USPS played poker, bluffing on the climb of the Col du Glandon to get Ullrich's Telekom team to work hard, then blasting away up the 13.9km ascent to l'Alpe d'Huez, where Lance's look back at a struggling Ullrich will be forever ensconced in cycling history. The next day, Armstrong did the double with back to back Alpine wins as he beat Ullrich by 1' in the Stage 11 Grenoble-Chamrousse mountain TT.
As the Alps ended and the Pyrenees began, Armstrong was still over 10' behind Maillot Jaune Simon, but he was 3rd on Stage 12 to Plateau de Bonascre and the next day, the American attacked brilliantly on the final ascent to Saint Lary Soulan (Pla d'Adet), winning the stage and finally taking over the Mailliot Jaune from the heroic Simon. In the final 61km Time Trial in St. Armand Montrond, Armstrong blew away the competition
and rode into Paris two days later for his third straight Tour de France win. Lance's hat-trick was extra special, as he entered an exclusive club of 'three straight Tour' winners; Louison Bobet ('53,'54,'55), Jacques Anquetil ('61,'62,'63), Eddy Merckx ('69,'70,'71,'72) and Miguel Indurain ('91,'92,'93,'94,'95).
Armstrong and Pantani go head-to-head
Photo ©: AFP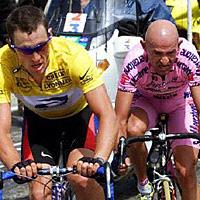 2000: This time, it's for real
Lance Armstrong began his first Tour de France title defence where he had clinched it the year before, at the bizarre Futuroscope amusement park. Armstrong and his USPS teammate Tyler Hamilton had dominated the Dauphine' Libere' and wearing a new USPS jersey design, the American was ready for Jan Ullrich and Marco Pantani; both riders were back for the last Tour de France of the 20th century to beat Armstrong. The first man to best the USPS man was Scotsman David Millar, who showed his class and talent by just beating Armstrong in the Futuroscope prologue.
Armstrong cleverly bided his time for eight more stages until the Pyrenees, when he set the race alight on the rainy ascent to Hautacam behind stage winner Javi Otxoa and took over the maillot jaune with a scary display of climbing prowess ahead of the late Jose Maria Jimenez. Ullrich lost over three minutes to Armstrong that day. Armstrong went mano a mano with Pantani a few stages later on Mont Ventoux, where the Italian "won", but the bad vibes between Pantani and Armstrong started a feud that would light up the Alpine climbs. Pantani took the mountaintop stage finish in Courchevel, with Armstrong losing 50" and Ullrich a further 2'30" behind. On the rest day at Courchevel, Armstrong slammed Pantani at a press conference, who retaliated with a mad attack on the next day's 196km Stage 16 from Courchevel to Morzine. Pantani went on the Col de Saises and put Armstrong and his USPS teammates Hamilton and Livingston under a lot of pressure that day in a merry chase by Col des Aravis, Col de la Colombiere and Col de Joux-Plane. Pantani succeeded in cracking Armstrong, who struggled up the Joux-Plane, losing 2' to stage winner Virenque, but the Italian ended up abandoning the Tour and Armstrong kept his yellow jersey, 5'37" ahead of Ullrich.
Three days later, Armstrong took his only stage win of the 2000 Tour de France, dominating the 58.5 km Stage 19 TT from Fribourg-en-Brisgau, Germany to Mulhouse, France, beating Ullrich by 25 seconds. After 21 stages, Armstrong was six minutes ahead of Ullrich, while Joseba Beloki made his first Tour podium appearance for Festina in third.
1999: Comeback surprise
Before the stage to Pau
Photo ©: Sirotti

It wasn't a complete surprise that Lance Armstrong won the 1999 Tour de France. With the absence of 1998 winner Marco Pantani (blood control) and 1997 winner Jan Ullrich (crash), the race was wide open, with Swiss rider Alex Zulle as favourite. Third in 1998, Bobby Julich, was riding for the Cofidis team and sported dossard #1 with Pantani and Ullrich absent. After his third place in the '98 Vuelta, Armstrong proved that he could be competitive in a Grand Tour, but no one knew how the cancer survivor would do in the Tour de France. They found out pretty quickly, as Armstrong showed he was the strongest man in the race with an explosive Prologue win in Le Puy de Fou to take his first ever Maillot Jaune. On Stage Three, Armstrong gave up the Maillot Jaune to Kirsipuu, but was on the right side of a huge crash on the slippery maritime causeway of le Passage du Gois, where his main rivals Zulle and Escartin both lost six minutes by the finish in St.Nazaire.
At the first TT in Metz, Armstrong dominated and re-took the Maillot Jaune, while Julich crashed out hard in a moment that would be a major turning point in his career. The next day was the first mountain stage to Sestrieres, where Armstrong cancelled out any doubts about his climbing, winning Stage 9 and affirming that he was the man to beat in the 1999 Tour de France. Armstrong and his USPS team defended the Maillot Jaune well, despite losing Peter Meinert to a bad knee. At the penultimate stage in Futurscope, Armstrong took the time trial and rode into Paris exhausted and incredulous for his first Tour de France win, the sports comeback story of the 20th century.
2005: DISCOVERY CHANNEL: 2 victories
Stage 20 Tour de France: Besancon ITT
Final General Classification: Tour de France
Champagne time
Photo ©: Roberto Bettini

2004 US POSTAL SERVICE-BERRY FLOOR: 12 victories
Final General Classification: Tour de France
Stage 18 Tour de France: Besancon ITT
Stage 17 Tour de France: Le Grand Bornard
Stage 16 Tour de France: L'Alpe d'Huez (crono)
Stage 15 Tour de France: Villard de Lans
Stage 13 Tour de France: Plateau de Beille
Stage 5 Tour Of Languedoc-Roussilon: Mont Saint Clair
Final General Classification: Tour Of Georgia
Stage 3b: Tour Of Georgia: Rome ITT
Stage 3a: Tour Of Georgia: Rome
4th Stage: Volta Algarve Portugal ITT
3rd Criterium International
Stiphout Criterium: NL
They're all behind me...
Photo ©: Roberto Bettini

2003 US POSTAL SERVICE: 5 victories
Final General Classification: Tour de France
Stage 15 Tour de France: Luz Ardiden
Final General Classification: Dauphine' Libere'
Stage 3 Dauphine' Libere': Saint Heand ITT
Graz Criterium Austria
2002 - US POSTAL SERVICE: 10 victories
Final General Classification: Tour de France
Prologue: Tour de France: Luxembourg
Stage 11 Tour de France: La Mongie
Stage 12 Tour de France: Plateau de Beille
Stage 19 Tour de France: Macon ITT
Final General Classification: Dauphine' Libere'
Stage 6 Dauphine' Libere': Morzine
Final General Classification: GP Midi Libre
2nd Criterium International
3rd: Championship of Zurich
GP Bittburger Nightime Criterium: GER
Stiphout Criterium: NL
Strength
Photo ©: Jon Devich

2001 - US POSTAL SERVICE: 8 victories
Final General Classification: Tour de France
Stage 10 Tour de France: l'Alpe d'Huez
Stage 11 Tour de France: Chamrousse ITT
Stage 13 Tour de France: Saint Lary Soulan (Pla d'Adet)
Stage 18 Tour de France: St. Armand Montrond ITT
Final General Classification: Tour Of Switzerland
Stage 8 Tour Of Switzerland: Crans-Montana Mountain TT
Prologue TT Tour Of Switzerland: Rust
2nd: Amstel Gold World Cup
2nd: Classique des Alpes
Armstrong concentrates hard
Photo ©: Jeff Tse & Monique du Bois

2000 - US POSTAL SERVICE: 5 victories
Final General Classification: Tour de France
Stage 19 Tour de France: Mulhouse ITT
GP Eddy Merckx (w.Ekimov)
GP des Nations
Stage 11 Dauphine' Libere': ITT
2000 Olympic Games-Sydney, Australia: Bronze medal ITT
2nd: Paris-Camembert
3rd: Classique des Alpes
3rd GC: Dauphine' Libere' (KOM winner)
Even more history in the making
Photo ©: Roberto Bettini

1999 - US POSTAL SERVICE: 11 victories
1st, Final General Classification: Tour de France
1st, Tour de France Prologue TT: Le Puy du Fou
1st, Stage 8, Tour de France: Metz ITT
1st, Stage 9, Tour de France: Sestriere
1st, Stage 19, Tour de France: Futuroscope ITT
1st, Stage 4, Circuit of the Sarthe ITT
1st, Stage 4, Route du Sud: Plateau de Beille
1st, Prologue TT, Dauphine' Libere'
1st, Draai van de Kaai Criterium Roosendal, NL
1st, Boxmeer Criterium, NL
1st, Heerlen Criterium, NL
2nd, Amstel Gold Race
Hot, but not flustered
Photo ©: Sirotti

1998 - US POSTAL SERVICE: 5 victories
1st, Stage 1 + Final General Classification: Tour Of Luxembourg
1st, Final General Classification: Rheinland Pfalz Rundfart
1st, Final General Classification: Cascade Classic
1st, Ride For The Roses Criterium, Austin
2nd, First Union Invitational
4th, Road Race, World Championships
4th, Time Trial, World Championships
4th, Stage Tour of Spain
4th, Tour of Holland
1997: Not Active
You talkin' to me?
Photo ©: AFP

1996 - MOTOROLA: 8 victories
1st, Fleche Wallone
1st, five stages & Final General Classification: Tour du Pont
1st, Stage 11, Fresca International Series
2nd, Liege-Bastogne-Liege
2nd, GP Eddy Merckx ITT
2nd GC, Paris-Nice
2nd GC, Tour Of Holland
1995 - MOTOROLA: 9 victories
1st, Stage 18 Tour de France: Limoges
1st, Clasika San Sebastian World Cup
1st, Stage 5 Paris-Nice: St. Etienne
1st, Stage 4, 5 (ITT), 9 + Final General Classification: Tour du Pont
1st, Stage 4 + Final General Classification: KMart West Virginia Classic
2nd: Thrift Drug Classic
Another trademark Armstrong attack
Photo ©: AFP

1994 - MOTOROLA: 3 victories
1st, Stage 7: Beech Mountain Tour du Pont
1st, Thrift Drug Classic
1st, Stage 5: Beckley KMart Classic
2nd, Liege-Bastogne-Liege
2nd, Tour du Pont
2nd, Clasica San Sebastian
1993 - MOTOROLA: 11 victories
1st, World Professional Road Championship, Oslo, Norway
1st, Stage 8 Tour de France: Verdun (youngest postwar rider to win TDF stage at 21 years, 9 months, 23 days)
1st, Stage 3: Tour Of Sweden: Helmstad
1st, USPRO National Championships
1st, Prologue TT, Wheeling
1st, Stage 1, Wheeling & Final General Classification
1st, KMart Classic, West Virginia
1st, Thrift Drug Classic (Winner, $1 million Thrift Drug Triple Crown Prize)
1st, Trofeo Laigueglia
1st, Stage 5, Tour du Pont: Beech Mountain
2nd, Tour du Pont
3rd Overall, Tour Of Sweden
1st Overall, Tour Of America
1992 - MOTOROLA: 2 victories (pro)
1st, Stage 4a, Vuelta Galicia, Spain
1st, GP Sanson-Marostica, Italy
2nd, Championship of Zurich
Professional 8 August 1992 (Clasika San Sebastian)
Stage 6: Settimana Bergamasca (amateur)
Stage 6 & Final General Classification: Lonsjo Classic USA (amateur)
Total: 92 professional victories
1991 - SUBARU-MONGOMERY (Amateur)
US National Amateur Champion
1st overall, Settimana Bergamasca
1st, Gastown GP: Vancouver BC