First Edition Cycling News, February 27, 2009
Edited by Laura Weislo
Gatto nets first pro win
Oscar Gatto wins the third stage
Photo ©: Roberto Bettini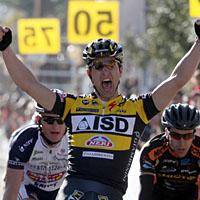 Team ISD's Oscar Gatto took his first professional victory and gave his team its first win of the season in the Giro di Sardegna on Thursday. The 24-year-old from Treviso also took over the lead in the general classification in the process.
Gatto sprinted to the win on stage three from a breakaway of 22 riders which was missing the morning's leader, dual stage winner Mirco Lorenzetto (Lampre). Gatto now leads the overall classification by four seconds ahead of Daniele Bennati (Liquigas) and World Champion Alessandro Ballan (Lampre).
"Winning is a beautiful feeling, one I almost forgot in the past two years as a professional" Gatto said. "Now I do not want to stop!"
The day's 173.2 kilometre stage featured a category two and a category one climb, but it was on a short uncategorized climb with 3km to go which the ISD team set a furious pace which dislodged Lorenzetto along with the majority of the peloton. While Gatto took his first victory ahead of Ballan and teammate Giovanni Visconti, the rest of the field struggled in over two minutes behind.
Gatto debuted in the pro ranks with the LPR team in 2006 as a stagiaire, and spent two winless seasons at Gerolsteiner before landing a contract with ISD.
"I want to say a special thanks to Luca Scinto, because he has always believed in me ... And I want to say thanks to all my teammates because they did an incredible job and I am happy to have achieved this victory. "
Sinkewitz liable for doping damages
Patrick Sinkewitz, the former T-Mobile rider who was found positive for testosterone prior to the Tour de France two years ago, was ordered by a German court on Thursday to pay damages to one of his former sponsors.
A court in Fulda, Germany awarded 100,000 euros in damages to Förstina, a beverage producer which cancelled an advertising campaign based around Sinkewitz after his doping positive was revealed.
The company began its advertising contract with Sinkewitz in 2004, but argued that it had "invested money in someone who claimed to ride clean", but that the rider failed to live up to that image.
Sinkewitz' positive doping test also led to German television ceasing its broadcast of the Tour de France that year.
The German confessed first to using the drug during the team's training camp in France prior to the Tour. He then reportedly went on to provide testimony about previous doping experiences on his previous team, Mapei, as well as blood doping by the 2006 T-Mobile Tour de France squad.
He received a one-year suspension, and is set to resume his cycling career with the PSK Whirlpool team in the GP di Lugano this weekend.
AFLD confirms two-year suspension for Schumacher
French anti-doping agency AFLD officially confirmed on Thursday that it has given a two-year suspension to former Gerolsteiner rider Stefan Schumacher for doping during the 2008 Tour de France. The agency declared Schumacher positive for the EPO variant CERA after performing targeted blood analyses on samples taken during the Tour.
AFLD announced that the German's ban will last until February 11, 2011.
Schumacher made the suspension public earlier this month after learning of the AFLD's decision.
According to dpa, Schumacher plans to fight the suspension with his lawyer, Michael Lehner. Schumacher said the investigation by AFLD was "a farce", and that he did not dope.
Schumacher's case is unusual in that the French anti-doping agency, not the UCI, was in charge of doping controls at the Tour de France last year due to the ongoing war between the UCI and the Tour organiser ASO.
In similar cases the international cycling federation (UCI) has followed the ruling from AFLD. UCI president Pat McQuaid said in January that "I don't think we will see Schumacher as a professional cyclist anytime soon," according to dpa.
Teams announce rosters for Switzerland
The ProTour and Professional Continental rosters are nearly finalized for the weekend's 1.1-ranked Swiss races, Gran Premio dell'Insubria and GP di Lugano.
Linus Gerdemann will try to better his 10th place in Lugano with the help of Fabian Wegmann. "Especially Sunday will be very challenging," Gerdemann said. "The good weather expected this weekend will make both races fun. Apart from the results, the race weekend is a further part of our build-up for the season highlights."
Milram for Swiss races: Johannes Fröhlinger, Linus Gerdemann, Christian Knees, Dominik Roels, Thomas Rohregger, Mathias Ruß, Ronny Scholz, Peter Velits, Fabian Wegmann.
Barloworld for GP dell'Insubria: Mauricio Soler, Francesco Bellotti, Gianpaolo Cheula, Marco Corti, Paolo Longo Borghini, Michele Merlo, Carlo Scognamiglio and Geraint Thomas.
Barloworld for GP di Lugano: Patrick Calcagni, Mauricio Soler, Geraint Thomas, Francesco Bellotti, Gianpaolo Cheula, Marco Corti and Paolo Longo Borghini and Diego Caccia.
Astana for Swiss races: Alexandr Dyachenko, Jesús Hernández, Roman Kireyev, Steve Morabito, Daniel Navarro, Andrey Zeits and Haimar Zubeldia
Katusha for Swiss races: Alexandre Botcharov, Pavel Brutt, Nikita Eskov, Luca Mazzanti, Alexander Serov, Ivan Rovny, Ben Swift.
Di Rocco unopposed as Italian fed president
By Gregor Brown
Di Rocco and Bettini arm in arm
Photo ©: Roberto Bettini

Renato Di Rocco will once again be the Italian cycling federation's (FCI) president after elections March 15. The Roman is the only candidate for the four-year term in one of the most powerful cycling countries.
"It is of great satisfaction to represent this cycling nation," he said to Cyclingnews. "I want to keep going because my work is not finished and I think I can do a lot more."
Since he first won the position in 2005, he has dealt with his share of doping scandals – Ivan Basso, Riccardo Riccò and Emanuele Sella – but he believes he is in a position to help the country's cyclist grow on the international level.
"In the last years, we re-launched the time trial project, which had been completely abandoned. We are trying to give it a hand because it is a specialty that we want to recover."
Italy lacks the level of time trialists like the ones from the USA and Great Britain. Di Rocco is making ground with established riders like Marco Pinotti and Manuel Quinziato, and new comers, like the current Under 23 World Champion Adriano Malori.
"There are about six or seven time trials at the junior level. They learn the craft there."
Di Rocco admitted there is a lot of work to do building for the London Olympics and to maintain the nation's status at the World Championships. Though the country won the men's road title for the last three years, he maintains keeping alert is key to success.
"We learn from other nations and they learn from us. When the directors are in the other countries there is always a communication with the other nations, like Great Britain, Australia and Holland. Cycling is always changing and we need to be attentive to everyone."
Di Rocco's only rival for the position of president was Claudio Santi, but he has since withdrawn his candidature.
Taylor Phinney: Copen-slay-gen
American Taylor Phinney in Denmark slayer mode.
Photo ©: Taylor Phinney

Taylor Phinney delivers another diary entry in his usual entertaining fashion. This time he tells Cyclingnews readers about his personal history with Copenhagen, Denmark, and the world cup event he attended there.
I didn't know that I had to go to the Track World Cup in Copenhagen, Denmark, until about two weeks before the race. I had been hoping to qualify for World Championships just on the points I had accumulated from the Olympics and the National Championships, but after seeing where I was in the rankings following the Beijing World Cup (19th, and they only take 24), I knew that not going to Copenhagen would be a big risk in my quest for the World Championships.
So that was that. My coach called to tell me I had to go. Copenhagen, after all, had left a very sour taste in my mouth after last year's encounter.
The 2008 Track World Cup scene had unfolded just as I had wanted it to. I won the World Cup in LA, my home track, and was only one point off of winning the World Cup overall. I had enough points in both the UCI World rankings and Track World Cup overall that I had secured a spot for the Worlds in Manchester, England. It meant that going to the 2008 World Cup in Copenhagen was a trip across the pond I could miss altogether. But I was one point away from a very prestigious World Cup overall winner title, and an automatic qualification to the Olympic Games, which was what I had been gunning for the whole entire season. So, of course, I decided to go.
Check out the rest of Taylor's entry on Cyclingnews.
Superweek adds new (old) races
By Mark Zalewski, North American Editor
Two of the races of the 2009 International Cycling Classic (Superweek,) a seventeen day series in the American Midwest, will be taken from the archives, both from Superweek's and the historic Midwest's races. First is the return of the Schlitz Park Classic, a longtime favorite pro race of the series. The second is the Elgin Cycling Classic, known earlier in the decade as the Four Bridges of Elgin, which was the only UCI espoir race in North America at the time.
The Elgin race will utilize the same road-style circuit which includes an out-and-back design down along the Fox River, with a short but steep climb at the far end. And in a nod to the espoir heritage of the course, a separate prize will be given to the top U23 rider in the Pro/1/2 field.
The Schlitz Park Classic makes a return to the former brewery after two years off to construct the new Manpower Corporate Headquarters on the site. This race is known as one of the country's hardest one day races. The Schlitz Park is one tough criterium course due to the steep Second Street hill just after the start/finish line that riders must climb in each of 88 laps.
No word yet on when the complete schedule of races will be released.
Fans petition to keep Boom in 'cross
Lars Boom
Photo ©: Roberto Bettini

Over 1,000 fans have signed an online petition by the Gazet van Antwerpen newspaper to keep former World Champion Lars Boom racing cyclo-cross. Boom has been promoted from the Rabobank team's Continental squad up to the ProTour ranks, and said recently he would focus on road racing, only choosing to do a handful of 'cross races next season "for fun".
The decision drew hundreds of signatures from the very Belgian fans who heckled Boom while cheering their countryman Niels Albert to victory in this year's cyclo-cross world championships.
Aside from being elite World Champion last year, Boom has been U23 and junior champion in the past, and has won a category of his national championships every year since 2001.
While Boom's cyclo-cross results have been impressive, his road palmares have been equally so. He was U23 world time trial champion in 2007, and as a Continental rider, he scored overall victories in the Olympias Tour, Volta Ciclista Internacional a Lleida, Tour de Bretagne. He was also the Dutch elite road race and time trial champion in 2008.
Wild joins with Bike Pure
By Susan Westemeyer
Kirsten Wild (Cervélo Test Team) relaxes
Photo ©: Gregor Brown
Kirsten Wild of the Cervélo Pro Cycling Test Team is the most recent rider to affiliate with Bike Pure, a non-profit organisation dedicated to "a new era of clean cycling."
"For cycling it is good that there is an organisation like Bike Pure, so everybody knows that we are clean riders," Wild told Cyclingnews. " I think this is an important step in the fight against doping."
Team manager Thomas Campana said that affiliating with the group was the riders' personal choice and added that it is a "super initiative". Wild, 26, won the first-ever Ladies' Tour of Qatar earlier this month, with top four finishes in all three stages.
Bike Pure, based in the U.K., is an independent non-profit organisation "committed to redirecting trust to professional cycle sport." It offers light blue wrist bands and headset spacers bearing its message.
Other riders associated with Bike Pure include Dan Martin of Garmin-Slipstream, Daniel Lloyd and Dan Fleeman of Cervelo, and Baden Cooke of Vacansoliel. Mountain bike riders include World Champion Christoph Sauser and Rebecca Rusch.
Arrest made in Zabriskie home burglary
Salt Lake City police reportedly made an arrest in the home burglary of Garmin-Slipstream cyclist David Zabriskie on Thursday, but have only recovered one car of the numerous items taken. According to the Deseret News, the rider's Toyota Scion was recovered by a Salt Lake City gang unit while it was staking out the home of a fugitive in South Salt Lake.
All of the other valuables, including Zabriskie's bicycles and equipment, clothing and collectibles remain missing.
According to the report, Arthur Roll, 30, was arrested after he drove up to the home they were watching in Zabriskie's stolen vehicle. He had been arrested earlier on Tuesday for another car theft and possession of stolen property unrelated to the Zabriskie case.
Sergeant Robin Snyder said the arrest marked a significant starting point for the investigation.
"We'll hopefully be able to follow the trail back to the rest of the stolen property and possibly others who might be involved," she said.
Anyone with information on Zabriskie's other stolen items can call police at 801-799-INFO (4636).
DHL Sprint School Season 3 Starts
The new series of the revolutionary youth development concept, DHL Sprint School, starts on March 6th in Newport. The series, now in its third year, aims to develop the future of cycling in a warm and inclusive atmosphere, using top Olympic, World and National champions as expert coaches.
DHL Sprint School will now be split over two venues and eight events, Newport and Manchester, providing easier travel for youth riders all over the country. DHL Sprint School has Great Britain coaches Tim Buckle and Geoff Cooke present, teaching the 12 to 15 year olds important skills to help with the highly tactical and physical discipline of track cycling.
The first two Sprint School events will take place in Newport. The March 6th event will have new Great Britain riders, Christian Lyte and Helen Scott. A new face in British Cycling's Olympic Development Programme, Helen Scott knows what it takes to move up through the development ranks, as many of the Sprint School riders will aspire to. The 18 year old from Birmingham has a PB of 11.9 seconds and 36.1 seconds for 200m and 500m respectively.
"I'm really excited to take part in the sprint school; it's always great to see kids enjoy the sport because that's exactly how it started off for me, and I can't wait to not only help them with a few things but to also learn from them too," she explained.
For Sprint School coach Tim Buckle, Season 3 is a chance to continue the good work in grassroots development. DHL Sprint School has introduced intuitive coaching methods from British Cycling such as video feedback. "2009 will have a bit of the same, but we'll also try some things a bit different. Bring it on, I can't wait!" said Buckle.
For more information on the DHL Sprint School, please visit http://www.sprintschool.com/
(All rights reserved/Copyright Future Publishing (Overseas) Limited 2009)