International Cycling Classic - Superweek - NE
USA, July 7-23, 2006
Main Page Results Overall standings Previous Stage Next Stage
Stage 8 - July 14 : Schlitz Park Endeavour Cycling Challenge, Milwaukee, WI, 100 km
Huff breaks late but finishes first
By Mark Zalewski, North American Editor in Milwaukee
Brad Huff (TIAA-CREF)
Photo ©: Mark Zalewski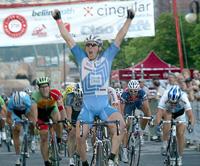 TIAA-CREF's Brad Huff was unable to win the uphill sprint in the road race on Wednesday. Tonight in downtown Milwaukee, around the old Schlitz brewery, Huff was again faced with an uphill challenge -- bridging to a break by going over a steep one block climb each lap. But he did, and after the break lapped the field, Huff was able to light-up the road with a sprint that beat the entire field outright.
"I chased for like seven laps to get in the break," said Huff. "I used my fat man's syndrome on the downhill back stretch to help me," he joked. Always the comic, Huff could be heard yelling in the field after the break gained a lap to, 'Please, slow it down!' "Yeah, that was half a joke!" he said. "The Euros were so strong. They are a small group so they have to team up."
The Euros Huff is referring to include multiple Superweek rider Jacob Nielsen (Glud & Marstrand Horsens) and his Danish teammates, as well as Team Milram with a combination of continental riders led by ProTour rider Dennis Haueisen. In the final twenty laps of the race, the Danish and German riders set a harsh tempo on the front, which sent some weaker riders off the back.
"We just tried to control things," said Nielsen. "Dennis has been riding really well up until now. The first race we were not working together, but we have been since -- it is no secret now!" But having raced every part of the series so far has taken its toll -- compared to riders like Huff who only arrived Wednesday to race the four NRC races of Superweek.
Series leader Brian Jensen (Jelly Belly) is actually a Euro too, being from Denmark. But he is on the outside with the Euros here as he races for an American team. Though he flew solo for the first six races, including a win at the tough Alpine Valley road race, he now has additional teammates for the rest of the NRC races. "They definitely helped me a ton!" Jensen said. "We tried to do a lead out but I am not used to getting a lead out!"
Still, Jensen was able to finish high enough and hold onto his slim lead over Haueisen, from two points to one after tonight's race.
Photography
For a thumbnail gallery of these images, click here
Images by Mark Zalewski/Cyclingnews.com
Results
Pro & Cat 1/2 Men
 
1 Charles Brad Huff (TIAA-CREF)                                              
2 Benjamin Jacques-Maynes (Kodakgallery.com/Sierra Nevada Pro Cycling)       
3 Dennis Haueisen (Team Milram)                                              
4 Brian Jensen (Jelly Belly - Aramark)                                       
5 Christian Valenzuela Zamudio (Team Monex)                                  
6 Reid Mumford (ABD Cycling Team)                                            
7 Brice Jones (Jelly Belly/PoolGel)                                          
8 Stefan Adamsson (Team Milram)                                              
9 Martin Gilbert (Kodakgallery.com/Sierra Nevada Pro Cycling)                
10 Karl Menzies (Health Net-Maxxis)                                          
11 Mariano Friedich (Toyota United Pro Cycling Team)                         
12 Jacob Nielsen (Glud & Marstrand Horsens)                                  
13 Tommy Nankervis (Priority Health Cycling Club)                            
14 Daniel Schmatz (Kodakgallery.com/Sierra Nevada Pro Cycling)               
15 Jackson Stewart (Kodakgallery.com/Sierra Nevada Pro Cycling)              
16 Steve Tilford (Trek/VW Midwest)                                           
17 Nebojsa Jovanovic (AEG- Toshiba)                                          
18 Victor Ayala (Kahala-LaGrange)                                            
19 Todd Yezefski (Nerac/Outdoorlights.com Pro Cycling)                       
20 Alex Candelario (Jelly Belly)                                             
21 Frank Pipp (Target Training)                                              
22 Evan Lawrence (Broadmark Capital)                                         
23 Garrett Peltonen (Health Net-Maxxis)                                      
24 Kin San Wu (Hong Kong National Cycling Team)                              
25 Aram Dellalian (Amgen Cycling Club)                                       
26 (unknown rider)                                                           
27 Rudy Robaina (VMG Racing)                                                 
28 Jordan Roessingh (IS Corp)                                                
29 Kam Po Wong (Hong Kong National Cycling Team)                             
30 Steve Scholzen (IS Corp Cycling Team)                                     
31 Matthew Bell (Independent)                                                
32 Brandon Gavic (Team Wheel & Sprocket)                                     
33 King Wai Cheung (Hong Kong National Cycling Team)                         
34 Yin Chih Wang (Hong Kong National Cycling Team)                           
35 Whitey DeBroux (Team Einstein's Cycling)                                  
36 Ben Raby (Grand Performance/Bianchi)                                      
37 John Tzinberg (Kahala LaGrange)                                           
38 Matthew Busche (Endeavour Cycling)                                        
39 Craig Dodson (Team Cobblestone/Nature's Path)                             
40 William John Corey Steinbrecher (Jelly Belly)                             
41 Paul Ward (Team Nature's Path)                                            
42 Yosvany Falcon (AEG- Toshiba)                                             
43 Rahsaan Bahati (TIAA-CREF)                                                
44 David Sachs (Vision Quest)                                                
45 Dominique Perras (Kodakgallery.com/Sierra Nevada Pro Cycling)             
46 John Acker (Team Wheel & Sprocket)                                        
47 Nick Reistad (Jelly Belly - Aramark)                                      
48 Martin Adamczyk (LOT / Polish Airlines)                                   
49 Billy Innes (G.S. Lombardi Sports)                                        
50 Christian Kearney (RHVilla.com/Montano Velo)                              
51 Peter Femal (Team Monex)                                                  
52 Paul Ellis (Bianchi/Grand Performance)                                    
53 Bobby Lea (Toyota- United Pro Cycling Team)                               
54 Mike Friedman (TIAA-CREF)                                                 
55 Brian Matter (PCW Cycling)                                                
56 Cole House (Endeavour Cycling Club)                                       
57 Ho Ting Kwok (Hong Kong National Cycling Team)                            
58 Erik Lyman (Calyon / Litespeed Pro CT)                                    
59 Pete Lopinto (Kodakgallery.com/Sierra Nevada Pro Cycling)                 
60 Eric Nitschke (Lombardi Sports)                                           
61 Michael Berling (Glud & Marstrand Horsens)                                
62 Frank Travieso (AEG- Toshiba)                                             
63 Anthony Wilhelm (TREK/Volkswagen-Midwest)                                 
64 Christian Bach (Th?ringer Energie Team)                                   
65 Michael Ebert (ABD Cycling Team)                                          
66 Zach Fiocca (Team Brain & Spine/Chann McRae Cycling)                      
67 Morten Christiansen (Glud & Marstrand Horsens)                            
68 Terry Beenken (Bianchi/Grand Performance)                                 
69 Scott Zwizanski (Kodakgallery.com/Sierra Nevada Pro Cycling)              
 
Sprint 1
 
1 Christian Valenzuela Zamudio (Team Monex)                                  
2 Dennis Haueisen (Team Milram)                                              
3 Benjamin Jacques-Maynes (Kodakgallery.com/Sierra Nevada Pro Cycling)       
4 Reid Mumford (ABD Cycling Team)                                            
5 Brian Jensen (Jelly Belly - Aramark)                                       
6 Charles Brad Huff (TIAA-CREF)                                              
7 Hector Pastorino (VistaVelo.com)                                           
 
Sprint 2
 
1 Brian Jensen (Jelly Belly - Aramark)                                       
2 Christian Valenzuela Zamudio (Team Monex)                                  
3 Benjamin Jacques-Maynes (Kodakgallery.com/Sierra Nevada Pro Cycling)       
4 Reid Mumford (ABD Cycling Team)                                            
5 Dennis Haueisen (Team Milram)                                              
6 Charles Brad Huff (TIAA-CREF)                                              
7 Jamiel Danesh (RHVilla.com/Montano Velo)                                   
 
Sprint 3
 
1 John Puffer (ABD Cycling Team)                                             
2 Stefan Adamsson (Team Milram)                                              
3 Hayden Godfrey (Team Monex)                                                
4 Todd Yezefski (Nerac/Outdoorlights.com Pro Cycling)                        
5 Michael Ebert (ABD Cycling Team)                                           
6 Scott Zwizanski (Kodakgallery.com/Sierra Nevada Pro Cycling)               
7 Benjamin Jacques-Maynes (Kodakgallery.com/Sierra Nevada Pro Cycling)       
 
Sprint 4
 
1 Todd Yezefski (Nerac/Outdoorlights.com Pro Cycling)                        
2 Dennis Haueisen (Team Milram)                                              
3 Christian Valenzuela Zamudio (Team Monex)                                  
4 (unknown rider)                                                            
5 Brian Jensen (Jelly Belly - Aramark)                                       
6 (unknown rider)                                                            
7 (unknown rider)                                                            
 
Pro & Cat 1/2/3 Women
 
1 Michelle Hyland (Jazz Apple)                                               
2 Heather Albert (America's Dairyland)                                       
3 Kristin Wentworth (Nova/ISCorp)                                            
4 Kelly Benjamin (Cheerwine)                                                 
5 Susan Hedstrom (McGuire Cycling Team)                                      
6 Courtenay Brown (McGuire Cycling Team)                                     
7 Taitt Sato (McGuire Cycling Team)                                          
8 Kacey Manderfield (Wolverine Sports Club)                                  
9 Meredith Miller (TEAm Lipton)                                              
10 Rachel O'Connell (Bicycle Johns Serious Cycling)                          
11 Anne Meyer (Mercy-Specialized)                                            
12 Brooke O'Connor (Hub Racing)                                              
13 Sherri Stedje (BBC)                                                       
14 Carol Hutton (DePauw U Cycling)                                           
15 Sheba Farrin (Hub Racing)                                                 
16 Jenette Williams (Hub Racing)                                             
17 Nichole Wangsgard (Colnago CPT)                                           
18 Jana Repulski (Team Tamarack)                                             
19 Patricia Bell (Morgan Stanley/24 Hr Fitness/Specialized)                  
20 Julie Bellerose (SalonXL Cycling Team)                                    
21 Rosara Joseph (Jazz Apple)                                                
22 Elizabeth Morse Hill (T.E.A.M. Fuji/Bolt Brothers)                        
23 Renee Eastman (Vitamin Cottage Cycling Team)                              
24 Katie Mactier (Argon 18)                                                  
25 Mary Hall (Team Tamarack)                                                 
26 Rebecca Wellons (Gear Works Cyclery)                                      
27 Hadley Trotter (Fuji)                                                     
28 Brei Gudsell (Jazz Apple)                                                 
29 Jessica Cole (C-U Racing)                                                 
30 Serena Sheridan (Jazz Apple)                                              
31 Mandy Lozano (Cheerwine Cycling)                                          
32 Kathryn Clark (TEAM Fuji/Bolt Brothers)                                   
33 Margot Herman (Velo Bella-Kona)                                           
34 Patricia Palmer (America's Dairyland)                                     
35 Renee Schroeder (Wolverine Sports Club)                                   
 
Sprint 1
 
1 Rachel O'Connell (Bicycle Johns Serious Cycling)                           
2 Sarah Bamberger (Cheerwine Cycling)                                        
3 Courtenay Brown (McGuire Cycling Team)                                     
4 Katie Mactier (Argon 18)                                                   
5 Brooke O'Connor (Hub Racing)                                               
 
Sprint 2
 
1 Serena Sheridan (Jazz Apple)                                               
2 Katie Mactier (Argon 18)                                                   
3 Brooke O'Connor (Hub Racing)                                               
4 Rachel O'Connell (Bicycle Johns Serious Cycling)                           
5 Taitt Sato (McGuire Cycling Team)                                          
 
Sprint 3
 
1 Katie Mactier (Argon 18)                                                   
2 Serena Sheridan (Jazz Apple)                                               
3 Michelle Hyland (Jazz Apple)                                               
4 Rachel O'Connell (Bicycle Johns Serious Cycling)                           
5 Sarah Bamberger (Cheerwine Cycling)                                        
 
Overall standings
 
Pro men
 
1 Brian Jensen (Jelly Belly - Aramark)                                    141 pts
2 Dennis Haueisen (Team Milram)                                           140
3 Stefan Adamsson (Team Milram)                                           103
4 Andrew Crater (Team Wheel & Sprocket)                                    89
5 Steve Tilford (Trek/VW Midwest)                                          82
6 Charles Brad Huff (TIAA-CREF)                                            71
7 Robert Wagner (Team Milram)                                              71
8 Nebojsa Jovanovic (AEG- Toshiba)                                         68
9 Jacob Nielsen (Glud & Marstrand Horsens)                                 67
10 Christian Valenzuela Zamudio (Team Monex)                               65
11 Kam Po Wong (Hong Kong National Cycling Team)                           58
12 Benjamin Jacques-Maynes (Kodakgallery.com/Sierra Nevada Pro Cycling)    57
13 Kayle Leo Grande (Kahala LaGrange)                                      56
14 Brian Sheedy (Priority Health)                                          54
15 Tommy Nankervis (Priority Health Cycling Club)                          46
16 David Sachs (Vision Quest)                                              46
17 Hayden Godfrey (Team Monex)                                             45
18 Hilton Clarke (Navigators Insurance)                                    44
19 Adam Hodges Myerson (Nerac/Outdoorlights.com Pro Cycling)               42
20 Brice Jones (Jelly Belly/PoolGel)                                       38
21 Karl Menzies (Health Net-Maxxis)                                        38
22 Emile Abraham (AEG-Toshiba)                                             37
23 Scott Zwizanski (Kodakgallery.com/Sierra Nevada Pro Cycling)            33
24 Keith Norris (AEG- Toshiba)                                             33
25 Michael Berling (Glud & Marstrand Horsens)                              31
26 Martin Gilbert (Kodakgallery.com/Sierra Nevada Pro Cycling)             29
27 Sterling Magnell (Toyota United Pro Cycling Team)                       29
28 Hector Pastorino (VistaVelo.com)                                        29
29 Josh Horowitz (Kahala LaGrange)                                         29
30 Bobby Lea (Toyota- United Pro Cycling Team)                             27
31 Rahsaan Bahati (TIAA-CREF)                                              27
32 King Wai Cheung (Hong Kong National Cycling Team)                       27
33 Joel Chavez (VistaVelo.com)                                             25
34 Mariano Friedich (Toyota United Pro Cycling Team)                       25
35 Ward Solar (Team Nature's Path)                                         24
36 Jonathon Clarke (South Australia.com)                                   23
37 Cameron Fox (Encino Velo Cycling Club)                                  23
38 Frank Travieso (AEG- Toshiba)                                           20
39 Garrett Peltonen (Health Net-Maxxis)                                    20
40 Daniel Schmatz (Kodakgallery.com/Sierra Nevada Pro Cycling)             20
41 Jamiel Danesh (RHVilla.com/Montano Velo)                                19
42 Todd Yezefski (Nerac/Outdoorlights.com Pro Cycling)                     19
43 Dominique Perras (Kodakgallery.com/Sierra Nevada Pro Cycling)           19
44 Kyle Jacobson (Team Beans & Barley)                                     18
45 Nick Reistad (Jelly Belly - Aramark)                                    18
46 Daniel Holloway (GS Lombardi Sports)                                    17
47 Reid Mumford (ABD Cycling Team)                                         15
48 Frank Pipp (Target Training)                                            15
49 Victor Ayala (Kahala-LaGrange)                                          15
50 Jordan Roessingh (IS Corp)                                              15
51 Morten Christiansen (Glud & Marstrand Horsens)                          15
52 Steve Scholzen (IS Corp Cycling Team)                                   13
53 Devon Vigus (Team Monex)                                                13
54 Clark Priebe (Team Mack Paper Co.)                                      13
55 Frederick Bottger (Merrill Lynch / Bicycle John's)                      11
56 Brandon Gavic (Team Wheel & Sprocket)                                   11
57 Bennet Van der Genugten (NUVO/Bicycle Action Project Cycling)           11
58 Ryan Baumann (Brazen Dropouts)                                          11
59 Randy Bramblett (McGuire Cycling Team)                                  10
60 Patrick Dunaway (California Giant/Village Peddler)                      10
61 Ben Raby (Grand Performance/Bianchi)                                    10
62 Jeffrey Dickinson (Schwab Cycles Torelli Velo Project LLC)               9
63 John Bergmann (Metromint Cycling)                                        9
64 Robert Kelley (Training Bible / The Bike Shop)                           8
65 Zach Fiocca (Team Brain & Spine/Chann McRae Cycling)                     8
66 Eric Keim (AEG- Toshiba)                                                 8
67 Erik Lyman (Calyon / Litespeed Pro CT)                                   7
68 Michael Lanyon (Mesa Cycles Racing Team)                                 7
69 Erik Tomlinson (Dent Wizard)                                             7
70 Joshua Carter (Mesa Cycles Racing Team)                                  7
71 Jackson Stewart (Kodakgallery.com/Sierra Nevada Pro Cycling)             6
72 Jose Manuel Garcia (Toyota United Pro Cycling Team)                      6
73 Aram Dellalian (Amgen Cycling Club)                                      6
74 Kin San Wu (Hong Kong National Cycling Team)                             6
75 David Kay (Great Dane Velo Club)                                         3
76 Daniel Lionberg (Team Beans & Barley)                                    3
77 John Acker (Team Wheel & Sprocket)                                       2
78 Mike Friedman (TIAA-CREF)                                                2
79 David Hatch (IS Corp Cycling Team)                                       2
80 Alex Candelario (Jelly Belly)                                            1
81 Rudy Robaina (VMG Racing)                                                1
82 Brady Gibney (Endeavour Cycling)                                         1
83 Richard Hatch (IS Corp Cycling Team)                                     1
 
Men's sprint standings
 
1 Christian Valenzuela Zamudio (Team Monex)                                50 pts
2 John Puffer (ABD Cycling Team)                                           49
3 Jamiel Danesh (RHVilla.com/Montano Velo)                                 45
4 Hayden Godfrey (Team Monex)                                              41
5 Todd Yezefski (Nerac/Outdoorlights.com Pro Cycling)                      32
6 Stefan Adamsson (Team Milram)                                            28
7 Dennis Haueisen (Team Milram)                                            26
8 Benjamin Jacques-Maynes (Kodakgallery.com/Sierra Nevada Pro Cycling)     25
9 Brian Jensen (Jelly Belly - Aramark)                                     21
10 Andrew Crater (Team Wheel & Sprocket)                                   15
11 Hilton Clarke (Navigators Insurance)                                    14
12 Mike Friedman (TIAA-CREF)                                               13
13 Jacob Nielsen (Glud & Marstrand Horsens)                                12
14 Nebojsa Jovanovic (AEG- Toshiba)                                        12
15 Jonathon Clarke (South Australia.com)                                   11
16 Kyle Jacobson (Team Beans & Barley)                                     11
17 Kayle Leo Grande (Kahala LaGrange)                                      11
18 Wes Hartman (Target Training)                                           10
19 Aram Dellalian (Amgen Cycling Club)                                      9
20 Reid Mumford (ABD Cycling Team)                                          8
21 Sean McBride (Metromint Cycling)                                         7
22 Bobby Lea (Toyota- United Pro Cycling Team)                              7
23 Karl Menzies (Health Net-Maxxis)                                         7
24 Emile Abraham (AEG-Toshiba)                                              6
25 King Wai Cheung (Hong Kong National Cycling Team)                        6
26 Frank Travieso (AEG- Toshiba)                                            6
27 Paul Ward (Team Nature's Path)                                           5
28 Kai Tsun Lam (Hong Kong National Cycling Team)                           5
29 Joel Chavez (VistaVelo.com)                                              5
30 David Sachs (Vision Quest)                                               5
31 Gerardo Castro (Cobblestone - Nature Path)                               4
32 John Bergmann (Metromint Cycling)                                        4
33 Garrett Peltonen (Health Net-Maxxis)                                     4
34 Hector Pastorino (VistaVelo.com)                                         4
35 Charles Brad Huff (TIAA-CREF)                                            4
36 Michael Ebert (ABD Cycling Team)                                         3
37 Ying Hon Yeung (Hong Kong National Cycling Team)                         3
38 Brandon Gavic (Team Wheel & Sprocket)                                    3
39 Adam Hodges Myerson (Nerac/Outdoorlights.com Pro Cycling)                3
40 Scott Zwizanski (Kodakgallery.com/Sierra Nevada Pro Cycling)             2
41 Dominique Perras (Kodakgallery.com/Sierra Nevada Pro Cycling)            2
42 Eric Nitschke (Lombardi Sports)                                          2
43 Yosvany Falcon (AEG- Toshiba)                                            2
44 Morten Christiansen (Glud & Marstrand Horsens)                           2
45 Ryan White (PCW Cycling)                                                 2
46 Brice Jones (Jelly Belly/PoolGel)                                        1
47 Victor Ayala (Kahala-LaGrange)                                           1
48 Daniel Lionberg (Team Beans & Barley)                                    1
49 Devon Vigus (Team Monex)                                                 1
50 Luca Fagundes (ABD Cycling Team)                                         1
51 Glenn Fant (Team Monex)                                                  1
 
Pro/1/2/3 Women standings
 
1 Kelly Benjamin (Cheerwine)                                              141 pts
2 Rachel O'Connell (Bicycle Johns Serious Cycling)                        108
3 Meredith Miller (TEAm Lipton)                                           106
4 Taitt Sato (McGuire Cycling Team)                                       101
5 Brooke O'Connor (Hub Racing)                                             94
6 Michelle Hyland (Jazz Apple)                                             87
7 Kristin Wentworth (Nova/ISCorp)                                          85
8 Kacey Manderfield (Wolverine Sports Club)                                81
9 Anne Meyer (Mercy-Specialized)                                           79
10 Sheba Farrin (Hub Racing)                                               64
11 Courtenay Brown (McGuire Cycling Team)                                  58
12 Nichole Wangsgard (Colnago CPT)                                         54
13 Jenette Williams (Hub Racing)                                           47
14 Carol Hutton (DePauw U Cycling)                                         42
15 Catherine Walberg (Team Kenda Tire)                                     42
16 Sarah Bamberger (Cheerwine Cycling)                                     37
17 Carrie Cash (Team Revolution)                                           37
18 Samantha Schneider (Advantage Benefits Endeavour Cycling Club)          35
19 Trudy van der Straaten (Team Kenda Tire)                                33
20 Susan Hedstrom (McGuire Cycling Team)                                   33
21 Julia Farell (Wheels of Bloor Cycling Team)                             30
22 Hadley Trotter (Fuji)                                                   29
23 Heather Albert (America's Dairyland)                                    28
24 Tara Ross (Victory Brewing)                                             28
25 Natalie Klemko (America's Dairyland)                                    27
26 Jessica Cole (C-U Racing)                                               26
27 Laura Charameda (McGuire Cycling Team)                                  21
28 Katie Mactier (Argon 18)                                                19
29 CarrieAnn Kopernik (Nova/ISCorp)                                        16
30 Carissa Wilkes (Jazz Apple)                                             13
31 Renee Eastman (Vitamin Cottage Cycling Team)                            13
32 Candice Blickem (Aarons/L5Flyers)                                       11
33 Andrea Smessaert (Lakes Area Physical Therapy)                           9
34 Elizabeth Morse Hill (T.E.A.M. Fuji/Bolt Brothers)                       9
35 Sherri Stedje (BBC)                                                      8
36 Betsy Galenti (America's Dairyland)                                      8
37 Patricia Palmer (America's Dairyland)                                    8
38 Rosara Joseph (Jazz Apple)                                               7
39 Serena Sheridan (Jazz Apple)                                             6
40 Mandy Lozano (Cheerwine Cycling)                                         6
41 Kathryn Clark (TEAM Fuji/Bolt Brothers)                                  5
42 Becky Broeder (Hub Racing)                                               4
43 Jana Repulski (Team Tamarack)                                            3
44 Patricia Bell (Morgan Stanley/24 Hr Fitness/Specialized)                 2
45 Maogosha Pyjor (Cycle 4 MS)                                              2
46 Julia Bradley (Team RACE)                                                2
47 Julie Bellerose (SalonXL Cycling Team)                                   1
48 Brei Gudsell (Jazz Apple)                                                1
 
Women's sprint standings
 
1 Rachel O'Connell (Bicycle Johns Serious Cycling)                         18 pts
2 Katie Mactier (Argon 18)                                                 11
3 Sarah Bamberger (Cheerwine Cycling)                                      10
4 Serena Sheridan (Jazz Apple)                                              9
5 Courtenay Brown (McGuire Cycling Team)                                    8
6 Brooke O'Connor (Hub Racing)                                              8
7 Rosara Joseph (Jazz Apple)                                                5
8 Sheba Farrin (Hub Racing)                                                 5
9 Susan Hedstrom (McGuire Cycling Team)                                     5
10 Renee Eastman (Vitamin Cottage Cycling Team)                             4
11 Michelle Hyland (Jazz Apple)                                             4
12 Catherine Walberg (Team Kenda Tire)                                      2
13 Taitt Sato (McGuire Cycling Team)                                        1