Latest Cycling News, February 27, 2009
Edited by Bjorn Haake
Gilbert ready for Classic battle
By Daniel Benson
Philippe Gilbert is ready for the Classics
Photo ©: Bjorn Haake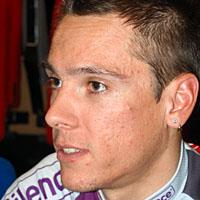 On the eve of the start of the Classics season, Omloop Het Nieuwsblad's defending champion Philip Gilbert is in a confident mood. The Belgian will line-up in tomorrow's 204.5-kilometre test around Gent with race number one pinned to his Silence-Lotto jersey.
"My condition is really good. The only race I've done this year was the Volta ao Algarve. It was a good experience but I was only there to build my form. For me the season starts tomorrow," Gilbert told Cyclingnews.
The highly-regarded Belgian moved from Française des Jeux to Silence-Lotto in the winter after a stellar 2008, in which he triumphed in Paris-Tours and Het Volk. However, despite his new surroundings and the tag of defending champion, Gilbert isn't letting the pressure distract him on the eve of his title defence. "I've moved teams and I'm the defending champion but that's not a reason to be nervous. It's a positive. I'm strong and I've got the experience of knowing what it takes to win this race. Not many in the field have that."
Coming up on
Cyclingnews will cover the 60th edition of the Dauphiné Libéré live as of stage 4 on Wednesday, June 10, at approximately 15:00 local Europe time (CEST)/ 23:00 Australian time (CDT)/ 9:00 (USA East).

WAP-enabled mobile devices: http://live.cyclingnews.com/wap/
On Wednesday Gilbert and his Silence-Lotto teammates rode the race parcours for a final group ride and Gilbert was willing to predict where the race might be decided. "Each year this race gets harder and harder and there seem to be more climbs but I think there are about six riders who have an equal chance of winning. The key will be the Molenberg. That is the point where the favourites have to pay attention."
This is usually one of the first climbs in the Ronde van Vlaanderen, but in the Omloop it comes as the last one. The jagged cobble stones and 14 per cent gradient are less than 40 kilometres from the finish. "I'm predicting that Cervélo and Katusha will be the strongest teams in the races. Cervélo has Haussler and Hushovd, who are both on fire, while Katusha has strong cards to play on the climbs and if it comes down to a sprint," said Gilbert.
Silence-Lotto directeur sportif, Marc Sergeant, was quick to back his team on the eve of the race. "Wednesday's ride on the route will have really helped us in our preparation. This is probably the best Classics team I've worked with. We have riders for nearly every scenario."
Roelandts leader in Kuurne
By Bjorn Haake
Belgian champion Jürgen Roelandts will be the leader in Kuurne
Photo ©: Bert Geerts

Jürgen Roelandts will be leading the Silence-Lotto team in Kuurne-Brussel-Kuurne on Sunday. The Belgian champion will not race the opening Omloop Het Nieuwsblad/Het Volk on Saturday in order to be fresh for a possible sprint a day later.
Sports Manager Marc Sergeant told Cyclingnews that it was pure team tactics for Roelandts to skip the first Classic of the season. "We have enough riders so we can split the team when there are two races on a weekend. This will allow Roelandts to be the leader in races like Kuurne or Gent-Wevelgem, to name a few."
Sergeant added that while the Omloop was the first race of the season, Kuurne is also an important race for the team. "It is broadcast live on Belgian television and winning Kuurne is a good accomplishment."
Sergeant feels good with Roelandts as a captain for some of the races. "He is the Belgian champion and he is very fast in a field sprint."
Sergeant was not worried about having too many leaders in the Omloop. "I see only two [Philippe Gilbert and Greg van Avermaet - ed.], but maybe [Leif] Hoste can create a surprise. He won't be able to wait until the last two kilometres, though."
Silence-Lotto will try to not repeat Quick Step's race from last year. "They controlled it, but maybe a little bit too early and then they were not there in the end." On the other hand, Quick Step struck back in Kuurne, placing six riders in the top 20. "That was a good revenge," Sergeant said.
Spring classics: 10 riders who need a result
By Greg Johnson
Professional cyclists from around the world come out of hibernation as spring arrives for the classics season, the first major, historical races of the road calendar. For some it's not just winter they've been hibernating from, but also the spoils of success.
While a select few are in top form as Classic favourites, there's another selection of rider whose need to perform well outweighs the expectation to perform well. Cyclingnews picked out 10 riders who could do with classic success - either because they're yet to get the job done or were once great but have been out of the limelight in the past 18 months. For the record, the following are in no specific order.
Read up on all the ten riders.
Knaven out of Omloop
Servais Knaven moved to Milram but has to delay his Classics campaign now
Photo ©: Roberto Bettini

Servais Knaven will not be able to race the Omloop Het Nieuwsblad on Saturday or Kuurne-Brussel-Kuurne on Sunday due to a cold. Knaven was specifically hired by Milram for his experience in the Classics and his role was to guide Gerald Ciolek to victory.
"This is a big loss for our team," said Milram's General Manager Gerry van Gerwen. "Servais Knaven is the centre of the Classics team. He knows all the routes and his job was to navigate the riders with chance of victory to the optimal positions at the right moment." Despite Knaven unable to race, Van Gerwen was not giving up. "We still have a strong team that won't be hiding."
Knaven thought he was over the cold. "But Wednesday things got worse again. I am running a fever and I am pretty weak." Knaven was quite disappointed, but reason prevailed. "It does not make any sense to race like that. It is a pity, we are all highly motivated and it is the first big Belgian race weekend of the season."
Bert de Waele misses Belgian Classics opener
Bert de Waele does not feel like laughing these days, missing two important races
Photo ©: Bjorn Haake

Bert de Waele of Landbouwkrediet-Colnago will not be able to race in the Belgian Classics opening races this weekend. The 32-year-old suffers from an inflammation in his knees. De Waele is out for 10 days.
The team's doctor said there are no worries in the long run, but racing this weekend would not be advisable. De Waele crashed in the Etoile de Bessèges and then had to cancel his plans to race Tour du Haut Var due to the same knee problem.
His scheduled programme would see De Waele race the Driedaagse van West-Vlaanderen (March 6-8) next.
De Waele finished second in the 2006 Het Volk, behind Philippe Gilbert.
The Landbouwkrediet-Colnago team will send the following squads to the weekend races:
Omloop Het Nieuwsblad (Saturday): Sébastien Delfosse, Frédéric Amorison, Koen Barbé, David Boucher, Filip Meirhaeghe, Kevin Neirynck, Bert Scheirlinckx and Geert Verheyen. Directeur Sportif will be Gino Verhasselt.
Beverbeek Classic (Saturday): Rob Peeters, Dirk Bellemakers, Benjamin Gourgue, Jonathan Bertrand and Denis Flahaut. Directeur Sportif is Jef De Bilde.
Kuurne-Brussel-Kuurne (Sunday): Denis Flahaut, Dirk Bellemakers, Frédéric Amorison, Koen Barbé, Filip Meirhaeghe, Benjamin Gourgue and Bert Scheirlinckx. Directeur Sportif is Claude Vancoillie
Porte focused on baby Giro
By Greg Johnson
Richie Porte finished third in the Australian TT championships
Photo ©: CJ Farquharson

Australian youngster Richie Porte is returning to Europe tomorrow with the aim of a solid finish at the baby Giro d'Italia. Porte, who will ride for Monsummanese Grassi Mapei, is hoping another year in the amateur ranks will lead to a professional role for the 2010 season.
"I'm looking forward to riding with Monsummanese, it is my third year in Italy and it is exciting to be joining a team with so much history," said Porte.
Porte's most recent race was at Malaysia's Tour de Langkawi as a member of the Australian National Team. While working for team leader Jai Crawford, who finished second in the event, Porte put such a solid ride on the climb to Genting Highlands that he claimed 10th overall for himself as well.
"Langkawi was a great opportunity and we worked so well as a team which showed in the results," he said.
Langkawi wasn't the only solid ride Porte has posted this season. At January's Australian Open Road Championships the Tasmanian finished third in the elite men's time trial, behind Team Columbia's Michael Rogers and Garmin-Slipstream's Cameron Meyer.
"I am really looking forward to the 2009 season," said Porte. "I really hope to be able to show that I can ride at the top level and working with people like Andrea Tafi – I think it is a real possibility.
"The baby Giro d'Italia is back in 2009 and I would really like to focus on a strong general classification result there," he added. "I will be doing most of the amateur races throughout Italy and really want to get consistent results."
French cycling federation to elect a new president
By Jean-François Quénet
David Lappartient is one of the three candidates
Photo ©: Jean-François Quénet

On Saturday, February 28, the French cycling federation FFC will elect a new president among the three candidates: David Lappartient who is already deputy president, Michel Callot, president of the Rhône-Alpes regional cycling committee and former champion and team manager Cyrille Guimard.
Guimard already knows he won't be elected. "With the current elective system, I don't think I'll reach five percent of the votes," he said. Representatives of the different regions are the electors for the vote.
Also a board member of the UCI, Lappartient, 35, is the natural favourite to succeed Jean Pitallier who has been forced to step down. At the age of 76, the man who stood firm against the UCI in the past four years wanted to continue for "one or two years" but most of his collaborators at the FFC have shown him the way out. Elected after Daniel Baal in 2001, Pitallier convinced the voters to go for a second term in 2005 with the promise that he would pass the baton onto Lappartient two years later. But the conflict with the UCI gave him the opportunity to keep going.
Lappartient would nominate his predecessor as a honorary president but the outgoing is obviously bitter that Lappartient and other influential members have lobbied for a new and more modern way of governing French cycling.
"For the first time ever, this election has generated discussions and projects," Guimard emphasised. It came with the early candidacy of Callot, a former amateur rider and now human resources director in a big company, who strongly criticised the absence of reforms during Pitallier's years."
In an interview with Ouest-France newspaper this week, Pitallier justified his action with the way he managed to collect for the FFC one million euro from Tour de France organiser ASO last year in exchange to his support against the UCI.
Lappartient and Callot are rumoured to have both about 50% of the voters on their side. Pitallier predicts a very tight result and he will probably still be influential at the end of the day.
Giro del Capo changes format for 2009
Luke Roberts of Australia won a stage last year, but there will only be individual races in 2009
Photo ©: Giro del Capo

The 2009 Giro del Capo is changing its format from a five-day stage event to a series of four individual one day races, following an intervention by the UCI. The event was facing a possible downgrading if left as is.
"We've run the event on the same format for the past 17 years. It would appear we have been in contravention of a UCI regulation which we were unaware of," explained David Bellairs, Co-Director of the Cape Town Cycle Tour Trust. "Two weeks ago the UCI informed us that unless we comply with this clause, the event would be downgraded.
"Compliance [in the form of a subsistence allowance for cyclists] would have cost about 900,000 rand or more than 71,000 euro. It has been a tough year without a Giro sponsor so there was no way we could also carry this additional cost.
"A downgraded event [national tour] would only allow three international teams. We had already confirmed the participation of a record 13 international teams, most of which are already in the country for early season training camps," Bellairs continued.
It appears the regulations for the Cape Town Cycle Tour Trust strictly apply to one-day events and not stage races. "This fact remains unclear in the UCI regulations."
Bellairs met with Pat McQuaid, the president of the international cycling federation UCI, at its headquarters in Aigle, Switzerland, on Monday. "The Giro will now be run as a series of four UCI category ME 1.2 single day events. The event retains the same status but with a larger prize purse available to participants on a daily basis," Bellairs said.
"While not ideal, the new format will see the continuation of the 2009 Giro. We hope to secure a sponsor for the Giro del Capo in 2010 and thereby return the event to its original stage race format, which has been so successful for the past 17 years," Bellairs concluded.
The races will now be called The PPA Cape Argus Giro del Capo Challenge
March 4 - Wellington
March 5 - Durbanville
March 6 - Paarl
March 7 - Rest day
March 8 - Cape Argus Pick n Pay Cycle Tour
DSB Bank team name change
The team around Marianne Vos, DSB Bank, will have a slight name change for 2009, adding part of the second sponsor's name, LTO Nederland. The squad will race as DSB Bank-Nederland in 2009.
LTO Nederland is the Dutch Federation of Agriculture and Horticulture. Wielermagazine reports that the jersey will also change, with the red jersey adding a touch of blue.
CrowdRiders team selected by fans
CrowdRiders, a professional cycling team owned and managed by cycling fans, aims for its debut in the 2010 season. A similar scheme already exists in football, with the English MyFootballClub.
CrowdRiders' goal is to find 40.000 cycling fans that jointly want to run this team. Every member pays an annual membership fee of 55 euro, which will give them direct decision power within the team – from team name, shirt design and rider selection to race calendar composition and sports director choice.
The budget will be four million euro, financed through membership fees, T-Shirt sales and material sponsors. This amount is comparable with Barloworld or Agritubel, which participated in last year's 2008 Tour de France.
MyFootballClub has 30,000 members and manages a team called Ebbsfleet United. It started in February of 2008 and three months later they won the FA Trophy final in Wembley stadium against Torquay United with 1:0.
The initiative was started by Marc Frencken, who is the club's first member. You can find details on www.crowdriders.com.
Dana Point GP secures title sponsor
Despite the tough economic climate in the United States of America, organisers of the Dana Point Grand Prix have secured a new title sponsor for 2009. The California race's third edition will be sponsored by Roger G. Worthington's legal firm Worthington P.C. – a supporter of the Team OUCH/Maxxis outfit.
"I'm delighted to partner with the Dana Point Grand Prix," said Worthington. "My family is privileged to live and play in a progressive city that values cycling, fitness and fun for the entire family. Every year the Dana Point Grand Prix gets bigger and better."
The news is a positive sign for the National Racing Calendar race, which has already lost some races due to the global financial crisis. Dana Point Grand Prix of Cycling is organised by local non-profit advocacy group Dana Point Community Cycling Foundation.
"With our beautiful course and our organisation, it's no wonder the Tour of California has approached Dana Point about hosting a stage of next year's prestigious race," said Worthington.
Team OUCH/Maxxis Cycling is expected to contest the April 26 race, with Australia's Rory Sutherland leading the squad. The event will also feature live music, a beer garden, and a fan zone expo.
(All rights reserved/Copyright Future Publishing (Overseas) Limited 2009)