An interview with Chad Gerlach, March 6, 2009
Chad Gerlach: A new lease on love and life
Addicted to crack and living on the streets just over one year ago, American Chad Gerlach is now making his return to the pro peloton in perhaps the most surprising comeback of the year. Cyclingnews' Laura Weislo spoke to Amore e Vita's newest recruit about his amazing journey.
Chad Gerlach (Amore e Vita/McDonald's)
Photo ©: Amore e Vita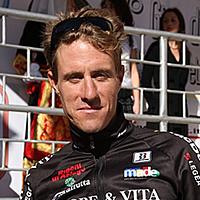 Few cycling fans outside of the US will have ever heard of Chad Gerlach, and only a small percentage of the fans inside America would remember him. After all, it's been nearly six years since he raced a bike, and his career before then could be described as rocky at best. It's his life in between then and now which makes his story remarkable.
Back in the late 90s, Gerlach was a rider who won races in eight different countries, including two stages of the 1998 Tour de Langkawi. But in just a few years he went from being one of the top domestic riders to being homeless and addicted to drugs and alcohol - a life he would lead for over five years.
Gerlach might have been lost forever had a friend not contacted the television show "Intervention", a series on the A&E channel that chose to feature him and which was critical in getting him to leave his life on the streets and enter a rehab program.
Nine months later, he had turned his life around and was hired to the Amore e Vita team thanks to his old friend and former teammate Roberto Gaggioli. Now he's in Italy after having raced the Giro di Grosseto and Giro di Sardegna, where he rode alongside World Champion Alessandro Ballan, Daniele Bennati and Alessandro Petacchi.
Speaking from a 400-year-old Tuscan villa in Lucca, Italy, Gerlach is eager to tell the story of his plunge into "that madness" in hopes that he can inspire others. His outgoing, energetic personality comes across loud and clear over the telephone, and one can easily see why his episode of "Intervention" was one of the most compelling of the season.
"I lived without any focus. I didn't have any desire. ... Time passes pretty quickly when you live your life like that. Not only months but years."
- Gerlach talks of the five and a half years he spent on the streets addicted to drugs.
"To be honest, I kind of enjoy being back in the spotlight a little. At first it kind of freaked me out, because I don't want to be known for being a drug addict. But it's still a story in progress. It's nice to be back, and I want people to know the real me," Gerlach admitted.
It's hard to believe the episode was recorded just one year ago - his journey into sobriety began on February 16, 2008 - and his turnaround is nothing short of amazing.
The "Intervention" production crew visited Gerlach in Italy to film an update to be aired this summer, and wound up filming the team's training camp and the first race - something his team was excited about because of the publicity. "The first race that I did in Italy [Giro della Provincia di Grosseto] was the one-year anniversary of me going to the rehab. That was really cool that they were here."
But Gerlach has some mixed feelings about the idea of being on television again. "It's going to be a big deal for me, because that first one was really hard for me. Even though I was clean when I saw it, I was in total shock about what I was like. It's weird to get sober and then go back and see yourself when your addiction is raging. I was in shock.
"I don't think I was the same person then as I am now. I lived without any focus. I didn't have any desire. After a couple years of doing that you talk about getting clean, but getting a beer in the morning is more important. And after you have your first 40oz in the morning you're feeling pretty good and it's like, 'whatever'. Time passes pretty quickly when you live your life like that. Not only months but years. After two or three years you're still saying the same thing.
"Last winter I was pretty depressed because five years had passed, and I was just stuck in the life. It seemed like an insurmountable task to get out of it. Even though just saying 'I'm going to go to rehab and change my life' is all it takes, when you're out on the street and in that position it just seems like such a hard thing to do."
Rocky roads
World Champion Alessandro Ballan
Photo ©: Amore e Vita

Chad "the tourist" gets a photo op with the World Champ
Photo ©: Amore e Vita

On the neutral roll-out, Gerlach mugs for the camera
Photo ©: Amore e Vita

Gerlach pedals the lonely road
Photo ©: Amore e Vita

Gerlach on the attack in Sardegna.
Photo ©: Amore e Vita

Chad Gerlach launches the early attack
Photo ©: Amore e Vita

Daniele Bennati wins the stage ahead of Amore e Vita's Yuri Metlushenko.
Photo ©: Amore e Vita

Gerlach turned to bike racing as a teen after his parents divorced and he began having behavioral issues - serious issues like the arson offense which put him in juvenile detention. He took to the sport rapidly, and began winning races. He turned pro with the Montgomery Bell team in 1995 at 21, and rode alongside the likes of Tyler Hamilton, Marty Jemison and Andy Hampsten on the inaugural US Postal Service team the next year.
While his talents on the bike were undeniable, personality conflicts off the bike became the stuff of legend. A spat with Lance Armstrong at the Olympic Training Center when the two were younger is one story that has been, according to Gerlach, blown out of proportion.
"'Intervention' made it sound like I got kicked off of US Postal Service because of Lance and I was like 'wait a sec, that was five years before that' - this was way before US Postal Service..., and people on the 'net sort of ran with it."
As the story goes, Gerlach poked Armstrong in the stomach and called him 'doughboy', but on the Internet, Gerlach became the guy who punched Lance Armstrong'. "Like I punched Lance... that's not what happened! Lance actually had me around the neck. I laugh about it because I wonder if he ever gets asked about it."
"I totally respect Lance. He doesn't know me - he knows of me. He's like everyone else in the sport. I've raced with Greg LeMond, Jeff Pierce, Ron Kiefel, Michael Engleman - it's a small community, we all know each other."
The small world of cycling can also cause problems, however. After getting kicked off of US Postal (for "personality conflicts"), Gerlach skittered from team to team over the next six years as recreational drug use became an increasing problem.
Downward spiral
Gerlach's descent into self-destruction began to pick up speed in 2001 when his girlfriend of seven years walked out, and he began experimenting with street drugs. But he hoped to put his troubles behind him when he signed with the Sierra Nevada team for 2002, and hoped to ride out his career there.
But those aspirations came to a screeching halt when his best friend and teammate Ryan Smith was brutally murdered. He was already tempermental, tired, and impatient with his younger teammates, and the death of Smith sent him over the edge, even if the fall didn't come until almost a year later.
"For someone who is in need of something to fill a void, drugs work pretty well, but crack works really well."
- Gerlach recalls the beginning of his downfall.
His time with the Sierra Nevada team would be limited, and despite his good results during the season his contract was not renewed. "The fit just wasn't that great, but I was riding really strong. And then Ryan died, and after that it was really tough."
While he got a contract for 2003 on a new team, that squad disintegrated before it even began, and the bottom fell out of Gerlach's life. "We were down in Arizona for a training camp and the guy told us the team was over. And while I was there I got the most sick I've ever been in the last 10 years, and then my bike breaks at Valley of the Sun, and I was just DONE - I didn't touch my bike for two months after that. I was done paying my entry fees, I was done not having money.
"I think I was snorting a lot of cocaine, but once I tried crack it was over. Like they say - for someone who is in need of something to fill a void, drugs work pretty well, but crack works really well. I had to have more of it."
The road back to life
Looking back on his dark days, Gerlach sounds like a man who has slain his demons, but his road to recovery has been fraught with peaks and valleys.
"I just kind of laugh at it now. I know better. I can't drink or use because that obsession will come back - it doesn't matter if I don't have another drink for five months. If I drink today, that thought's going to be there and I'll be planning my next drink. Even if it's three months away, I'll be like, 'I can wait another few months'.
"When I don't drink and use there's no problem - it's gone."
But it was less than six months ago that he got cocky, fell off the wagon and had to make a second attempt at being sober. After his initial detox followed by 90 days of rehab in Florida, he came back to Sacramento to be closer to his girlfriend. After a few months in a halfway house, the reality of how much work his new life was going to take began to sink in.
"It was like, 'Now what? I've got nothing' It was a shock to go completely sober. I wanted to stop smoking cigarettes, but I couldn't because I had taken all the rest of it out of my body. I knew I needed to put some serious work in, but that in and of itself would almost make you want to drink again."
With the economic recession in the US picking up steam, Gerlach could not find a job, and the pressure of being somewhat famous for the television show began to take its toll.
"The show came out on June 16th, and that was really hard for me because, first of all, people recognized me every day. Like five people a day would be like, aren't you that guy on "Intervention"? Then I started drinking once in a while. Then I was using on and off from July and August, and then there was a week in September where I had moved out of the halfway house - that was another huge mistake.
"I struggled for the whole time even to see myself as an addict."
- Gerlach talks about the ups and downs of rehab.
Thinking he could manage his recovery on his own was his first mistake, but perhaps the biggest one was not taking the process seriously enough. After leaving the halfway house he didn't follow through on all the necessary steps and had a major backsliding episode which made it clear to him that he needed to get serious. His second "sobriety date" is September 17, 2008.
"It's different for everybody. Some people never get sober. After that, I really got focused and got motivated to change my life. That combined with Roberto [Gaggioli] giving me a call and saying 'it's not too late to race your bike, I want you on my team' made a difference."
"He saw that if I was just able to race again that it would be motivation to not just be successful in racing but in anything. So I started training, and it just so happened things started going really well."
About the same time, Gerlach found a job selling sunglasses and embarked on a lifestyle he'd never before experienced. He got up early to train before work, putting in two to three hours before his nine-hour shift, and then returning to ride the trainer in the evening. He was motivated to show up to the team's camp with fitness.
"And I did - they thought I was going to come here and be the guy who was racing again just to feel good about himself. Everyone was really surprised that I was fit, and I made the team for the first couple stage races. I'm not the weakest rider on the team either, I think I'm right in the middle."
Back in the saddle again
To take any rider who has only raced domestically and toss them into the mix with the quality of riders which were present in the February races in Italy would be cruel. But for a rider who has only trained for four months after a five and a half year absence the racing was understandably a shock to the system. That Gerlach was able to finish any of the stages is a testament to his natural talent.
"They're brutal, they're really hard. It's just like I remember racing in Northern France in 1996. It's all out even at this time of the year. Races just aren't like this in the US. For me, I'm struggling to hang on. If there are hills in the race, I pretty much get dropped.
"But I think my body's been able to handle it well. I've actually surprised myself. When I do the races I'm not the last guy - I'm actually surprised I'm in groups with 30-40 guys who have been racing and training for years, which makes me feel pretty good."
"Even if there wasn't one news article about it I'd be happy, because I was miserable and lonely and my life was in ruins. I should be dead after everything I've done."
- Gerlach is grateful to be given a second chance.
After a period of rest, Gerlach will be off to France where he hopes the racing will suit his style, or at least have less climbing.
The one good thing about the intensity of the racing is that it leaves little time to worry about just about anything else. "Staying sober is an easy thing because there are a lot of other things I'm worried about like trying to put a life together after cycling.
"Right now, I just want to enjoy this experience. I can't complain about anything because I've been in a whole lot worse places. I appreciate it so much - it's amazing. Isn't that how it always is though? For people who are given a second chance, or come back to something after years away - I'm just in awe of it. I hope people can learn something from me, too."
"I think everyone's just happy I'm out of that madness. I don't know what makes the story so cool - whether it's the cycling standpoint or the drugs. I'm just happy to be back and I'm going to enjoy it while I'm here. Even if there wasn't one news article about it I'd be happy, because I was miserable and lonely and my life was in ruins. I should be dead after everything I've done.
"A lot of people do die - I don't want to forget that. A lot of people don't make it out of addiction, and I need to remember and be grateful, and do something positive."