Latest Cycling News, March 2, 2009
Edited by Gregor Brown
Pozzato down but not out
Filippo Pozzato (Katusha) wonders what might have been in the Omloop Het Nieuwsblad had he not crashed before the finish line.
Photo ©: Roberto Bettini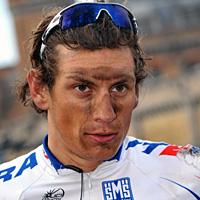 Filippo Pozzato missed repeating his 2007 win in the Omloop Het Nieuwsblad on Saturday in Gent, Belgium, due to a crash in the final 100 metres of the one-day race, won by Thor Hushovd.
"I would have won today," the Italian Katusha rider told La Gazzetta dello Sport. "I started at 200 metres out and had passed Hushovd when [Sebastian] Langeveld moved and bumped my handlebars."
Langeveld apologised to Pozzato for the manoeuvre that came at the end of the 204.5-kilometre race. Pozzato was disappointed because he felt ready to challenge alongside favourite Tom Boonen and last year's winner Philippe Gilbert, which he claimed was harder than the edition he won two years ago.
Pozzato will seek revenge in the Eroica one-day race this Saturday in Siena, Italy. He will then have another chance in the Tirreno-Adriatico (winner in 2003) and the Milano-Sanremo (winner in 2006).
"Unfortunately victory at Het Volk [renamed Omloop Het Nieuwsblad this year - ed.] slipped away as it did in the Trofeo Laigueglia. I have confidence going into the coming races; I will win something of importance."
It will be the third edition of the Montepaschi Strade Bianche - Eroica Toscana. The race is held on le strade bianche (white gravel roads) roads in and around the Tuscan city of Siena. The Tirreno-Adriatico, March 11 to 17, comes in the next week as a lead-up for Milano-Sanremo, March 21.
WADA president Fahey asks for Puerto evidence
Alejandro Valverde faces CONI deadline this Friday, March 6, for possible Operación Puerto ties
Photo ©: Christophe Mury

The president of the World Anti-Doping Agency (WADA), John Fahey, asked on Friday for Madrid courts to release its evidence gathered as part of the Operación Puerto doping investigation.
"We are very interested if the evidence shows there are cheats in any sport. If it can't be made available to the sport we have a problem," Fahey told AP.
Fahey is specifically interested in the bags of blood Spanish Guardia Civil sequestered during the raids of Doctor Eufemiano Fuentes' offices in May 2006. The Spanish investigation led to the ban of cyclists Ivan Basso, Michele Scarponi and Jörg Jaksche. Investigators believe many more cyclists and other sportsmen are involved.
Valverde's deadline
Alejandro Valverde has until Friday to respond to the Italian Olympic Committee (CONI), relating to samples taken on the second rest day of the 2008 Tour de France.
"I don't know anything about that. I have only read the newspapers that explained that certain things are happening in Rome. It is not something where I can express my opinion, and I won't do so", he says.
The Madrid Court 31 twice shelved the Operation Puerto investigation. A court ordered the case re-open last month with interest coming from Spanish Cycling Federation (RFEC) based on Spain's new anti-doping laws for sportsmen.
Cyclingnews' recent coverage of 'Operación Puerto'
May 18, 2009 - Valverde to start Catalunya
May 15, 2009 - Valverde not welcome in Denmark
May 14, 2009 - Spanish federation wants proof in Valverde case
May 13, 2009 - Spanish Olympic Committee defends Valverde
May 12, 2009 - Valverde responds to sanction
May 11, 2009 - Italian tribunal delivers Valverde two-year suspension
May 8, 2009 - Valverde case: Italian Olympic Committee defends Torri
May 7, 2009 - Valverde to take legal action against CONI prosecutor
May 5, 2009 - WADA and Spanish federation join CONI and UCI on Valverde
May 1, 2009 - International Cycling Union joins in on Valverde's hearing in Italy

Cyclingnews' complete coverage of Operación Puerto
Schumacher fights French anti-doping agency
Stefan Schumacher didn't have the legs
Photo ©: Elmar Krings

Stefan Schumacher started a media offensive against the French anti-doping agency (AFLD) and its doping charges against him. He maintained his innocence and blasted the French agency as part of an appearance on German sports show ZDF Sportstudio Saturday night.
"Since the AFLD consistently refuses to bring this case to light, I will stay on the offensive and give everything, so that the case is completely explained," the 27-year-old said on his personal website.
Schumacher won both time trials in last year's Tour de France. The AFLD announced that he had tested positive for CERA, a new generation of blood booster EPO, in October. The agency suspended the German for two years last month.
Schumacher criticised a taped appearance by Pierre Bordry, president of the AFLD, saying he told "out-and-out lies". The former Gerolsteiner rider said that Bordry claimed Schumacher was notified last summer of irregularities in his blood values and that he had waived the opening of his B sample. "Both are demonstrably false" statements, according to Schumacher.
Schumacher noted that the B sample has not yet been opened. "Before I use it, I want to know what happened with my A sample. Why should I trust the people who already messed up my A sample?
"I have never said that I didn't want to have the B sample opened. I have only asked to have the deadline extended." (SW)
On-form Rebellin misses out in Lugano
Davide Rebellin, l, on the GP Lugano podium
Photo ©: Edward Madden

Davide Rebellin of Diquigiovanni missed out on winning the rain-soaked GP Lugano Sunday in Switzerland despite being in top form. The Italian added a second place behind Rémi Pauriol to his season palmarès that includes two stage wins in the Vuelta a Andalucía.
"On the descent, in the rain, my muscles froze up," Rebellin told La Gazzetta dello Sport. "So I found myself helpless in the sprint."
Rebellin was very active in the race. He joined the move including Pauriol and his Cofidis teammate, Amaël Moinard, after their former companions – Linus Gerdemann (Milram) and Philip Deignan (Cervélo TestTeam) – faded from the front. He did not risk it all on the wet and dangerous descent down towards Lago di Lugano.
Remaining only with Pauriol, he led out the sprint because he feared the chase group led by Australian Simon Gerrans (Cervélo TestTeam). "If they caught us it would have been worse off."
Rebellin proved his form the previous day when he played a hand in teammate Francesco Ginanni's win in the GP Insubria. His second in the 178km race behind the winner of the GP Marseillaise proved he to be ready for his March objectives: Tirreno-Adriatico (March 11-17), and Milano-Sanremo (March 21).
"I will aim for a stage in Tirreno-Adriatico. With the new climb [of Le Mànie in Milano-Sanremo] the finale is harder and lends itself to attacks."
Rebellin turned professional in 1992. His highest placing in Milano-Sanremo is fourth, which he achieved in 1995 and 2008.
Sastre awarded Premio Castilla y León
Spaniard Carlos Sastre at the Tour of California
Photo ©: Jon Devich

Tour de France winner Carlos Sastre won the sports award of Castilla y León. The community will present the Spaniard his trophy on April 22.
"The call of the Minister of Culture and Sports, José María Salgueiro, came while I was training. If I'm honest, it is not what I expected," said Sastre.
Sastre, from Ávila, won the Alpe d'Huez stage and the overall of the 2008 Tour de France. It was the third time in recent years that a Spaniard won the French three-week stage race.
He started his 2009 season in the Tour of California, February 14 to 22. He was hampered in the race by a cold and abandoned before the final stage. He is preparing for his first major objective of the 2009 season: the Giro d'Italia, May 9 to 31.
"It is now one-hundred percent for the Giro, and then I will concentrate on the Tour de France, which remains my goal. But this year's World Championships interests me; I have heard that it is very hard. Those races are my three goals this season."
Sastre left CSC-Saxo Bank at the end of 2008 to join the newly formed Cervélo TestTeam. The season has started off well for the team; its most recent win came in the Omloop Het Nieuwsblad thanks to Thor Hushovd.
"We started in the Tour of Qatar by winning the second stage and taking second overall, in California we won a stage and came close to a second, and in Volta ao Algarve we took two more stages. I don't think you can ask for more."
Sastre continues his season at the end of this month with Vuelta a Castilla y León stage race, March 23 to 27.
Hunter leads Barloworld at the Giro del Capo
Robert Hunter (Barloworld) powers along
Photo ©: Roberto Bettini

Robert Hunter will lead the six-man Barloworld team at the Giro del Capo stage race, March 4 to 8, in his home country of South Africa. He won two stages in last year's event and then-teammate Christian Pfannberger won the overall.
"The weather is excellent with temperatures around 30 degrees and our moral is very good," said Team Manager Claudio Corti.
The race is very important for Corti's team since the base of its sponsor is in the country. Barloworld goes into the race motivated based upon Hunter's recent stage win in the Tour Méditerranéen.
The team will also include Félix Rafael Cárdenas, John-Lee Augustyn, Daryl Impey, Steve Cummings and Chris Froome, who finished second overall in 2008.
"The Giro del Capo is one of the few races in South Africa that Barloworld competes in. As a sponsor with largely South African interests, it is very important for the Team to do well in this race," said Chris Fisher, head of marketing for Barloworld.
The Giro del Capo also features several international teams – Glud & Marstrand Horsens, Kuota-Indeland and Rapha-Condor.
(Additional editorial assistance provided by Susan Westemeyer.)
(All rights reserved/Copyright Future Publishing (Overseas) Limited 2009)