First Edition Cycling News, March 3, 2009
Edited by Les Clarke
Armstrong-Contador date in Castilla y León
Lance Armstrong (Astana) gets to the front
Photo ©: Jon Devich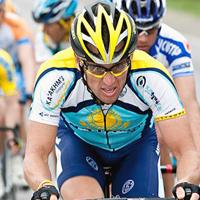 Team Astana has announced that Lance Armstrong will ride Milano-Sanremo on March 21, followed immediately by the Vuelta a Castilla y León. He'll be using the Spanish race as a testing ground for competing with teammate Alberto Contador, as the pair prepares for the Tour de France later this year.
There has been talk all season so far as to when and where the seven-time Tour victor would ride with the 2007 Tour champ, and although it's no secret that the American wanted to ride La Primavera, his participation in the latter event is somewhat of a surprise for fans.
Astana management said that the four-day Spanish stage race would be a good chance for Armstrong to focus on the time trial and two mountaintop finishes, and at the conclusion of the event would he would be heading back to the US to resume training. There will be no participation in the Critérium International or the Tour of Flanders.
The team would announce at a later date the races Armstrong would participate in following Castilla y León and prior to the Giro d'Italia.
Weight of expectation on Contador
Astana's Alberto Contador has addressed the weight of expectation placed upon him as he continues his 2009 campaign. Following a win in his first outing, the Volta ao Algarve last month, the young Spaniard has a one from one record thus far this season, and already the number of voices are growing in support of his chances for more wins in the year's big events.
Speaking during a Sports Gala evening, Contador told reporters, "I know that much is expected of me, everyone has great confidence in my chances, but people must understand that cannot everything always win or be the fastest."
Contador's next race is Paris-Nice, where he won the overall classification in 2007, the year he also took the Tour de France crown. Following that he will ride the Vuelta a Castilla y León, where he joins up with teammate Lance Armstrong for the first time in competition for 2009 (see above).
Contador described the deal between the two as "pretty good," but that, "everything is decided by the team, which is really important, rather than by either [of us]. Everyone has their schedule, mine involves riding races and thinking about the good of the team.".
Freire to return in Castilla y León
While there's sure to be hype surrounding this year's Vuelta a Castilla y León thanks to the announcement that Lance Armstrong will ride (see above), local boy Oscar Freire will make his return to racing at the same race. The triple world champion was forced to miss one of his main races for the season, Milano-Sanremo, due to injuries suffered in a fall during the Tour of California.
It's bitterly disappointing for the experienced Spaniard, who is a perennial contender for the Sanremo crown. Castilla y León starts only three days after La Primavera, but will be used as a means of reintroducing Freire to competition.
Keisse defends against two-year ban
Iljo Keisse at the Gent Six last year.
Photo ©: Cyclingnews.com

Iljo Keisse has faced the Belgian Cycling Federation (RLVB) in relation to the hydrochlorothiazide (HCT) and cathine found in his urine on the last day of the Gent Six Day late last year. The federation is seeking a two-year sanction for Keisse, and the debate has now begun as to whether the presence of the HCT and cathine was intentional.
Keisse's lawyer Johnny Maeschalck has argued that HCT, a diuretic, was found in a food supplement consumed by Keisse. Maximize, which sponsors the Topsport Vlaanderen team and manufactures the product, has become the centre of attention, and denies that there would be anything untoward in any of its products.
"I almost fell of my chair when I heard that," Maximize director Gilbert Käes told Sporza. "We feel attacked. We have been working more than 10 years with several cycling teams and also with 1,000 other athletes.
"To date we have never had problems with a dope test. We have strict standards. I am sure our quality and purity."
Maeschalck has said that, "We have proof of the need for Keisse to be proclaimed innocent, and [the decision] should be reversed."
It's been claimed that the cathine found in Keisse's urine was a result of cold and flu tablets taken by the Belgian, who won the Gent Six Day with Robert Bartko. It's claimed that the Belgian Federation could be lenient with that charge as there have been cases of acquittals for the same misdemeanour. The HCT charge, however, will prove more difficult for Keisse and Maeschalck to defend.
"The facts don't appear black and white," Keisse said. "I'd love to have a good feeling about this, but my fate lies in the hands of the jury. I'll keep fighting until I can ride and I'll appeal to the extent I can."
Pellizotti to begin with 'al Friuli'
Franco Pellizotti trains in Bibione, Italy,
Photo ©: Roberto Bettini

Liquigas' Franco Pellizotti will begin his 2009 campaign at the Giro del Friuli on March 4. It's a late debut for the Italian, who managed to wear the Giro d'Italia's maglia rosa in 2008 and will hope to again in 2009.
Pellizotti's teammates Ivan Basso and Roman Kreuziger will use the race as preparation for Tirreno-Adriatico and Paris-Nice respectively, while Pellizotti and veteran Andrea Noè will kick off the season with the one-day event.
It's obvious that Liquigas has targeted the Italian race as a suitable meeting point for its stars, with Basso, Kreuziger, Noè and Pellizotti joined by Maciej Bodnar, Gianni Da Ros, Enrico Franzoi and Ivan Santaromita in the lineup.
"In my five years at the helm of Liquigas, we've never done so much in the first few weeks [of a new season]," said team manager Roberto Amadio. "This proves the benefit of the work done by the entire team during the winter – both staff and riders are of the highest calibre."
The team's immediate focus is undoubtedly on Milano-Sanremo, and its designated leader for the race, Daniele Bennati. The Italian sprinter has shown he has great early-season form and Amadio said that Bennati is, "very determined" to perform well in La Primavera, an event he has never won.
ProTour squads for upcoming races
Quick Step's team for Le Samyn:
Dries Devenyns, Kevin De Weert, Ad Engels, Kurt Hovelynck, Kevin Hulsmans, Kevin Seeldraeyers, Kevin Van Impe, Wouter Weylandt. Directeur sportif: Rik Verbrugghe
Caisse D'Epargne's Vuelta a Murcia team:
Mathieu Drujon, Vicente García Acosta, Arnold Jeannesson, Alberto Losada, Luis Pasamontes, Fran Pérez, Nicolas Portal, Xabier Zandio. Directeur sportif: José Luis Jaimerena.
Lampre-NGC squad for Paris-Nice:
Marco Bandiera, Matteo Bono, Pietro Caucchioli, Francesco Gavazzi, Davide Loosli, Mirco Lorenzetto, Manuele Mori, Simon Spilak. Directeur sportif: Maurizio Piovani and Fabio Baldato.
San Diego turns on 'Italian Style'
Legendary bicycle figure Ernesto Colnago was on hand to witness the first Granfondo bearing the name of his company in San Diego last Sunday. It was dubbed a day of 'Italian Style', with the event beginning in the city's Little Italy district, and riders escorted by a Ferrari and Ducati as they made their way around the outskirts of the city.
Over 1,000 riders took part, an indication of the US cycling market's willingness to embrace the Granfondo concept that has been prevalent in Europe for many years. Matthew Gerevini, founder of Granfondo USA LLC, a company that proposes to organise similar events in other American cities, said that, "It was an opportunity to once again export our 'Made in Italy' message."
The star of the show was undoubtedly Ernesto, however, who with grandson Alessandro in tow signed hundreds of autographs for fans of his work. Organisers hope this will be the beginning of many similar events throughout the US, capitalising on the passion demonstrated by American fans during the recent Tour of California, and the number of American professionals riding in Europe.
(All rights reserved/Copyright Future Publishing (Overseas) Limited 2009)