Latest Cycling News, March 2, 2009
Edited by Gregor Brown
French teams for Paris-Nice
By Jean-François Quénet
Cofidis' David Moncoutié, who won Tour Méditerranéen's Mont Faron stage, targets the Paris-Nice mountains classification
Photo ©: AFP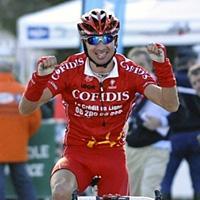 With five days to go to France's Paris-Nice, French cycling's traditional stage race season opener, the teams from the host nation have carefully chosen their line-ups. All five French teams have ridden successfully at the beginning of the year, but Paris-Nice, March 8 to 15, will be the first test of their competitiveness.
Française des Jeux: Sandy Casar, Sébastien Chavanel, Mickaël Chérel, Sébastien Joly, Mathieu Ladagnous, Christophe Le Mevel, Jérémy Roy and Jussi Veikkanen.
Française des Jeux has two captains with Sandy Casar and Jussi Veikkanen. The latter has come close to wins with ninth in the Tour Down Under, second in the Tour Méditerranéen and third in the Tour du Haut Var. On-form Mathieu Ladagnous will have some freedom to attack. Sébastien Chavanel will be their sprinter for the first two stages.
AG2R La Mondiale: José Luis Arrieta, Stéphane Goubert, Hubert Dupont, Vladimir Efimkin, Sébastien Hinault, Rinaldo Nocentini, Christophe Riblon and Nicolas Roche.
The team will clearly be riding once again for sprinter Rinaldo Nocentini. The winner of stage seven of the Tour of California finished second in Paris-Nice last year behind Davide Rebellin. Rebellin's current Diquigiovanni-Androni team isn't taking part in the Race to the Sun.
Bbox Bouygues Telecom: Olivier Bonnaire, Cyril Gautier, Yohann Gène, Iouri Trofimov, Alexandre Pichot, Pierre Rolland, Sébastien Turgot and Thomas Voeckler.
After winning the Etoile de Bessèges and the Tour du Haut Var, also showing a consistent form in Belgium (11th in the Omloop Het Nieuwsblad and 14th in the Kuurne-Brussel-Kuurne), Thomas Voeckler is the natural leader.
The team from Vendée also has high ambitions for their young French prodigies: European Under 23 champion Cyril Gautier and up-and-coming Pierre Rolland, who broke away on Sunday at the Clasica Almería and succumbed only with four kilometres to go. Tour de Langkawi stage seven winner Gène will also line up with great confidence.
Cofidis: Stéphane Augé, Mickaël Buffaz, Samuel Dumoulin, Amaël Moinard, David Moncoutié, Damien Monier, Rémi Pauriol and Rein Taaramäe.
After winning the GP Lugano ahead of last year's Paris-Nice winner Davide Rebellin, Pauriol is full of hopes prior to his first big goal of the year. Moncoutié, who won the uphill stage the Tour Méditerranéen at the Mont Faron, targets the mountains classification. Estonian talent Taaramäe looks to take one step higher in his career.
Agritubel: Maxime Bouet, Sylvain Calzati, Romain Feillu, Yann Huguet, Christophe Laurent, Geoffroy Lequatre, Christophe Moreau and Nicolas Vogondy.
Quite successful in the category two races recently, Agritubel will count on French champion Vogondy and the man of the come-backs Calzati for the overall classification at Paris-Nice. Offensive and fast men Feillu and Lequatre have no intention of staying silent next week.
Pinotti proud of Columbia's Almería dominance
By Gregor Brown
Marco Pinotti proud of Columbia's Almería dominance
Photo ©: Stephen McMahon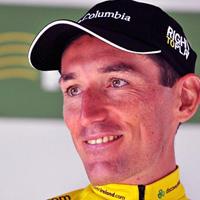 Marco Pinotti believes that the strong Columbia-Highroad teamwork in Sunday's Clasica de Almería led the way for teammate Gregory Henderson's win. The team battled strong crosswinds midway through the 169-kilometre race in Southern Spain to place seven of its men in the lead 25-man group.
"It was one of the clearest examples of perfect teamwork I have ever seen and experienced. We can lose or win (like Henderson did), but whatever the result, you should be proud of the way you ride in the race," said Pinotti to Cyclingnews.
Pinotti finished 17 seconds back in 33rd. The result gave promise to the Italian from Bergamo since he suffered from digestive problems after he made his season's debut in the Majorca Challenge, February 8 to 12.
Pinotti's contribution to the Columbia-Highroad teamwork gave Henderson his first win since April 2008.
"I grew up watching races on television where teams like Panasonic were dominating the big races. I admired the team effort of riders in side-by-side formation, which seemed to make things easier than they really were.
"The strength of the team that works together is a lot more that the simple addition of each rider's strength. In these moments one plus one equals three or more."
Pinotti will join his teammates in Paris-Nice next week, March 8 to 15. He hopes that the teamwork Columbia displays in the French race and the lack of politics before the race (like in 2008) will make for an attractive Race to the Sun.
Lampre to Paris-Nice for wins
By Gregor Brown
Mirco Lorenzetto will be Lampre's man for the sprints
Photo ©: Roberto Bettini

Team Lampre-NGC heads to Paris-Nice this week, March 8 to 15, to make its mark in the sprints and general classification. Directeur Sportif Maurizio Piovani will guide the Italian team in the French stage race known as the Race to the Sun.
"In theory, there are the first three stages that should be decided in a sprint and Mirco Lorenzetto will have his chance," Piovani said to Cyclingnews. "However, the course is always up and down, mangi e bevi."
Lampre controlled the first stages of the Giro di Sardegna. Lorenzetto won stages one and two.
"Simon Spilak will go a lot better than 2008. He is confident he will go well and will be backed by Pietro Caucchioli Francesco Gavazzi and Manuele Mori."
Davide Rebellin won the 2008 edition of the Paris-Nice. Slovenian Spilak finished 4:23 back in 12th.
The eight-man team will consist of Spilak, Caucchioli, Marco Bandiera, Matteo Bono, Gavazzi, David Loosli, Lorenzetto and Mori.
Silence-Lotto looks to wake up riders
Philippe Gilbert of Silence-Lotto in Saturday's Omloop Het Nieuwsblad
Photo ©: ISPA

Team Silence-Lotto looked to score big in the first semi-classics in Belgium this last weekend, but was unsuccessful, as it has been so far all season. Manager of the Belgian team, Marc Sergeant, said it is time to wake up some of his riders.
Greg Van Avermaet finished fourth Saturday's Omloop Het Nieuwsblad, but the team was nowhere to be seen in Sunday's Kuurne-Brussel-Kuurne. They missed the break and only four riders finished the race, with Jürgen Roelandts being the best finisher in 61st place, 8:18 down.
"Everyone must realise that it can't go on like this," Sergeant told Het Laatste Nieuws. Perhaps he simply needs to sit down and talk with the riders, he said.
He brushed off the suggested possibility of fining riders who do not perform as expected. "I don't know about that," he said. "I have to hear what the sponsors think that we ought to do. But we shouldn't start to panic." (SW)
Barloworld targets Friuli and Eroica
By Gregor Brown
Barloworld targets the white gravel roads of the Montepaschi Strade Bianche - Eroica Toscana
Photo ©: Roberto Bettini

Barloworld targets two Italian dates this week with the Giro del Friuli tomorrow and the Eroica on Saturday, March 7. Team Manager Claudio Corti leads a separate team in South Africa's Giro del Capo, but insists the Italian races are top priorities.
"The team is in good condition. Friuli might end in a sprint and I am curious to see how our neo-professional, Michele Merlo, goes," said Corti to Cyclingnews.
Directeur Sportif Alberto Volpi will lead the team at the Giro del Friuli, a 184.2-kilometre race. The team will field Francesco Bellotti, Giampaolo Cheula, Diego Caccia, Patrick Calcagni, Marco Corti, Paolo Longo Borghini, Michele Merlo and Carlo Scognamiglio.
Scognamiglio showed great form in Saturday's GP Insubria. The Italian from Bergamo finished fifth behind winner Francesco Ginanni.
Valerio Tebaldi will direct the riders at the Montepaschi Strade Bianche - Eroica Toscana. The race takes in the famed white gravel roads near Siena before it finishes in the city's Piazza del Campo.
"Eroica is particular, like Paris-Roubaix. Paolo Longo Borghini and Geraint Thomas can do very well there. Thomas is less focused on the track this year and should be strong in these types of races."
The team placed four riders in the top 15 in last year's Eroica. This year, the team will field Caccia, Giampaolo Cheula, Marco Corti, Longo Borghini, Scognamiglio, Merlo, Patrick Calcagni and Thomas.
Swiss Calcagni finished sixth in 2008. Briton Thomas has experience with the rough road thanks to his win in the junior edition of the 2004 Paris-Roubaix.
Andy Schleck diary: Planes, training and underwear
Luxembourg's Schleck starts the Tour of California despite being a bit under the weather
Photo ©: Mark Johnson

I don't like airports. The queues, traffic jams, security checks, belt off, shoes off, arms up, left leg in, left leg out – it's just so painstaking. I'm in Copenhagen, Denmark, airport right now and I've just managed to make it to the departure lounge in the nick-of-time.
It's been a whirlwind few weeks but before I tell all about I need to get this airport angst off my chest. Call it self-therapy if you will, but without it you'll click onto Cyclingnews tomorrow to read a news flash about an incensed cyclist being bundled off a 747 after an episode of plane rage. I'm kidding of course, but anyone who knows me knows I'm a relaxed guy - perhaps too relaxed at times – so maybe it's the stress of travelling that gets to me and puts me out of sync. I don't like airports.
Read the rest of Andy Schleck's diary
CSF plays its cards Friuli
Team CSF Group-Navigare comes off of a competitive Giro di Sardegna and travels to north-eastern Italy to play its cards in Wednesday's Giro del Friuli. Directeur Sportif Roberto Reverberi has riders to contest the sprint and make the escape groups.
"The eventual breakaways will have to take into account the final 25 kilometres, which makes a bunch sprint the most probable option," read a team statement. "In this case, the cards to play for the team will be an in-form [Tiziano] Dall'Antonia and [Mauro Abel] Richeze, while [Mauro] Finetto and [Marco] Frapporti will be probably trying to join a breakaway."
The 184.2-kilometre race consists of a circuit that starts and ends in Pordenone. The Caneva Castle climb in each circuit will break up the race, but the finale is flat.
The team will field the same riders as it did in Sardegna, except Alan Marangoni will replace Alessandro Bisolti.
The Giro del Friuli is in its 31st year. Organisers last held the race in 2004, when De Nardi's Michele Gobbi won ahead of Franco Pellizotti and Andrea Moletta.
Rider's fiancée hit by police motorcycle
A police motorcycle hit a 20-year-old woman during Sunday's Clasica Almería in Spain. She is now in critical condition. Early reports indicate the woman is the fiancée of Andorra-GrandValira cyclist Eduardo Padres.
According to sportwereld.be, the woman was watching the race when she saw Padres at the head of the peloton. She ran alongside to cheer him on and the Guardia Civil motorcycle accompanying the race was unable to avoid hitting her.
Reports indicated she suffered a fractured skull and two broken legs. (SW)
(Additional editorial assistance provided by Susan Westemeyer.)
(All rights reserved/Copyright Future Publishing (Overseas) Limited 2009)