First Edition Cycling News, March 4, 2009
Edited by Les Clarke & Greg Johnson
Maximum attack for Murcia field
By Antonio J. Salmerón
Denis Menchov (Rabobank)
Photo ©: Roberto Bettini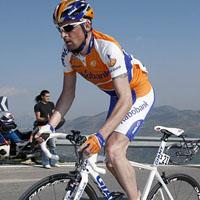 As the season kicks into full swing, the Vuelta Ciclista a la Región de Murcia is the next stop for those with Giro ambitions and local riders seeking glory on home turf. The likes of Stefano Garzelli, Bert Grabsch and Denis Menchov will battle Manuel Vázquez, Aitor Perez and Francisco Perez in Murcia as the region's tour gets underway today.
Outlining their objectives for the race at a pre-event press conference, it became obvious that the local riders are relishing the challenge of competing against some of the ProTour's biggest stars, who'll be preparing for the Giro d'Italia with tough racing in the south-eastern reaches of Spain.
Hailing from the Murcia region, Caisse d'Epargne's Francisco Pérez outlined the two key stages of the 29th Vuelta a Murcia – the 16km time trial through the streets of San Pedro del Pintar and the finish in Alhama, which comes after the run over the Collado Bermejo.
"It's a course I know very well, and perhaps a specialist who can ride a very good time trial will take it [the overall], because it's quite a distance, especially at the beginning of the season," said Pérez. "Those who perform well in the time trial may be able to defend on the climb of Collado Bermejo quite well, because it's a long descent to Alhama."
Although surprised that while he found himself in very good shape in Mallorca, he knows there will be a tough fight for the overall. "Let's go step by step and see how the race develops before I can start thinking about goals. I am [feeling] OK, but perhaps not enough to try for the general. There'll be a war going on for it, without doubt."
Quality field up for the win
Stefano Garzelli (Acqua & Sapone-Caffè Mokambo)
Photo ©: Roberto Bettini

One of those who may be amongst the leaders overall is Columbia-Highroad's Bert Grabsch. The current time trial world champion is replacing André Greipel in the team's lineup as the German continues to recover from a crash he suffered in the Tour Down Under in January.
"I'm in good shape after competing in Australia and the Algarve," said Grabsch. In the absence of Olympic TT champion Fabian Cancellara (Saxo Bank) who pulled out of the Tour of California due to illness, the German is convinced of being able to achieve a solid result. "It is a good test for me, especially for upcoming events."
Another local rider who proved at last year's Vuelta a España that he's up for the big occasion, Ezequiel Mosquera, suggested that he wouldn't change his style of approaching a race and become mired in the battle for the overall, "because all the races I take part in I'm in the spotlight."
Denis Menchov, twice winner of the Vuelta a España, will also be in the spotlight. He recently helped Joost Posthuma win the Vuelta a Andalucía, but said he wasn't sure of how he would perform in Murcia. "I haven't had time to assess and competition, but it is true that I have good feelings... the Giro is still a long way off," he explained.
Stefano Garzelli is also competing in Murcia with one eye on Giro d'Italia, and is grateful to be doing so as his Acqua e Sapone squad was initially left off the invitation list for the year's first Grand Tour. "This race is a very complete and I am very well; I will see how I ride the time trial, although it's the first test [against the clock] this season, and I hope to be in front in the mountains," said the Italian veteran.
Contentpolis AMPO team captain Aitor Pérez said that, "I hope that I find the time trial more bearable, given that it's flat on the profile. I usually perform well in this type of race, but I'll also be very attentive to how the race develops in the last seven miles of climbing at the end of Collado Bermejo, which is just over seven per cent, and the long descent to Alhama, where there will be maximum risk."
Injury forces Hoy from worlds
Chris Hoy
Photo ©: Rob Evans

Chris Hoy will miss this month's UCI Track World Championships in Pruszkow, Poland, as he continues to recover from a hip injury sustained in a crash. Hoy crashed at last month's World Cup event in Copenhagen, Denmark during the closing stages of the keirin final.
"I'm hugely disappointed that I'm not going to be riding in the Worlds," said Hoy. "I've been really lucky in my career so far and this is the first time I've had to miss a major championship event due to injury. I'm glad it didn't happen this time last year and I'm still totally focused on being in the best shape possible for London 2012.
"This doesn't affect my long term aim of defending my titles and I'll hopefully be back in training and competition in the near future. I wish the team the best of luck in Poland."
Hoy had modified his training programme and received ongoing treatment to his right hip since the crash. He has since been advised by the British Cycling's medical team that he should stop training and riding his bike, in order to allow his hip enough time to heal properly and to avoid further damage.
"This type of injury is quite serious and pretty rare," said team doctor Dr Roger Palfreeman. "It's called a degloving injury and it's when the skin and the underlying tissue and fat get separated from the underlying muscle. The tissues are not bound down as they should be, which has created a space for fluid to collect in.
"The fluid can be drained off, but every time Chris exercises or gets on his bike, the tissues are tearing again and the fluid's coming back in to that space. He needs to give himself a decent amount of time to let the injury heal, which is why we've advised him not to compete in the Worlds."
De Jongh's diagnosis: out for six weeks
Steven De Jongh won in 2008
Photo ©: Roberto Bettini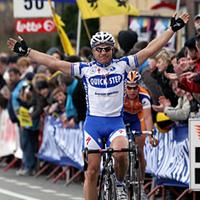 Steven De Jongh (Quick Step) has finally received a diagnosis for the pain he's been experiencing since a fall at last month's Tour of Qatar. After visiting the Herentals Clinic earlier this week, the Belgian squad has announced he has torn a bicep femoris muscle.
De Jongh will undergo surgery this Friday at the Herentals Clinic, where doctors will stitch up the torn muscle. The surgery means he will be unable to train for some six weeks.
"This is a tough blow for Steven, and for the entire team," said team manager Patrick Lefevere. "We've lost a great rider for the cobblestone classics and a professional mentor for the less experienced riders in the team. However we're sure that Steven will be working to get better and get back to giving his all to the team as soon as possible."
De Jongh has already missed the opening semi-classics of the spring racing season. The rider was unable to take part in last weekend's Kuurne-Brussel-Kuurne and Omloop Het Nieuwsblad.
"It's hard times for me," explained De Jongh. "At the beginning I was hoping the injury wasn't so serious. The only thing left for me to do is to keep the faith and do whatever it takes to recuperate 100 percent. Either way I'm going to try to contribute by staying in close contact with the team during the most important races of the season."
Lapthorne returns to international racing
By Greg Johnson
Lapthorne finds cycling less important
Photo ©: CJ Farquharson

Australia's Darren Lapthorne will return to international racing for the first time since the death of sister Brit late last year. Lapthorne will contest the Giro del Capo with his Rapha Condor squad in South Africa starting today, having already spent two weeks in the nation training with his new team.
"So far things are going really well with the team and training," said Lapthorne. "I'm feeling good on the bike and the motivation is sky high. I have a really good feeling about this year and the race program should suite me. After Capo we have Normandie which I'm aiming to really go for."
Lapthorne withdrew from his final races abroad with Team Sparkasse last year after news broke of Brit's disappearance. Brit's body was later found floating off a resort in Dubrovnik, Croatia, where she had been backpacking. An investigation into Brit's murder is ongoing according to local officials.
"It's still incredibly difficult trying to focus on cycling with my sister's case and all that has happened in the last few months," said Lapthorne. "Luckily I'm in a great environment with Rapha Condor. All I can really do is ride hard and try to keep moving forward."
Lapthorne returned to racing earlier this year at the Jayco Bay Series in Melbourne, Australia and then the Australian Open Road Championships. When he spoke to Cyclingnews in February, he admitted leaving his parents and returning to racing abroad would be a difficult step.
Ireland appoints Leigh as high performance director
Leigh has worked with Chris Newton
Photo ©: Nick Rosenthal

Cycling Ireland has appointed Philip Leigh as its high performance director to help assist the nation's cycling program as it looks towards the 2012 London Olympic Games. Leigh, who is a native of Lancashire in the UK, has previously worked with the likes of world champion Chris Newton, who was also a medallist at the Beijing and Athens Olympic Games.
He will be responsible for developing and managing Cycling Ireland's High Performance Plan, for managing high performance staff and for overseeing all activities in preparation for respective World Cup, World Championship and Olympic track, road and MTB events.
"He is considerably experienced in identifying new cycling talent and in putting organisational and support structures in place to ensure that elite athletes achieve success," said Cycling Ireland's Executive Officer Geoff Liffey. "Philip will develop a system which allows Cycling Ireland's elite athletes to come in and out of the High Performance squad.
"Our goal is to increase the size of the cycling team competing at the London 2012 Olympic and Paralympic Games and to focus specifically on achieving success on the track."
Leigh said that he was looking forward to taking up the post in early April and working with Cycling Ireland. "We are certainly capable of bringing bigger teams to the London 2012 Olympics," said Leigh. "Our indoor track riders are also capable of delivering at least personal best times and of qualifying to compete for medals, and the talent is there to have riders finish inside the top ten in the road and MTB disciplines."
Leigh added that one of his first goals in taking up his new Dublin-based position will be to put new structures into place to develop high performance coaches and to support elite athletes up to and beyond the 2012 Olympic Games. He also intends to assess and refine Cycling Ireland's Talent Identification and Talent Transfer programmes.
Presenting sponsor for Marco Polo in del Capo
Trek-Marco Polo will be presented by South African chrome mining company DCM Chrome for this week's Giro del Capo series of races. The squad will also include two South African riders – Jacques Janse van Rensburg and Jaco Venter – in its squad for the race
Giro del Capo is a series of four one day, International Cycling Union (UCI) ranked events in South Africa. The series gets underway later today in South Africa's Wellington.
"Four one day races offer four chances to win," said team manager Gudo Kramer. "So there are great opportunities for the young guys to get to know each other and get the experience of international racing on the side of a fantastic captain on the road, like Leon van Bon."
Kramer hopes the team will be a force at this year's series, with van Rensburg having finished third at last year's event.
Trek-Marco Polo for Giro del Capo: Leon van Bon (Ned), Jacques Janse van Rensburg (RSA), Jaco Venter (RSA), Loh Sea Keong (MAS), Eric van de Meent (NED), James Spragg (GBR).
Giro del Capo gets last minute change
South Africa's Giro del Capo has had a last minute change in structure, before the race kicks off today in Wellington. The event will now run as a series of four UCI 1.2 single day races, instead of a tour.
The Giro del Capo was almost called off earlier this year due to a lack of sponsorship. Last week the event had to change its format in order to comply with UCI regulations.
"We really look forward to today, when the 2009 Giro finally becomes a reality. The past few weeks have been extremely stressful, but the support of the teams participating in the Giro really has been phenomenal," said David Bellairs, co-director of the Cycle Tour Trust.
The races include:
March 4: Wellington - Wellington
March 5: Durbanville - Durbanville
March 6: Paarl - Paarl
March 8: Cape Argus Pick n Pay Cycle Tour
Task ahead for cycling in Africa
Late last month cycling federations from 26 African nations took part in the Congress of the African Cycling Confederation (ACC) held in Sharm el-Sheikh, Egypt.
UCI President Pat McQuaid welcomed the record number of African delegations present at the Congress and encouraged them to do more to increase the number of riders in the UCI Africa Tour and continental championships.
Africa has been an area the UCI has attempted to focus its development efforts on during the past five years. Thus far the results have not been as rapid as hoped, although races such as the Tour du Burkina Faso – organised by Amaury Sport Organisation – have helped in raising the profile of cycling on that continent.
Nations such as Ghana, a country better known for producing footballers plying their trade in some of Europe's biggest leagues, are taking steps to increasing the exposure of cycling to its citizens.
Last year, the Ghana Cycling Association and the National Sports Council organised the country's national championships; compared to established cycling nations the titles were a small affair – 64 cyclists from across Ghana competed over a distance of 78km, with Emmanuel Amoako taking the crown. It's a start, however, and the African Cycling Confederation is looking to develop this base.
Head of the African National Federations, Ms. Dominique Raymond, participated in the Congress, explaining upon which principles the subsidy to Continental Confederations is based, and provided information on the contributions of the National Federations and the Solidarity Fund for new projects.
The President of the ACC, Dr. Wagih Azam, was re-elected for another term of four years, while the following members were elected to the Steering Committee of the CWC: Adel Aboshawashi (Libya), Expenditio Chipsaha Chipalo (Zambia), Eugène Die Kacou (Ivory Coast), Thomas Eya'A (Gabon), Jamel Louafi Mohamed (Tunisia), Abdelhaled Khaldoun (Mauritius), Julius Mwangi (Kenya) and Michel Thioub (Senegal).
(All rights reserved/Copyright Future Publishing (Overseas) Limited 2009)