First Edition Cycling News, January 18, 2009
Edited by Laura Weislo
Tale of two countries for Armstrong
By Les Clarke in Adelaide, South Australia
Lance Armstrong addresses the press
Photo ©: AFP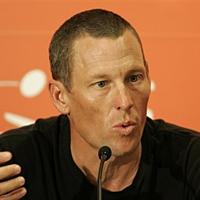 Lance Armstrong knows that the reception he has received since arriving in Australia is not what it would be in other nations around the world. Local fans and media have embraced the American, although Armstrong made no secret that Germany would not be on his list of destinations during 2009.
Speaking about the attitude and actions of the German public and sponsors to the plethora of doping scandals during the past three seasons, Armstrong said, "I suppose I understand part of it. If you look at [team] sponsors pulling out, and event sponsors pulling out, or if you just look at people's faith... all these are investments.
"If sponsors have invested financially, people have invested emotions into athletes and invested emotions into events, they feel betrayed. When you feel like you have got a bad deal on your investment, you pull out; just like any financial arrangement, or any emotional arrangement.
"That's happened in Germany. They are pulling out; they're pulling out emotionally and pulling away financially. I'm not German, and I'm not going to Germany, and to be quite honest I don't care if the Tour de France is on in Germany."
Armstrong has never enjoyed high levels of popularity in the nation that produced Jan Ullrich, the American's long-time Tour de France rival. When he announced his comeback, the reaction in Germany was swift, and not particularly positive. Broadcasters feared that this would have a negative effect of viewing patterns, fears that weren't allayed by Armstrong's reaction.
"I spoke with the head of the European Broadcast Union - who is German - and I said, 'I'm sorry, I hate to tell you this, but I'm racing'. And I'm racing for a big purpose," said Armstrong. "'Would I like to be successful? Yes. Regardless of what you or your country think, I'm coming [to the Tour], and I'm coming for a reason," the seven-time Tour champ added.
"I think he understood that. There's a lot of emotion there, and you say hostility; I don't think it's hostile but there's a lot of drama and I choose to ignore it."
Armstrong noted the contrast between this and the situation in Australia, where he said he's enjoyed riding and meeting the public and local political figures. "This is a reality, and it's been interesting for me because you have certain countries and certain cultures that are opposed to it. Then you ride around in Australia, or South Australia, or Adelaide, and you have a completely different opinion."
Armstrong had mixed emotions about the reaction of his colleagues out on the road to his racing return. "There's probably some differing views out there, but you have 200 guys, so you're never going to poll 100 percent in a group like that," he said.
"I'm not worried about that - I'm looking forward to seeing some guys. I've seen some out training and I had dinner with George the other night. I'm looking forward to getting back into the group."
Operación Puerto rises again
Basso confessed, got his suspension over with and is back to racing this week
Photo ©: Roberto Bettini

It has been two and a half years since the Spanish Guardia Civil raided a Madrid clinic and unearthed hundreds of bags of blood, piles of doping products and documents linking dozens of cyclists to a blood doping operation, but to date no criminal penalties have been handed down in the case in Spain. That all could change as the El Pais newspaper reported Saturday that the case will be re-opened in the Spanish courts.
Because there were no laws on the books in Spain at the time of the raid that made such operations illegal, judge Antonio Serrano twice refused to continue the case. Prosecutors have appealed the decision, insisting that the operation was a threat to human health – something that is against the law. This week a Madrid provincial court ruled that there was evidence of a crime against public health and called for the investigation to be re-activated, a move which might lead to charges for the doctor who ran the clinic, Eufemiano Fuentes, as well as former team directors Manolo Saiz and Vincente Belda and five others.
Whether or not this action will speed along any further sanctions to riders who were customers of the clinic remains to be seen. When the case was first being brought to trial, Judge Serrano ordered the Spanish federation not to use any court evidence to pursue sporting sanctions against any riders named in the investigation.
That order didn't stop the Germans from going after Jan Ullrich, forcing him to give a DNA sample. Nor did it stop the Spanish court allowing the transfer of blood evidence. Ullrich subsequently retired from the sport.
The Italian federation, however, dutifully suspended its case against Ivan Basso and the Spanish Cycling Federation's Competition Committee allowed the predominantly Spanish list of riders named in the investigation to sign contracts with teams and begin racing, much to the frustration of the UCI.
Once the case was shelved, the door was opened for the Italians to investigate Basso, who later admitted to his involvement with Fuentes and received a two-year suspension. During that time Michele Scarponi and Jörg Jaksche also admitted to doping and received suspensions.
The 6,000-page Puerto dossier was also made available to the World Anti-doping Agency, the AIGCP (Association of Professional Cycling Teams), and the UCI. The latter then attempted to go after Spanish star Alejandro Valverde prior to the 2007 world championships, claiming that he was the donor of blood coded number 18 and 'Piti'.
Serrano, however, disagreed and cleared Valverde of any involvement. The Court for Arbitration of Sport allowed Valverde to race the Worlds, where he finished 57th place, 2'47 behind winner Paolo Bettini.
In February of last year, the Spanish court then re-opened the case in February but then it was dismissed for a second time.
Rock gets license at the wire, Cinelli on ice
By Laura Weislo
Rock Racing has something to celebrate
Photo ©: Vero Image

The Rock Racing team has met all of its obligations for being licensed as a UCI Continental team for the 2009 season, USA Cycling said Saturday. The team was late in submitting the required bank guarantee, and was given a deadline of close of business Friday to make the deposit of 10% of the riders' salaries or it would not receive the license.
"It went down to the wire, but Rock Racing finally fulfilled all of its obligations for registering as a UCI Continental Team in 2009," USA Cycling's chief operating officer Sean Petty told Cyclingnews. "We will inform the UCI that Rock Racing will be a Continental Team in 2009. We have informed the UCI as well as the Argentinean Cycling Federation so they know the team is now eligible to compete in the Tour of San Luis in Argentina."
Rock Racing wasn't the only team going down to the last minute on its UCI licensing. The new Cinelli squad led by Nico Mattan which is set to be the new romping ground of Belgian bad boy Frank Vandenbroucke, has yet to complete the procedure. Mattan told Het Nieuwsblad that he got the application in on Thursday. "The license is only a matter of days away."
H2O losing riders
The new Luxembourg-based team H2O stands to lose several of its top riders this week. The team was not granted the Professional Continental license that it sought, and has said it would continue as a Continental squad. The team allowed riders who did not agree with the change to seek other contracts. Several of the more experienced riders who came over to the fledgling team from ProTour squads have decided to leave.
Patrice Halgand, formerly of Crédit Agricole, told velo101.com that he would rather retire than race at that level, which excludes riders from Grand Tours and most major races. "Yes, H2O is finished for me.. I may possibly look at proposals from another team," Halgand said, "But now that it is January, I'm not under any illusions."
Former Silence-Lotto rider Win Vanhuffel was equally gloomy. He told Sportwereld, "I'm beginning to realize I may spend a year between contracts. When I see how easily the dopers, sometimes 35 years old, find another team following their suspensions, there should one day be an opening for me somewhere."
Hammond encouraged by Cervèlo mood
By Shane Stokes in Portugal
British Classic specialist Roger Hammond has a good feeling about the new Cervèlo Test Team, saying that the different approach taken by the project makes it of big interest to him.
"Things are good, really good. It is a really good setup," he told Cyclingnews on Friday. "It is a new team but they really seem to have jumped right in…they seem to have missed about 14 years of a learning curve, so they have done pretty well. I am really pleased. I really feel very happy here."
"There is a bit of a novelty factor, but you feel the underlying values of the team are different. That is very good. By that, I mean that all the sponsors are very, very welcome and all the partners involved with the team are really encouraged to get involved with the riders, to get our feedback. They seem genuinely interested in that feedback and any comments you make seem to be taken, dealt with and implemented, or at least some sort of response is given."
The squad is currently at its training camp at the Club Robinson Quinta dal Ria, near the border between Portugal and Spain. One of the ideas behind the team is to enable riders and suppliers to have a constant two-way discussion about the bikes and equipment used.
Hammond sees a clear benefit. "To have such a hands on approach means that you really feel like you are doing something extra than just winning bike races for them. That gives you an extra feel-good factor. And then the general feeling that everything is revolving around making us go fast is great, really. Sometimes I think that is lost [in modern cycling].
"I don't think they are going to reinvent the bike, but all the way along there will be little modifications, little advances in technology. Bike racing is no longer about winning by ten minutes, so the little things are what is important."
The 34 year old Briton was third in the 2004 Paris-Roubaix and second in Het Volk two years ago. Those big one-day races will remain his focus in 2009, and he's putting every bit of thought into having a good ride then.
"For me, the Classics are the big goals. They are really always my dream. I think it is also important for all of the partners involved in this team that we go well at that point. From there, as I always do every year, I will start mapping out my second campaign after that. I don't like to get involved in thinking about the Tour or the Vuelta or anything after that [until the Classics are over].
Hammond said that he is feeling strong. Providing things continue this way, he is relatively confident of a good showing in those events.
"I feel healthy, touch wood. Last year I missed so much of the winter due to illness, injuries or problems. That showed in the Classics, I was just that little bit short. Whereas touch wood, so far it has been a good winter. I can count the number of days I missed on one hand, so that is good…no excuses!!"
Malaysia steals the show in Beijing
By Laura Weislo
The Malaysian team showed that it has become truly world class by scoring double golds on the second day of competition at the Beijing World Cup. A day after suffering the disappointment of missing out on the finals of the men's team sprint, the big-legged boys from Southeast Asia rallied to win the men's kilometre time trial, which went to 24-year-old Rizal Tisin of Malaysia, and the keirin with Azizul Hasni Awang.
Awang, who won the keirin at the Melbourne World Cup, now sits atop the World Cup rankings with four points over Frenchman François Pervis. Pervis did not contest the keirin, and instead took part in the kilo where he took second place to Tisin.
The victory of Tisin would have been no surprise - he did set a new Asian record at the Victorian championships in Australia last month - had he not suffered a crash while training on his road bike last week. The New Straits Times reported that Tisin injured his hand in the wreck and had trouble pulling up on the bars.
Tisin did not come close to matching the 1:02.095 he set in Australia, but the 1:02.268 was good enough for gold by nearly four tenths of a second over Pervis. Poland's Kamil Kuczynski took bronze over World Cup leader Wen Hao Li (China).
Continue to the full coverage of the Beijing World Cup.
Hell of the North, 'cross-style
By Peter Hymas
World Cup leader Sven Nys
Photo ©: Cyclingnews.com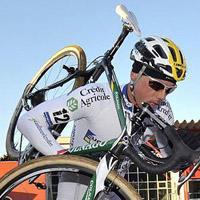 The eighth round of the UCI Cyclo-cross World Cup takes place this Sunday in Roubaix, France, on the grounds of the legendary Roubaix velodrome, a locale synonymous with professional cyclists battling the elements and crossing the finish line covered in mud.
While the legendary Paris-Roubaix classic doles out the suffering over expanses of pavé in northern France, the cyclo-cross edition of Roubaix concentrates all of the mud and adverse terrain on the grounds of the Roubaix velodrome, albeit with the same velodrome finish line.
The Roubaix World Cup will be the penultimate event for the Elite men and Elite women, while the U23 and Junior men conclude their abbreviated four-race World Cup season.
Sven Nys comfortably leads the men's World Cup and will wear the white leader's skinsuit at next weekend's final event in Milan, Italy even if he fails to score a single point in Roubaix. Only six other elite men have a mathematical chance of dethroning Nys for the series title and Nys only needs to accumulate 78 points in the final two rounds to clinch the World Cup. Nys has finished on the podium in five of the first seven World Cup races and has never finished worse than sixth place, so barring catastrophe Nys should wrap up the World Cup in first place.
Continue to the full preview.
(All rights reserved/Copyright Future Publishing (Overseas) Limited 2009)