First Edition Cycling News, January 17, 2009
Edited by Laura Weislo and Sue George
Contador easing into 2009
Contador beams with pride
Photo ©: AFP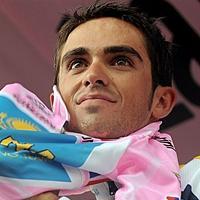 Triple Grand Tour winner Alberto Contador is taking a decidely more gradual approach to the 2009 season than his Astana teammate Lance Armstrong, who is about to kick of his season racing at the Tour Down Under. Rather than hitting out in January, Contador is choosing to set his sights on March.
"It is true that this year my preparation is coming along slower than recent years," said Contador to L'Equipe in an interview published Wednesday. "I finished the 2008 season very tired after racing the Giro and the Vuelta."
The Spaniard is predicting he will reach a "good level" by Paris-Nice in mid-March, but he said his first real test will be the Vuelta a Castilla y León – a race he has won for the past two years – at the end of March. Vowing to ride to win, Contador made clear his objective, which is part of a training plan he has put together with Astana Team Manager Johan Bruyneel.
All of Contador's hard work will be done with one overarching goal in mind: winning the Tour de France. Contador won in 2007, but had to sit out in 2008, when his Astana team was not invited by Tour de France organizers due to doping violations sustained by the team the year prior, before Contador was a member of the squad.
In the lead-up to the Tour, Contador expects to contest the traditional June test, the Dauphiné Libéré. In 2007, Contador lost more than three minutes in the decisive time trial, a margin he could not make up for in the subsequent mountains. After winning the Giro d'Italia in 2008, Contador got a much deserved vacation in June, but he is clearly not finished with the race.
"I would love to win the Dauphiné Libéré is a very prestigious race," said Contador. "But it is a pivotal time. Often, whoever wins Dauphiné pays for his efforts during the Tour. I prefer to arrive at the Dauphiné a little slow and then be ready to fight for victory in the Tour."
After racing the Vuelta al País Vasco in April, Contador will scope some of the key Tour de France stages and undertake some specific preparations for the mountains and the time trials. He observed that there will be only approximately half of the total distance of time trial kilometers that featured in the 2007 Tour de France. "That difference is enormous," he said.
While the media flocks to document Armstrong's comeback attempt in great detail, Contador is enjoying the relative peace that surrounds his training and Tour preparations. "For me, it's quiet now, but there will be more pressure when I return to the Tour."
The two are not scheduled to overlap at races until at least after the Giro d'Italia. "Armstrong's program is unknown after the Giro. We will perhaps be on the line together at the Dauphiné Libéré. The only certain thing is that we are both on for the Tour de France."
CONI wants four years for Priamo
Matteo Priamo (CSF Group Navigare)
Photo ©: Roberto Bettini

The prosecutor of the Italian National Olympic Committee (CONI) anti-doping tribunal has asked for a four-year suspension for Matteo Priamo (CSF Group Navigare) for violating the World Anti-doping Agency code, the organisation announced Friday. Priamo is charged with violating section 2.8 of the code which prohibits "assisting, encouraging, aiding, abetting, covering up or any other type of complicity involving anti-doping rule violation or any attempted violation".
Priamo was named by teammate Emanuelle Sella as his supplier of the drug CERA, for which Sella tested positive last summer in an out-of-competition control. Sella admitted to using the drug, and was given a one-year ban after cooperating with authorities.
Priamo won stage six of the 2008 Giro d'Italia, while Sella won three, during which there was no test for CERA. The UCI refused to carry out retrospective testing on the samples from that event after a test was developed in time for the Tour de France.
Garmin-Slipstream unveils new kit
The 2009 Garmin-Slipstream jersey
Photo ©: Garmin-Slipstream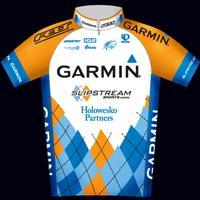 The Garmin-Slipstream rolled out its 2009 look on Friday, keeping the same argyle motif while adding a more orange to the design along with a predominantly orange Giro helmet. The team's press release says the new design "highlights title sponsor Garmin's leadership role, while also bringing attention to Slipstream and its focus on ethical sporting and developing the next generation of American champions".
The riders will also be taking advantage of clothing manufacturer Pearl Izumi's ultra aerodynamic time trial Speed-Suit, which the team calls "the fastest Speed-Suit ever produced".
While the Chipotle restaurant chain is gone from the title sponsor slot, Vaughters said the company is still a "valuable and significant sponsor" of the team. According to Vaughters, "We are still powered by Chipotle burritos, as we always have been. Chipotle is our secret training weapon."
USA names men's team for 'cross worlds
USA Cycling announced the names of five rides this week who will contest the elite men's race at the UCI Cyclo-cross World Championships in Hoogerheide, The Netherlands on February 1. US champion Ryan Trebon (Kona), Tim Johnson and Jeremy Powers (Cannondale/Cyclocrossworld.com) earned automatic nominations to the team as the top three Americans in the UCI rankings.
Johnson, ranked 22nd in the world, declined his nomination and will not compete.
Discretionary picks were given to Brian Matter and Matt Shriver, "based on promising performances in international events this season" according to the organisation's press release.
The US has five spots for the men's race, but with only four having accepted, there is still a possibility that 2007 silver medallist Jonathan Page will be nominated. Page missed a doping control at the World Cup round in Koksijde in late November. According to his personal web site, thejonathanpage.com, he has asked for his disciplinary hearing with the US Anti-doping Agency to be expedited. Should he be cleared or his case be concluded with a warning, he would still be eligible to compete.
Rund um den Henninger Turm renamed
The German one-day race Rund um den Henninger Turm will change its name to the Eschborn-Frankfurt City Loop for 2009, the race organisers announced Friday. The Henninger brewery announced in August 2007 that it would stop its sponsorship after the 2008 edition of the race in Frankfurt, Germany, putting the 47-year-old race in jeopardy.
"The 2009 races is secured, and I hope, for the next 47 years, too," said organiser Bernd Moos-Achenbach. "After so many races have been cancelled, I am still fighting for the survival of the most important German race," said .
Team Milram, the only remaining German ProTour team, has already agreed to ride the race. "Without an elite race there is no television and without television you can't find sponsors. That's why we need big-name teams and riders," Moos-Achenbach told the dpa press agency.
Clerc leads his new team in a return to Langkawi
Switzerland's Aurélien Clerc won green at Tour de Langkawi last year
Photo ©: Shane Goss

After winning the points jersey at last year's Le Tour de Langkawi for his former team Bouygues Telecom, Aurélien Clerc is set to return to with his new squad AG2R-La Mondiale.
With fond memories of last year, Clerc said, "Last year, I wasn't supposed to take part, but I requested that I be included because Le Tour de Langkawi appeals to me more than the Tour of Qatar. It has longer stages and more climbs and is better preparation for the Classics." That preparation worked out for Clerc, who followed his Langkawi performance in 2008 with a second place in the Ghent-Wevelgem, held in Belgium.
In contrast to his program last year, Clerc will start his season with the Tour de Langkawi instead of the Tour Down Under. Despite less racing before he heads to Malaysia, Clerc is confident in his abilities after riding well at recent training camps.
"I was very happy to win the green jersey last year, but I'd be even happier to win one or more stages." The Swiss 29-year-old will get some help from his AG2R-La Mondiale lead-out man Nicolas Rousseau, a member of the French team pursuit squad at the Olympic Games in Beijing last summer.
Le Tour de Langkawi will run from February 9 in Putrajaya to February 15 in Kuala Lumpur.
AG2R-La Mondiale for Le Tour de Langkawi: Aurélien Clerc, Guillaume Bonnafond, Julien Loubet, Nicolas Rousseau, Jean-Charles Sénac, Blaise Sonnery under team manager Arturas Kasputis.
Ollerenshaw to lead Myogenesis team
Doug Ollerenshaw (Rock Racing)
Photo ©: Jon Devich

Retired pro Doug Ollerenshaw will lead the Southeastern US regional Team Myogenesis.com presented by United HealthCare, the team announced this week. Ollerenshaw left professional cycling to attend law school at Emory University in Atlanta, Georgia at the end of 2008, but will be mentoring and racing with the team. Ollerenshaw raced his final year with the Rock Racing squad after seasons with Health Net and Jelly Belly.
Also joining the elite amateur team is Ryan Sullivan from Jittery Joes, Thad Dulin, (DLP/Kane), Michael Wolf, formerly of Navigators, with Eric Murphy as director and racer. Filling out the roster are Cleve Blackwell, Oneil Samuels; Adam Ray, Sandy Rosell , Chris Ernst, Geoff Mina, Brady Rogers, Nick Housley and David Hutton.
The teams sponsors this year included Myogenesis Nutrition, United HealthCare, Blue Competition Cycles, SRAM, Louis Garneau, Maxxis, Tifosi Optics, Thompson, Industry Nine, Serfas, Northwave, Georgia Cup race series, Connect First, www.got19fruits4u.com, Smyrna Bicycles, Glory Cycles, and former shop sponsor to Jittery Joes, The Hub.
For full details on the team and to follow their success through the 2009 season, go to www.myogenesis-racing.com
Massachusetts gets bike-friendly laws
Massachusetts Governor Deval Patrick signed into law on Thursday a "Bicyclist Safety Bill" designed to help more people, particularly new and less experienced bicyclists, take advantage of bicycling as an affordable transportation option. The bill was drafted by now-retired Representative Anne Paulsen of Belmont, who worked closely with the bicycle advocacy group MassBike to modernize Massachusetts' bicycle laws and improve bicyclist safety.
The new law adds police training on bicycle law and dangerous behavior by bicyclists and motorists; explains how a motorist should safely pass a bicycle; explains how a motorist should safely make a turn in front of a bicycle; makes "dooring" (opening a car door into the path of a bicycle or other vehicle) subject to ticket and fine; permits bicyclists to ride two abreast when it does not impede cars from passing; and adds legal protections for bicyclists who choose to ride to the right of other traffic.
"The new law will encourage more people to ride bicycles by enhancing bicyclist safety and comfort level on Massachusetts roads," said David Watson, Executive Director of MassBike, the bicycling advocacy group that shepherded the bill forward for eight years.
Team CSC jersey contest winner selected
Team CSC jersey
Photo ©: Cyclingnews

Cyclingnews is pleased to announce the winner of our autographed CSC Team Jersey contest, which wrapped up earlier this week. Kevin Johnson, 49, of Los Angeles, California, is the randomly selected, lucky winner from among those who answered the trivia question correctly.
"I'm psyched about winning this jersey!" said Johnson, who described himself a daily reader of Cyclingnews. "It will be placed in a position of honor amongst my other prized possessions."
Johnson raced mainly on the track and the road from 1985 to 1989, until he was sidelined by an elbow fracture and a broken (in five pieces) clavicle. Now he rides when his work allows and completes at least three centuries per year.
"Fabian Cancellara and Stuart O'Grady are my number one and number four favorite riders to follow in the ProTour races," said Johnson. "As fellow Americans, George Hincapie and Lance Armstrong are squeezed between the two others."
Still wondering about the trivia question? The correct answer to "Which Spring Classic did Fabian Cancellara win in 2008?" is Milan-Sanremo.
Stayed tuned to Cyclingnews for opportunities to participate in more contests in the future.
(All rights reserved/Copyright Future Publishing (Overseas) Limited 2009)