First Edition Cycling News, January 7, 2009
Edited by Greg Johnson & Les Clarke
H20 continues with continental status
By Kirsten Robbins
What now for Luciano Pagliarini?
Photo ©: Luc Claessen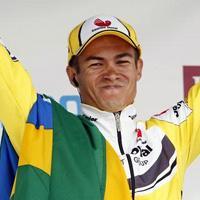 International Team H20 will continue as a France-based continental team after being denied Professional Continental status by the International Cycling Union (UCI) last week.
According to team manager Francesco Frattini, the initial aim was to begin with Continental status as they awaited a response from the UCI addressing why they were denied a professional license. "The intent of the directors continues to focus on building a UCI Professional Continental team for the 2009 season, thinking that we gave all of the documentation and guarantee requested by the UCI," team management stated in a press release.
"We received a fax from the UCI where they communicated to us the refusal of our request for the Professional Continental license and they post-dated the reason for the refusal until January of 2009. We are waiting to receive a response for the reasons why the UCI came to their decision, which will happen when the offices of the UCI reopen after the holidays."
Contrary to recent reports of the team's demise, the squad will begin its inaugural season with a continental license. "At present, we wish to absolutely refute any kind of renouncement of the project and even less of the planned programmes for the imminent season.
"Upon our knowledge of the UCI's decision, the team will estimate the best possibility to maintain our arrangements and commitments with the athletes, staff and all that still trust in our program. Naturally in the full respect of the rules that the UCI imposes."
The 16 riders who signed contracts with the squad include Jempy Drunker, Valentin Iglinski, Wim Vanhuffell, Luciano Pagliarini, Paolo Bailetti, Ruslan Pidgorny, Rubens Bertogliati, Sergio Pardilla, Benoit Berges, Patrice Halgand, Aurélien Passeron, Latvia's Raivis Belohvosciks, Lubos Pelanek, Mikaël Szkolnik, Micula Dematteis and brothers Pedro and Jesus Merino.
"The athletes and the staff have been timely informed of the UCI's decision and we have confirmed our intention to resolve the situation in the best way possible," team management stated. "Every athlete has been given the full freedom to choose to continue with the team or negotiate other engagements because we respect the professional and individual interests of the riders."
Nys talks up chances
Belgian Champ Sven Nys (Landbouwkrediet-Tönissteiner)
Photo ©: Cyclingnews.com

Sven Nys will defend his national title on Sunday, and goes into the race in Ruddervoorde as an overwhelming favourite. The six-time Belgian champ is well aware of his status.
At a press conference in Anderlecht, Nys declared himself a favourite. "Based on previous races I have the best chance on paper," said Nys. "I'm fresher than at the same time last year. I am not concerned about what can go wrong, making me worry about my opponents' statements," he added.
"I will make the race hard," said Nys. "I will not stop the momentum and not wait until the last lap to force the outcome of the contest."
The 32-year-old also started some mind games of his own, especially in relation to young rival Niels Albert. Albert is a decade younger than his vastly experienced compatriot, and Nys took advantage of this.
"A tough race also favours Niels Albert. He can be my ally," said Nys. "I consider [Klaas] Vantornout, [Bart] Wellens and [Kevin] Pauwels as my main opponents. I wonder whether Albert is good enough for an hour level, although his rapid comeback surprised me.
"Albert and Klaas Vantornout would be a chance in the sprint, although that isn't so good for Kevin Pauwels, Bart Wellens and Sven Vanthourenhout."
Australian Championships field set for shock and awe
By Les Clarke
Matthew Lloyd (Silence-Lotto) salutes the crowd on the line in 2008
Photo ©: Shane Goss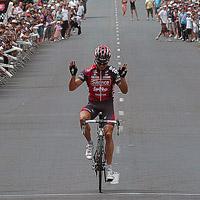 This week's Australian Open Road Championships will undoubtedly demonstrate the depth of cycling in this nation. With some of the world's best contending for the honour of wearing the national champion's jersey throughout 2009, the race is set to be a typically tough test of attrition for the 134 starters.
In previous years the event has thrown up some surprises, although with a return to rural Victoria the stars have shone brightly. Matt Lloyd's performance in last year's championships illustrated the class this Victorian possesses, while Oenone Wood's second national title in her swan song year underlined the immense talent she brought to the ranks of Australian women's cycling.
This year there are even more big names to light up the roads of Ballarat in the showcase event, the men's road race, with Michael Rogers making a welcome return to the championships. After battling illness in 2008 before making a stunning comeback with sixth in the Olympic Games road race, Rogers will be looking for support from Columbia teammates Adam Hansen and Mark Renshaw, who will line up for the 163.2km event.
This trio will be up against defending champion Lloyd, who further proved his one-day pedigree with a fourth place against a quality field in the Giro dell'Emilia last October. Another young Victorian who has impressed in Europe for the last two seasons, Trent Lowe, will also ride the championships. The Garmin-Slipstream rider is being touted as a future ProTour event winner and should perform well on home turf.
Check out Cyclingnews' coverage of the Australian Open Road Cycling Championships.
Contador not best overall – Merckx
Cycling legend Eddy Merckx has told Colombian newspaper El Espectador that despite the many plaudits bestowed upon Alberto Contador, he may not the best current rider. The Belgian took into account the Spaniard's lack of results in one-day races as evidence of his claims. One of those plaudits included being voted 'Best Male Road Rider of 2008' by Cyclingnews readers.
Merckx said that although Contador is the best current stage racer, as seen in his victories in the Tour de France, Giro d'Italia and Vuelta a España, he believes compatriot Tom Boonen and another Spanish star, Alejandro Valverde, make better riders for one-day races. Therefore he believes that Contador is not the best overall rider, which may not stick well with some fans, however.
Merckx, who is a close friend of Lance Armstrong, wasn't impressed by the potential clash between the American and Contador, as both are part of the Astana team. "The owners of the team will have to say who is the leader," said Merckx. "I do not think that if Contador was the leader, Armstrong would attack. It is a pity [not to see Armstrong attacking], but there won't be any dwelling on it."
McCarty joins Landis in OUCH-town
Pat McCarty at last year's Vuelta a Chihuahua.
Photo ©: Monika Prell

Jonathan Patrick McCarty will ride for the OUCH presented by Maxxis squad in 2009 having signed with the former HealthNet team. McCarty has spent the past two seasons with American Professional Continental outfit Garmin-Chipotle.
"We'd been talking with Pat for quite some time," said team directeur sportif Mike Tamayo. "Only in the past week or so were we able to work out an agreement with him."
The move to OUCH will see McCarty re-unite with former teammate Floyd Landis. Both riders competed for Phonak in 2006, the year Landis won the Tour de France only to have the title stripped after a positive doping control and a drawn-out hearing.
"Pat is a quality rider with ProTour and Grand Tour experience," Tamayo said. "He's done the Giro d'Italia a couple times and he was instrumental in helping Floyd win the 2006 Amgen Tour of California with Phonak. He's going to be a real asset to the team for races like California and Missouri, as well as many of the NRC stage races we'll be doing. He should also be a good influence on several of our developing riders."
Racing strictly in the United States of America will be a bit of a change for McCarty, who turned professional with the U.S. Postal squad in 2004.
"Racing for an entire season in the U.S. will be a new challenge." McCarty said. "I'm very motivated to do some of the races I've never been able to do before.
"I'm really excited to be a part of the best U.S. domestic team," he said. "And joining up with Floyd again will definitely be fun."
The Texan will join all his teammates for the first time at the team's training camp in Southern California later this month.
Kiwi champs key for Kiesanowski
Joanne Kiesanowski will race in New Zealand this weekend
Photo ©: Kurt Jambretz

There's a feast of Antipodean cycling on offer this weekend as New Zealand's elite riders also contest their national championships in Te Awamutu.
One rider looking to get 2009 off to a strong start is Tibco team member Jo Kiesanowski. Regarded as one of the best sprinters on the women's circuit, she enjoyed mixed fortunes in 2008, with a 28th at the Olympics and eighth at the world championships in Varese.
"I am definitely really keen to win the championship," said Kiesanowski. "That's a big reason why I am back home. It's important to me to get that jersey and it will be really nice to be able to wear it in all the big races in the US this year. It will give some profile to New Zealand and also some real pride to me.
The 29-year-old Christchurch native has travelled back to New Zealand from her training base in Colorado Springs, and although New Zealand is hardly tropical, it's a lot warmer than back in the US. "I've been back on the bike for a few weeks although it's been pretty cold of course in Colorado Springs right now. A bit of the training has been indoors although I have managed to train around the major snow falls and get out quite a bit," she explained.
She also explained her racing situation for 2009. "I've just re-signed for Team Tibco for the whole season which means I can be based in Colorado Springs and not spend so much time going across the Atlantic. I really want to enjoy the riding and be a little more settled this year," she said.
Green message for new team
In a time when various sports are feeling the economic squeeze, US domestic team Ten Speed Drive Racing has found a way to adapt a sporting team to meet the demands of confronting financial issues. Be as 'green' as possible.
The formation of the Ten Speed Drive/Ellsworth Factory Cycling Team, formerly known as Colavita New Mexico presented by JNF Enterprises, will further emphasise its commitment to the environment and "Go Green and Kick the CO2 Habit". Central to the team's mission will be its efforts to minimise its environmental impact.
"We are dedicated to promoting cycling as a form of transportation and to further public awareness of everyday techniques – from transportation to energy consumption – the public can use to lessen their environmental footprints," said team director, John Freisen. "The bicycle should be an important part of any environmental solution – yet bike racing is extremely resource intensive," continued Freisen. "We're hoping to bridge that gap."
Team racers will commute by bike in their daily lives as often as practicable, minimise individuals' distance traveled or flown, use carbon offsets, eat locally and sustainability when traveling, and use durable products created by responsible companies. "The team is working closely with its sponsors to build a low-impact model," adds Freisen. "We're also learning from conscientious programs who have come before us, like Ben Turner's Clif Bar development cyclo-cross team."
The Ten Speed Drive/Ellsworth race calendar will feature many events in North America, including those on the National Road Calendar plus UCI events in Mexico and Canada.
Ten Speed Drive/Ellsworth's 2009 rider roster:
Josh Liberles (USA), Travis Burandt, (USA), Adam Carr, (USA), Leo Frayre, (Mex), Brian Husen, (Hon), Emiliano Jordan, (USA), Chris Keane (USA), Ronnie Strange, (USA), Christian Velasquez, (Hon), Garrett White, (USA), Jesus Zapata (Mex)
New year, new site. (Well almost)
Last year we surveyed our readers and asked what they wanted to see on Cyclingnews. You replied in your thousands and along with fantastic editorial ideas, two areas you wanted to see improved were the usability and design of the website. We spent the subsequent months working on a strategy to make those dreams a reality.
In the coming weeks and months you'll see the website undergo two phases of changes. The first – a small and temporary refresh – you can already see the start of, and we'll make a few subsequent tweaks in the coming days. For now, all we've done is cut down on the amount of adverts and moved remaining ones to the right. While the adverts that remain are bigger in dimensions than their predecessors, the total amount of ad space is just the same as before. But don't worry, we're not finished yet.
What's next? Well this is where it gets exciting. You can expect some vast improvements to the look and feel of the pages as well as some new features that will make the site even better than ever – a new and improved search engine, up to the minute news stories, teams' and riders' databases, RSS feeds, newsletters, substantially more video content and of course forums... which means 2009 promises to be an exciting year.
All that we ask is that you bear with us as we strive for these improvements. We'll try and bring you sneak previews along the way but rest assured that at each stage of development we'll remember the website's roots and where it came from and of course what matters most, you the readers.
Here's to a happy New Year,
Daniel Benson and the Cyclingnews team.
(All rights reserved/Copyright Future Publishing (Overseas) Limited 2009)