Latest Cycling News, January 7, 2009
Edited by Gregor Brown
Armstrong believes Team Astana can dominate Tour
Lance Armstrong and Alberto Contador at the head of Team Astana at its December team camp on the Spanish island of Tenerife.
Photo ©: Luca Bettini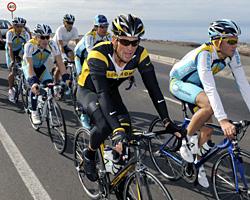 Lance Armstrong believes it is possible Team Astana could take all three spots on the final Tour de France podium. The seven-time race winner considers himself and four of his teammates as favourites for the French stage race, July 4 to 26.
"We have five riders that have been top five in the Tour. ... Theoretically any of them could be very close. And I think more realistically than theoretically, you could perhaps put three guys on the podium if you did it right," said Armstrong to The Daily Beast.
Armstrong, 37, announced his comeback to the sport in September. He joined his old team director, Johan Bruyneel, at Team Astana. The team has in its roster four other riders who have finished in the top five of the Tour de France – Alberto Contador, Andreas Klöden, Levi Leipheimer and Haimar Zubeldia. Contador won the Tour in 2007 and the Giro d'Italia and Vuelta a España last year.
"It's by far strongest team in the world. Also it has the best stage racer in the world on it [Contador - ed.]."
Armstrong's return causes somewhat of a management problem for the team now that it has two past Tour de France winners. Contador is the only active rider to claim victories in all three of the sport's Grand Tours and Armstrong holds the record for the most wins in the Tour de France.
"So my return, although it made a lot of sense to me and to Johan because of our loyalty to each other, was a little surprising to a great rider like Contador, who didn't expect to be in this position. It's going to require some discussion and some balance. But I'm committed to riding and following the rules of cycling and supporting the strongest rider."
The duo will not race together until the Tour de France. The Spaniard's will start his season slower than Armstrong because his main objective is the Tour in July.
Armstrong starts his season this month in Australia at the Tour Down Under, January 18 to 25. He will race the three-week Italian stage race, Giro d'Italia, for the first time in May.
Cyclingnews' complete coverage of Lance Armstrong's comeback.
Piepoli Tour win: "I stole it"
Leonardo Piepoli wins Tour de France stage 10 in July
Photo ©: AFP
Leonardo Piepoli explained that he stole his Tour de France stage win last July due to the drugs he used in preparation. Officials caught the Italian and his teammate Riccardo Riccò using blood booster Erythropoietin (EPO) after they dominated the first half of the French stage race.
"At Hautacam it became big, I won. I said to myself, 'I stole it.' I sought to defend myself, 'One time in my life.' Instead? Riccò positive. The team pulls out. The end," Piepoli said to La Gazzetta dello Sport.
Piepoli, 37, helped his Team Saunier Duval captain Riccò in the Giro d'Italia last May, prior to the Tour. He suffered a heavy crash in stage 15 of the race and withdrew immediately. Riccò went on to finish second overall and win the best young rider classification.
He planned on recovering slowly to prepare for the Vuelta a España later in September, but Riccò asked that he race the Tour de France with him. Piepoli took third generation Erythropoietin – CERA – in preparation for the French Grand Tour, July 5 to 27.
"In a moment of weakness, madness. In a hurry, in silence ... I did not even have time to ask for reason. ... My justification: I will do it only to fill a hole in my preparation."
The French anti-doping agency (AFLD) found him positive from tests conducted on July 4 and 15. Piepoli won stage 10 to Hautacam, July 14, before the announcement of his positive doping control.
The Italian Olympic Committee (CONI) called for a two-year suspension shortly after a meeting last month. Piepoli, known for his climbing skills, faces the end of his career.
"It is better if they would have given me four or six [years]. ... At 37 years old, with a wife and child, what I did is unjustifiable. ... I say, 'Don't dope because it will wear upon your conscience and dignity, forever.'"
Italy's anti-doping tribune will act on CONI's suspension request and determine the final sentence. It issued Riccò a ban of two years in October.
A new and improved Milram presented
By Susan Westemeyer in Dortmund, Germany
Linus Gerdemann will be one of Milram's leaders for 2009
Photo ©: Roberto Bettini

"Everything new – everything different" is the motto for Team Milram in the 2009 season it announced at a team presentation in Dortmund, Germany, today. The only remaining German ProTour team changed drastically from last year. The team features 25 riders, 17 of whom are German, and it has totally moved away from its "one super star" concept of the past and now features a balanced list of riders.
The two new captains are Linus Gerdemann and Gerald Ciolek, both of whom came over from Team Columbia. Both praised their new teammates. "The first training camp showed that we can all pull together," Gerdemann said. Ciolek noted that he would have to get used to his new sprint helpers, and that "a sprinter needs the support of the whole team."
Germany has lost two of its ProTour teams in the recent years – Gerolsteiner and T-Mobile. "The whole focus is on us. That is a lot of pressure, but we are glad to accept the responsibility," said General Manager Gerry van Gerwen.
The Dutchman has high goals for the coming year; he called for 25 victories. He specifically mentioned the Tour de France, with Gerdemann looking for at least a day in the yellow leader's jersey and Ciolek at least a day in the green sprinter's jersey. In addition, he wants at least one stage win.
A complete report on the Milram team presentation will appear soon.
Cancellara targets Armstrong and Basso at Giro
Fabian Cancellara after he won his Olympic medal
Photo ©: Rob Jones

Fabian Cancellara took note of the Giro d'Italia time trials and added them to his list of 2009 objectives that includes the Spring Classics. The Olympic Time Trial Champion of Team Saxo Bank aims to show his strength in the Italian stage race's final stage through Rome.
"I won the time trial in London at the start of the 2007 Tour de France in front of an enormous crowd, giving me an incredible emotion. It would be great to win the Giro's final time trial in Rome, in a scenario that I can already imagine will be spectacular and unique. To win in Rome battling Lance Armstrong and Ivan Basso would not be bad," Cancellara said to Tuttosport.
The Giro d'Italia, May 9 to 31, starts in Venice and ends in Rome. The final day is a time trial of 15.3 kilometres that starts and ends next to the Imperial Fora and passes some of Rome's famed sites – Porta Pia, Piazza del Popolo, Piazza Venezia and the Coliseum.
The Swiss rider is a double World Champion in the time trial and winner of the 2006 Paris-Roubaix. Last year, he started off his season with a win in the Tour of California prologue time trial. He continued strong in March with wins in Eroica, the Tirreno-Adriatico overall and Milano-Sanremo.
"I am preparing hard this winter because I want to start strong, with grit, for the Classics. Not only Sanremo, also Tour of Flanders and Paris-Roubaix. These are my challenges prior to the big stage races."
Cancellara left Switzerland for the warmer climates of Spain prior to Christmas. He will make again this year at the Tour of California, where he will go up against Armstrong and Basso.
State of the federation - Part I
Steve Johnson has been the CEO
Photo ©: USOC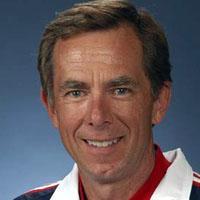 Steve Johnson assumed the role of USA Cycling CEO in 2006 amid controversy surrounding the incumbent top dog, Gerard Bisceglia, Under Johnson's leadership the federation has developed and grown. With his contract up for renewal, Cyclingnews' North American Editor Mark Zalewski spoke with Johnson about his tenure and what he looks forward to if it's decided he's the man for the future.
For almost three years, Steve Johnson has been at the helm of USA Cycling as it navigated the path through the sport's ever-changing landscape. At the time of his appointment, cycling in North America was still riding the 'Armstrong wave' of popularity as membership within the organisation continued to grow. Looking back, he said he is happy with the progress he has made and plans to continue in his position.
"I hope to," he laughs when asked if he wants to stay. "But it's ultimately the board's decision. My contract was through 2008, so we're discussing my terms."
As for what he thinks are his marquee accomplishments, Johnson's happy with solidifying cycling's place in the vast genre of 'Olympic sports'. "A lot of different components of the organisation have been modified or added that I have been a part of, and I am very proud of that," says Johnson. "Now we have a much better sense of where this organisation sits in terms of the development of the sport.
"I look back at my tenure here... I was first engaged as a consultant to redesign the athletic program, and out of that process came a new paradigm for athletics that was rather revolutionary," he continues. "It turned out to be very effective way to look at athlete programming, and because of that switch in philosophy we have been able to make decisions to produce remarkable results."
Read the full Steve Johnson feature.
Keisse's B sample said to be positive
Belgian Iljo Keisse at the Gent Six Day
Photo ©: Cyclingnews.com

Six Day star Iljo Keisse's B sample came back positive for cathine and for hydrochlorothiazide (HCT), according to the Belgian newspaper De Morgen. Officials have not yet formally announced the B sample results.
Keisse tested positive the end of November, after winning the Gent Six Day race.
Cathine is an appetite suppressant, decongestant and amphetamine. It is contained in the over-the-counter product Sinutab, which Keisse admitted taking.
The newspaper said the other product is hydrochlorothiazide, which is a diuretic which can also serve to mask other substances, and is on the forbidden list. Sprinter Ben Johnson lost his gold medal in the 100 metres track and field competition after testing positive for the same drug at the 1988 Seoul Olympics. (SW)
New year, new site. (Well almost)
Last year, we surveyed our readers and asked what they wanted to see on Cyclingnews. You replied in your thousands and along with fantastic editorial ideas, two areas you wanted to see improved were the usability and design of the website. We spent the subsequent months working on a strategy to make those dreams a reality.
In the coming weeks and months you'll see the website undergo two phases of changes. The first – a small and temporary refresh – you can already see the start of, and we'll make a few subsequent tweaks in the coming days. For now, all we've done is cut down on the amount of adverts and moved remaining ones to the right. While the adverts that remain are bigger in dimensions than their predecessors, the total amount of ad space is just the same as before. But don't worry, we're not finished yet.
What's next? Well this is where it gets exciting. You can expect some vast improvements to the look and feel of the pages as well as some new features that will make the site even better than ever – a new and improved search engine, up to the minute news stories, teams' and riders' databases, RSS feeds, newsletters, substantially more video content and of course forums... which means 2009 promises to be an exciting year.
All that we ask is that you bear with us as we strive for these improvements. We'll try and bring you sneak previews along the way but rest assured that at each stage of development we'll remember the website's roots and where it came from and of course what matters most, you the readers.
Here's to a happy New Year,
Daniel Benson and the Cyclingnews team.
(Additional editorial assistance by Susan Westemeyer.)
(All rights reserved/Copyright Future Publishing (Overseas) Limited 2009)