Cycling News Flash, January 18, 2009
Armstrong announces start of Catlin's drug testing programme
By Gregor Brown
Lance Armstrong, 37, in Australia for the Tour Down Under
Photo ©: Mark Gunter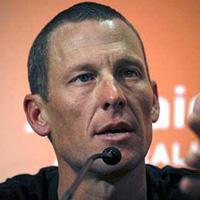 Lance Armstrong, with Team Astana, announced the start of a personalised and independent drug-testing programme yesterday in Adelaide, Australia. The controls have started and Doctor Don Catlin will continue testing about once every three days.
"My goal in agreeing to participate in this programme is to reduce speculation and debate about drug testing issues that might divert attention away from what my cycling comeback is all about – our global cancer campaign," said Armstrong in a press release.
Armstrong announced in a press conference last September that Catlin would run a personal programme for him. Catlin founded the University of California, Los Angeles, anti-doping laboratory. He is now Chief Science Officer of Anti-Doping Sciences Institute (ADSI).
The personal programme is on top of the standard testing for all ProTour level professional cyclists: out-of-competition and in-competition testing by the International Cycling Union (UCI) and the riders' national federations. Additionally, Team Astana carries out its own internal testing on all its riders under the control of Doctor Rasmus Damsgaard.
The programme has already commenced and Catlin expects to issue reports about its results regularly. In addition to the team and personalised testing, Armstrong has been tested 12 times in out-of-competition tests since the announcement of his comeback.
"We have developed an extensive monitoring programme," said Catlin. He outlined three specific goals:
1. To have "high frequency testing" to gather a large data pool.
2. To "store frozen samples for two to eight years" so he can re-test samples if needed.
3. To "offer program transparency" other anti-doping agencies.
Armstrong, 37, started in his first professional race today at the Tour Down Under. It was his first since retiring following his seventh Tour de France win in 2005.
Cyclingnews' complete coverage of Lance Armstrong's comeback.
(All rights reserved/Copyright Future Publishing (Overseas) Limited 2009)