Latest Cycling News, February 24, 2009
Edited by Bjorn Haake
Tirreno-Adriatico route presented with Tuscan flavour
By Gregor Brown
The 44th Tirreno-Adriatico
Photo ©: RCS Sport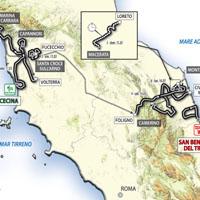 RCS Sport revealed the 2009 Tirreno-Adriatico route yesterday in Florence. For the first time in its 44-year history the Italian seven-stage race will start in Tuscany.
The Corsa dei Due Mari ('race of the two seas') departs on Wednesday, March 11, in Cecina and ends on Tuesday, March 17, with the traditional San Benedetto del Tronto circuit. It will consist of one time trial and two serious mountain stages.
The race starts in Tuscany along the Mar Tirreno and visits two other regions in its eastward journey to the Mar Adriatico. The first three stages (all in Tuscany) should suit the sprinters.
Stage four starts in the Umbria region and ends in Le Marche region with the climb of Montelupone. Its sections with gradients of up to 20 percent will help sort out the classification battle.
The final three stages are all in Le Marche: a 30-kilometre time trial similar to last year's, a demanding 235-kilometre mountain day that ends with the run up Camerino and the final day's San Benedetto del Tronto circuit.
RCS Sport also announced the 24 eight-man teams that will participate: Acqua & Sapone-Caffè Mokambo, AG2R La Mondiale, Astana, Barloworld, Bbox Bouygues Telecom, Caisse d'Epargne, Ceramica Flaminia-Bossini Docce, Cervélo TestTeam, Cofidis, Columbia-Highroad, Diquigiovanni-Androni, Euskaltel-Euskadi, Française des Jeux, Garmin-Slipstream, Katusha, Lampre-NGC, Liquigas, LPR Brakes-Farnese Vini, Milram, Quick Step, Rabobank, Silence-Lotto, Saxo Bank and Vacansoleil.
Last year's winner Swiss Fabian Cancellara (Saxo Bank) will be a favourite for the overall win again in 2009. He will face strong opposition from Ivan Basso (Liquigas), Andreas Klöden (Astana) and Filippo Pozzato (Katusha). The sprints will be warm-up events for Milano-Sanremo, March 21. Expect strong performances from Alessandro Petacchi (LPR Brakes-Farnese Vini), Daniele Bennati (Liquigas), Rinaldo Nocentini (AG2R La Mondiale) and Francesco Ginanni (Diquigiovanni-Androni).
RCS Sport is the organiser of Milano-Sanremo and the Giro d'Italia. Its inclusion of Barloworld in the startlist of Tirreno-Adriatico bodes well for the team's chances of joining the original list of 20 Giro d'Italia teams announced in January.

44th Tirreno-Adriatico stages:
1: March 11, Cecina - Capannori, 147km
2: March 12, Volterra - Marina di Carrara, 177km
3: March 13, Fucecchio - Santa Croce sull'Arno, 166km
4: March 14, Foligno - Montelupone, 171km
5: March 15, Loreto - Macerata (ITT), 30km
6: March 16, Civitanova Marche - Camerino, 235km
7: March 17, San Benedetto del Tronto - San Benedetto del Tronto, 169km

New name, similar route for Belgian Classic opener
By Bjorn Haake
Can Philippe Gilbert get a third Omloop title?
Photo ©: Bjorn Haake

It will take a while to get used to Het Volk's new name but after a change in sponsorship the race will be known as Omloop Het Nieuwsblad. Both former and current sponsor are newspapers and ironically Het Volk once created the race as a rival to the Ronde van Vlaanderen, which was sponsored by Het Nieuwsblad.
The route
To everyone's relief the name change won't affect the race with the distance (203 kilometres), the number of short, steep, cobblestone-clad climbs called hellingen (11) all remaining. Once again the race will start in Gent with the riders heading off from Sint Pietersplein for their neutral roll-out.
The route then makes a short loop east of Gent before heading into deep Vlaanderen terrain, with its narrow and poorly surfaced roads. But it isn't until kilometre 74 that the riders encounter the first test of the day – 2000m of cobble stones over the Haaghoek which will provide a first test for both man and machine.
Read the entire preview here
Teams preparing for Belgian openers
Leif Hoste is looking forward to the Classics
Photo ©: Bert Geerts

The Belgian season opens this coming weekend, with Omloop Het Nieuwsblad (formerly Omloop Het Volk) on Saturday and Kuurne-Brussel-Kuurne on Sunday, and the participating teams are divided in their preparations this week for the Classics openers.
Team Quick Step will take to the Omloop course on Wednesday to check it out, but without captain Tom Boonen. The sprinter will still be recovering from his flight back from the Tour of California, the team said. The other riders from the Belgian team will put in 150 kilometres.
Silence-Lotto, the other Belgian ProTour team, will go further, aiming for 180 kilometres – if the weather holds.
Team Vacansoleil will use the week to check out the courses for both the Omloop and Kuurne-Brussel-Kuurne. On Tuesday the team will ride the start and finish of the Omloop, and on Tuesday, will ride from the feeding zone of Sunday's race to the finish. The Professional Continental team was happy to announce that Baden Cooke will probably start Saturday's race, in spite of a recent sickness.
Astana and Cofidis are bucking the trend and won't check out the course this week. The Astana riders won't even arrive until Friday. "I will check out the new points and talk about them at the riders' meeting," Astana Directeur Sportif Dirk Demol told the belga press agency. "It is crazy to expect our foreign riders to come to Belgium three days early."(SW)
Schumacher hopes for fair chance from UCI
Stefan Schumacher will fight tooth and nail to not get suspended
Photo ©: Stephen McMahon
Stefan Schumacher expects a "fair chance" to defend himself against doping charges in front of the International Cycling Union (UCI), charges which he continues to deny.
Last week the German rider announced that he had been suspended by the French National Anti-Doping Agency AFLD for two years. Schumacher had tested positive twice for CERA, a new generation of EPO, during last year's Tour de France.
The French decision was announced last week, but Schumacher said on his website, stefan-schumacher.com that he has not yet heard anything from the UCI. He did not even know whether they had opened a proceeding against him. "There is no way I can believe that the UCI will simply accept this scandalous verdict without undertaking some serious investigations themselves."
The 27-year-old said that he is "ready and willing" to attend a hearing before the UCI. "I am sure that my arguments will cause the UCI to very critically question the AFLD's decision. I have nothing to hide."
Under its own rules, the UCI cannot automatically accept the AFLD decision, Schumacher said. "And besides, I expect from my international federation a fair chance to defend myself, in contrast to the AFLD."(SW)
Spanish federation seeks access to Puerto blood bags
The Spanish Cycling Federation (RFEC) asked judge Antonio Serrano for access to the blood bags in Operación Puerto, according to the Tuesday edition of Spanish newspaper AS. Since 2006 around 30 Spanish riders have been named in the investigation.
This is the second time that RFEC had asked for such access. The previous time, Serrano denied the Spanish federation a closer look to the blood bags. But the federation says that "the scenario is now very different, because before it was a simple investigation, where now it is in legal proceedings."
Cyclingnews' recent coverage of 'Operación Puerto'
May 18, 2009 - Valverde to start Catalunya
May 15, 2009 - Valverde not welcome in Denmark
May 14, 2009 - Spanish federation wants proof in Valverde case
May 13, 2009 - Spanish Olympic Committee defends Valverde
May 12, 2009 - Valverde responds to sanction
May 11, 2009 - Italian tribunal delivers Valverde two-year suspension
May 8, 2009 - Valverde case: Italian Olympic Committee defends Torri
May 7, 2009 - Valverde to take legal action against CONI prosecutor
May 5, 2009 - WADA and Spanish federation join CONI and UCI on Valverde
May 1, 2009 - International Cycling Union joins in on Valverde's hearing in Italy

Cyclingnews' complete coverage of Operación Puerto
Vandenbroucke fought with equal dirty weapons
Frank Vandenbroucke said he only took the same stuff as the second placed rider...
Photo ©: Roberto Bettini

Frank Vandenbroucke said that he won Liège-Bastogne-Liège in 1999 "honestly", because he and all the other top riders were all using the same doping preparations.
In an interview with the Belgian men's magazine Che, he said, he won the race "in an honest manner. Because I am 100 percent certain that I had taken nothing differently that day than the second, the third, the fourth and the fifth place finishers. Everyone rode with the same thing in himself, we fought with equal weapons.
"Therefore it was an honest race, with an honest result. That day, or rather that year, I was the best of all. Everybody in the peloton knew it."
The 34-year-old said that new drugs were introduced into the peloton by "pioneers". According to HLN.be, which reported the interview, he said that the Italian team Gewiss "was the EPO pioneer, everyone knew that. Furlan, Berzin, Argentin ... there is a reason why at a certain moment some men are riding 10 kilometre per hour faster than the others."
Vandenbroucke, who will ride this season for the Belgian-Australian Continental team Fuga-Down Under, regretted never having "had the chance to be a pioneer, to try out new doping products first." He said that if he had had the chance, he "would have done it without doubt. .... Everyone would have seized that chance. Nobody should be hypocritical about that!"
Some of his major victories did come while he was not doped, Vandenbroucke insisted. In 1994 he won the Queen Stage of the Tour Méditerranéen, ahead of riders "with a hematocrit of 60. Mine was 42!"
Vandenbroucke ranked that mountaintop finish as greater than his later win in L-B-L. "Because I fought them with unequal resource. They had been prepared by their doping doctors Michele Ferrari and Luigi Cecchini. Whereas I ... I rode, so to speak, on bread and water."(SW)
Goddaert still coping with Nolf's death
Kristof Goddaert was the roommate of Frederiek Nolf during the Tour of Qatar, and for the first time has spoken about the death of his 21-year-old teammate. " I will never forget it," he said, and continues to ask himself if there is something he could have done.
"What happened that night? Could I have done something?", he said on sporza.be. "These questions remain with me, but I have not yet found any answers."
"I will never forget Frederiek, and there will always be a small dead place within me," the 22-year-old noted. "His death will never disappear from my head. It is a scar. The wound heals, but the scar remains."(SW)
German road championships in Cottbus this year
The German road championships for both elite men and women will be held in Cottbus on June 28 this year. RK Endspurt 09 Cottbus hosts the championships in close collaboration with the LV Brandenburg, the state's overseeing cycling body. The time trial championships will also be held in Cottbus, two days prior to the road events.
The time trial and road events have usually been held in different locations, but this time those athletes participating in both events will not have stressful travels. They can use the Saturday to scout out the route. "We are happy that Cottbus can host both events and it shows that cycling has still lots of support in financially dire times," said Martin Wolf, the secretary general of the German cycling federation.
Wolf said that there are several interesting applicants already for the 2010 event.
Team HerbaLife launched in the UK
The team with the management
Photo ©: Team Herbal Life

The new road race team HerbaLife/Wheelbase.co.uk held its team launch the past weekend at The Borough in Lancaster, Great Britain. The team was founded by Neil Taylor and Geoff Newcombe and is based on talented youngsters from the north-west of England. The HerbaLife/Wheelbase team will race in the Premier Calendar and national elite crit races in 2009.
The young riders have two teammates, Stuart Reid and Lewis Craven, who will provide necessary experience and guidance. Both Reid and Craven were with Wheelbase Ron Hill RT.
The team will start its campaign of 2009 in the Clayton Velo Spring Classic on Sunday, March 1 at Bashall Eaves, the north-west's opening race of the season. Known for being a hard and fast race, it is often run in cold and treacherous conditions, being so early in the season. The team then uses the Cycling Development North West races to gain fitness and move into The Premier Calendar national series and the British Cycling criterium series throughout the summer months.
The team is sponsored by Martyn and Karen Farmer, who are independent distributors of Herbalife, the sponsor of the sprinters' jersey in the recent Tour of California. The team will be riding Cannondale bikes donated by Toby Dalton and Chris Herd of Wheelbase in Cumbria and the team gets Mavic wheels. All riders will go through a full VO2 max test initially to gauge their potential and keep a watchful eye over their fitness and development.
Photography
For a thumbnail gallery of these images, click here
Images by Team Herbal Life
(Additional editorial assistance from Susan Westemeyer)
(All rights reserved/Copyright Future Publishing (Overseas) Limited 2009)