First Edition Cycling News, February 24, 2009
Edited by Greg Johnson and Les Clarke
De Jongh won't defend Kuurne title
Steven De Jongh won in 2008
Photo ©: Roberto Bettini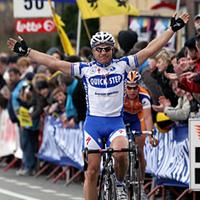 Quick Step's Steven De Jongh will miss this weekend's Omloop Het Nieuwsblad and Kuurne-Brussels-Kuurne. The Dutch rider is suffering from tendonitis in his left leg.
De Jongh is the defending champion at Kuurne-Brussels-Kuurne, having launched a successful break away at last year's race. The Dutchman had originally intended on defending his title at the event, to be held on March 1.
"I'm really sorry that I won't be able to take part in this weekend's race," said De Jongh. "Last year I won at Kurne and it's too bad I can't be there now."
De Jongh plans on spending three days away from the bike this week to help with his recovery. He will then return to training ahead of an important block of racing next month.
"The most important thing for me at this time is to recuperate from this injury 100 percent so I can be useful to the team in the coming weeks," he said. "Saturday and Sunday I'll be glued to the TV supporting for my team mates."
Despite missing the defending champion from its lineup, Quick Step will take a strong team to the race. Its squad includes Tom Boonen, Stijn Devolder, Kevin De Weert, Kurt Hovelynck, Kevin Hulsmans, Jurgen Van De Walle and Maarten Wijnants.
Armstrong cautiously confident for Giro
Lance Armstrong (Astana) gets to the front
Photo ©: Jon Devich

Astana's Lance Armstrong remains optimistic on his Giro d'Italia chances after completing the Tour of California. Armstrong finished seventh at the race, his first event with a top-level field and challenging climbs since making his return to professional cycling in January.
The Texan will contest Italy's Grand Tour for the first time this May. He's cautiously optimistic on his chances at the famed event.
"Like I've said many times, if I could get top 10 to top five or even top three that would be perfect," Armstrong said. "Having never done the Giro and the Tour [de France], I have to be aware that it's a difficult thing to do.
"It's something I've never experienced but we'll come into the Giro as fit as we can possibly be," he added. "You don't want to kill yourself."
While Armstrong is confident in his abilities, he expects the Italians will be difficult to beat. "I have to admit there are other riders who are more motivated than some of us, guys like [Ivan] Basso or [Damiano] Cunego," he added. "They'll be hard to beat in their national Tour."
Armstrong sounded a warning to his rivals that the Giro will not be a Tour training ride for Astana. The squad returns to Italy as the defending champions, following Alberto Contador's victory at last year's race.
"But don't mistake it. We're not going to be rolling around for three weeks eating pasta and drinking Chianti," said Armstrong. "We're coming to race. I just don't know how strong I will be."
Armstrong made his return to professional cycling in January at Australia's Tour Down Under. The Adelaide-based event's course is predominately flat and its position in the season is generally considered too early for riders of the caliber that California had to compete.
Excited Ng selected for Japanese keirin
By Greg Johnson
Malaysian rider Josiah Ng
Photo ©: Carl Brewer

Malaysian track cyclist Josiah Ng is among five foreigners to be selected for races in this year's Japanese keirin series. The rider is looking forward to returning to Japan, where he has contested the series on two previous occasions.
"I'm really excited about going back to Japan," said Ng. "I'm not sure why I was picked. I guess they really like me and my style of riding."
Ng will head to Japan for the series on April 14. In 2005 Ng claimed three victories at the Japan International Keirin Invitational.
Other riders invited to compete include Great Britons Ross Edgar and Matt Crampton, Dutch rider Teun Mulder and Frenchman Mikael Bourgain.
Keirin racing in Japan is a massive betting sport, with some 1.5 trillion Yen reportedly bet annually. As a result riders are subject to strict conditions, with Nihon Jitensha Shinkokai (Japanese Keirin Association) approval required for any equipment used in the races.
Sardegna back on the menu
The Giro di Sardegna is making a comeback after a 12-year absence. Despite the long time between drinks there's an air of excitement surrounding the event that serves to promote that region of Italy, much in the way the Vuelta a Castilla y Leon or the Vuelta Ciclista a Comunidad Valenciana has in the past.
Unlike the rejuvenation of this race, its Spanish equivalents are facing tough times this year due to the lack of sponsorship funds available.
The five-day race around Sardinia was revitalised when it hosted the team time trial which opened the 2007 Giro d'Italia. The success of that event proved that the island known for its tourist attractions could possibly once again host top-level racing.
It promises to be just that, with the likes of Danilo Di Luca, Alessandro Petacchi and Daniele Bennati heading to the island in addition to their countryman in the rainbow stripes (Alessandro Ballan) for some sun and tough miles as preparation for the Spring Classics.
Baldato to debut as directeur sportif
Fabio Baldato
Photo ©: Roberto Bettini

Former professional Fabio Baldato will make his debut as a directeur sportif when the Giro di Sardegna begins tomorrow. The Italian stalwart retired last year after 17 years in the professional peloton.
Baldato claimed his final victories as a professional in 2007, when he won the opening stages of both Österreich-Rundfahrt and Tour de Pologne. He started his professional career in 1991 with the Del Tongo - MG squad and rode for the MG Maglificio and Fassa Bortolo teams for much of his career.
The 40-year-old remained with the Lampre squad, albeit as a directeur sportif. With World Champion Alessandro Ballan in the ranks of his squad for the race, he may be calling the shots near the head of the field.
Lampre's squad for the Giro di Sardegna: Alessandro Ballan, Marco Bandiera, Matteo Bono, Mauro Da Dalto, Enrico Gasparotto, Mirco Lorenzetto, Paolo Tiralongo and Volodymyr Zagorodny.
Leipheimer leads USAC standings
Astana's Levi Leipheimer leads the 2009 USA Cycling Professional Tour Calendar following his victory at the Tour of California. The rider's victory has helped Astana take top spot in the teams standings.

Rider standings
1 Levi Leipheimer (Astana)                    218
2 David Zabriskie (Garmin-Chipotle)            92
3 Michael Rogers (Team Columbia-Highroad)      62
4 Mark Cavendish (Team Columbia-Highroad)      46
5 Vincenzo Nibali (Liquigas)                   42

Team standings
1 Astana                                      264
2 Team Columbia-Highroad                      168
3 Garmin-Slipstream                           138
4 Team Saxo Bank                              112
5 Rock Racing                                  69
Columbia happy with California report card
Mark Cavendish (Team Columbia - Highroad)
Photo ©: Jon Devich

Mark Cavendish's stage wins and Michael Rogers' final podium placing were the highlights of what was a successful Tour of California for Team Columbia-Highroad. Team boss Bob Stapleton explained that his highlight not only comes from the results garnered by Cavendish and Rogers, but by the way these were achieved.
"One thing that is different is that we are truly a team. Everyone is committed to working hard to get results," said Stapleton. "The guys that make up this team are essential to helping set this team apart.
"The team isn't built around one star, it's built around everyone," he added. "The athletes work really well together, which helps them succeed together."
Rogers' comments on the team's efforts reflected those by Stapleton. "Whether it's a race in Europe or the Tour de France, they all are important to us. We just try to go in as a team that's balanced and strong," he said.
This was the case during the past week, with the likes of Mark Renshaw, Michael Barry, George Hincapie and Adam Hansen keeping their leaders in the mix and ready to take the win or stay high on general classification.
In addition too his stage victories, Cavendish claimed the Tour's green sprinter's jersey. "We knew it was going to be tough to keep the sprint jersey, but everyone on my team worked so hard," said Cavendish.
After a week of tough conditions and fast racing, Stapleton, Rogers and Cavendish all believe the event had a Grand Tour feel about it. "I'm stoked to have finished third overall in this race. The calibre of the field is pretty much like the Tour de France; there are only a few teams missing. Everyone is here," said Rogers.
"This race was extremely hard. Physically and mentally, I feel like I've done a Grand Tour," Cavendish added.
Cervélo women enjoying training camp
Cervélo TestTeam's women's squad is enjoying a training camp in Toscana, Italy. The riders are enjoying their three-week training block, before returning to Switzerland next month.
"It's a perfect place to train, in such a nice area with great weather conditions," said Kirsten Wild. "And it is also very good for the team spirit."
The women are training in preparation for next month's GP Brissago. The one day race will be held on March 7 in Switzerland.
"In Toscana we have a hard training camp, but also time to relax and have a cappuccino," Regina Bruins said. "It is a perfectly balanced training camp and I am glad to be here in this beautiful area and this nice environment with the team.
"It gives me a warm feeling and I am looking forward to the start of the new season," she said.
The squad's time in Toscana will come in handy later in the season when the team contests Giro della Toscana. After GP Brissago the squad will prepare for Trofeo Etrusca and the Giro d'Italia.
Kelly Benefit Strategies get ready for camp
The Kelly Benefit Strategies professional cycling team
Photo ©: Circuit Global Sports Management
After an unofficial winter camp in Winter Park, Colorado, the Kelly Benefit Strategies team will have its 'official' training camp and team launch this weekend in the warmer climates of San Antonio, Texas. During the camp the team will introduce its 2009 lineup, unveil new jersey designs and demo the team's new Fisher road bikes at the team launch February 26.
"We're kicking off what's going to be a busy and packed 2009 season," Jonas Carney, performance director said in a release. "We've added seven talented new athletes to an already strong lineup, we're eager to get out on the new Fisher road bikes and we'll also be racing more international events throughout the year in addition to our domestic calendar."
The team launch will be held at Bikeworld in San Antonio, with several hundred guests invited, including members of the cycling and local media, the regional and national racing community and program sponsors including Kelly Benefit Strategies, Contour Technology, SRAM, Bontrager and Kurt Kinetic. The event is also open to the public and door prizes will be given away to attendees throughout the event. An invitation-only ride with the pro's event will also be held February 28 as well as the official team photo shoot.
"We're looking forward to a terrific launch event at the store," Bikeworld manager Cindi Snell said. "We've already received a lot of interest and questions from our customers so it's clear the KBS team has a strong following wherever they go. We're ready to get their season started in style."
"It's really just an opportunity for us, in the early days of camp to thank our sponsors and fans and get everyone pumped up for a great season of racing from the KBS program," adds Carney.
The Kelly Benefit Strategies team is managed out of Minneapolis by Circuit Global Sports Management.
Kelly Benefit Strategies 2009 roster: Ryan Anderson, Andrew Bajadali, Zach Bell, Dan Bowman, Alex Candelario, Jake Erker, Cheyne Hoag, Jake Keough. Shane Kline, Reid Mumford, Clay Murfet, Neil Shirley, Jonny Sundt, David Veilleux and Scott Zwizanski.
(All rights reserved/Copyright Future Publishing (Overseas) Limited 2009)