MTB & 'cross news & racing round-up for September 14, 2006
Edited by Steve Medcroft
Formula for success; Liam Killeen interview
By Steve Medcroft, MTB Editor
With only one more complete season of competition before the 2008 Olympics in Beijing, the riders that will be contenders in the cross country race are becoming apparent. One of the shiniest stars in the bunch is Great Britain's Liam Killeen, a rider that has shown natural ability and the kind of year-to-year growth that could put him firmly in the medal hunt:
Liam Killeen
Photo ©: Rob Jones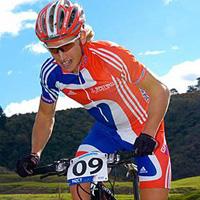 The rise of Liam Killeen is not sudden, he was an under-23 superstar and won the under-23 World Cup. He was also runner-up in the 2004 under-23 World Championships. But when an under-23 rider finally makes it into the elite ranks, there is usually a slip back in results while they adjust to the intense pace of the upper ranks. But Killeen, in only his second year in the elite category, seems to have mixed together a formula that includes physical and mental training, solid equipment, loyal teammates.
He showed the results of that formula when he won the 2006 Commonwealth Games in Melbourne, Australia in March. He followed it up with a solo win at the Sea Otter Classic, two full minutes ahead of world-class riders including teammate Alban Lakata and European champion Jean Christoph Peraud (Orbea).
It didn't stop there. He finished third in his first World cup, just behind 2004 Olympic gold medallist and world champion Julien Absalon and Curacao course designer Bart Brentjens (Giant). He also came second in the world cup at Mont Sainte Anne and, most recently, placed tenth at the world championships in Rotorua, New Zealand. He's even taken the time to win a couple of hometown races.
Read the entire Liam Killeen interview here.
MTB World Cup finale
Premont chats, Dahle celebrates
Photo ©: Nick Warren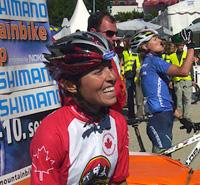 The world's elite mountain-bikers ended the UCI World Cup season in Scladming, Austria last weekend, settling overall series championship titles in Cross Country, Downhill and Four Cross.
Marie Helene Premont (Rocky Mountain / Business Objects) was able to outpace four-time world champion Gunn-Rita Dahle-Flesjaa (Multivan-Merida) to win the final world cup cross country race for 2006. The two riders has been locked in a tense battle for the virtually the entire race, Dahle leading Premont by no more than a few seconds. Premont's success didn't change the World Cup overall though as Dahle-Flesjaa took the overall.
In men's cross-country, Cristoph Sauser (Specialized) who finished second to Julien Absalon (Bianchi) at the World Championships in Rotorua, New Zealand, was at the head of the race from start to finish. Sauser's win secured his second place in the World Cup series behind world champion Absalon.
With recently-crowned world champion Jill Kintner (GT - who had already sealed the World Cup overall on points) out of competition due to a crash at the Jeep King of the Mountain finale, Fiona Griffiths of Great Britain got a chance to take the Four-Cross competition, beating American Tara Llanes and Joey Gough in the women's race.
Czech Republic's Kamil Tartarkovic was a deserved winner of the men's 4X on a tricky course which saw countless tumbles and a large crowd enjoying the action. Holding off a close challenge from Dutchman Joost Wichman (Netherlands) and local hero Rudiger Jahnel (Austria).
12,500 spectators
Photo ©: Nick Warren

Sunday turned into a day for world champions to strut their stuff as Frenchwoman Sabrina Jonnier took out the women;s race and Sam Hill the men's
Jonnier, who won a rainbow jersey in New Zealand two weeks ago was obviously at the top of her game, looking calm to finish just 0.41 seconds ahead of Emmeline Ragot. Hill (Australia) beat Nathan Rennie and Greg Minaar by five seconds to win the World Cup finale in Schladming on Sunday.
For complete results, race reports and photos, follow the links below:
National MTB Ultra Endurance Series finale
By Sue George
Jeremiah Bishop
Photo ©: Bill McCarrick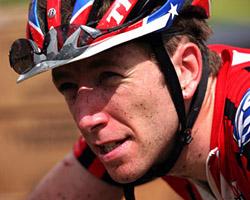 The Trek VW team dominated the eighth annual Shenandoah Mountain 100 on Sunday as Jeremiah Bishop and Sue Haywood won the men and women's races respectively and teammates Chris Eatough and Jeff Schalk finished off a team sweep of the men's podium.
In series competition, Harlan Price (Independent Fabrication) and John Majors (Giffen Interiors), leaders all year in the Open Men and Master's 50+ categories respectively) locked up the overall series win. After Open Women series leaders Tricia Stevenson (Landrover/Cannondale) and Karen Masson (Litespeed) both fell out of contention due to injury, the series championship went to Washington State-based Hillary Harrison (Giant Bikes/Kenda) over Ruth Cunningham. Both finished three races out of four or more attempts. Dan Jansen (Founders Ale/Algers Racing), who had recently traded the lead in the singlespeed category with Matt Ferrari (Mount Nittany Wheelworks), was able to win the category at the race and the series.
Teammates Bishop and Eatough battle on familiar turf
Despite three previous days of rain, largely due to the remnants of Hurricane Ernesto, a record four hundred racers signed up to tackle the lush trails and roads through western Virginia's dense hardwood forests. As the series finale of the National MTB Ultra Endurance Series, the race drew riders from all over the United States. Fresh off his eighth-place finish at the 2006 mountain bike World Championships in Rotorua, New Zealand, Jeremiah Bishop took the men's event on trails located just outside his Harrisonburg, Virginia hometown.
For complete results, race report and photos from the Shenandoah Mountain 100, click here.
Gordon Wins Australia's first marathon championships
Craig Gordon
Photo ©: Flight Centre Epic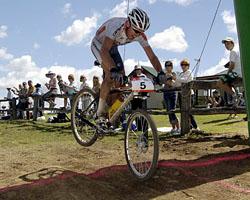 At the end of 110 punishing off-road kilometres, looks can certainly be deceiving for although Cannondale's Craig Gordon appeared spent after more than four hours in the Australian wilderness during the fourth Flight Centre Epic, his reply to the question, how much did you suffer out there? .. came quick and sharp. "I don't blow up, it just doesn't happen," Gordon said with the confident aura, one can only associate with champions.
And a champion he certainly is! The inaugural Australian Marathon Mountain Bike Champion to be more precise, Gordon clocked off duty at the picturesque Peppers Hiddenvale Retreat, some four hours, ten minutes and eleven seconds after starting his day at the Preston Peak winery near Toowoomba. The time was well outside of the race record set by Murray Spink in 2005, but on a sticky track, Gordon's ride was arguably of just as high a quality as that of the previous year's winner.
Better still, he did it alone for most of the journey, without the help of any fellow competitors, who might have been of assistance on the long road sections. "I think I went at about the 25 kilometre mark," Gordon said. "I thought the bunch would have come back to me on the road, but they didn't."
For complete results, photos and race report from the Flight Centre Epic, click here.
Lopes and Miller take Jeep KOM finale
Prokop and Miller secure the series titles
Jill Kintner
Photo ©: Jeep KOM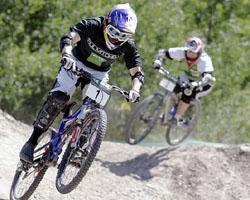 Given the outcome of the first two legs of the Jeep® King of the Mountain (www.jeepsports.com) 2006 Mountain Biking World Professional Championships, where Michal Prokop of the Czech Republic and Jill Kintner of Seattle, Wash., captured the men's and women's titles in convincing fashion, it would take a brilliant day of racing by the star-studded field of competitors at the grand finale in Beaver Creek, Colo., to prevent a season sweep by these phenoms in their mid 20's.
Several thousand spectators took advantage of the pristine fall weather conditions and extended Labor Day holiday weekend to take in the world-class racing, which coincided with the city's renowned Oktoberfest celebration. They didn't leave disappointed, as the day was filled with a wealth of tight passes, unnerving crashes, extreme air and down to the wire finishes that resulted in numerous upsets in the men's and women's brackets.
For full results, race report and photos from the Jeep KOM finale, click here.
Thomas defies odds to win first Aus women's marathon
Mountain biker Tory Thomas (MT Beauty, Vic) defied all odds to win the first National Marathon Championships in Toowoomba last week. In early 2005, the 28 year old was hit by a car, suffered serious back and pelvis injuries and told by specialists she would never ride again.
Thomas won in 4.55.35 a full 3 minutes ahead of Commonwealth Games rider Emma Colson, 37 from Melbourne. The pair had ridden side by side for three-quarters of the race until Thomas took off on one of the final climbs. "In March I had a screw taken out of my back by my lovely surgeon," she said immediately following the race. "I had no power in my left leg. I was constantly cramping. The cramps today paled in comparison to what I used to get.
Americans claim 13 medals at Master's Worlds
American riders won thirteen medals – two gold, five silver and six bronze – at the 2006 UCI Masters Mountain Bike World Championships at Sun Peaks Resort in British Columbia August 30-Sept. 3.
Tracy Oswell (Acton, Calif.) captured a world title in the men's 45-49 downhill competition and Fred Joehnck (Santa Barbara, Calif.) won the men's 55+ category to give the United States its two rainbow jerseys.
Silver medalists included Patrick Michael in the men's 40-44 cross country event, Susan Butler (Portland, Ore.) in the women's 30-39 cross country race, John Fisher (Oakhurst, Calif.) in the men's 40-44 downhill event, Michael Jennings (San Diego, Calif.) in the men's 50-54 downhill competition and Michael Sabin (Sandpoint, Idaho) in the men's 55+ event.
Riders who claimed bronze medals were Henry Kramer (Menlo Park, Calif.) in the men's 50-54 cross country race, Stan Ford (Temecula, Calif.) in the men's 60+ cross country event, Jane Finsterwald (Snowmass Village, Colo.) in the women's 40+ cross country race, Scott Smith (West Haven, Conn.) in the men's 50-54 downhill event, Julie Olsen (Silverthorn, Colo.) in the women's 35+ downhill race and Gene Hamilton (Fruita, Colo.) in the men's 40-44 downhill competition.
For complete results from MTB Master's World Championships, click here.
Global MTB and cyclo-cross racing round-up
Renee Junga appeal launched
Bicycle Motocross Australia (BMXA), Cycling Australia (CA) and Mountainbike Australia (MTBA) today jointly launched an appeal for injured athlete Renee Junga. The 20 year old, who won a silver medal at last year's World BMX Championships in France and was the 2005 Australian Female BMX Cyclist of the Year, crashed on August 22nd while training on the 4X course in preparation for the World Mountain Bike Championships in Rotorua, NZ.
Renee broke the C1 and C2 bones in her neck and suffered spinal trauma at the T6 vertebrae. She also suffered two broken ribs and a fractured sternum. Surgeons operated to fuse together the bones in her neck and to insert a surgical rod and screws to stabilise her spine. Renee remains in Auckland City Hospital recovering from the surgery but is expected to fly back to Brisbane later this month where she will initially be admitted to the Princess Alexandra Hospital.
"The purpose of the appeal is to raise funds to assist Renee with the challenges she faces in the future," said Cycling Australia CEO, Graham Fredericks. "A number of fund-raising efforts have already commenced in Australia and New Zealand and this support is greatly appreciated by Renee and her family."
"Renee is a very strong and determined young woman and we all wish her well with her rehabilitation," said BMXA Australia President, Graham Arnold.
Renee yesterday was visited by former motorcycle Motocross racer Niki Urwin who suffered spinal injuries in a racing accident in Horsham, Victoria several years ago. Urwin, who is paralysed from the chest down, is the coach of New Zealand mountain bike cyclist Vanessa Quin.
"It was good to speak to someone who has actually been through what I am going through," said Renee. "He told me about what I can expect and shared some of his experiences with me."
On Wednesday, Renee achieved a milestone when she sat upright for the first time. "I got onto the edge of the bed, feet on the ground and bent at 90 degrees," said Renee. "It only lasted for about five minutes because I got a bit dizzy but the physios were pretty happy with that. They are going to set me up with a temporary wheelchair later this week."
Renee has been fitted with a brace, neck to waist, which she must wear for around twelve weeks but says the pain from her surgery is beginning to ease.
"Today I also saw the dentist about my left molar which I cracked pretty badly in the crash," she said. "They'll probably try and put a temporary cap on it next week but there's not a lot more they can do until the brace comes off because it restricts my neck movement."
People who wish to contribute to the Renee Junga Appeal can do so by:
Cheque – payable to
ACF – Renee Junga Appeal
C/- PO Box 7183
Bass Hill NSW 2197
Credit Card – (Mastercard, Visa, Bankcard)
by phone to CA +61 (2) 9644 3002 or in writing by fax +61 (2) 9644 3006 or e-mail (acf.info@cycling.org.au)
Direct Deposit (Commonwealth Bank)
BSB: 062 314
Account No: 1008 8234
Branch: Flemington Markets (Sydney, NSW)
(Please e-mail acf.info@cycling.org.au to advise of your contribution amount, time of deposit and contact details so they can record and respond to your valued support).
US cyclo-cross season kicks off
The US cyclocross season gets underway Saturday, September 30th and Sunday, October 1st with the fourth annual Whitmore's Landscaping Super Cross Cup in Southampton, NY.
Reigning U.S. National Cyclo-cross Champion Todd Wells will have his hands full against northeast cyclo-cross stalwarts Mark McCormack, Tim Johnson, Jesse Anthony and Jeremy Powers. Bolstering the lineup for the men's field are racers from team Rock Lobster, Richard Sachs- RGM watches-Rex Chiu and Independent Fabrications.
The race has equal prize lists for the women's and men's races, with prize lists of over $4000 for each race. The women's field will include 2006 Canadian National Champion Lyne Bessette, who will take on former national team members Christine Vardaros, Maureen Bruno-Roy and more top northeast competitors.
Both events are UCI sanctioned (C1 status for Saturday and C2 status for Sunday).
Can Frischy repeat at La Ruta
Thomas Frischknecht (Swisspower/ Scout Team)
Photo ©: Rob Jones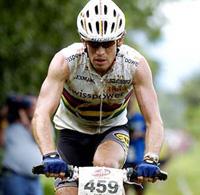 A year ago Thomas Frischknecht ended one of cycling's longest streaks, becoming the first foreign rider to triumph at Costa Rica's famed La Ruta de los Conquistadores mountain bike race. Fast forward 12 months, and the Swiss legend will try to make it two in a row when he returns to defend his title at one of the world's toughest stage races.
Among the Swisspower rider's chief challengers at La Ruta's 14th rendition will be Colombian Leonardo Páez and American Jeremiah Bishop (Trek-Volkswagen). Páez is currently No. 1 in the UCI's marathon rankings, while Bishop is coming off a stellar performance at the world championships, where he finished 8th in the men's cross-country. Páez and Frischknecht were fifth and sixth respectively in that same race. Famed mountain bike pioneer Tom Ritchey has also registered for the race.
The three-day trek across this lush Central American country commences November 3 at the Best Western Jacó Beach Hotel, a stones throw from the Pacific Ocean. November 5's finish is at the port of Moín just a few blocks from Caribbean Sea. In between a mix of professionals and weekend warriors will cover 176 miles and approximately 30,000 feet of climbing. The high point comes beneath the looming shadow of Volcan Irazu. Here the race tops out nearly 9900 feet above sea level, and the starting line a day earlier.
As in year's past, day one's course will head through the Carara National Park's thick jungle. This humid, muddy and breathtaking pass has been traditionally one of the toughest obstacles on the opening day. After the third checkpoint, located in San Pedro de Turrubares, racers will face the grueling Grifoalto region with its muddy trail across the mountains. This replaces last year's long asphalt ascent.
For more information or to sign up for the challenge of a lifetime go to: www.adventurerace.com.
Also see our 2005 coverage of La Ruta de los Conquistadores.
Savouring a unique performance; the Gunn-Rita Dahle diary
[Translation: Crispen T.P. de Lange]
Gunn-Rita Dahle Flesjaa (Norway)
Photo ©: Rob Jones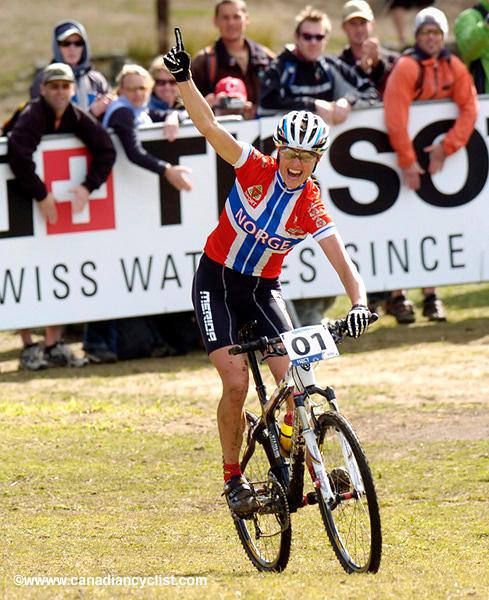 Here I sit on my small aeroplane seat, savouring the tired feeling in my whole body. We've already been travelling for a good 20 hours, and there's still a long way to go. The most important race of the season is already history, and we can look back on an extremely exciting and challenging period which has taught us a lot and given us a lot.
We celebrated the World Championship gold medal at a good Indian restaurant in Rotorua, New Zealand, in good company. We didn't stay up late, since I was worn out after the race on Sunday and everything else that's been happening during the last weeks. We'll have a proper celebration of the gold medal in two weeks when we get back to Stavanger again.
Demanding race period
Kenneth and I have already talked through and evaluated a lot of what has been achieved and experienced during these last five weeks. When we mapped out the season of 2006, we realised that the championship period this year would be extremely tough if we chose to go for all four championships. Our goal was to take a medal at every single championship (European Championship Marathon, European Championship Cross-Country, World Championship Marathon and World Championship Cross-Country).
Read the entire Gunn-Rita Dahle-Flesjaa diary here
Where in the world; the Mary McConneloug & Mike Broderick diary
By Michael Broderick
Do they do it
Photo ©: Mike Broderick & Mary McConneloug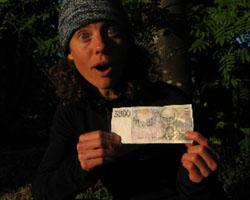 As we have gone through the heart of the race season, it has proven difficult to keep the updates rolling and can only apologize for the lapse in communication. The past weeks of back-to-back racing and widespread travel has put us to the test and left us with time for nothing else. Our diary may be looking like more of an archive than a place to get the latest news . Still we hope you will enjoy hearing the stories from our of our experiences as they come.
Spring Travels (May 30- June 13, 2006)
Mary and I arrived back to mainland Europe after a smooth night crossing the North Sea from Scotland. We were greeted by an impressive rain as we drove south through the Netherlands. Rain had in fact become the theme of our trip to northern Europe.
The coastal area of Netherlands is pretty much dead flat and can be incredibly windy, still the huge number of bike dedicated paths/ trails make it a great place to ride the bike. we got in a 4 hour training day, rain and all, inspired by huge numbers of people out cranking around on these 50 pound utilitarian cruisers with aerobars.
Read the entire Mary McConneloug & Mike Broderick diary here.
Looking forward to riding the trails; the Kristin Danielson diary
The start
Photo ©: Tom Danielson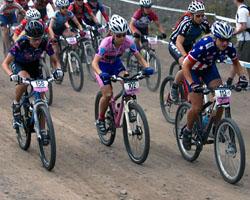 Just a fad that has passed? When I think of fads leg warmers, the zone diet and more fashion faux-pas come to mind, not an entire sport. How could my friend say this to my face? I do believe mountain biking is a lifestyle. A lifestyle that attracts fun loving and free spirits to it. No other place am I more content than when I am on my mountain bike riding through towering pine trees, through creeks, smelling the fresh mountain air and getting both wheels off the ground from that last jump. Whether mountain biking is a recreational sport, competitive sport or just a fad it is a beautiful sport that has brought much happiness to me this past summer. Not only did this sport introduce me to amazing people, such as my team, this sport has brought to me aspirations, accomplishments, mental and physical strength. The last time I checked, it is still a sport that is a part of the Olympic Games and has seen fierce competition among the past Olympians.
Even though my racing season has wound down, the time I spend on trails has not. This season is my absolute all time favorite to be encompassed by Mother Nature. Brilliant fall days are cool and colorful, who wouldn't want to be out on the trails? I know winter is larking around the corner and when winter shows its white face my Kalua-Lisa Kona will have to be hung up until next season; so it is imperative to explore new single track as I know soon they will be covered in a blanket of snow.
Read the entire Kristin Danielson diary here
Correction: Fionn Griffiths
In our coverage of Sunday's final round of the four-cross mountain bike world cup we mistakenly said that this was Fionn Griffiths' last race before retirement. In fact, according to Mark Schmid of Griffiths' bike sponsor Norco, Griffiths' "return to the top of a World Cup podium has increased her passion for racing."
Cyclingnews apologises for the error.
(All rights reserved/Copyright Knapp Communications Pty Limited 2006)