MTB index page for all MTB content
MTB World Cup XC, DHI & 4X #6 - CDM
Schladming, September 9-10, 2006
Main Page Results Overall standings Next Race
Race 1 - September 9: Women cross-country
Premont takes the finale
By Nic Warren in Schladming
Premont chats, Dahle celebrates
Photo ©: Nick Warren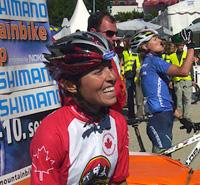 Canadian Marie Helene Premont (Rocky Mountain / Business Objects) was able to outpace four-time world champion Gunn-Rita Dahle-Flesjaa (Multivan-Merida) to win the final world cup cross country race for 2006.
Marie-Helene Premont was stoked to win the women's 33km race ahead of World Cup winner overall Gunn-Rita Dahle. The two riders has been locked in a tense battle for the virtually the entire race, Dahle leading Premont by no more than a few seconds.
With just over one lap to go, Premont made her move, tussling with Dahle before moving ahead and crossing the finish line 10 seconds ahead of her Norwegian rival. "I'm really happy with my race today." She said afterwards. "I didn't know how strong I would be, I hardly slept at all last night due to jet-lag."
"But after the first lap I knew I was strong and it was my strategy to stay behind (Dahle) – it's less stressful."
Dahle, who has won the World Cup for a fourth straight year, said the "stronger rider won on the day. Coming second is always quite hard to swallow in the first moments after you cross the line," she said, "but winning the World Cup again is a really special feeling."
Photography
For a thumbnail gallery of these images, click here
Images by Nick Warren
Results
1 Marie-Helene Premont (Can) Rocky Mountain Business Objects    1.46.51
2 Gunn-Rita Dahle Flesjaa (Nor) Multivan Merida Biking Team        0.10
3 Irina Kalentieva (Rus)                                           3.09
4 Ren Chengyuan (Chn)                                              4.25
5 Ying Liu (Chn)                                                   4.53
6 Jingjing Wang (Chn)                                              5.05
7 Sabine Spitz (Ger) Specialized Factory Racing                    5.21
8 Maja Wloszczowska (Pol) Lotto                                    6.29
9 Margarita Fullana Riera (Spa) Spiuk Illes Balears                6.38
10 Mary McConneloug (USA)                                          6.40
11 Elsbeth Van Rooij-Vink (Ned)                                    6.52
12 Anna Szafraniec (Pol) Lotto                                     7.52
13 Petra Henzi (Swi) Fischer-Bmc                                   8.17
14 Nina GŲhl (Ger) Multivan Merida Biking Team                     8.54
15 Eva Lechner (Ita)                                               9.20
16 Sarah Koba (Swi)                                                9.39
17 Willow Koerber (USA) Subaru-Gary Fisher                         9.41
18 Maroussia Rusca (Swi) Team Bikepark.Ch Tui                      9.42
19 Kiara Bisaro (Can)                                              9.45
20 Katerina Nash (Cze)                                            10.29
21 Adelheid Morath (Ger)                                          10.31
22 Katrin Schwing (Ger)                                           11.02
23 Daniela Louis (Swi)                                            11.47
24 Ivonne Kraft (Ger)                                             12.18
25 Sabrina Enaux (Fra) Team Lapierre International                12.21
26 Blaza Klemencic (Slo) Pintatim Full-Dynamix                    13.13
                                                                       
Two laps behind                                                        
                                                                       
27 Maria Osl (Aut) Tonis Pro Team Kirchberg                            
28 Heather Irmiger (USA) Subaru-Gary Fisher                            
29 Nathalie Schneitter (Swi)                                           
30 Evelyn Staffler (Ita)                                               
31 Laura Turpijn (Ned)                                                 
                                                                       
Two laps behind                                                        
                                                                       
32 Kelli Emmett (USA)                                                  
33 AriŽlle Van Meurs (Ned)                                             
34 Elisabeth Osl (Aut) Tonis Pro Team Kirchberg                        
35 Janka Stevkova (Svk) Max Cursor                                     
36 Hanna Klein (Ger)                                                   
37 Tereza Jonsova (Cze)                                                
38 Elena Gaddoni (Ita)                                                 
39 Bettina Schmid (Swi)                                                
40 Nataliya Krompets (Ukr)                                             
                                                                       
Three laps behind                                                      
                                                                       
41 Amy Hunt (GBr)                                                      
42 Jaqueline Mourao (Bra)                                              
43 Nina Baum (USA)                                                     
44 Elina Sophokleous (Cyp) Bikin'cyprus Int.                           
                                                                       
Four laps behind                                                       
                                                                       
45 Richardson Theresa (USA)                                            
46 Anja Gradl (Ger)                                                    
47 Rebecca Blay (USA)                                                  
48 Monika Derntl (Aut)                                                 
49 Evgenia Belozerova (Rus)                                            
                                                                       
Five laps behind                                                       
                                                                       
50 Sabine Stiegler (Aut)                                               
                                                                       
Six laps behind                                                        
                                                                       
51 Kristina Kult (Aut)                                                 
DNF Lene Byberg (Nor) Bikin'cyprus Int.                                
DNF Cťcile Rode (Fra) Team Lapierre International                      
DNF Bšrbel Jungmeier (Aut)                                             
DNF Sarka Chmurova (Cze) Max Cursor                                

Final world cup standings
1 Gunn-Rita Dahle Flesjaa (Nor)       1300 pts
2 Marie-Helene Premont (Can)          1105
3 Sabine Spitz (Ger)                   900
4 Irina Kalentieva (Rus)               896
5 Margarita Fullana Riera (Spa)        700
6 Nina GŲhl (Ger)                      685
7 Lene Byberg (Nor)                    596
8 Mary McConneloug (USA)               577
9 Chengyuan Ren (Chn)                  560
10 Maja Wloszczowska (Pol)             545
11 Katerina Nash (Cze)                 417
12 Willow Koerber (USA)                408
13 Petra Henzi (Swi)                   400
14 Alison Sydor (Can)                  400
15 Kiara Bisaro (Can)                  391
16 Maroussia Rusca (Swi)               370
17 Jingling Wang (Chn)                 368
18 Adelheid Morath (Ger)               364
19 Anna Szafraniec (Pol)               343
20 Eva Lechner (Ita)                   331
21 Ivonne Kraft (Ger)                  317
22 Shonny Vanlandingham (USA)          314
23 Ying Liu (Chn)                      296
24 Rosara Joseph (NZl)                 277
25 Maria Ostergren (Swe)               274
26 Laura Turpijn (Ned)                 270
27 Sabrina Enaux (Fra)                 265
28 Heather Irmiger (USA)               261
29 Cťcile Rode (Fra)                   249
30 Wendy Simms (Can)                   246
31 Katrin Schwing (Ger)                240
32 Tereza Hurikova (Cze)               233
33 Blaza Klemencic (Slo)               222
34 Kelli Emmett (USA)                  216
35 AriŽlle Van Meurs (Ned)             203
36 Sarah Koba (Swi)                    194
37 Jaqueline Mourao (Bra)              181
38 Anna Enocsson (Swe)                 173
39 Hanka Kupfernagel (Ger)             170
40 Evelyn Staffler (Ita)               164
41 Susan Haywood (USA)                 163
42 Daniela Louis (Swi)                 162
43 Jimena Florit (Arg)                 152
44 Nina Homovec (Slo)                  144
45 Maria Osl (Aut)                     143
46 Janka Stevkova (Svk)                142
47 Annika Smail (NZl)                  124
48 Saskia Elemans (Ned)                121
49 Elisabeth Osl (Aut)                 114
50 Severine Hansen (Fra)               114
51 Helene Marcouyre (Fra)              111
52 Franziska Rothlin (Swi)             104
53 Magdalena Sadlecka (Pol)            104
54 Bšrbel Jungmeier (Aut)              104
55 Pia Sundstedt (Fin)                  96
56 Elsbeth Van Rooij-Vink (Ned)         90
57 Nathalie Schneitter (Swi)            74
58 Elina Sophokleous (Cyp)              73
59 Jenny Copnall (GBr)                  73
60 Elena Giacomuzzi (Ita)               72
61 Karen De Wolfe (Can)                 66
62 Dara Marks (USA)                     64
63 Kathy Sherwin (USA)                  61
64 Patricia Sinclair (Can)              59
65 Githa Michiels (Bel)                 59
66 Catherine Pendrel (Can)              58
67 Hanna Klein (Ger)                    54
68 Asa Maria Erlandsson (Swe)           48
69 Amy Hunt (GBr)                       47
70 Nataliya Krompets (Ukr)              44
71 Georgia Gould (USA)                  44
72 Lea Davison (USA)                    42
73 Cristina Mascarreras Sabria (Spa)    41
74 Francisca Campos Salas (Chi)         38
75 Jenna Zander (USA)                   36
76 Mical Dyck (Can)                     34
77 Renata Bucher (Swi)                  34
78 Tereza Jonsova (Cze)                 32
79 Sheju Mei (Chn)                      32
80 Rocio Gamonal Ferrera (Spa)          32
81 Elena Gaddoni (Ita)                  30
82 Amanda Sin (Can)                     30
83 Katrin Leumann (Swi)                 30
84 Bettina Schmid (Swi)                 29
85 Rie Katayama (Jpn)                   28
86 Tarja Owens (Irl)                    28
87 Jennifer Smith (NZl)                 26
88 Nina Baum (USA)                      25
89 Julie Sanders (Can)                  25
90 Carrissa Wilkes (NZl)                24
91 Liliana Uzcategui VEN                24
92 Theresa Richardson (USA)             23
93 Heather Svahn (USA)                  23
94 Maureen Guichardot (Fra)             23
95 Esther Suss (Swi)                    23
96 Yaniz Hernandez VEN                  23
97 Anja Gradl (Ger)                     22
98 Jean Ann Mc Kirdy (Can)              22
99 Kristina Andrus (USA)                22
100 Rebecca Blay (USA)                  21
101 Caroline Villeneuve (Can)           21
102 Kristi Lewis (USA)                  21
103 Monika Derntl (Aut)                 20
104 Zephanie Blasi (USA)                20
105 Sara Hernandez Candela (PRc)        20
106 Evgenia Belozerova (Rus)            19
107 Jennifer Gersbach (USA)             19
108 Bernardine Boog-Rauwerda (Ned)      19
109 Sabine Stiegler (Aut)               18
110 Chloe Forsman (USA)                 18
111 Katerina Bohata (Cze)               18
112 Sara Bresnick (USA)                 18
113 Josette Velazquez Lebron (PRc)      18
114 Kristina Kult (Aut)                 17
115 Sophie Fortin (Can)                 16
116 Shannon Gibson (USA)                15
117 Brenda Clapp (NZl)                  14
118 Caroline Jackson (GBr)              14
119 Agnes Naumann (Ger)                 14
120 Catherine Vipond (Can)              13
121 Mathilde Hupin-Debeurme (Can)       12
122 Sarka Chmurova (Cze)                12
123 Anne-Marie Jobin (Can)              11
124 Kylie Case (Can)                    10
125 Jennifer O'Connor (NZl)             10
126 Catherine Delfosse (Bel)            10
127 Elsie Torresan (Can)                 9
128 Sabra Davison (USA)                  8
129 Ruth McGavigan (GBr)                 8