MTB index page for all MTB content
MTB World Cup XC, DHI & 4X #6 - CDM
Schladming, September 9-10, 2006
Main Page Results Overall standings Previous Race Next Race
Race 2 - September 9: Men cross-country
Sauser leads Swiss sweep
Sauser leads Vogel
Photo ©: Nick Warren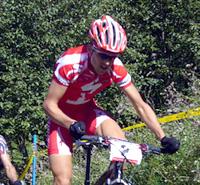 Cristoph Sauser (Specialized) finished the final cross-country world cup of 2006 leading a trio of countryman for a Swiss sweep of the day's podium. Sauser, who two weeks ago finished second to Julien Absalon (Bianchi) at the World Championships in Rotorua, New Zealand, was at the head of the race from start to finish.
He and compatriots Nino Schurter and Ralph Vogel, both members of the aptly-named Swisspower team forged an early lead ahead of a chasing group of four containing Bart Brentjens (Giant), Jose Hermida (Multivan Merida), Jader Zoli (KTM) and Absalon.
The Swiss trio pushed ahead as the field gradually spread itself over the Austrian alp but on lap six, Schurter suffered a 'technical problem' which forced him out of the top 20 and saw him eventually finish 23rd.
The chase group began to splinter halfway through the 43km race, Brentjens and Absalon dropping back. Sauser, however, was looking supreme and with one lap to go was the lone leader.
He finished a clear 33 seconds ahead of Vogel, with Ralph Naf (Multivan Merida) completing the Swiss trifecta 57 seconds behind Sauser. Hermida came in fourth and Roel Paulissen (Giant) rounded out the top five.
"I am pleased with my race today," Sauser said. "It's great to have two other Swiss in the top three."
For Kiwi Kashi Leuchs (Cannondale) who finished 30th, it was a satisfactory end to a long season. "I'm looking forward to a break now," he said. "I'm really tired after the World Championships."
Photography
For a thumbnail gallery of these images, click here
Images by Nick Warren
Results

1 Christoph Sauser (Swi) Specialized Factory Racing             2.00.37
2 Florian Vogel (Swi) Swisspower Mtb Team                          0.34
3 Ralph Näf (Swi) Multivan Merida Biking Team                      0.57
4 Jose Antonio Hermida Ramos (Spa) Multivan Merida Biking Team     2.19
5 Roel Paulissen (Bel) Giant-Racing-Team                           2.30
6 Jader Zoli (Ita) Ktm International Team                          2.45
7 Christoph Soukup (Aut)                                           3.01
8 Adam Craig (USA)                                                 3.10
9 Liam Killeen (GBr) Specialized Factory Racing                    3.11
10 Julien Absalon (Fra) Bianchi Agos                               3.27
11 Karl Markt (Aut)                                                3.41
12 Bart Brentjens (Ned) Giant-Racing-Team                          3.45
13 Oliver Beckingsale (GBr) Giant-Racing-Team                      3.48
14 Martin Kraler (Aut) Giant-Racing-Team                           3.49
15 Martin Gujan (Swi) Athleticum-Mtb-Team                          4.01
16 Stefan Sahm (Ger) Giant-Racing-Team                             4.03
17 Carlos Coloma Nicolas (Spa) Proflex                             4.12
18 Moritz Milatz (Ger) Multivan Merida Biking Team                 4.14
19 Ivan Alvarez Gutierrez (Spa) Proflex                            4.18
20 Jeremiah Bishop (USA) Trek Volkswagen Pro Factory Team          4.31
21 Michael Weiss (Aut)                                             4.58
22 Ruben Ruzafa Cueto (Spa) Team Orbea                             5.00
23 Nino Schurter (Swi) Swisspower Mtb Team                         5.20
24 Andreas Kugler (Swi) Athleticum-Mtb-Team                        6.23
25 Gion Manetsch (Swi) Athleticum-Mtb-Team                         6.24
26 Jaroslav Kulhavy (Cze)                                          6.30
27 Lado Fumic (Ger) Fumic.Brothers.International                   6.34
28 Jochen Kaess (Ger) Team Alb-Gold Mountainbike                   6.41
29 Cédric Ravanel (Fra) Team Lapierre International                6.50
30 Kashi Leuchs (NZl) Cannondale-Vredestein                        6.56
31 Sven Nijs (Bel)                                                 7.00
32 Rudi Van Houts (Ned) Dolphin                                    7.15
33 Christof Bischof (Swi) Bikin'cyprus Int.                        7.19
34 Jan Skarnitzl (Cze)                                             7.40
35 Tim Bohme (Ger) Team Alb-Gold Mountainbike                      7.52
36 Bas Peters (Ned)                                                7.56
37 Sergiy Rysenko (Ukr)                                            7.57
38 Mirko Pirazzoli (Ita)                                           8.20
39 Jeremy Horgan-Kobelski (USA) Subaru-Gary Fisher                 8.34
40 Sergio Mantecon Gutierrez (Spa) Massi-Abarth                    8.42
41 Fredrik Kessiakoff (Swe) Cannondale-Vredestein                  8.53
42 Karl Platt (Ger) Rocky Mountain Business Objects                9.05
43 Hannes Metzler (Aut)                                            9.11
44 Robert Gehbauer (Aut)                                           9.22
45 Yury Trofimov (Rus)                                             9.49
46 Tony Longo (Ita)                                                9.53
47 Evguen Petchenine (Rus)                                        10.00
48 Emil Lindgren (Swe) Bianchi Agos                               10.18
                                                                       
One lap behind                                                         
                                                                       
49 Davy Coenen (Bel)                                                   
50 Inaki Lejarreta (Spa) Team Orbea                                    
51 Klaus Nielsen (Den) Team Alb-Gold Mountainbike                      
52 Philip Spencer (GBr) Bikin'cyprus Int.                              
53 Filip Eberl (Cze)                                                   
54 Jakob Diemer Fuglsang (Den) Cannondale-Vredestein                   
55 Lukas Flückiger (Swi) Bianchi Agos                                  
56 Bjorn Brems (Bel) Dolphin                                           
57 Marco Aurelio Fontana (Ita)                                         
58 Balz Weber (Swi) Team Bikepark.Ch Tui                               
59 Martino Fruet (Ita)                                                 
60 Jiri Novak (Cze)                                                    
61 Calle Friberg (Swe)                                                 
                                                                       
Two laps behind                                                        
                                                                       
62 Till Marx (Swi) Swisspower Mtb Team                                 
63 Michael Broderick (USA)                                             
64 Luka Kodra (Slo)                                                    
65 Jelmer Pietersma (Ned) Dolphin                                      
66 Andrea Tiberi (Ita) Ktm International Team                          
67 Roland Plank (Aut)                                                  
68 Burry Stander (RSA)                                                 
69 Ian Field (GBr)                                                     
70 Olaf Rochow (Ger)                                                   
71 Andras Parti (Hun)                                                  
72 Denis Vorontsov (Rus)                                               
73 Igor Bogdan (Ukr)                                                   
74 Gerald Burgsteiner (Aut)                                            
                                                                       
Three laps behind                                                      
                                                                       
75 Frank Beemer (Ned) Dolphin                                          
76 Franz Hofer (Ita)                                                   
77 Ondrej Zeleny (Cze)                                                 
78 Thomas Frischknecht (Swi) Swisspower Mtb Team                       
79 Silvio Bundi (Swi) Athleticum-Mtb-Team                              
80 Joris Boillat (Swi)                                                 
81 Andras Melts (Hun)                                                  
82 William Bjergfelt (GBr)                                             
                                                                       
Four laps behind                                                       
                                                                       
83 Vaclav Hlavac (Cze)                                                 
84 Martin Bratland (Nor)                                               
85 Martin Kostelnicak (Svk)                                            
86 Marton Blazso (Hun)                                                 
87 Wilko Rochow (Ger)                                                  
88 Ruud Rentmeester (Ned)                                              
89 Nieck Busser (Ned)                                                  
90 Robert Mennen (Ger)                                                 
91 Frank Schotman (Ned)                                                
92 Max Oste Macdonald (Swe)                                            
93 Tobias Ullmann (Ger)                                                
94 Kevin Van Hoovels (Bel)                                             
95 Paul Oldham (GBr) Hope Factory                                      
96 Axel Bult (Ned)                                                     
97 Maxim Gogolev (Rus)                                                 
                                                                       
Five laps behind                                                       
                                                                       
98 Rene Tann (Ger)                                                     
99 Tim Ottens (Ned)                                                    
100 Gerald Hauer (Aut)                                                 
101 Gunther Huber (Ita)                                                
102 James Fraser-Moodie (GBr)                                          
103 Marcel Groothuismink (Ned)                                         
104 Martin Skopek (Svk)                                                
105 Jakob Nimpf (Aut)                                                  
106 Jochen Coconcelli (Ger)                                            
107 Tim Wijnants (Bel) Dolphin                                         
108 Raffael Schmid (Swi) Fischer-Bmc                                   
109 Andreas Rauch (Aut)                                                
110 Johannes Holas (Aut)                                               
111 Mitja Tancik (Slo)                                                 
112 Marcell Gruner (Aut)                                               
                                                                       
Six laps behind                                                        
                                                                       
113 Vero Lüscher (Ger)                                                 
114 Zsolt Szlobodnyik (Hun)                                            
115 Mohor Vrhovnik (Slo)                                               
116 Jordy Luisman (Ned)                                                
117 Peter Frohlich (Aut)                                               
118 Daniel Primetzhofer (Aut)                                          
119 Georg Huber (Aut)                                                  
120 Klemens Bont (Swi)                                                 
121 Ludovic Mottet (Bel) Massi-Abarth                                  
122 Michael Weiss (Aut)                                                
123 Juraj Paller (Svk)                                                 
124 Jiri Hudecek (Cze)                                                 
125 Torsten Marx (Ger) Team Alb-Gold Mountainbike                      
126 Martin Konrad (Aut)                                                
127 Klaus Maier (Aut)                                                  
                                                                       
Seven laps behind                                                      
                                                                       
128 Oleksandr Yakymenko (Ukr)                                          
129 Maurizio Natucci (Ita)                                             
130 Matthias Schinnerl (Aut)                                           
131 Ralph Garger (Aut)                                                 
DNF Marti Gispert Labarta (Spa) Freebike Team                          
DNF Peter Riis Andersen (Den) Cannondale-Vredestein                    
DNF Alban Lakata (Aut) Specialized Factory Racing                      
DNF Milan Spesny (Cze) Merida Biking Team                              
DNF Michel Luginbuehl (Swi)                                            
DNF Roman Rametsteiner (Aut)                                           
DNF Wolfram Kurschat (Ger)                                             
DNF Christoph Plank (Aut)                                              
DNF Daniel Federspiel (Aut) Tonis Pro Team Kirchberg                   
DNF Stefan Stadler (Aut)                                               
DNF Frederick Thoni (Aut)                                              
DNF Markus Loisl (Aut)                                                 
DNF Uwe Hochenwarter (Aut)                                             
DNF Dan Miiro (Uga)    

Final world cup standings

1 Julien Absalon (Fra)                  1205 pts
2 Christoph Sauser (Swi)                1080
3 Jose Antonio Hermida Ramos (Spa)       960
4 Bart Brentjens (Ned)                   800
5 Florian Vogel (Swi)                    713
6 Liam Killeen (GBr)                     652
7 Roel Paulissen (Bel)                   648
8 Ralph Näf (Swi)                        610
9 Nino Schurter (Swi)                    481
10 Michael Weiss (Aut)                   410
11 Fredrik Kessiakoff (Swe)              409
12 Jeremy Horgan-Kobelski (USA)          407
13 Adam Craig (USA)                      397
14 Moritz Milatz (Ger)                   384
15 Martin Kraler (Aut)                   358
16 Ludovic Dubau (Fra)                   358
17 Seamus McGrath (Can)                  336
18 Balz Weber (Swi)                      334
19 Cédric Ravanel (Fra)                  322
20 Lado Fumic (Ger)                      318
21 Oliver Beckingsale (GBr)              316
22 Marti Gispert Labarta (Spa)           310
23 Filip Meirhaeghe (Bel)                310
24 Jader Zoli (Ita)                      280
25 Carlos Coloma Nicolas (Spa)           273
26 Kashi Leuchs (NZl)                    266
27 Martin Gujan (Swi)                    246
28 Peter Riis Andersen (Den)             244
29 Mirko Pirazzoli (Ita)                 233
30 Alban Lakata (Aut)                    225
31 Christoph Soukup (Aut)                214
32 Karl Platt (Ger)                      214
33 Jakob Diemer Fuglsang (Den)           210
34 Thomas Frischknecht (Swi)             205
35 Hector Leonardo Paez Leon (Col)       205
36 Bas Peters (Ned)                      186
37 Yury Trofimov (Rus)                   181
38 Karl Markt (Aut)                      177
39 Stefan Sahm (Ger)                     170
40 Marco Aurelio Fontana (Ita)           159
41 Stéphane Tempier (Fra)                153
42 Jeremiah Bishop (USA)                 151
43 Ruben Ruzafa Cueto (Spa)              146
44 Marek Galinski (Pol)                  144
45 Nicolas Filippi (Fra)                 140
46 Hakon Austad (Nor)                    140
47 Tony Longo (Ita)                      132
48 Jochen Kaess (Ger)                    130
49 Gion Manetsch (Swi)                   123
50 Lukas Flückiger (Swi)                 121
51 Ivan Alvarez Gutierrez (Spa)          120
52 Christof Bischof (Swi)                119
53 Pierre Lebreton (Fra)                 118
54 Michael Broderick (USA)               118
55 Andreas Kugler (Swi)                  116
56 Geoff Kabush (Can)                    113
57 Rudi Van Houts (Ned)                  110
58 Jerome Chevalier (Fra)                 98
59 Jelmer Pietersma (Ned)                 94
60 Tim Bohme (Ger)                        89
61 Todd Wells (USA)                       89
62 Ivan Seledkov (Rus)                    84
63 Jaroslav Kulhavy (Cze)                 80
64 Philip Spencer (GBr)                   78
65 Tomas Vokrouhlik (Cze)                 71
66 Hannes Metzler (Aut)                   65
67 Marc Trayter Alemany (Spa)             63
68 Ricky Federau (Can)                    60
69 Benjamin Rudiger (Ger)                 59
70 Clinton Robert Avery (NZl)             58
71 Filip Eberl (Cze)                      56
72 Barry Wicks (USA)                      56
73 Vaclav Jezek (Cze)                     55
74 Jan Skarnitzl (Cze)                    54
75 Samuel Schultz (USA)                   52
76 Johann Pallhuber (Ita)                 52
77 Nicolas Bazin (Fra)                    51
78 Denis Vorontsov (Rus)                  50
79 Emil Lindgren (Swe)                    48
80 Sven Nijs (Bel)                        44
81 Max Plaxton (Can)                      44
82 Francois Bailly Maitre (Fra)           44
83 Milan Spesny (Cze)                     44
84 Carl Decker (USA)                      42
85 Thomas Dietsch (Fra)                   42
86 Marc Golz (Ger)                        42
87 Raphael Gagne (Can)                    40
88 Neal Kindree (Can)                     36
89 Jean Christophe Peraud (Fra)           36
90 Sergiy Rysenko (Ukr)                   32
91 Chris Jongewaard (Aus)                 32
92 Davy Coenen (Bel)                      31
93 Burry Stander (RSA)                    31
94 Silvio Bundi (Swi)                     30
95 Romain Dewaele (Fra)                   30
96 Klaus Nielsen (Den)                    29
97 Sergio Mantecon Gutierrez (Spa)        28
98 Matthew Hadley (Can)                   27
99 Miguel Martinez (Fra)                  27
100 Julio Humberto Caro Silva (Col)       26
101 Andrew Watson (Can)                   25
102 Rene Tann (Ger)                       25
103 Javier Puschel (Chi)                  25
104 Robert Gehbauer (Aut)                 24
105 Simon Richardson (GBr)                24
106 Joris Boillat (Swi)                   23
107 Evguen Petchenine (Rus)               21
108 Derek Zandstra (Can)                  21
109 Roman Rametsteiner (Aut)              21
110 Nick Waite (USA)                      21
111 Mathieu Toulouse (Can)                20
112 Matthew Martindill (Can)              19
113 Till Marx (Swi)                       19
114 Inaki Lejarreta (Spa)                 18
115 Ryan Trebon (USA)                     18
116 Marcel Bartholet (Swi)                18
117 Cristobal Silva (Chi)                 18
118 Stuart Houltham (NZl)                 17
119 Niall Davis (Irl)                     15
120 Ivan Schalbetter (Swi)                15
121 Kris Sneddon (Can)                    14
122 Jose Manuel Garcia Rodriguez (Spa)    14
123 Ruud Rentmeester (Ned)                14
124 Sam Jurekovic (USA)                   13
125 Nico Berckmans (Bel)                  13
126 Steven Roach (GBr)                    13
127 Bjorns Brems (Bel)                    12
128 Massimo De Bertolis (Ita)             12
129 Martin Lazarski (Can)                 11
130 Benoit Simard (Can)                   10
131 Perren Delacour (Aus)                 10
132 Martino Fruet (Ita)                    9
133 Frederic Bussieres (Can)               9
134 Quincy Vens (Bel)                      9
135 Kryspin Pyrgies (Pol)                  9
136 Jiri Novak (Cze)                       8
137 Mike Garrigan (Can)                    8
138 Yannick Bernasconi (Swi)               8