MTB index page for all MTB content
MTB World Cup XC, DHI & 4X #6 - CDM
Schladming, September 9-10, 2006
Main Page Results Overall standings Previous Race
Race 6 - September 10: Men downhill
Hill takes the day but Peaty comes out on top for the series
By Nick Warren in Schladming
Men's race winner's podium
Photo ©: Nick Warren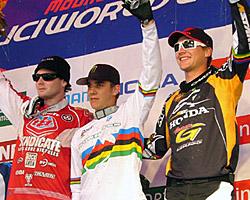 Recently crowned world champion Sam Hill (Australia) beat Nathan Rennie and Greg Minaar by five seconds to win the World Cup finale in Schladming on Sunday.
Although many riders commented on the tough nature of the Schladming course which descends 600 vertical metres over a 2.1km course, Hill seemed to enjoy the unrelenting tight corners and rutted sections. "This is definitely one of the best tracks on the circuit," Hill said, "it's also where I won my first ever World Cup race."
An estimated 12,500 spectators witnessed the event on the last of three days of competition in the famous Austrian ski resort which aptly played up to its reputation as a party town with numerous side events accompanying the top-class racing.
Hill, who was also fastest in qualifying survived a couple of slips during the final turns of his run losing some time but still put 5.51 seconds over Rennie across the finish line. Greg Minnaar of South Africa (Team G-Cross Honda), third in qualifying, finished third 5.55 seconds behind Hill. "It's awesome to be racing for the first time in the Rainbow Jersey and come away with the win," Hill said.
Overall series winner was British rider Steve Peat, 13th on the day, but with 974 points in total and still points ahead of Hill in second. Minnaar was third overall on 890 points.
Photography
For a thumbnail gallery of these images, click here
Images by Nick Warren
Results
1 Samuel Hill (Aus)                                           3.49.83
2 Nathan Rennie (Aus)                                         0.05.51
3 Greg Minnaar (RSA) Team G-Cross Honda                       0.05.55
4 Matti Lehikoinen (Fin) Team G-Cross Honda                   0.06.36
5 Brendan Fairclough (GBr)                                    0.06.53
6 Mickael Pascal (Fra) Qbikes                                 0.06.54
7 Marc Beaumont (GBr) Team Mbuk Santacruz                     0.07.12
8 Gee Atherton (GBr) Team Animal / Giant                      0.08.79
9 Chris Kovarik (Aus) Ms-Intense Factory-Racing Team          0.09.73
10 Fabien Pedemanaud (Fra)                                    0.11.05
11 Pascual Bernat Guardia (Spa) Maxxis-Msc                    0.11.85
12 Samuel Blenkinsop (NZl) Gravity Group                      0.11.91
13 Steve Peat (GBr)                                           0.12.04
14 Michael Hannah (Aus) Cannondale/The Cut                    0.12.32
15 Justin Leov (NZl) Yeti Fox Racing Factory Team             0.12.72
16 Castañe Oscar Saiz (Spa) Giant-Racing-Team                 0.12.80
17 Dan Atherton (GBr) Team Animal / Giant                     0.13.65
18 Neil Donoghue (GBr) Team Mbuk Santacruz                    0.14.33
19 Lopez David Vazquez (Spa) Maxxis-Msc                       0.14.74
20 Damien Mermoud (Swi) Suspension Center                     0.15.52
21 Fabien Cousinie (Fra)                                      0.15.95
22 Alan Beggin (Ita)                                          0.16.67
23 Claudio Caluori (Swi) Ms-Intense Factory-Racing Team       0.16.95
24 Julien Camellini (Fra)                                     0.17.47
25 Damien Spagnolo (Fra) Qbikes                               0.17.51
26 Cédric Gracia (Fra)                                        0.17.65
27 Florent Payet (Fra)                                        0.17.95
28 Thomas Braithwaite (GBr)                                   0.18.02
29 Maxime Remy (Fra) Team Bikepark.Ch Tui                     0.18.15
30 Ralph Jones (GBr)                                          0.18.21
31 Rowen Sorrell (GBr) Mojo Suspension                        0.18.55
32 Filip Polc (Svk) Gravity Group                             0.19.11
33 Tom Deacon (GBr)                                           0.19.30
34 Luke Marshall (GBr) Gumball 3000                           0.19.33
35 Moreno Ivan Oulego (Spa) Massi-Abarth                      0.19.41
36 Duncan Riffle (USA)                                        0.19.64
37 Richard Cheetham (GBr)                                     0.20.13
38 Herman Olund (Swe)                                         0.20.48
39 Andrew Neethling (RSA)                                     0.20.58
40 Pierre Charles Georges (Fra) Alvarez Racing                0.20.62
41 Ruaridh Cunningham (GBr)                                   0.20.65
41 Alex Stock (GBr)                                                  
43 Ben Reid (Irl)                                             0.20.88
44 Dan Stanbridge (GBr) Mojo Suspension                       0.21.42
45 Flix Pasqual Canals (Spa)                                  0.21.49
46 Frank Schneider (Ger)                                      0.21.55
47 Liam Panozzo (Aus)                                         0.21.67
48 David Schatzki (Ger)                                       0.22.21
49 Mike Skinner (NZl)                                         0.22.66
50 Markolf Berchtold (Bra) Maxxis-Msc                         0.22.77
51 Chris Ball (GBr) Mojo Suspension                           0.22.83
52 Claudio Cozzi (Ita)                                        0.23.09
53 Jonathan Cheetham (GBr)                                    0.23.54
54 Dave Wardell (GBr)                                         0.23.69
55 Aki Färm (Fin)                                             0.23.70
56 Markus Pekoll (Aut)                                        0.23.72
57 Markus Klausmann (Ger) Ghost International Racing Team     0.23.74
58 Joris Bigoni (Fra)                                         0.24.01
59 Rene Wildhaber (Swi)                                       0.25.51
60 Elias Somvi (Ita)                                          0.25.65
61 Mario Sieder (Aut) Arbö Rsp Downhill Racing Team           0.25.74
62 Cyrille Kurtz (Fra)                                        0.25.83
63 Daniel Critchlow (GBr)                                     0.26.25
64 Mathieu Troquier (Fra)                                     0.26.60
65 Georg Sieder (Aut)                                         0.26.75
66 Maciej Jodko (Pol)                                         0.26.78
67 Lee Bertram (GBr)                                          0.27.15
68 Vlastimil Hyncica (Cze)                                    0.27.20
69 Paul Aston (GBr)                                           0.27.60
70 Espen Johnsen (Nor)                                        0.27.84
71 Dan Harper (GBr) Gumball 3000                              0.30.32
72 Christopher Panozzo (Aus)                                  0.32.21
73 Jakob Eisner (Aut)                                         0.32.30
74 Fergus Lamb (GBr)                                          0.32.89
75 James Bashford (Aus)                                       0.35.99
76 Adam Vagner (Cze)                                          0.37.83
77 Joe Barnes (GBr)                                           0.54.46
78 Thomas Warmuth (Aut)                                       1.03.31
79 James Hughes (GBr)                                         1.47.48
80 Markus Schwab (Swi)                                        2.36.98
DNF Filip Banaszak (Pol)                                

World Cup final overal standings

1 Steve Peat (GBr)                               974 pts
2 Samuel Hill (Aus)                              936
3 Greg Minnaar (RSA)                             890
4 Nathan Rennie (Aus)                            809
5 Gee Atherton (GBr)                             758
6 Matti Lehikoinen (Fin)                         695
7 Marc Beaumont (GBr)                            691
8 Michael Hannah (Aus)                           662
9 Chris Kovarik (Aus)                            623
10 Cédric Gracia (Fra)                           614
11 Mickael Pascal (Fra)                          422
12 Julien Camellini (Fra)                        369
13 Fabien Barel (Fra)                            324
14 Filip Polc (Svk)                              322
15 Andrew Neethling (RSA)                        318
16 Dan Atherton (GBr)                            283
17 Jared Graves (Aus)                            257
18 Bryn Atkinson (Aus)                           248
19 David Vazquezlopez (Spa)                      238
20 Justin Leov (NZl)                             226
21 Bernat Guardiapascual (Spa)                   214
22 Neil Donoghue (GBr)                           212
23 Duncan Riffle (USA)                           183
24 Damien Mermoud (Swi)                          178
25 Brendan Fairclough (GBr)                      177
26 Claudio Caluori (Swi)                         156
27 Fabien Pedemanaud (Fra)                       151
28 Oscar Saizcastañe (Spa)                       147
29 Samuel Blenkinsop (NZl)                       122
30 Ivan Oulegomoreno (Spa)                       118
31 Fabien Cousinie (Fra)                         113
32 Markolf Berchtold (Bra)                       111
33 Florent Payet (Fra)                           108
34 Damien Spagnolo (Fra)                          97
35 Dave Wardell (GBr)                             90
36 Maxime Remy (Fra)                              83
37 Nico Vink (Bel)                                83
38 Markus Klausmann (Ger)                         82
39 Leiva Antonio Figu Leiva Antonio (Chi)         81
40 Samuel Zbinden (Swi)                           81
41 Dan Stanbridge (GBr)                           79
42 Thomas Braithwaite (GBr)                       78
43 Cyrille Kurtz (Fra)                            72
44 Lars Peyer (Swi)                               69
45 Alan Beggin (Ita)                              67
46 Michal Marosi (Cze)                            67
47 Jared Rando (Aus)                              54
48 Chris Ball (GBr)                               53
49 Kyle Strait (USA)                              48
50 Rowen Sorrell (GBr)                            43
51 Pasqual Canalsflix (Spa)                       43
52 Will Longden (GBr)                             42
53 Adam Vagner (Cze)                              41
54 Lee Bertram (GBr)                              40
55 John Kirkcaldie (NZl)                          37
56 Ben Reid (Irl)                                 35
57 Romain Saladini (Fra)                          34
58 Herman Olund (Swe)                             33
59 Joris Bigoni (Fra)                             33
60 Tom Deacon (GBr)                               29
61 Frank Schneider (Ger)                          29
62 Ralph ° Jones (GBr)                            27
63 David Schatzki (Ger)                           26
64 Andrew Mitchell (Can)                          25
65 Nathaniel Giacomozzi (Bra)                     24
66 Amiel Cavalier (Aus)                           24
67 Luke Marshall (GBr)                            23
68 Mathieu Troquier (Fra)                         22
69 Felipe Wermuth Da Costa (Bra)                  21
70 Ben Cathro (GBr)                               21
71 Pierre Charles Georges (Fra)                   20
72 Kieran Bennett (NZl)                           19
73 Jorge Aguincastro (Spa)                        19
74 Djone Fornari (Bra)                            17
75 Luke Strobel (USA)                             16
76 Thibaut Ruffin (Fra)                           16
77 Ruaridh Cunningham (GBr)                       15
78 Richard Cheetham (GBr)                         14
79 Cristian Soto (Chi)                            14
80 Luke Kitzanuk (Can)                            14
81 Doron Cattoni (Bra)                            13
82 Antoine Badouard (Fra)                         13
83 Jürgen Beneke (Ger)                            12
84 Mario Jarrin (Ecu)                             12
85 Volkmar Berchtold (Bra)                        11
86 Alex Stock (GBr)                               10
87 Santiago De Santiago (Arg)                     10
88 Richard Houseman (USA)                         10
89 Mario Schurter (Swi)                           10
90 Roger Gonzalezsalvador (Spa)                   10
91 Cole Bangert (USA)                              9
92 Guido Tschugg (Ger)                             9
93 Yoann Barelli (Fra)                             9
94 Anderson Furlanetto (Bra)                       8
95 Naoki Idegawa (Jpn)                             8
96 Tim Mackersy (NZl)                              7
97 Dominick Menard (Can)                           7
98 Jyunya Nagata (Jpn)                             6
99 Ryan Condrashoff (USA)                          6
100 Felipe Vasquez (Chi)                           5
101 Sanjay Shanbhag (USA)                          5
102 André Wagenknecht (Ger)                        5
103 Richard Thomas (GBr)                           5
104 Joshua Toland (USA)                            5
105 Liam Panozzo (Aus)                             4
106 Kamil Tatarkovic (Cze)                         4
107 Darren Pokoj (Aus)                             4
108 Dinno Cecchi PER                               3
109 Cody Warren (USA)                              3
110 Herrmann Ölund (Swe)                           3
111 Fergus Lamb (GBr)                              3
112 Mike Skinner (NZl)                             2
113 Cristian Araya (Chi)                           2
113 Cristian Valdiezo (Ecu)                        2
115 Lee Pincher (GBr)                              2
116 Ruben Garcia Ramon (Spa)                       1
117 Rémy Charrier (Fra)                            1