MTB index page for all MTB content
MTB World Cup XC, DHI & 4X #6 - CDM
Schladming, September 9-10, 2006
Main Page Results Overall standings Previous Race Next Race
Race 5 - September 10: Women downhill
Jonnier first in Schladming while Mosely hold onto World Cup
By Nick Warren in Schladming
Sabrina Jonnier
Photo ©: Nick Warren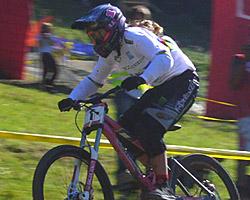 It was a day for world champions to strut their stuff as Frenchwoman Sabrina Jonnier won the final round of the UCI World Cup Mountain Bike Downhill series in Schladming, Austria.
Jonnier, who won a rainbow jersey in New Zealand two weeks ago was obviously at the top of her game, looking calm to finish just 0.41 seconds ahead of Emmeline Ragot
She didn't have such a good time of it in qualifying though; managing only fourth but she stormed down the track, parts of which are used during winter for a skiing World Cup race, in her final run and was elated to have repeated her world championship victory.
"That was great," she said. "It's a really tough course and I had an unbelievably good run."
British rider Tracey Moseley (Kona) was third, 5.87 seconds behind Jonnier but scored enough points to win the World Cup overall by 58 points with a total of 1263. "The fastest rider won on the day," she said. "I'm really looking forward to taking a break now!"
Another Briton, Rachael Atherton was third in the overall World Cup standings on 1020 points.
Photography
For a thumbnail gallery of these images, click here
Images by Nick Warren
Results
1 Sabrina Jonnier (Fra)                                       4.33.43
2 Emmeline Ragot (Fra) Qbikes                                 0.00.41
3 Tracy Moseley (GBr) Kona Les Gets Factory                   0.05.87
4 Helen Gaskell (GBr)                                         0.07.68
5 Rachel Atherton (GBr) Team Animal / Giant                   0.11.03
6 Céline Gros (Fra) Alvarez Racing                            0.11.59
7 Floriane Pugin (Fra)                                        0.14.05
8 Kathleen Pruitt (USA)                                       0.16.51
9 Anita Ager-Wick (Nor)                                       0.16.99
10 Silja Stadler (Swi)                                        0.21.31
11 Fionn Griffiths (GBr)                                      0.25.15
12 Daniela Bossard (Swi)                                      0.25.30
13 Petra Bernhard (Aut) Ms-Intense Factory-Racing Team        0.26.75
14 Claire Buchar (Can)                                        0.31.81
15 Harriet Rucknagel (Ger)                                    0.36.29
16 Anita Molcik (Aut) Arbö Rsp Downhill Racing Team           0.37.49
17 Katarina Siskova (Svk)                                     0.42.53
18 Katrina Strand (Can)                                       0.43.73
19 Dalma Kiss (Hun)                                           0.48.39
20 Calamaty Jayne Cann (GBr)                                  0.49.35
21 Angelika Hohenwarter (Aut)                                 0.53.84
22 Antje Kramer (Ger)                                         1.07.08
23 Jaymie Mart (Bar)                                          1.08.45
24 Emily Horridge (GBr)                                       1.16.20
25 Helena Boskova (Svk)                                       1.28.39
DNF Helene Fruhwirth (Aut)      

Women's final overall standings
1 Tracy Moseley (GBr)                           1263 pts
2 Sabrina Jonnier (Fra)                         1205
3 Rachel Atherton (GBr)                         1020
4 Emmeline Ragot (Fra)                           907
5 Helen Gaskell (GBr)                            674
6 Céline Gros (Fra)                              658
7 Marielle Saner (Swi)                           525
8 Pizarro Bernardita Pizarro Bernardita (Chi)    487
9 Fionn Griffiths (GBr)                          485
10 Mio Suemasa (Jpn)                             397
11 Anita Molcik (Aut)                            367
12 Kathleen Pruitt (USA)                         353
13 Claire Buchar (Can)                           304
14 Floriane ° Pugin (Fra)                        258
15 Melissa Buhl (USA)                            245
16 Anneke Beerten (Ned)                          231
17 Daniela Bossard (Swi)                         202
18 Silja Stadler (Swi)                           182
19 Danika Schroeter (Can)                        181
20 Diana Marggraff (Ecu)                         150
21 Petra Bernhard (Aut)                          125
22 Katrina Strand (Can)                          121
23 Patricia Loureiro (Bra)                       104
24 Calamaty Jayne Cann (GBr)                      92
25 Anita Ager-Wick (Nor)                          92
26 Tracey ° Hannah (Aus)                          91
27 Pascaline Reusser (Swi)                        89
28 Adrienne Miller (Can)                          87
29 Antje Kramer (Ger)                             83
30 Emily Horridge (GBr)                           73
31 Maria Conway (GBr)                             71
32 Jaime Mart (Bar)                               66
33 Brook Baker (Can)                              64
34 Veronica Miranda (Chi)                         63
35 Bock Annedore (Bol)                            59
36 Araujo, Patricia (Bra)                         55
37 Harriet ° Rucknagel (Ger)                      55
38 Stephanie Scherrer (Bra)                       52
39 Mireia Boscaballester (Spa)                    52
40 Vanessa Vallerino (Chi)                        49
41 Katarina Siskova (Svk)                         49
42 Maria Lourdes De La Ordem (Arg)                46
43 Amy Laird (NZl)                                46
44 Violeta Janeiro Alfageme (Spa)                 46
45 Dalma Kiss (Hun)                               43
46 Helene Fruhwirth (Aut)                         43
47 Anka Martin (RSA)                              40
48 Hannah Steffens (USA)                          40
49 Angelika Hohenwarter (Aut)                     37
50 Sheila Morris (Can)                            37
51 Anja Reesjones (GBr)                           37
52 Caroline Milot (Can)                           32
53 Maria Michalogiannaki (Gre)                    32
54 Marie-Eve Marcotte (Can)                       30
55 Helena Boskova (Svk)                           28
56 Lauren Campbell (NZl)                          28
57 Alice Kühne (Swi)                              28
58 Michela Thaler (Ita)                           28
59 Ajnoha Fontan Omil (Spa)                       28
60 Vanessa Quin (NZl)                             20