MTB index page for all MTB content
Flight Centre Epic/Australian Marathon championship - NE
Queensland, Australia, September 3, 2006
Gordon Wins The Flight Centre Epic
Craig Gordon
Photo ©: Flight Centre Epic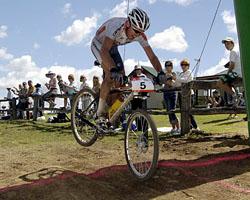 At the end of 110 punishing off-road kilometres, looks can certainly be deceiving for although Cannondale's Craig Gordon appeared spent after more than four hours in the Australian wilderness during the fourth Flight Centre Epic, his reply to the question, how much did you suffer out there? .. came quick and sharp. "I don't blow up, it just doesn't happen," Gordon said with the confident aura, one can only associate with champions.
And a champion he certainly is! The inaugural Australian Marathon Mountain Bike Champion to be more precise, Gordon clocked off duty at the picturesque Peppers Hiddenvale Retreat, some four hours, ten minutes and eleven seconds after starting his day at the Preston Peak winery near Toowoomba. The time was well outside of the race record set by Murray Spink in 2005, but on a sticky track, Gordon's ride was arguably of just as high a quality as that of the previous year's winner.
Better still, he did it alone for most of the journey, without the help of any fellow competitors, who might have been of assistance on the long road sections. "I think I went at about the 25 kilometre mark," Gordon said. "I thought the bunch would have come back to me on the road, but they didn't."
Inaugural Australian Marathon Champion crowned
The chasing group
Photo ©: Flight Centre Epic

More than one thousand competitors set off in a series of waves in the Flight Centre Epic of 2006. The race was divided into two divisions, with the 110 kilometre Epic, and the half distance, Pure Blonde Half Epic, which started mid-course. Persistent rain during the week leading up to the event had race organizers cautious, knowing the reputation the black soil country around the famed Ma Ma Creek has for turning to slush when the weather goes bad. Fortunately, conditions proved to be much better than expected, with the track drying out overnight to a sunny, warm day, especially warm for the interstate visitors from Australia's south.
Fittingly, the 110kilometre Flight Centre Epic started alongside a memorial to the Late R.M.Williams. For the benefit of Cyclingnews international readers, Williams was a legendary Australian horseman, cattleman and boot maker, whose love of the bush led the establishment of the National Trail which The Epic follows for much of its journey.
A man of discerning taste, Williams might even have given a seal of approval to the elite field lined up in the Epic of 2006, which featured the best of the best of Australian endurance mountain biking, given the race was doubling as the inaugural MTBA Marathon Mountain Bike Championship.
With Murray Spink returning to defend his 2005 Epic Title, winning in 2006 was always going to be a tough ask. Especially with the likes of Craig Gordon, Shaun Lewis, Nick Both, Matt Fleming and Tim Bennett to contend with. It didn't take long, however, for the field to thin out as the rocky sections along the descent of Ma Ma Creek, took their toll in pinch flats. "I lost the leaders early on when I flatted and Murray Spink also flatted,"
Shaun Lewis recalled of his early race disappointment. "I got with Tim Bennett, we got second and third, so not too bad for the day."
Second placed Tim Bennett had focused his mental preparation on the second stage of the race, the long, though not overly steep, climb of Razorback Mountain, which follows on from the descent of Ma Ma Creek. "With a race like this my one goal was just to be in the front bunch over the razorback climb," Bennett said. "Once you're in the front group you're a chance of winning the race."
It was a case of Craig Gordon simply being far too strong on the day for Bennett, who still emerged from the race with plenty of positives. "Yeah I have a fair bit of confidence because my legs weren't hurting and I knew that there was something left there," an enthused Bennett said of his race effort.
" I just had to time my attack, I'm really looking forward to the Scott 24 Hour in a few weeks."
Straight To The Pool Room For Thomas
Tory Thomas
Photo ©: Flight Centre Epic

Although struggling to deal with the Queensland heat, Mount Beauty's Tori Thomas, still had her sense of humour intact at race end as she claimed the inaugural MTBA Australian Women's Marathon Mountain Bike Championship crown. "Straight to the pool room," was where Thomas planned to send her race trophy .. that's an Australianism for .. on the mantlepiece. "It's a very sweet victory," she said as she cooled down at Peppers Hiddenvale.
Thomas didn't do it all alone. A common tactic in endurance mountain biking, Tory brought her partner along for the ride, and made him work like a dog! "It was like a road race out there and I was just managing cramp the whole time," Thomas said of the Epic experience. "My partner Tim rode with us, put in a Trojan effort."
It was on the climbs where Thomas managed to shake a determined Emma Colson. The latter rider showing in volumes of sweat, that those green and gold championship stripes around her jersey collar, really meant something. "I ended up with Tory and Tim, couldn't really ride away," an exhausted Colson told Cyclingnews. "I was coming up to one of the last climbs about twenty k's to go, I just didn't have the legs at that point. It's disappointing, I came here to win and came second, Tory was better today, that's how it goes."
Stars Come Out to Play
It wasn't just the stars of mountain biking on show at the 2006 Flight Centre Epic. Keeping a low profile in the field were former ironman legend turned world class adventure racer Guy Andrews and former World Triathlon Champion Miles Stewart, who participated in the Pure Blonde Half Epic.
When Cyclingnews caught up with Miles post-race he appeared to be feeling the heat, but was loving the atmosphere of the sport. "That was great fun out there, I haven't really trained for it, a bit different to being on a road bike" said Stewart. "Next year I think I'll train up and come back and have a crack at the 100k event."
For a thumbnail gallery of these images, click here
Images by Evan Jeffrey evanj@chariot.net.au
Images by John Flynn/Cyclingnews.com
Results

Australian MTB Marathon Championship
 
FCCP 110K Pro Elite Men
 
1 Craig Gordon [Vet 30-39]                     4.10.11
2 Tim Bennett [Vet 30-39]                         3.13
3 Shaun Lewis [Open 19-29]                        4.22
4 Hamish Elliot [Open 19-29]                      5.01
5 Murray Spink [Open 19-29]                       5.42
6 James Williamson [Open 19-29]                   9.11
7 Matthew Fleming [Vet 30-39]                    13.18
8 Andrew Crawley [Open 19-29]                    23.41
9 Andrew Wegener [Vet 30-39]                     26.39
10 Ian Goodwin [Vet 30-39]                       29.05
11 Chris Lander [Vet 30-39]                      29.42
12 Hans Dielacher [Super Masters 50-59]          31.48
13 Jeff Toohey [Vet 30-39]                       32.48
14 Andrew Wilcher [Vet 30-39]                    34.47
15 Ben Mather [Open 19-29]                       35.33
16 David Wood [Open 19-29]                       36.03
17 Guy Andrews [Vet 30-39]                       37.37
18 Andrew Fellows [Open 19-29]                   38.37
19 John Anderson [Super Masters 50-59]           40.43
20 Robert Symmonds [Vet 30-39]                   40.45
21 Andrew Mallett [Open 19-29]                   44.19
22 Craig Peacock [Masters 40-49]                 44.25
23 Paul Darvodelsky [Masters 40-49]              44.48
24 Tim Retchford [Vet 30-39]                     45.26
25 Stephen Ungerer [Vet 30-39]                   45.35
26 Damian Thomson [Vet 30-39]                    47.02
27 Josh Keep [Open 19-29]                        47.20
28 Simon Frederiksen [Open 19-29]                48.34
29 Ben Vanderkamp [Open 19-29]                   51.31
30 Linton Burns [Masters 40-49]                  54.13
31 James Kennedy [Open 19-29]                    54.19
32 Craig Saunders [Vet 30-39]                    55.08
33 Nick Both [Open 19-29]                        55.15
34 Saul Britton [Vet 30-39]                      56.56
35 David Wright [Vet 30-39]                      58.06
36 Simon Bowen [Vet 30-39]                       58.09
37 Ben Nicol [Open 19-29]                        58.40
38 Mark Hardy [Masters 40-49]                    58.53
39 Chris Cooke [Open 19-29]                      58.54
40 Tony Mann [Open 19-29]                        59.21
41 Dave Whitney [Open 19-29]                     59.37
42 Matthew Murray [Vet 30-39]                  1.00.20
43 David Harder [Open 19-29]                   1.00.37
44 Morgan Pilley [Open 19-29]                  1.00.46
45 Greg Carr [Super Masters 50-59]             1.01.42
46 Gary Land [Masters 40-49]                   1.02.19
47 Frans Van Zyl [Masters 40-49]               1.03.01
48 Glen Stewart [Open 19-29]                   1.03.26
49 David Olle [Masters 40-49]                  1.03.54
50 Russell Davies [Vet 30-39]                  1.04.32
51 Scotty Emmerson [Open 19-29]                1.04.44
52 Richard Mountstephens [Vet 30-39]           1.04.48
53 Peter Garrone [Vet 30-39]                   1.07.37
54 Aaron Maunder [Open 19-29]                  1.07.44
55 Shaun O'Brien [Open 19-29]                  1.08.17
56 Matt Easton [Vet 30-39]                     1.08.28
57 Justin Claridge [Vet 30-39]                 1.08.29
58 Paul Adams [Vet 30-39]                      1.11.01
59 Evan Broughton [Vet 30-39]                  1.11.05
60 Andy Stewart [Vet 30-39]                    1.14.42
61 Leighton Jefferson [Vet 30-39]              1.18.40
62 Grant Ford [Masters 40-49]                  1.19.52
63 Paul Pirotta [Vet 30-39]                    1.20.58
64 Henry Engelbrecht [Vet 30-39]               1.21.08
65 Ross Cattle [Vet 30-39]                     1.24.30
66 Mark Evans [Masters 40-49]                  1.24.31
67 David Chick [Vet 30-39]                     1.24.44
68 Andrew Cooksley [Masters 40-49]             1.26.18
69 Jody Zerbst [Vet 30-39]                     1.28.05
70 Kevin Jones [Super Masters 50-59]           1.29.13
71 Owen Ronalds [Masters 40-49]                1.29.52
72 Richard Brownhill [Open 19-29]              1.30.25
73 Mark Devery [Vet 30-39]                     1.30.34
74 Lee Stariha [Vet 30-39]                     1.33.06
75 Peter Winfield [Vet 30-39]                  1.33.52
76 Robert Faull [Super Masters 50-59]          1.34.05
77 Scott Liston [Open 19-29]                   1.35.21
78 John Solah [Vet 30-39]                      1.36.11
79 Lloyd Newell [Vet 30-39]                    1.36.12
80 Kym Hansen [Super Masters 50-59]            1.37.50
81 John Travers [Masters 40-49]                1.39.45
82 Shaun Lauder [Vet 30-39]                    1.40.05
83 Andrew Davison [Vet 30-39]                  1.40.33
84 Simon Gorman [Masters 40-49]                1.40.44
85 Bruce Wood [Super Masters 50-59]            1.41.59
86 Scott Clarke [Vet 30-39]                    1.43.32
87 David Hunter [Vet 30-39]                    1.43.48
88 David Penhaligon [Open 19-29]                      
89 Alun Hoggett [Masters 40-49]                1.46.23
90 Jonathan Cowan [Vet 30-39]                  1.46.57
91 Liam McCarthy [Vet 30-39]                   1.51.41
92 Michael Hogan [Open 19-29]                  1.52.10
93 Matthew Turner [Open 19-29]                 1.57.11
94 Neil Dall [Masters 40-49]                   1.59.09
95 Liam McCory [Vet 30-39]                     1.59.39
96 Aaron Hill [Vet 30-39]                      1.59.40
97 Stephen Cody [Vet 30-39]                    2.01.07
98 Andrew Porter [Vet 30-39]                   2.01.23
99 Anthony Hegarty [Masters 40-49]             2.02.00
100 George Takis [Masters 40-49]               2.02.01
101 Craig Unthank [Vet 30-39]                  2.03.32
102 Mike Blewitt [Open 19-29]                  2.08.12
103 Dominic Osborne [Open 19-29]               2.08.26
104 Craig Daniel [Vet 30-39]                   2.08.40
105 Keith Jarrott [Masters 40-49]              2.10.11
106 Andrew Deane [Open 19-29]                  2.14.16
107 Ross West [Vet 30-39]                      2.14.17
108 Hayden Lester [Open 19-29]                 2.15.47
109 Chris Frost [Vet 30-39]                    2.19.31
110 Mac Stirling [Super Masters 50-59]         2.20.14
111 Richard Eggins [Masters 40-49]             2.22.19
112 Shaun Fry [Open 19-29]                     2.23.35
113 Peter Flanders [Masters 40-49]             2.23.36
114 John Searston [Masters 40-49]              2.23.39
115 Peter Haywood [Vet 30-39]                  2.25.11
116 Rhys Craigie [Open 19-29]                  2.26.20
117 Greg Morgan [Masters 40-49]                2.26.30
118 Aaron Macmichael [Vet 30-39]               2.26.37
119 Ashley Smith [Masters 40-49]               2.27.54
120 Tony Moxon [Super Masters 50-59]           2.29.26
121 Jason Davy [Vet 30-39]                     2.33.20
122 Jason Sprague 149 [Vet 30-39]              2.34.38
123 Keith Mearns [Vet 30-39]                   2.35.08
124 Paul Quatermass [Super Masters 50-59]      2.37.25
125 Brad Sheppard [Vet 30-39]                  2.45.23
126 Nigel Waddington [Vet 30-39]               2.50.17
127 Paul Gifford [Masters 40-49]               2.55.14
128 Lachlan Russell [Masters 40-49]            2.56.19
129 Lloyd Svenson [Masters 40-49]              3.01.01
130 Graeme Hall [Vet 30-39]                    3.05.28
131 Paul William Smith [Masters 40-49]         3.05.37
132 Darrin White [Vet 30-39]                   3.30.28
133 Riaan Retief [Vet 30-39]                   3.33.59
134 Matthew Reynolds [Vet 30-39]               4.28.00
135 Mark Davidson [Vet 30-39]                  4.49.20
136 Ray Pope [Masters 40-49]                   4.52.08
 
FCCP 110K Pro Elite Women
 
1 Tory Thomas [Open 19-29]                     4.55.35
2 Emma Colson [Vet 30-39]                         3.02
3 Rosemary Barnes [Open 19-29]                   15.54
4 Jo Bennett [Open 19-29]                        23.03
5 Katrin Van Der Spiegel [Vet 30-39]             25.38
6 Naomi Hansen [Vet 30-39]                       33.43
7 Nina Wright [Vet 30-39]                        40.53
8 Meg Carrigan [Masters 40-49]                   43.31
9 Imogen Smith [Open 19-29]                      47.38
10 Kimberley Fleming [Vet 30-39]                 47.40
11 Amanda Richards [Masters 40-49]             1.02.14
12 Emily Miazga [Vet 30-39]                    1.11.07
13 Rowena Fry [Open 19-29]                     1.11.24
14 Jayne Ryeland [Vet 30-39]                   1.11.44
15 Tracey Angove [Masters 40-49]               1.13.28
16 Kim Kelleher [Vet 30-39]                    1.55.10
17 Megan Dimozantos [Open 19-29]               1.58.16
18 Lindy McNaught [Super Masters 50-59]        2.18.01
19 Kelly Townsend [Open 19-29]                 3.58.32
 
FCC 110K Sport Men
 
1 Michael Geale                                4.50.50
2 Werner Wilson                                  31.11
3 Matthew Wilkins                                34.23
4 Rory Fitzgerald                                35.28
5 Craig Northway                                 37.52
6 Daniel Radford                                 38.04
7 Robert Ormsby                                  45.15
8 Timothy McCullough                             49.39
9 Michael Elliott-Smith                          50.51
10 Jeremy Edwards                              1.00.49
11 Justin Kerr                                 1.09.01
12 Doug Curry                                  1.10.48
13 Michael Kingston                            1.14.56
14 Eelco Goud                                  1.15.34
15 Richard Bradbury                            1.15.59
16 Liam Thorpe                                 1.17.52
17 Rick Banaszczyk                             1.22.50
18 Kai Lund                                    1.34.01
19 Nicholas McKelvey                           1.34.10
20 Brian Platz                                 1.37.25
21 Nicholas Banks-Watson                       1.40.23
22 Nathan Jamieson                             1.41.20
23 Dwayne Mann                                 1.41.24
24 Ashley Wood                                 1.42.47
25 Andrew Pridannikoff                         1.53.47
26 Matthew Ryder                               1.55.12
27 Damon Venter                                1.59.59
28 Tim Grainger                                2.03.01
29 Hayden Brooks                               2.08.30
30 Brad Nankervis                              2.08.52
31 Ryan McCann                                 2.13.03
32 Dan Graham                                  2.13.52
33 Kendrick Benson                             2.18.11
34 Stephen Benecke                             2.18.36
35 Matt Pauli                                  2.22.30
36 Robert Hockings                             2.22.31
37 Luke McBeath                                2.26.31
38 Dylan Reilly                                2.26.32
39 Peter Forbes                                2.26.59
40 Shane Colquhoun                             2.27.54
41 Aaron Reading                               2.31.44
42 Chris Dunncliff                             2.32.17
43 Aaron Wray                                  2.34.39
44 Bart King                                   2.37.25
45 Rohan Bolton                                2.38.42
46 Tim Fry                                     2.40.47
47 Timothy Hill                                2.43.05
48 Simon Smart                                 2.47.25
49 Michael Heydon                              2.49.14
50 Christopher Farnan                          2.53.39
51 Paul Chapman                                3.00.34
52 Tom Bentley                                 3.01.04
53 Ben Meadows                                 3.03.50
54 Scholefield Jason                           3.14.48
55 Tim Sampson                                 3.15.57
56 Luke Nothdurft                              3.17.43
57 Michael Kornacki                            3.27.00
58 Mark Valenzia                               3.40.22
59 Brendan McAuliffe                           3.40.23
60 Henry Stimson                               3.44.30
61 Paul Young                                  3.44.31
62 Nickolas Frederiksen                        3.51.59
63 Nick Hutchinson                             3.57.24
64 John Thurgood                               3.58.40
65 Jarrod Sanders                              4.06.04
66 Michael Hodges                              4.14.45
67 Aaron Churchward                            4.29.15
68 Christopher McDonald                        4.34.27
69 Scott Graham                                4.38.50
 
FCC 110K Sport Women
 
1 Melanie Grant                                6.37.33
2 Samantha Jones                               1.28.25
3 Nadine Green                                 1.39.24
4 Rachael Ryan                                 1.40.22
5 Emma Rockett                                 1.47.49
6 Alix Edquist                                 2.05.15
7 Holly Fisher                                 2.08.02
8 Melinda Buchanan                             2.19.33
9 Linda Raineri                                2.52.05
 
FCC 110K Vet Men
 
1 Andrew Mannings                              4.50.45
2 Stuart Lowndes                                  5.57
3 Sean Scott                                     12.48
4 Graham Rankin                                  23.15
5 Lyle Vinter                                    24.29
6 Fraser Lindsay                                 25.14
7 Anthony Oloman                                 26.16
8 Russell Rogers                                 31.22
9 Duncan McGlashan                               37.08
10 Stephen Hazelton                              37.39
11 Michael Brett                                 37.56
12 Brendon Taylor                                38.50
13 Paul Butler                                   42.25
14 Mikey Seelhofer                               45.02
15 Christian Woodcock                            45.24
16 Julian Fox                                    48.27
17 John Allen                                    48.55
18 Dan O'Rourke                                  50.07
19 Justin Matthews                               50.30
20 Trent Moore                                   51.29
21 James Robbie                                  51.40
22 Matt Reynolds                                 54.05
23 Dean Saul                                     56.45
24 Andrew Francis                                57.16
25 Jayson Headridge                              57.59
26 Damon Angelatos                               58.30
27 Glen Murphy                                   59.44
28 Matt Natalotto                              1.00.49
29 Brady Cumming                               1.01.34
30 Clayton Boyce                               1.01.39
31 Robb Major                                  1.01.48
32 Andrew Wood                                 1.03.41
33 Tavis Johannsen                             1.04.31
34 Steve Sanders                               1.05.25
35 Rob Cargill                                 1.05.43
36 Aaron Donaldson                             1.06.05
37 Aaron Wood                                  1.06.08
38 Dean Dyer                                   1.06.32
39 Matt Powell                                 1.07.41
40 Richard Moye                                1.08.26
41 Graeme Weeks                                1.08.45
42 Wayne Hoger                                 1.09.37
43 David Ewing                                 1.09.46
44 Mark McDonald                               1.12.54
45 Shane Domaschenz                            1.13.17
46 Chris Edwards                               1.14.43
47 Marty Leahy                                 1.14.44
48 Aaron Pickett-Heaps                         1.14.57
49 Sean Doyle                                  1.16.21
50 Merrick Ekins                               1.17.21
51 Eoin Ryan                                   1.17.31
52 Aaron Davies                                1.19.49
53 Malcolm Lindsay 797                         1.19.55
54 Malcolm Van Basten                          1.20.28
55 Mark Leng                                          
56 Benjamin Madden                             1.21.39
57 Robert Crawford                             1.21.40
58 Ian Butler                                  1.23.05
59 Tony Clark                                  1.23.44
60 Jamie Vogele                                1.23.51
61 Jason Rowe                                  1.24.01
62 Warren Johnston                             1.24.55
63 Brendan Merrotsy                            1.25.35
64 Brendan Rhodes                              1.25.36
65 Ryan Myler                                  1.25.41
66 Gary Grieve                                 1.26.29
67 Nicholas Marentis                           1.26.30
68 David Hunt                                  1.28.16
69 John Rigby                                  1.30.07
70 Craig Blanch                                1.31.00
71 Adam White                                  1.31.15
72 Warren Gibbs                                1.35.29
73 Steve Ewart                                 1.36.18
74 Jamie Whitworth                             1.36.19
75 Paul Marshall                               1.36.59
76 Nick Currie                                 1.38.00
77 Peter Goodyear                              1.38.14
78 Adrian Howard                               1.39.07
79 Tim Clarke                                  1.39.43
80 Jason Cheshire                              1.39.44
81 Steven Moon                                 1.40.33
82 Angus Eagle                                 1.40.49
83 Kieran Aland                                1.40.54
84 Damian Hancock                              1.41.16
85 Peter Ryan                                  1.42.50
86 David Wilhelmi                              1.43.33
87 Tom Mewing                                  1.44.00
88 Alex Bennett                                1.45.20
89 Glenn Kerrison                              1.46.27
90 Justin Whelan                               1.46.34
91 Andrew Seeley                               1.46.38
92 Glen Taylor                                 1.47.17
93 Jason Hitchcock                             1.48.13
94 Jon Parker                                  1.48.18
95 Norm Douglas                                1.48.26
96 Duncan Moore                                1.48.54
97 Murray Osgood                               1.48.59
98 Tom Stewart-Moore                           1.51.49
99 Wayne Partridge                             1.53.01
100 Stephen Power                              1.53.07
101 Mark Shephard                              1.55.57
102 Brett Sweeney                              1.56.23
103 Michael Duffy                              1.56.57
104 Jason Steffen                              1.57.07
105 Simon Vanderduys                           1.57.25
106 Anthony Lee                                1.57.38
107 Darryl Yakas                               1.57.41
108 Gavin Irving                               1.57.45
109 Andrew Fraser                              1.58.25
110 Jason Storey                               1.59.07
111 James Spargo                               2.00.19
112 Michael Paech                              2.01.57
113 Chris Paech                                2.01.58
114 Jason Lamb                                 2.02.13
115 Dion Lester                                2.02.36
116 David Wicks                                2.03.19
117 Dave Bloor                                 2.03.40
118 James Searle                               2.03.51
119 Aaron Constable                            2.04.13
120 John Creed                                 2.05.01
121 Alan Kelk                                  2.05.02
122 David Ribeiro                              2.05.52
123 Gordon Kleynhans                           2.06.17
124 John Bowers                                2.06.36
125 Angus Craig                                2.07.53
126 Matthew Bloxsom                            2.08.19
127 Ben Williams 1970                          2.08.59
128 Tony Lloyd-Jones                           2.09.01
129 Andrew Garnsworthy                         2.09.05
130 Paul Anoleck                               2.09.52
131 Robert Rowe                                2.10.29
132 Peter Humberdross                          2.11.16
133 Sam Paakki                                 2.12.40
134 Gordon Bletchly                            2.12.42
135 Nicholas Waterhouse                        2.13.01
136 Rod Watts                                  2.13.05
137 Alistair Byrom                             2.14.50
138 Robert Walker                              2.15.07
139 Mathew Ryan                                2.18.53
140 Nick Foster                                2.20.18
141 Shane Archibald                            2.20.32
142 Shane Isbester                             2.21.05
143 Derrick Saxil                              2.21.58
144 Tom Gilfedder                              2.22.32
145 Ian Wilson                                 2.23.34
146 Paul Ryan                                  2.23.50
147 Michael Obst                               2.24.59
148 Chris Locke                                2.25.00
149 Paul Burrows                               2.25.02
150 Benjamin Torrens                           2.25.25
151 Cameron Hancock                            2.25.29
152 Michael Thomas                             2.26.16
153 Peter Christie                             2.27.04
154 Paul Olds                                  2.27.06
155 Anthony Clark                              2.27.52
156 Todd Heness                                2.28.08
157 Tony Bishop                                2.29.30
158 Jonathan Benson                            2.30.03
159 Matt Hill                                  2.30.04
160 Stephen Mitchell                           2.30.17
161 John Davies                                2.31.39
162 Luke Anthony                               2.31.41
163 Steven Collins                             2.32.44
164 Paul Rees                                  2.33.31
165 Paul Palella                               2.34.38
166 Greg O'Dea                                 2.34.53
167 Evan Debenham                              2.37.01
168 Mark Winn                                  2.37.55
169 Rodney Gibson                              2.39.08
170 Jason Gibson                               2.39.09
171 Richard Quinlan                            2.39.10
172 Darren Rostron                             2.40.13
173 Andrew Pinsent                             2.41.33
174 William Stock                              2.41.57
175 Rob Jackosn                                2.48.52
176 Peter Janssen                              2.49.09
177 Robbie Gould                               2.49.45
178 Dane Kinloch                               2.53.08
179 Paul Batten                                2.53.10
180 Jonathan Smith                             2.55.06
181 Frank Falappi                              2.56.24
182 Dave Grantley                              2.56.27
183 Paul Robinson                              2.58.15
184 Paul Chrismas                              2.58.39
185 Surya Graf                                 2.58.51
186 Peter Harvey                               2.59.27
187 Matthew Noyes                              3.01.07
188 Rob Snewin                                 3.01.54
189 Aaron Haycock                              3.02.57
190 Mark Frost                                 3.03.28
191 Neil Wardlaw                               3.04.43
192 Paul Shearer                               3.06.14
193 Garry Hicks                                3.08.43
194 Dallas Hewett                              3.08.51
195 Scott Janson                               3.09.04
196 Phil Barber                                3.09.38
197 Geoff Richardson                           3.09.43
198 Anthony Richardson                         3.09.45
199 Luke Goodfellow                            3.10.18
200 Matt Taylor                                3.14.46
201 Maritz Du Plessis                          3.15.09
202 David Spencer                              3.17.46
203 Mark Skroblin                              3.18.14
204 Dean Bloomer                               3.18.52
205 Brendon Jackson                            3.19.40
206 Nicholas Gallo                             3.20.37
207 Nicholas Westwood                          3.22.07
208 John Frame                                 3.23.17
209 Allan Weir                                 3.24.08
210 Derek Morrison                             3.25.00
211 Jason Buchanan                             3.28.15
212 Michael Buchanan                           3.28.17
213 Peter Hollett                              3.29.23
214 Mark Green                                 3.30.51
215 Dave Russell                               3.31.39
216 Michael Fisher                             3.33.03
217 Steven Macgillivray                        3.34.17
218 Darren Wright                              3.34.58
219 Andrew Harding                             3.35.03
220 Ryan Stolberg                              3.36.46
221 Jeffrey Fletcher                           3.40.53
222 Dirk Fourie                                3.41.28
223 John Grothe                                3.43.15
224 Craig Myers                                3.43.58
225 Geoff Eggert                               3.45.52
226 Aaron Casey                                3.45.59
227 David Lloyd                                3.46.16
228 Andy Jones                                 3.51.02
229 Rodney O'Connor                            3.52.56
230 Matthew Brown                              3.52.57
231 Robert Deane                               3.56.02
232 Ben Williams 1972                          4.06.56
233 Lincoln Chatfield                          4.07.52
234 David Buchanan                             4.07.59
235 Daniel Barclay                             4.10.54
236 Ben Ready                                  4.17.57
237 Harvey Yates                               4.22.34
238 Jason Pearce                               4.29.37
239 Jason Chavasse                             4.33.41
240 Andrew Crook                               4.38.58
 
FCC 110K Vet Women
 
1 Su Sprott                                    6.22.02
2 Jessica Douglas                                17.10
3 Catherine McLean                               19.01
4 Izabela Rudol                                  51.12
5 Alison Blyth                                   53.10
6 Sebasti-Ann Mitaros                          1.19.01
7 Tracey Burnton                               1.21.52
8 Arranny Khuong                               1.22.21
9 Jane Halliburton                             1.30.33
10 Debbie Hard                                 1.51.52
11 Charlene Machin                             2.02.26
12 Amanda Cleife                               2.15.00
13 Jacqui Lambert                              2.29.37
14 Karen Land                                  2.38.21
 
FCC 110K Masters Men
 
1 Phil Hystek                                  4.56.17
2 Ian Collins                                    21.24
3 John Rafter                                    22.15
4 John Schaab                                    28.26
5 Darren Timms                                   37.54
6 Allan Morrison                                 40.33
7 Lucas McDonald                                 43.26
8 Scott McLennan                                 45.11
9 Doug Barber                                    50.47
10 Tim Hay                                       50.48
11 John Pittendreigh                             56.19
12 Tony Pratt                                    58.08
13 Roger Allwright                               59.57
14 Nicholas Mills                              1.00.51
15 Laurie Berryman                             1.01.13
16 Al Wallace                                  1.02.37
17 James Bruce                                 1.03.10
18 Paul Grubner                                1.03.19
19 Eric Dousi                                  1.04.07
20 Stewart Cumming                             1.05.55
21 Robert Hain                                 1.06.51
22 Paul Hayden                                 1.12.56
23 Peter Van Der Plight                        1.15.04
24 Lewis Marshall                              1.15.46
25 Ian Holm                                    1.18.03
26 Ray Giddins                                 1.18.47
27 Trevor Bell                                 1.20.12
28 Ian Moore                                   1.21.09
29 Gordon Taylor                               1.22.22
30 Tony Poutsma                                1.22.34
31 Lawrence Kranen                             1.23.44
32 Frank Kenny                                 1.24.05
33 John Forbes                                 1.24.08
34 Arnold Ehlers                               1.28.32
35 Robert Hordern                              1.29.59
36 Brad Calvert                                1.30.01
37 Trevor Kidd                                 1.30.18
38 Rick Sherritt                               1.30.52
39 Peter Borserini                             1.35.09
40 Steve Gibbs                                 1.35.55
41 Ian Stewart                                 1.36.22
42 Alan Clarke                                 1.36.23
43 Nicholas Baker                              1.36.56
44 Rob Treloar                                 1.38.07
45 David Mc Culloch                            1.38.08
46 Geoffrey Canfell                            1.39.18
47 Leon Colbert                                1.39.49
48 Alan Cameron                                1.46.50
49 Martin William Comer                        1.47.52
50 Matt Freke                                  1.49.20
51 Andrew Watts                                1.49.42
52 Jason Reed                                  1.50.52
53 Stephen Page                                1.51.49
54 Bill Beaumont                               1.52.48
55 Rodney (Jock) Jones                         1.53.00
56 Craig Yeoman                                1.53.27
57 Paul Griffin                                1.53.44
58 Howard Van Der Klauw                        1.53.53
59 Gary Beddoes                                1.55.26
60 Tony Wood                                   1.56.59
61 Tony Innis                                  1.59.21
62 Rob Kay                                     1.59.50
63 Dave Mee                                    2.02.21
64 Brad Lynch                                  2.03.33
65 Nick Samios                                 2.03.42
66 Michael Phillips                            2.04.41
67 Peter Higham                                2.05.55
68 Michael Percival                            2.05.57
69 Martin Grant                                2.06.18
70 Wayne Morrison                              2.08.45
71 Jim Mullan                                  2.08.58
72 Bryan Flemming                              2.09.42
73 Blake Topping                               2.10.55
74 David Crow                                  2.13.00
75 Robert Mackenzie                            2.14.42
76 Martin Smit                                 2.15.26
77 Scott May                                   2.16.19
78 Gregory Edwards                             2.16.27
79 Martin Krumm                                2.20.25
80 Michael Vincent                             2.21.59
81 Darrel Fogg                                 2.22.46
82 John Mc Brearty                             2.24.47
83 Mark Fletcher                               2.26.10
84 David Pritchard                             2.29.25
85 Rod Yann                                    2.30.47
86 Michael Byrom                               2.30.53
87 Malcolm Duff                                2.31.24
88 Tim Lambert                                 2.34.25
89 David Hayne                                 2.37.54
90 Brendan Walker                              2.39.05
91 Keith Bremner                               2.41.40
92 John Burnton                                2.41.42
93 Gary Hudson                                 2.42.46
94 Scott Todd                                  2.42.47
95 Brett Ford                                  2.47.28
96 Steve Donaldson                             2.48.45
97 Col Cuthbert                                2.48.48
98 Mark Brodie 798                             2.49.28
99 Stephen Baltzer                             2.50.31
100 Lindsay McPherson                          2.52.57
101 David Harland                              2.56.31
102 David Colenso                              3.09.23
103 Sean Bennett                               3.11.12
104 Michael Slater                             3.13.51
105 Andrew Ryan                                3.17.07
106 Bill Lucas                                 3.17.30
107 Phil Pennington                            3.19.04
108 Greg Thornton                              3.21.28
109 Brett Somerville                           3.22.27
110 Neal Ames                                  3.23.47
111 David Sugg                                 3.26.27
112 Jo Beaumont                                3.28.55
113 James Kadry                                3.29.42
114 Brian Spier                                3.31.49
115 Mark Brunskill                             3.33.10
116 Michael Cooper                             3.33.44
117 Stephen Wilson                             3.34.10
118 Simon Carter                               3.34.59
119 Troy Barnett                               3.35.00
120 Sam Stewart                                3.35.06
121 Rients Lootsma                             3.37.15
122 Ian Johnson                                3.38.23
123 David Hutchinson                           3.41.26
124 Mark Andrew                                3.41.57
125 Noel Swain                                 3.47.22
126 Gavin Tomlinson                            3.52.12
127 Marek Krynski                              3.52.17
128 Jeff Tillack                               4.00.04
129 Paul Smith 1965                            4.30.18
 
FCC 110K Masters Women
 
1 Rae-Anne Kurucz                              6.03.42
2 Melinda Short                                1.23.20
3 Alison Forbes                                1.24.28
4 Dianne Croft                                 1.43.25
5 Leanne Burrows                               1.43.48
6 Donna Fyfe                                   1.56.42
7 Elizabeth Orr                                2.16.09
 
FCC 110K Super Masters Men
 
1 Leigh Christensen                            5.49.50
2 Rod Browning                                   23.11
3 Roy Whitney                                    26.45
4 Hector Robinson                                28.17
5 David Anderson                                 47.40
6 Gary Poole                                     48.40
7 Richard Robinson                               54.15
8 Chris McKelvey                                 54.18
9 Gary Walker                                  1.16.41
10 Wayne Pitt                                  1.22.48
11 Michael Snell                               1.31.16
12 Fred Parker                                 1.35.53
13 Peter Stuart                                1.37.46
14 Ross Harrington                             1.38.19
15 Graham Skroo Turner                         1.38.41
16 Peter Bremner                               1.44.08
17 Mick Allan                                  1.55.53
18 Kerry Noyes                                 2.07.14
19 Roy Wheeler                                 2.13.37
20 Peter Young                                 2.13.38
21 John Raisin                                 2.30.27
22 Lyndsay Edser                               2.30.28
23 Steve Booker                                2.30.30
24 Malcolm Stayte                              2.30.32
25 Mal Cole                                    2.53.07
26 Sinclair Currie                             3.07.40
27 Allan Churchward                            4.03.00
 
FCC 110K Ultra Masters Men
 
1 Kerry Ryan                                   6.07.15
2 Andrew Campbell                              1.11.21
3 John Stirling                                1.39.25
4 Terry Morgan                                 1.51.15
 
FCC 110K Team 2 Mixed Relay
 
1 Shane and Kristel Team Skosbo                5.41.33
2 Daniel and Christopher The Big Migs            11.12
3 John and Barry Tweed Storm                     15.10
4 Kerry and Paul Just The 2 of Us                28.11
5 Colette and Steve Scat 1                       49.13
6 Gary and Trevor Baked Beans                    54.28
7 Nicci and Tristan Nictris                    1.01.57
8 Lesley and Warren 112 Years Combined         1.42.15
9 Jason and Neil Ollenburg                     1.58.33
10 Sue and Darryl Go Harder                    3.07.09
 
FCC 110K Team 4 Mixed Relay
 
1 Al, Gav, Stu, Andrew The Eddies              6.41.50
 
PBP 54K Elite Men
 
1 George Tamblyn                               2.22.52
2 Stacy Harris                                   15.41
3 Andrew Dalgliesh                               20.17
4 Robert Henderson                               30.38
5 Dan Crawford                                   32.31
6 Bernie Jefferies                               53.25
 
PBP 54K Elite Women
 
1 Helen Lucas                                  3.28.46
 
PBP 54K Sport Men
 
1 Nigel Kee                                    2.34.39
2 Robert Purss                                    8.48
3 Robert Zahmel                                  14.56
4 Ian Anderson                                   15.11
5 Paul Philipp                                   17.27
6 Garry Astill                                   19.31
7 Joel Woolley                                   20.39
8 Damien Gardiner                                25.30
9 Frank Olsen                                    30.27
10 Luke Palmer                                   33.34
11 Mark Davie                                    36.45
12 Ashley McGowan                                42.38
13 Chris Byron                                   43.14
14 Scott Fry                                     43.17
15 Hashim Carey                                  51.58
16 Blake Bennett                                 53.10
17 Justin Glover                                 54.35
18 Quentin Houghton                              58.25
19 Michael Gillott                             1.02.34
20 Greg Spinda                                 1.06.32
21 Wesley Vasile                               1.08.07
22 Alison Mackay                               1.10.24
23 Troy Bielanowski                            1.13.50
24 Timothy Schier                              1.18.40
25 Peter Spinda                                1.21.59
26 Greg Marsh                                  1.22.26
27 Craig Kasper                                1.24.14
28 Anthony Walker                              1.31.50
29 Jack Bannerman                              1.35.28
30 Jono Wood                                   1.45.10
31 Stephen Fletcher                            2.23.54
 
PBP 54K Sport Women
 
1 Jodie Willett                                2.36.34
2 Rebecca Myerscough                             15.32
3 Tina McCotter                                  20.14
4 Holly Hamilton                                 41.20
5 Kylie Maduna                                   45.47
6 Yolanda Brady                                1.02.55
7 Lara Ferrin                                  1.17.47
8 Juanita Myers                                2.06.58
 
PBP 54K Vet Men
 
1 Matthew Christmas                            2.19.41
2 Miles Stewart                                  14.07
3 Darren Boman                                   18.24
4 Charles Millsteed                              22.48
5 Tim Binns                                      26.20
6 David Mollee                                   27.38
7 David Hoare                                    28.07
8 Shaun Barclay                                  30.30
9 Jack Flanagan                                  33.08
10 Craig Hiley                                   34.19
11 Terry Nightingale                             35.48
12 Raymond Adams                                 39.26
13 Matt Young                                    42.34
14 Rohan Brunello                                43.28
15 Greg Treagle                                  44.03
16 Rupert Standing                               45.16
17 Harley Rossell                                45.26
18 Craig Flintoft                                46.51
19 Robert Guglielmi                              47.18
20 Craig Johnston                                49.16
21 Scott Hartwell                                50.09
22 Ken Yeo                                       50.11
23 Dan Ahearn                                    51.11
24 Michael McKean                                51.35
25 Haydon Miller                                 52.18
26 Philip Stainton                               52.29
27 Andy Greenland                                52.54
28 Kevin Redfearn                                54.35
29 Michael Baker                                 58.25
30 Matthew Clarke                                59.27
31 Sean Collins                                1.00.09
32 Shannon Smith                               1.03.40
33 Gerard Petersen                             1.03.57
34 Simon Johnson                               1.06.58
35 Adam Dinsdale                               1.07.40
36 Alan Jamieson                               1.08.14
37 Scott Marsh                                 1.09.53
38 Peter Hickey                                1.14.39
39 Carl Rayner                                 1.14.42
40 Shaun Preece                                1.15.52
41 Brendon Prior                               1.18.35
42 Paulo Antoniazzi                            1.18.48
43 Reece Smith                                 1.21.59
44 Ross Huntley                                1.23.43
45 Micheal Edwards                             1.23.46
46 Robert Benefield                            1.25.03
47 Tim Copley                                  1.25.58
48 James Grant                                 1.27.06
49 Nigel Smeaton                               1.27.24
50 David Bradbury                              1.30.59
51 Scott Van Gerrisheim                        1.33.24
52 Shaine Beveridge                            1.34.36
53 Andrew Suosaari                             1.35.05
54 Jeff Watson                                 1.36.05
55 Sean Dennis                                 1.39.26
56 Grant Harrex                                1.41.47
57 Jeff Mitchell                               1.42.28
58 Paul Meredith                               1.49.56
59 Paul Malynn                                 1.52.54
60 Mark Draper                                 1.57.34
61 Randall Jettoo                              1.59.30
62 Kevin Grant                                 2.05.03
63 Alex Paznikov                               2.05.39
64 Angus Ross                                  2.20.26
65 David Hogg                                  2.20.28
66 Ian McFadden                                2.20.29
67 Brendan Petersen                            2.21.55
68 James Springfield                           2.44.40
69 Raymond Massey                              4.40.13
70 Terry Jamieson                              5.21.52
 
PBP 54K Vet Women
 
1 Melinda Behrens                              3.09.12
2 Danah Wood                                      3.13
3 Allison Davies                                  3.22
4 Carol Boman                                    14.48
5 Karen Ward                                     16.27
6 Katerina Brown                                 23.02
7 Bronwyn Henschell                              52.27
8 Christine Rossell                            1.00.23
9 Maree Sykes                                  1.09.48
10 Kathy Christmas                             1.19.10
11 Ann Maree O'Callaghan                       1.19.39
12 Fleur Ward                                  1.46.19
13 Anne Clairs                                 1.49.16
14 Sharon Hodges                               1.53.06
15 Gerri Springfield                           1.55.10
16 Kristina Dickman                            2.06.55
17 Rachel Smeaton                              2.07.37
18 Fiona Wagner                                3.50.47
 
PBP 54K Masters Men
 
1 Hywel Cook                                   2.31.56
2 Brad Teys                                      15.11
3 Robert Smith                                   15.58
4 Wes Glacken                                    16.31
5 Sean Schurmann                                 19.21
6 John Falconer                                  21.41
7 Mike Johnston                                  22.06
8 Stewart Cooke                                  22.13
9 Grant James                                    22.23
10 Don Warnock                                   22.24
11 Anthony Hodgen                                22.40
12 Steve Eggleton                                22.47
13 Peter Holley                                  23.35
14 Mark Smith                                    24.43
15 Peter Jones                                   25.59
16 Russell Thompson                              26.16
17 Derek Sams                                    26.46
18 Mark Jensen                                   27.52
19 John Hemley                                   30.31
20 Mark Petersen                                 32.00
21 Paul Cordina                                  32.34
22 David Pannell                                 33.52
23 Andrew Stevens                                36.19
24 Simon Parkinson                               38.33
25 David Burke                                   42.53
26 David Flint                                   44.23
27 Wayne Owsin                                   47.06
28 John Ruddick                                  54.01
29 David Ligon                                   54.03
30 Daryl Van Cooten                              58.25
31 Mark Jones                                    58.30
32 Rod Bernard                                 1.01.17
33 Andrew Tewes                                1.02.19
34 Steven Farne Sang                           1.10.56
35 Ralph Schier                                1.10.59
36 Paul Golledge                               1.12.05
37 Murray Knight                               1.12.16
38 Andrew Fry                                  1.14.58
39 Chris Nagel                                 1.24.03
40 Brad Alford                                 1.27.17
41 David Radford                               1.30.30
42 Les Nielsen                                 1.39.15
43 Dale MacArthur                              1.41.07
44 Keith Nielsen                               1.42.07
45 Bill Flanagan                               1.42.25
46 Brad McGregor                               1.48.53
47 Greg Noble                                  1.52.15
48 Lyle Brown                                  2.02.36
49 Cameron Marles                              2.02.38
50 Andrew White                                2.09.49
51 Robert Moore                                2.16.06
52 Scott McNamara                              2.19.00
53 Steve Fowler                                2.50.23
 
PBP 54K Masters Women
 
1 Andrea Martin                                2.55.21
2 Gillian Lindsay                                 3.36
3 Karen Healy                                  1.04.15
4 Terri Quinlan                                1.27.59
5 Jasmine Ormsby                               1.44.40
6 Lyn Holmes-Kidd                              1.49.42
7 Kerry Royle                                  2.40.03
 
PBP 54K Super Masters Men
 
1 Robert Brady                                 2.45.02
2 Michael Glab                                   10.18
3 Greg Hickey                                    12.05
4 Neal Dalgliesh                                 27.58
5 Garrett FitzGerald                             36.05
6 Peter Cleary                                   36.20
7 Graham Mailander                               39.56
8 Ian May                                        43.32
9 Patrick Crosby                                 51.48
10 Andrew McIntyre                               52.08
11 Damien Jones                                  52.50
12 Howard Lowien                               1.07.31
13 Roy Packer                                  1.14.10
14 William Morrow                              1.20.00
15 David Allmond                               1.41.38
16 Ian Ormsby                                  1.54.59
17 Ross McCallum                               2.20.20
18 Terry Ford                                  2.39.49
19 Peter Charlton                              3.05.26
 
PBP 54K Super Masters Women
 
1 Monique Straw                                3.32.59
2 Rosemary Crouch                              1.15.05
3 Rosalie Northway                             1.30.17
4 Sharon West                                  2.17.31
 
PBP 54K Ultra Masters Men
 
1 Terry Heydon                                 3.19.35
2 Al Heston                                       5.19
3 Dan Butler                                     15.12
4 John Raymond                                   21.38
5 Kevin Donohoe                                  29.58